Remember when I posted about cracking down on my spending in March? The reason I even considered this was I felt like I was spending too much on non-essential wardrobe and beauty items. I decided to set a limit of $150 for March because I over spent in February since it was my birthday month and well, you're supposed to treat yoself during your birthday month right? ; )
As a recap, here were my rules:
– Things that I have already signed up for do not count towards the total
– Anything I sell adds to my budget.
– Whatever is earned or saved can roll over to the next month
– Purchasing gifts or giveaway items for the blog do not count, since its not for me
– Gift cards, credit card rewards, etc. do not count against my total budget
So how did I do, you ask?
To be honest, it was a lot easier than I anticipated. The biggest hurdle for me was getting over the sale emails I get on the daily. I didn't unsubscribe to all of them, but I did click them a lot less, and when I did, I made sure it was something I really wanted. I also was much more critical of things when they got to me – even if an item was a bargain, I didn't keep it if it wasn't *just* right.
Here's what I spent my $ on: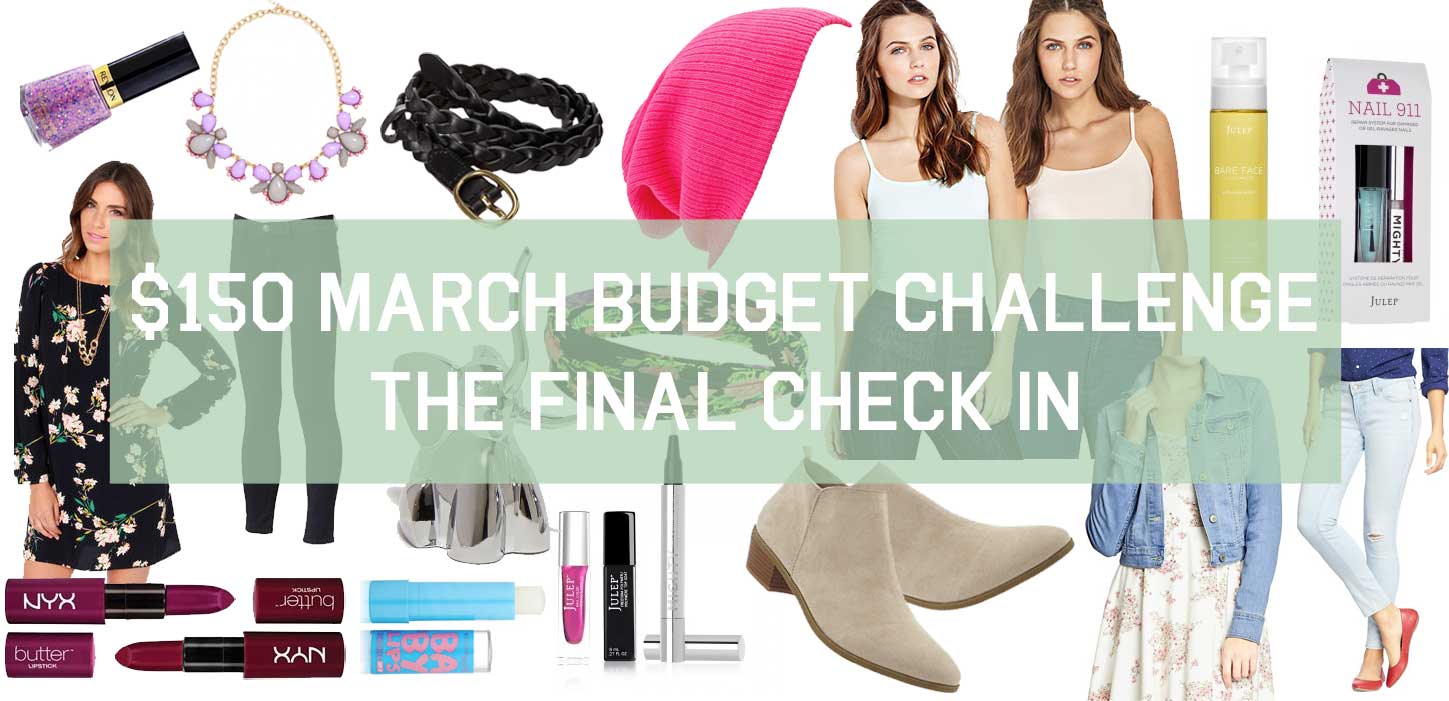 1 – From Lulu's I purchased the Herbaceous Babe Floral Dress for $38 after discounts.
2 – From Ulta, I purchased 2 NYX Butter Lipsticks and 1 Revlon Nail Polish in Girly for $14.50
3 – From Kohl's, I purchased 2 pairs of ankle jeans that I used a gift card on – $0
4 – From BaubleBar, I bought a necklace and a ring tree for $15 after discounts
5 – From Forever 21, I bought a beanie, head wrap, and 2 basic camis for $11
6 – I "splurged" at Old Navy and bought a jean jacket, a pair of Rockstar skinnies, a pair of booties, and a braided belt for $66. (I haven't received my order, so some of these items may not fit.)
7 – At Amazon, I purchased a Baby Lips lip balm for $2.
8 – At Julep, I skipped my normal box (+$20) but purchased Bare Cleansing Oil and Nail 911 Treatment, plus a free Shine Gift Set instead for $38.
All Totaled, I spent: $184.50 of my $221.00 budget
Since I did well and didn't die or anything, I'm going to challenge myself again next month. For April, my goal is $200, same rules. My rules state that whatever I didn't spend the month previously carries over, so I have a total of $236.50 to spend.
Check back on May 6 to see my report for April! Will you join me this month in challenging yourself to a budget? I'd love to hear your thoughts in the comments.
xo.
Follow me on Twitter, Bloglovin', Pinterest, Instagram, and Tumblr!
* affiliate links were used in this post. any commission goes right back to the blog! : ) *

---
Follow Jenn: bloglovin / twitter / facebook / instagram / pinterest / g+ / youtube
---