Addiction is that awkward word that no one really wants to talk about. It's awkward because to those that are not addicts, it makes absolutely no sense. At least it doesn't to me. I'm not going to go really personal here for the sake of my friends and family that are addicts and face these struggles everyday, but because I just finished Amy, My Daughter by Mitch Winehouse and have been keeping up with Lindsay on the OWN Network, I can't help but want to share a few thoughts.
Addiction is scary. It's scary to those of us that know someone with the disease. It's scary to talk about, because you don't want to be the reason someone uses or thinks about using again. As the non-addict, it is terrifying to watch them slowly kill themselves with their substance of choice.
Addiction lies. It tells you that "you'll be okay" and that "you can handle this", when really, you cannot. And it's not because you're not a strong person, it is because it tricks you. Addiction lies.
If you or someone you love is facing addiction, be it drugs, alcohol, gambling, or something else, please get help for both them AND yourself. It's not easy to watch and always be strong, and you shouldn't have to be alone in it.
And, on that pleasant note, onto the book that inspired this post: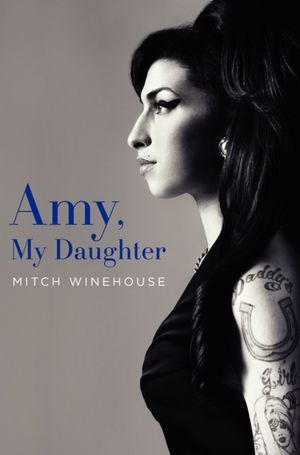 Book to Review: Amy, My Daughter by Mitch Winehouse
Stars: ★★★★
Source: c/o NetGalley, though I ended up listening to as an Audiobook / Available from Amazon
Synopsis:
The intimate, inside story of the ultimately tragic life of multiple Grammy Award-winning singer and songwriter Amy Winehouse ("Rehab," "Back to Black")  is told by the one person most able to tell it—Amy's closest advisor, her inspiration, and best friend: her father, Mitch. Amy, My Daughter includes exclusive, never-before-seen photos and paints an open and honest portrait of one of the greatest musical talents of our time.
Review:
Amy Winehouse had one of the most unforgettable voices of our time. Her music still gives me chills – she was so talented, and seemed like such an interesting person. Hence why I picked up this book in the first place!
The thing that struck me most about this book and kept me engaged was hearing Amy's struggles with her addictions and her fears. She was, surprisingly, afraid of the stage. I imagine this fear was deep-rooted and thus lead to more drinking/drugging to self-medicate when she did have to perform. While I can't personally relate (as much as I wish I have half of her talent, sadly I do not!) I do understand how fears that are not dealt with in a healthy manner can really plague your life and keep you down.
While I can't say this book was particularly "uplifting", as we all know how the story ends, it was inspiring to me. It made me realize that those of us who are family members of addicts are not alone. It made me hopeful that even though Amy wasn't able to conquer her demons, that she was trying, and she was making huge strides to conquer her alcoholism up until the end.
Hearing her story from her father's perspective was interesting – unlike a biographer, you get a lot more of the 'nitty gritty' details that may be lost on someone who didn't experience her highs and lows for themselves. At the same time, its important to realize that her father more than likely has a very specific point of view, and some of the family drama that came up during the story seems to show that there are some lingering issues there. While that didn't personally bother me from the main point of this book, I can see where this could turn people off a bit.
Overall, the subject matter isn't particularly for the faint of heart nor for those that are looking for a happy ending. But, it was real and I appreciated the change of pace from my typical YA-Fiction readings.
—
Don't forget to sign up for the pay it forward, gift it forward exchange! I promise it will be tons of fun. : )
xo.
Follow me on Twitter, Bloglovin', Pinterest, Instagram, and Tumblr!

---
Follow Jenn: bloglovin / twitter / facebook / instagram / pinterest / g+ / youtube
---