Affiliate Links
Oh yay… it's my favorite time of the month: budget reporting time! I actually did well again this month, but I have to confess that I'm basically screwed for next month. I like clothes, and there were some good sales this weekend for Labor Day. #sorrynotsorry
So to start this off, I gave myself a budget of $149 last month, but I had $24 roll over, so I went in with $173. I also skipped out on my Julep box this month ($19.99), had a return for $20, and sold $60 worth of clothing… so my grand total to spend was $272.99.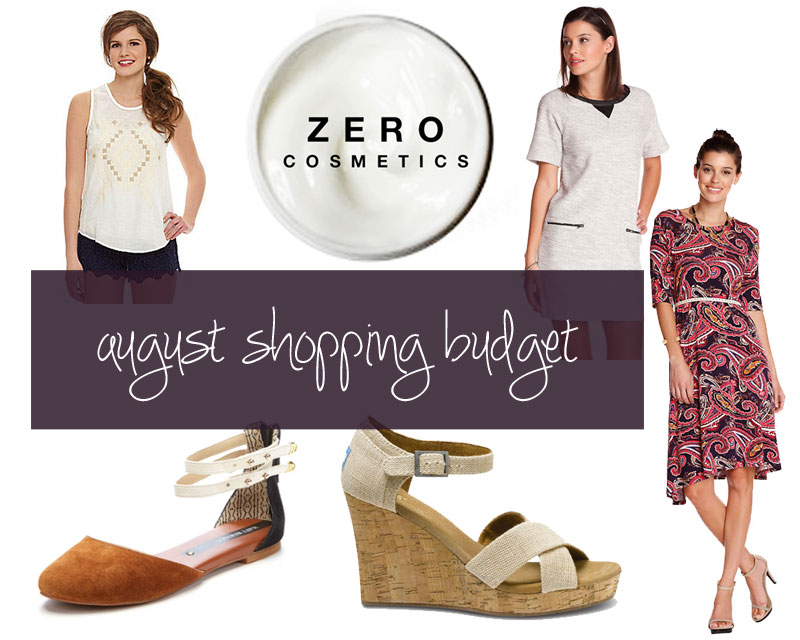 What I Bought:
Dillard's – When in Texas… I picked up a Giani Binni Embroidered Applique top (similar, the one I picked up has green embroidery) for $24. I mentioned last month that purchases in Texas didn't count, but this was the only thing that I ended up keeping. (I tried this adorable watercolor dress from Anthropologie, but it was cut wrong for me so I returned it.)
Memebox – I added this one-time subscription box (Zero Cosmetics box review here) to my month's budget for $17 after discounts. This box was a lot of fun to receive, and I loved nearly everything I got.
Golden Tote – I couldn't resist this month, and ordered my Golden Tote late. I picked up this adorable Paisley Swing Dress and this Edged Up Sweatshirt Dress as my picks for $149 (they surprised me with 4 other items… love that!)
MyHabit – I happened to log in to MyHabit right at 4pm to hit their 90% off shoe sale, and snagged these adorable Matt Bernson flats for $15. Crazy!
TOMS – I grabbed these cute linen wedges for $52 during their 25% off sale a couple of weeks ago. They came last week and they are so comfortable!
In total, I spent $257 in August. For September, I'm upping my budget to $400 since we will be traveling and I'm also attending Fashion Week with Sarah, and I want to get a few new things to wear. I hope to unload some of my wardrobe this month on Poshmark as well, to help offset my spending. You're more than welcome to help out by shopping my closet on Poshmark… and when you join use code "BIEGV" to get $5 for both of us! ;) But seriously, you should join so you can sell stuff with me.
Linking up with Fran for budgeting bloggers
What did you get last month? Do you follow a budget?