Well, today in totally not blog news, I'm off to Disneyland! We've been so excited for this trip for a while… but also a bit hesitant. Why you ask? Well, we're staying in a house. With 28 people. Yep, we're insane. We're traveling with Dave's entire family (aunts, uncles, grandma, cousins, siblings) and it's going to be nuts. Wish us luck – we're also staying with multiple children under the age of five… as childless people, I'm sweating a little just thinking about it.
I'm sure we'll survive, but we may rethink future child plans after it. Just kidding. Kind of.
Anyways, I thought I'd share my Birchbox with you this month, and it just so happened Niki of Glossy Blonde graciously allowed me to co-host Tuesday Pretties with her! Be sure to link up at the bottom of the post if you have some pretty things to share. :)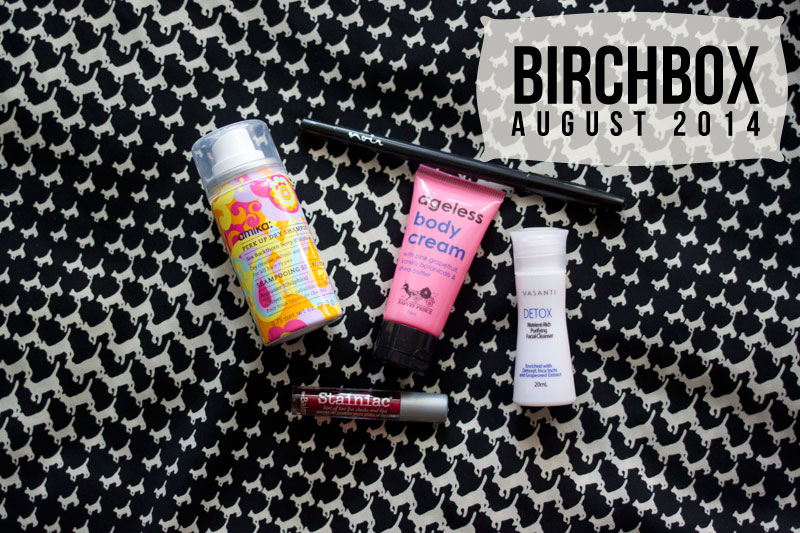 Birchbox August 2014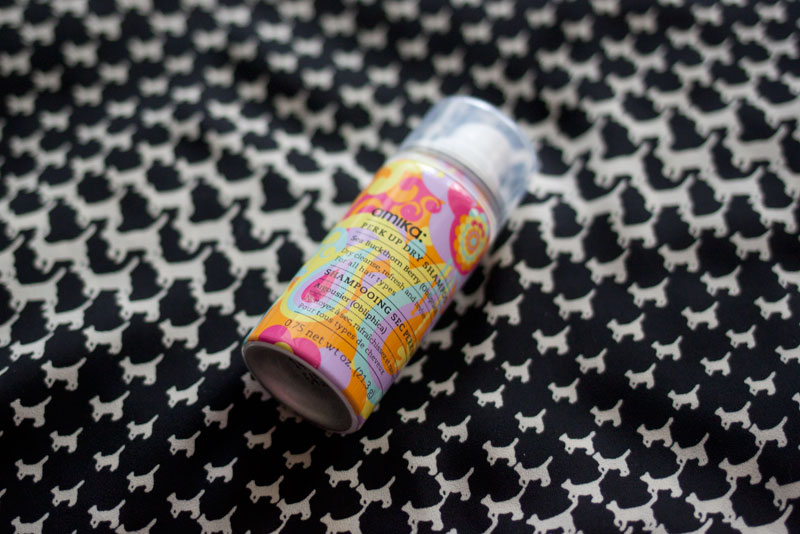 Amika Perk Up Dry Shampoo – So, you may remember from my Ipsy review that I got a dry shampoo sample there too… hmmm. Well, I will say this smells better than any other dry shampoo that I've tried and the packaging is beyond cute, but I honestly prefer the Klorane overall. (.75 fl oz / Value $2.97)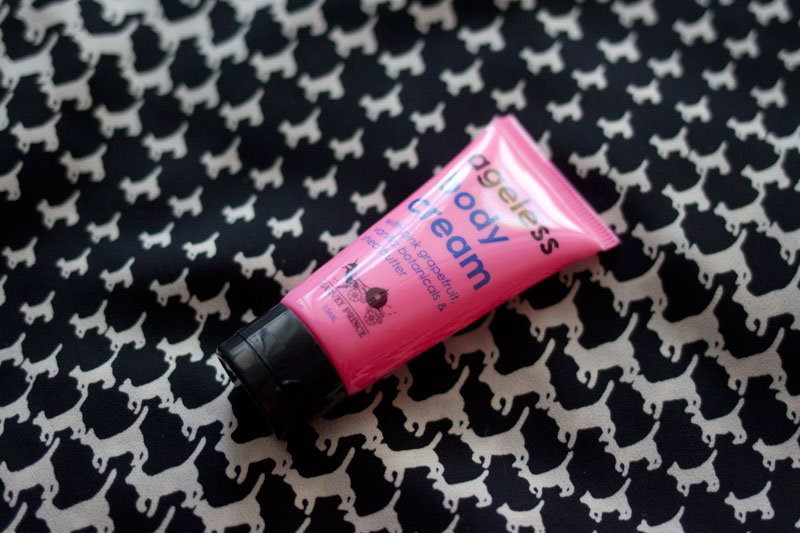 Harvey Prince Ageless Body Cream – I won't lie, body lotion is my least favorite thing to receive in subscription boxes. I find it so boring, I mean, generally lotion is lotion as long as the scent doesn't suck and the texture isn't watery. This was fine. It smelled good, it was a thick body cream. (15 ml / Value $.94)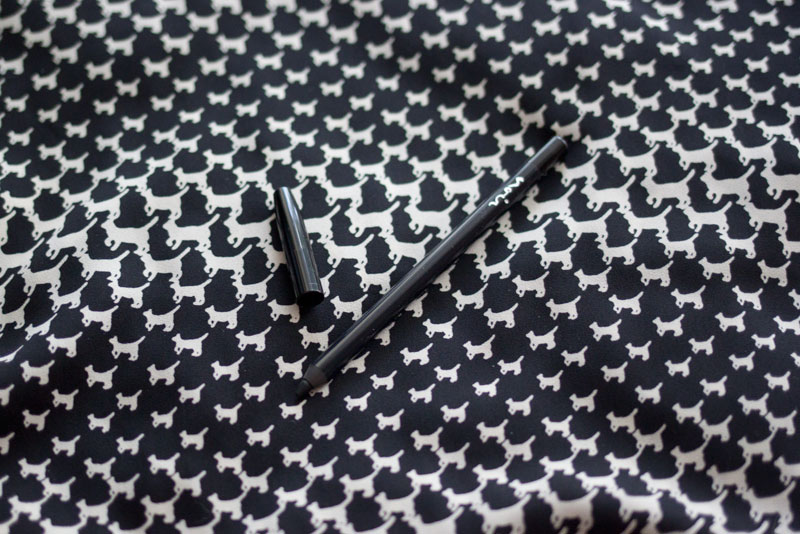 Noir Cosmetics Black Mania Kohl Eyeliner – So I kind of let out a sigh when I saw this in my box. I mean, at least it wasn't mascara, but I'm kind of bored of eyeliner samples. BUT, I'm glad I tried this, because it's formula rivals Urban Decay's 24/7 Liner and it's cheaper by $5. I'd recommend if you're looking for a smudgable liner with staying power. (Full Size / Value $15)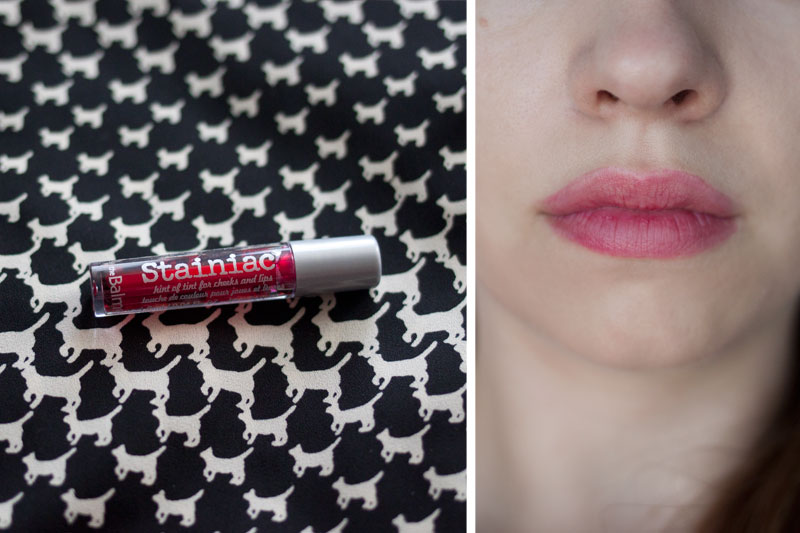 theBalm Cosmetics Stainiac in Beauty Queen – First of all, every time I used this I started singing "Maniac" in my head, so that's fun. I'm honestly a little mixed on my thoughts with this. I often have dry lips, and this kind of clings to the dry areas and doesn't look so great. On the other hand, I like the subtle color this adds and think it works as expected. (.04 oz / Value $2.27)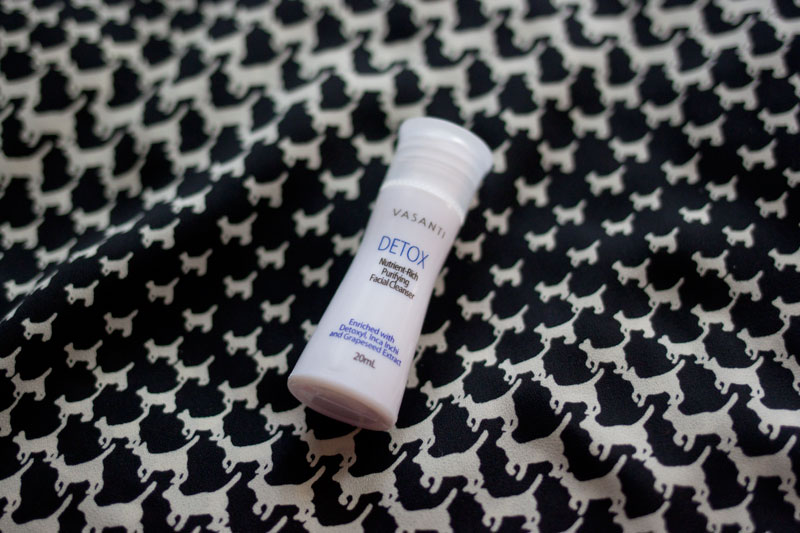 Vasanti Detox Nutrient Rich Purifying Facial Cleanser – This is a really cleanser for dry skin like mine. It's not drying, as the cleanser is really thick, almost like a lotion. It also doesn't irritate my sensitive skin or give that tight feeling after using, which is great! (20 ml / Value $3.52)
Overall, not my favorite Birchbox ever, but I was excited to try out Stainiac and the Amika dry shampoo, and the other samples were fun too. For $10, I got a box worth about $25 which seems like a good deal to me.
…. And now for a great giveaway, brought to you by The Darling Daily and friends. Enter below to win $30 PayPal cash to get whatever your little heart desires!
---
Welcome to Tuesday Pretties with Glossy Blonde! Tuesday Pretties is a weekly link up where you can link up your Tuesday blog post containing pretty fashion, beauty, DIY, home design… really anything pretty!!
Requirements
1. Follow your host and co-host! Niki @ Glossy Blonde and Jenn @ hellorigby! 2. Link up your pretties! (Be sure to link up to an actual post, not your blog's main page.) 3. Grab a button or link back! This helps others find the linkup, and the more linking up, the more new blog friends we can make! 4. Visit a few of the entries! It's a great chance for you to get to know other bloggers! 5. Spread the word via social media if you'd like! The more the merrier! Be sure to tag me (@nikmariec) and use the hashtag #TuesdayPretties!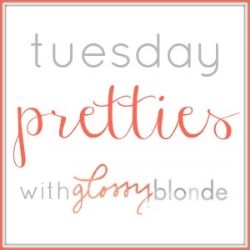 Interested in co-hosting? Shoot me an email at niki@glossyblonde.com for more info!
Link-ups: Still Being Molly, Fizz and Frosting, Style Elixir, The Pleated Poppy, Tucker Up, Transatlantic Blonde, Because Shanna Said So, Pampers and Pearls, Vodka Infused Lemonade, Penniless Socialite, Two Thirty-Five Designs, All Things Chic, Treasure Tromp
---
Do you get Birchbox? What were your thoughts on this month's box?