Daisies, daisies everywhere! I can't be the only one who has noticed daisies popping up all over the place lately. This print totally reminds me of my childhood – I had a multi colored daisy romper in the 90s that was totally my jam.
While I don't think I need to rock that same daisy romper anytime soon, I wouldn't mind adding a few cute daisy items to my closet for spring. Here are some of my favorite budget-friendly picks: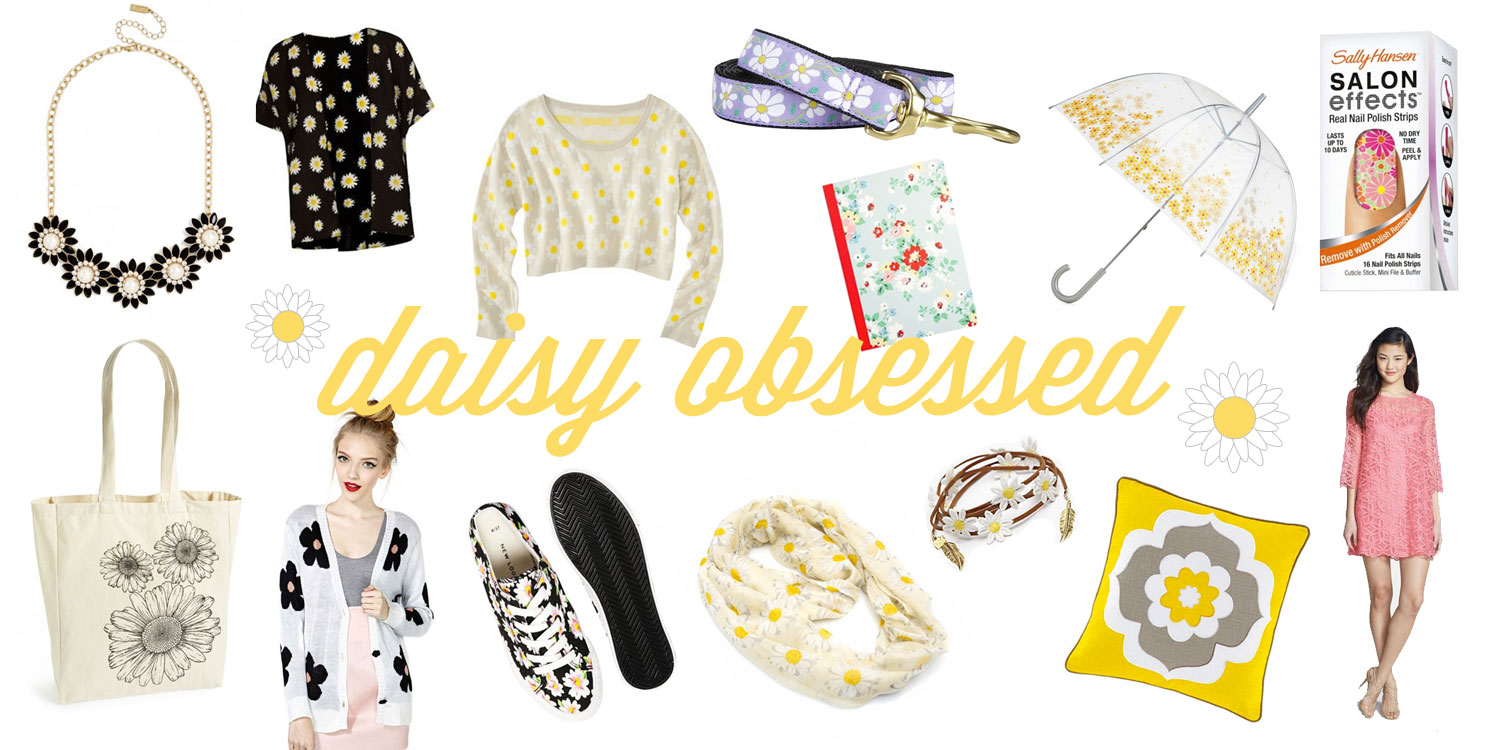 TOP
Daisy Collar $38  / Daisy Kimono $20 / Cropped Sweater $23 / Daisy Lead $20 Notebook $12  / Umbrella $30 / Polish Strips $9
BOTTOM
Daisy Tote $10 / Flower Power Cardi $58 / Flatform Sneakers $29 / Infinity Scarf $8 / Braid Ins $24 / Jonathan Adler Pillow $32 / Embroidered Dress $84
Not only do daisies make a cute fashion statement, but they can also make a great scent statement. Both Marc Jacobs Daisy and Daisy Eau So Fresh totally remind me that spring is on the way. And that makes me very happy, because I am so tired of being cold!
Ok, now the part you've all been waiting for!
Since Marc Jacobs Daisy and Crowdtap kindly sent samples for me to try + share, I figured why not make a fun giveaway out of it? I hand-picked one big surprise gift bag for one lucky winner that will contain some fun mystery beauty + fashion items that I love that are valued at over $100 (including a cute purse sized Marc Jacobs Daisy, c/o Crowdtap). Five other lucky winners will win smaller "party favors" valued at about $30 each (including a sample vial or two of Daisy, also c/o Crowdtap).
Check back for winners on Wednesday, March 19 at 9pm PST! (Winners will be contacted via email, 48 hour reply is required.)
Disclosure: Product was sent to sample and share, but this giveaway and post are not sponsored by Marc Jacobs, Crowdtap, or any of the brands listed in this post. All thoughts and words are my own. I paid for all of the items (other than the samples) you'll be receiving if you're a lucky winner with my hard earned money! : )
Are you digging the daisy trend, or do you think it's too childish? How would you rock the trend?
xo.
Follow me on Twitter, Bloglovin', Pinterest, Instagram, and Tumblr

---
Follow Jenn: bloglovin / twitter / facebook / instagram / pinterest / g+ / youtube
---