So, I don't publicly post about when Dave is out-of-town because the last time I posted to social media about something humble-braggy, a giant rock flew through our window that night. We either have a crazy jealous stalker, or we have bad luck and some bratty children in our 'hood. I'll let you decide which is more likely, because I sure have no idea.
Needless to say, he's been gone for the past week-ish at Electric Daisy Carnival in Las Vegas. And I've been lonely, and so not feeling like an ~empowered independent woman~. I'll admit it. I'll even confess it. I've become that girl. The one who's reliant on a man.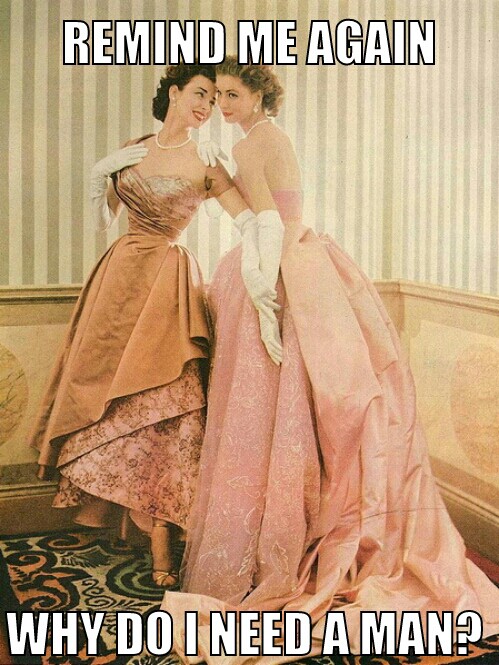 10 Ways that I'm not an Independent Woman:
1. I hate taking out the trash. In my world, that's the man's job. Oops.
2. Ditto with the recycle. I just can't lift and carry as much!
3. Bugs. Killing bugs. Gross gross gross.
4. I'm kind of afraid of the dark. I always think someone is lurking outside looking in our windows. Kind of unlikely, but having a man around makes me feel better.
5. I don't like taking the dog potty at night, for nearly the same reason. It's creepy and dark outside!
6. Cooking for one SUCKS. You either have to eat whatever you made for the next week, or you eat out. This must be why "family" frozen dinners were invented, so you could pretend to have a family!
7. The dumbest one: I had to pump my own gas.
8. Having to warm up the bed all by myself. Takes FOREVER, and my dog refuses to ever snuggle on the covers. What a brat.
9. You can't drive in the carpool lane if you're a party of one. It takes way longer to get anywhere. Awesome.
10. And finally… no one could reassure me that my outfit looked good, or give me opinions on these new pants I bought from Nordstrom on sale. Ugh, the humanity!
Okay, so perhaps I like having my man around… But I'm pretty sure I'll always be an independent woman. Just one that doesn't love to take out the trash or deal with other minor inconveniences.
What are some of the things you like your significant other to do so you don't have to? ;)
Linking up with Kathy and Liz for humpday, of course!

---
Follow Jenn: bloglovin / twitter / facebook / instagram / pinterest / g+ / youtube
---