Affiliate Links
It's that time again… time to be real about how much I spent in July. As you may know by now, every month I link up with Fran to share what I bought during the month. I include any and all clothing, shoes, accessories, and beauty products I purchase, but do give myself a break if I run out of the "essentials".
For July, I gave myself a budget of $200. Last month I did really well by going under, so technically I had a bit more than that to work with. :)
Here's what I bought with my July Budget: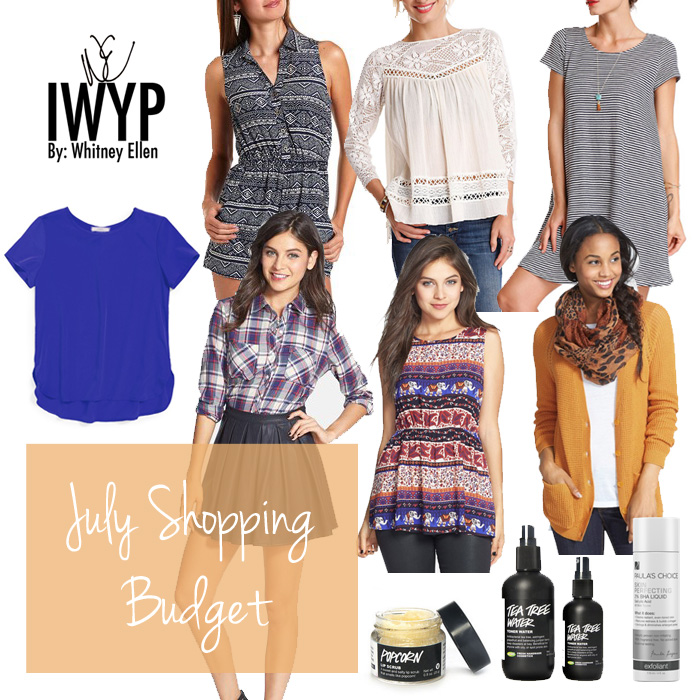 IWYP "Blogging is My Cardio" tee $25
I went thrifting and picked up a similar Tribal Print Romper for $4
I went a little crazy with Golden Tote this month and bought a large tote + add-on. I ended up selling 2 of my 7 items, spending a total of $99
I picked up a basic high/low tee from Nordstrom Rack for $15
I went a little nuts at the Nordstrom Anniversary Sale, but lucky for my wallet, quite a bit was ill-fitting. I kept this plaid button up for $25, this peplum print top for $22, and this waffle knit cardigan for $32. I'm nice and splurged on a few things for Dave too. (This hoodie and this button up, if you're curious.)
I stopped by Lush and grabbed the Popcorn Lip Scrub for $9, and their Tea Tree Toner for $10.
Last but not least, I scored this BHA Liquid from Paula's Choice for $10 on super sale. (Thanks for the tip, Rebecca!)
I spent $251 this month, but was able to sell $75 worth of clothing, bringing my total damages to $176. Woohoo, another successful budgeting month!
Since I'm traveling to Dallas next month, I'm going to let that weekend slide, but otherwise I'm committing to a budget of $150, plus the leftovers from this month ($24). We've got another trip planned in September, so time to crack down on the spending. :)
How did you do this month?