Happy April! I hope no one fooled you too much over the weekend. ;) I honestly can't believe how fast March went, and I'm still writing down March as the month whenever I've needed to over the past couple of days. But no, it's not the 31st still, so I guess I better embrace the new month. Hopefully, that means real spring weather is on the way, but until then, I have another Stitch Fix review to help kick off the month!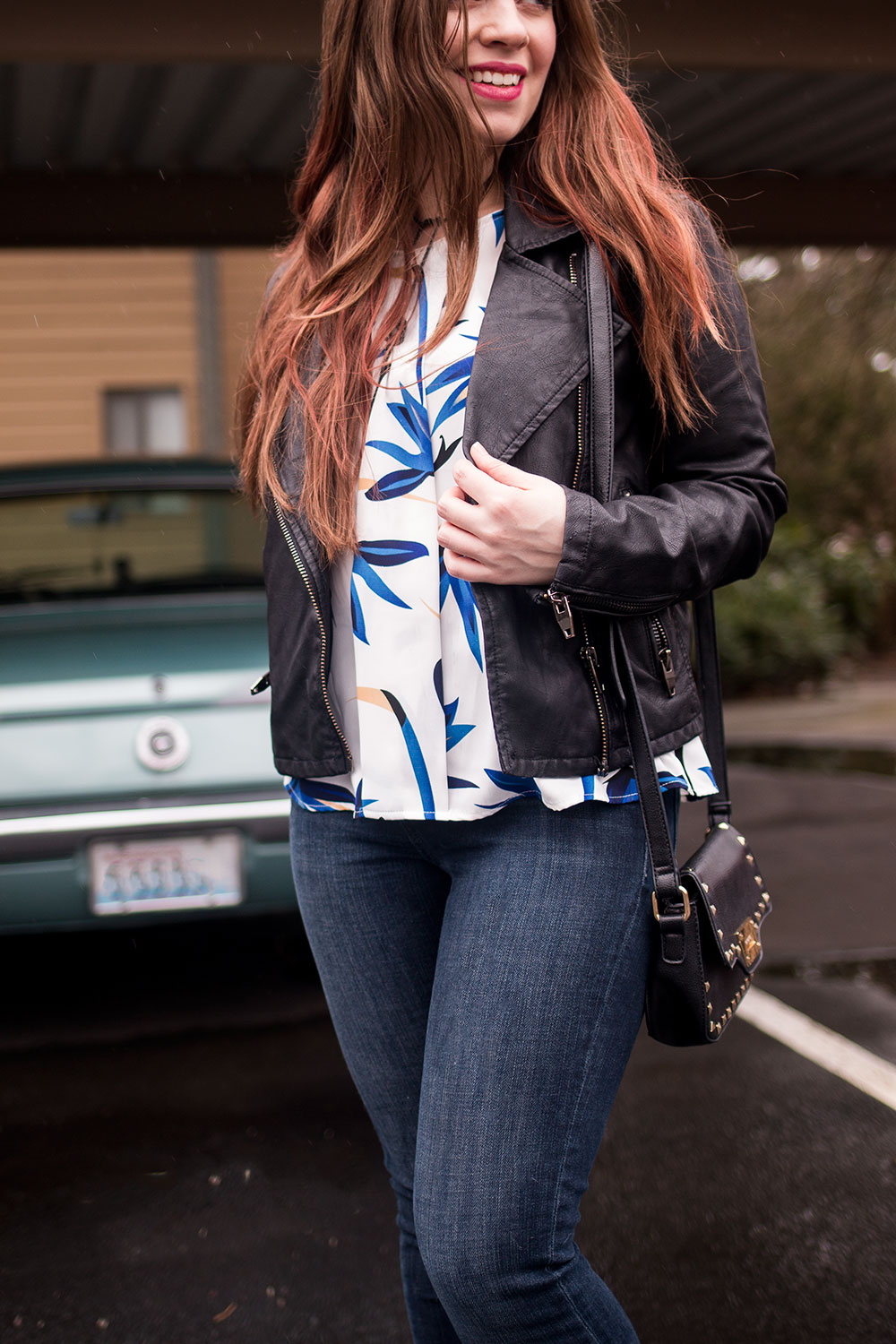 Disclosure: This post contains affiliate links. That means if you click a link, I may make a small commission from your purchase. I do pay for this subscription myself. :)
Stitch Fix April 2017 Review
If you're new to Stitch Fix, I'll break it down real quick. For a $20 styling fee, receive a box on your doorstep containing five items – anything from clothing to jewelry to handbags to shoes based on your style profile and Pinterest style board. Send back what you don't like, keep what you do, and your $20 styling fee will be deducted from the total. Keep all five items and receive an additional 25% off. Stitch Fix also is now serving male clients too! Have a significant other or male relative in need of some shopping assistance? Send them over to Stitch Fix Men! It works the same way, and it's perfect for the man in your life because let's be honest, most men hate shopping! Stitch Fix also offers maternity and petite sizing, and plus sizes have finally made their debut!
If you didn't see it last month, Stitch Fix is now offering over 90 brands for Plus Size clients in sizes 1X-3X or 14W-24W depending on the brand. Brands include ELOQUII, Junarosa, Slink Jeans, and more. You can sign up for Stitch Fix Plus here.
And now, onto what came in my Stitch Fix this month!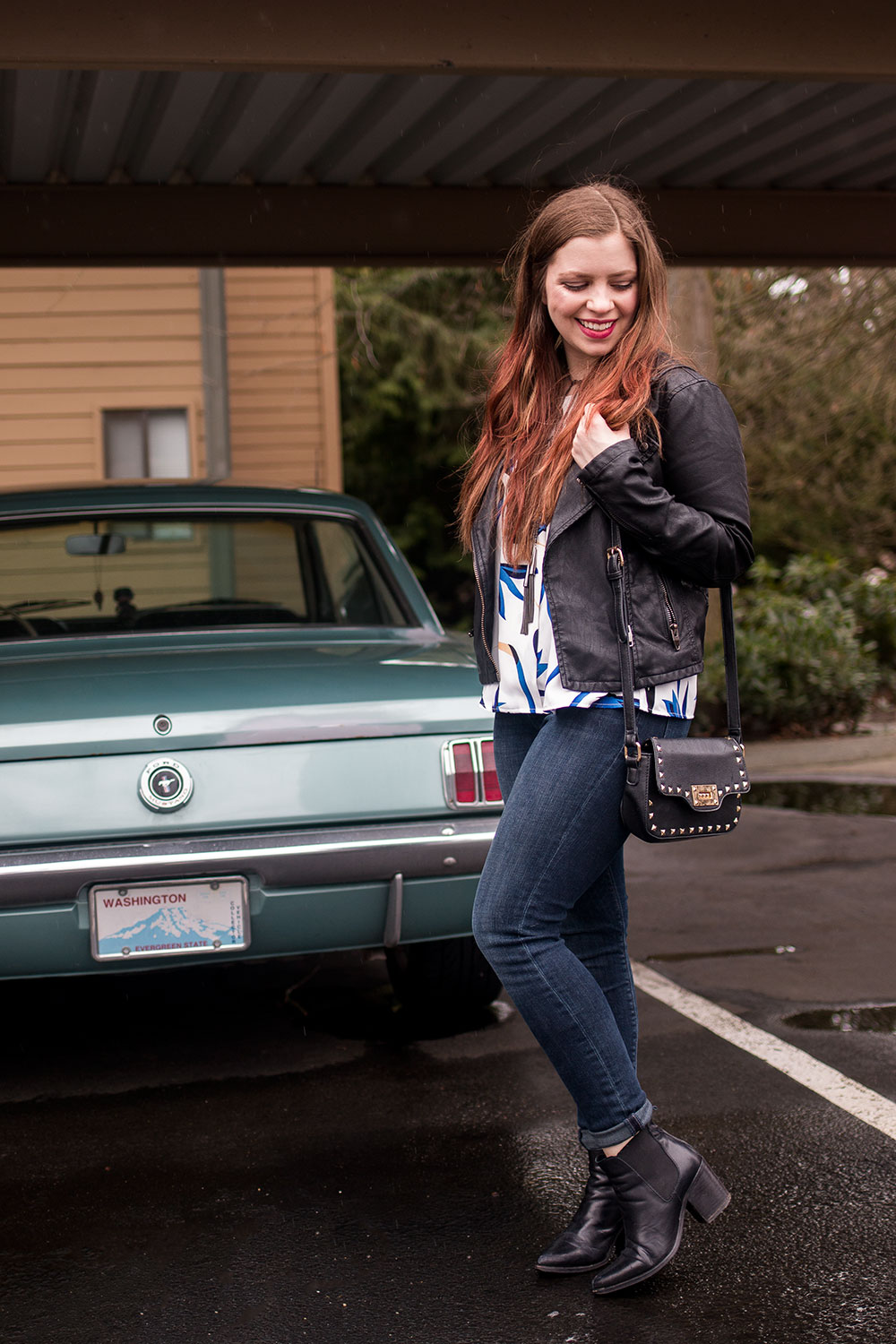 Papermoon Corvin Crew Neck Blouse in White, Size Small Petite, $38
The first top I pulled out of my Stitch Fix package was this cute Papermoon Corvin Blouse. I loved the floral (because if you know me, you know I love floral everything!) and I knew this would be a practical piece to wear come warmer weather. It's easy to dress tops like this up for the office or a special event or wear them casually on the weekend. At $38, I knew this top could be a keeper.
This was actually the final outfit I styled, and I liked it so much that I just kept it on and went to a friend's bridal appointment! For an edgier look, I paired the blouse with my favorite moto jacket from BlankNYC, a pair of skinny ankle jeans from Lucky Brand, and a pair of booties from Steve Madden. The accessories were simple, featuring pieces from Kendra Scott. The Phara Necklace is one of my favorite everyday pieces since it's so versatile, and her Boyd Ring in Hematite pairs perfectly!
Shop similar floral sleeveless blouses: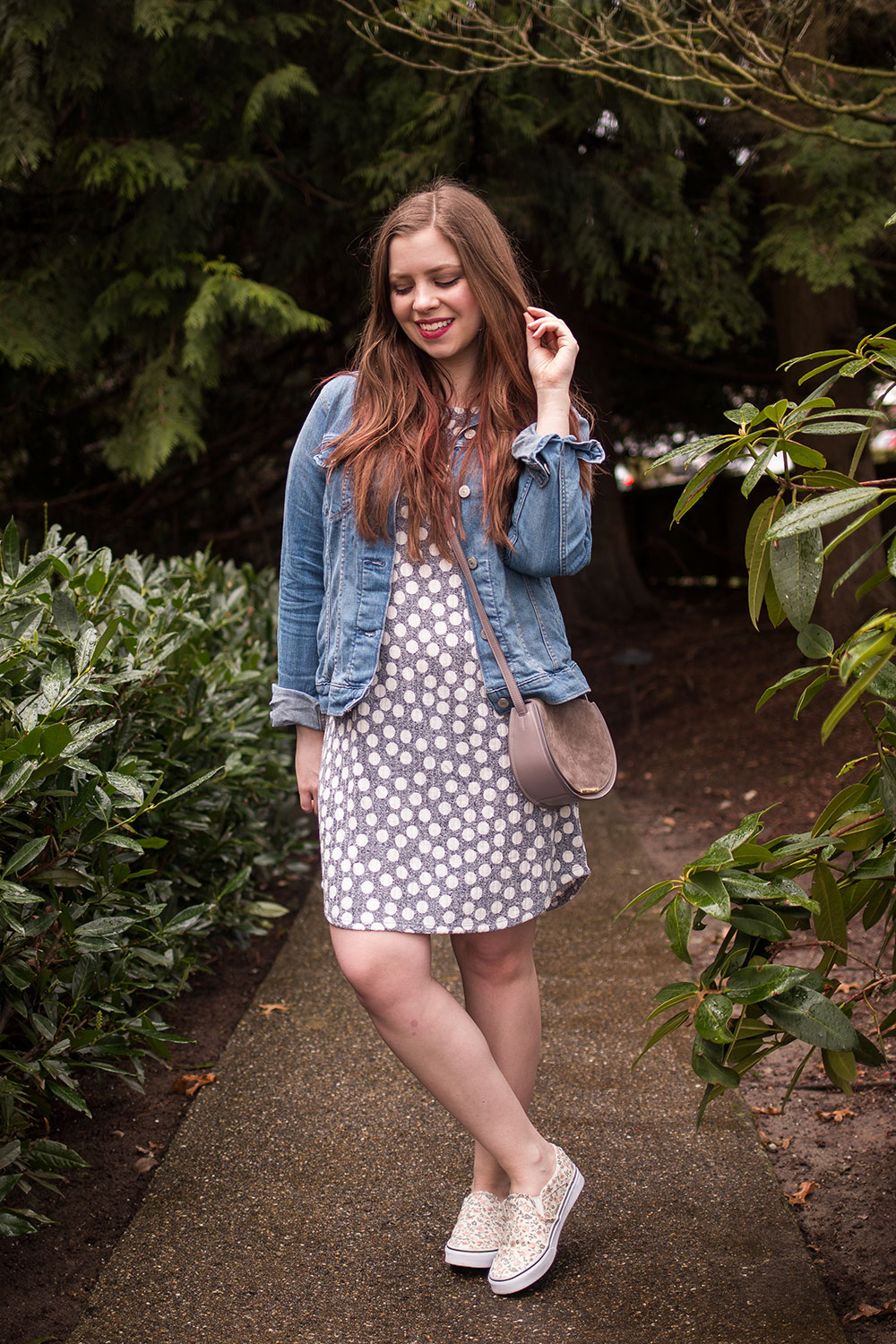 Kaileigh Alyson Knit Dress in Navy, Size Small, $54
When I pulled this out of my Stitch Fix package, I was instantly drawn to the fabric. It's a soft sweatshirt-like material that felt so cozy, and it felt even better on! I wasn't a huge fan of the pattern if I'm honest, but I'd love to see this same style in other colors or prints in the future!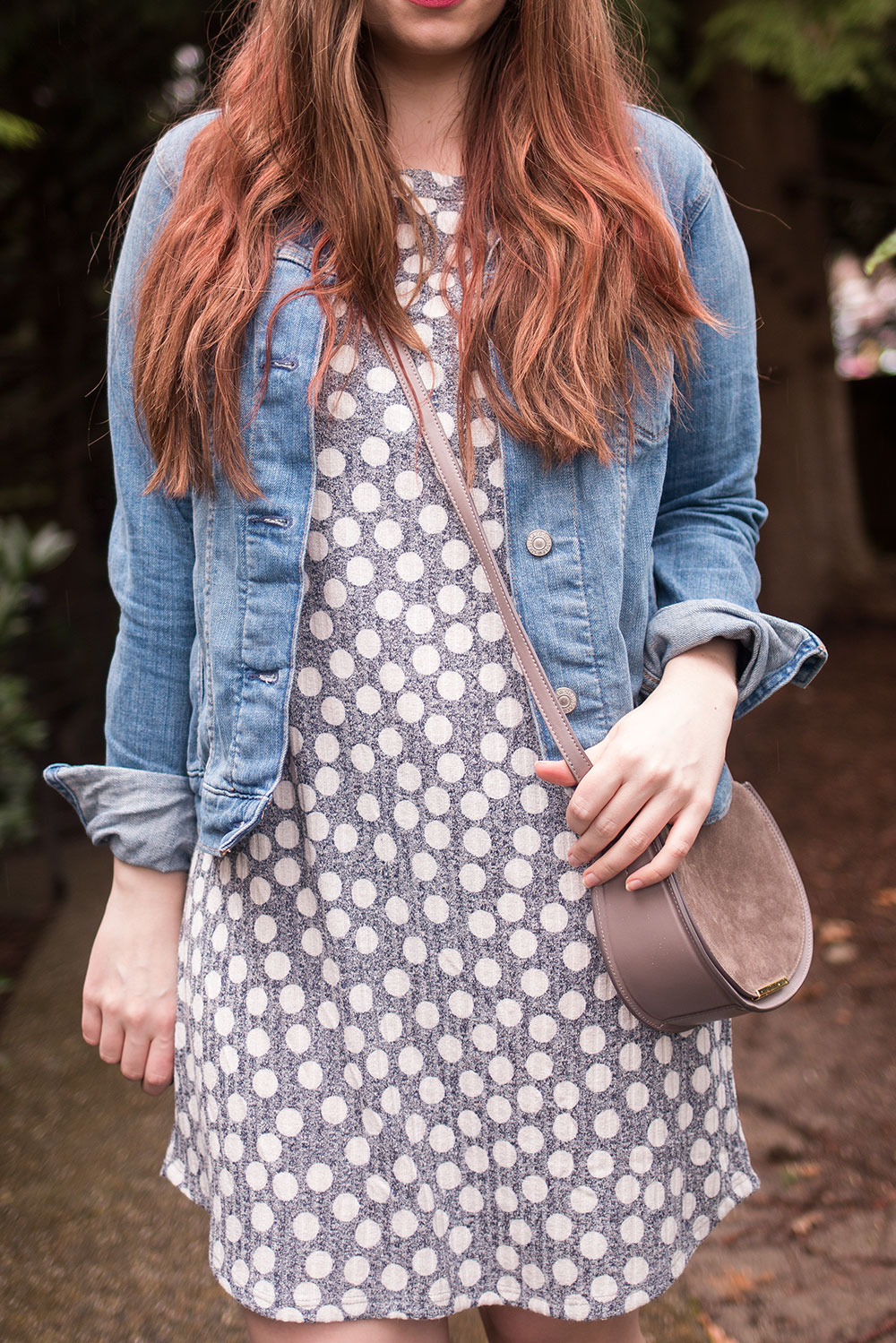 Since this dress felt so casual, I thought it would be perfect to pair with a pair of slip-on sneakers from Vans (this vintage floral version is my fave!) and a denim jacket. My Levi's Trucker Jacket is my go-to year-round, and it's broken in perfectly from last spring.
Shop similar t-shirt dresses: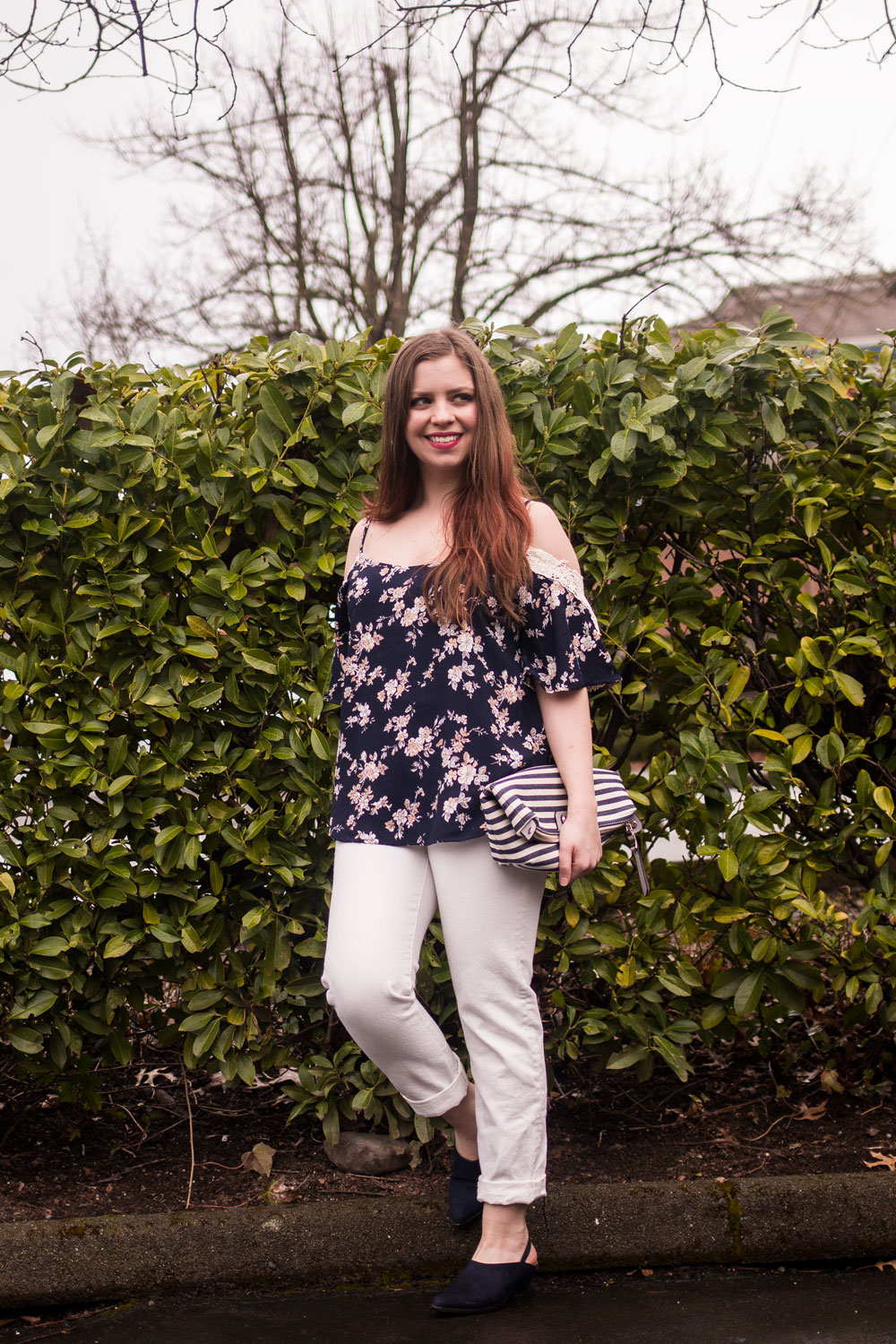 Kaileigh Luna Cold Shoulder Top in Navy, Size Small, $48
The Luna top from new-to-me brand Kaileigh is a cute top but felt a bit too large all over for me. I loved the drapey feel but noticed the sleeves kept slipping even just for these photos. I'd like to try a similar style to this one in a smaller size, so if this is a top you're interested in receiving in a future Fix, I might recommend asking for a size smaller than you usually wear.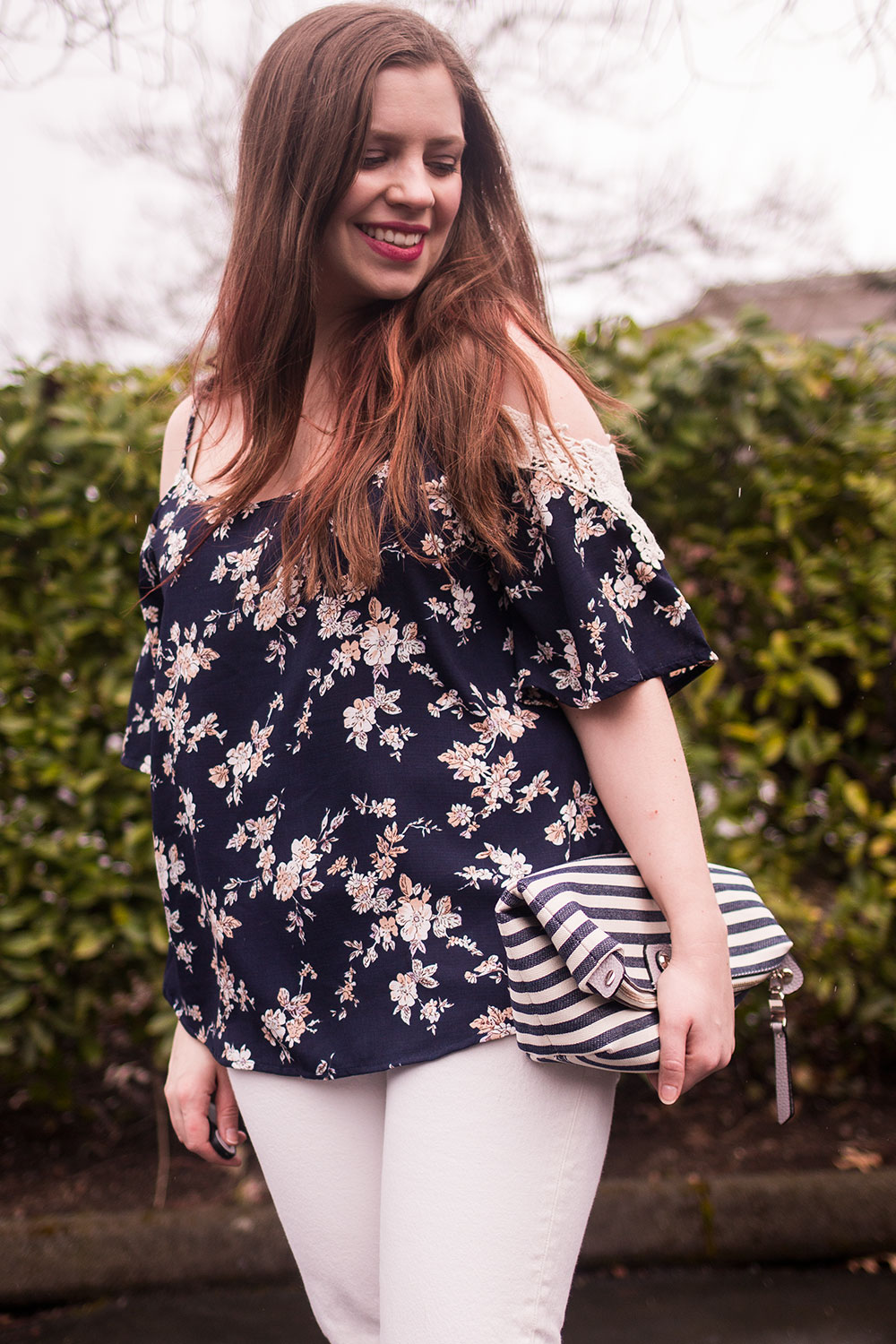 For this outfit, I loved the white lace accents and knew a pair of white boyfriend style jeans would be a perfect match. I love this pair from Levi's, and a striped clutch from Splendid finished off the look. Pairing stripes with floral is one of my favorite ways to pattern mix, and is perfect for spring!
Shop similar cold shoulder tops: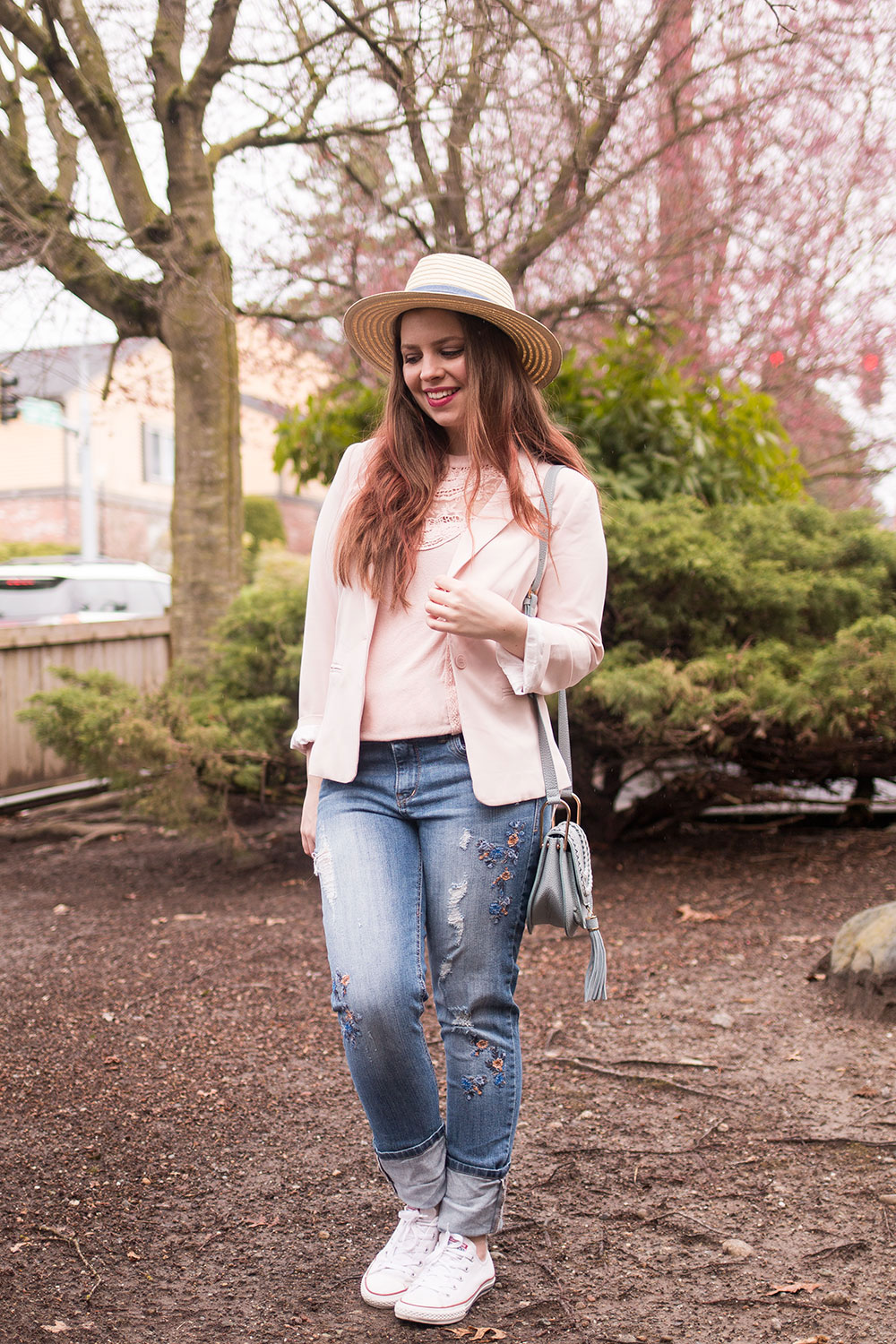 Kensie Rebekah Stretch Crepe Blazer in Blush, Size Small, $88
The Kensie Rebekah Blazer is adorable. Who can say no to blush pink this season?! Not this girl. I loved the slightly oversize fit (but not too oversized, no one is going to think this one isn't yours!) and the crepe material is both soft and flattering.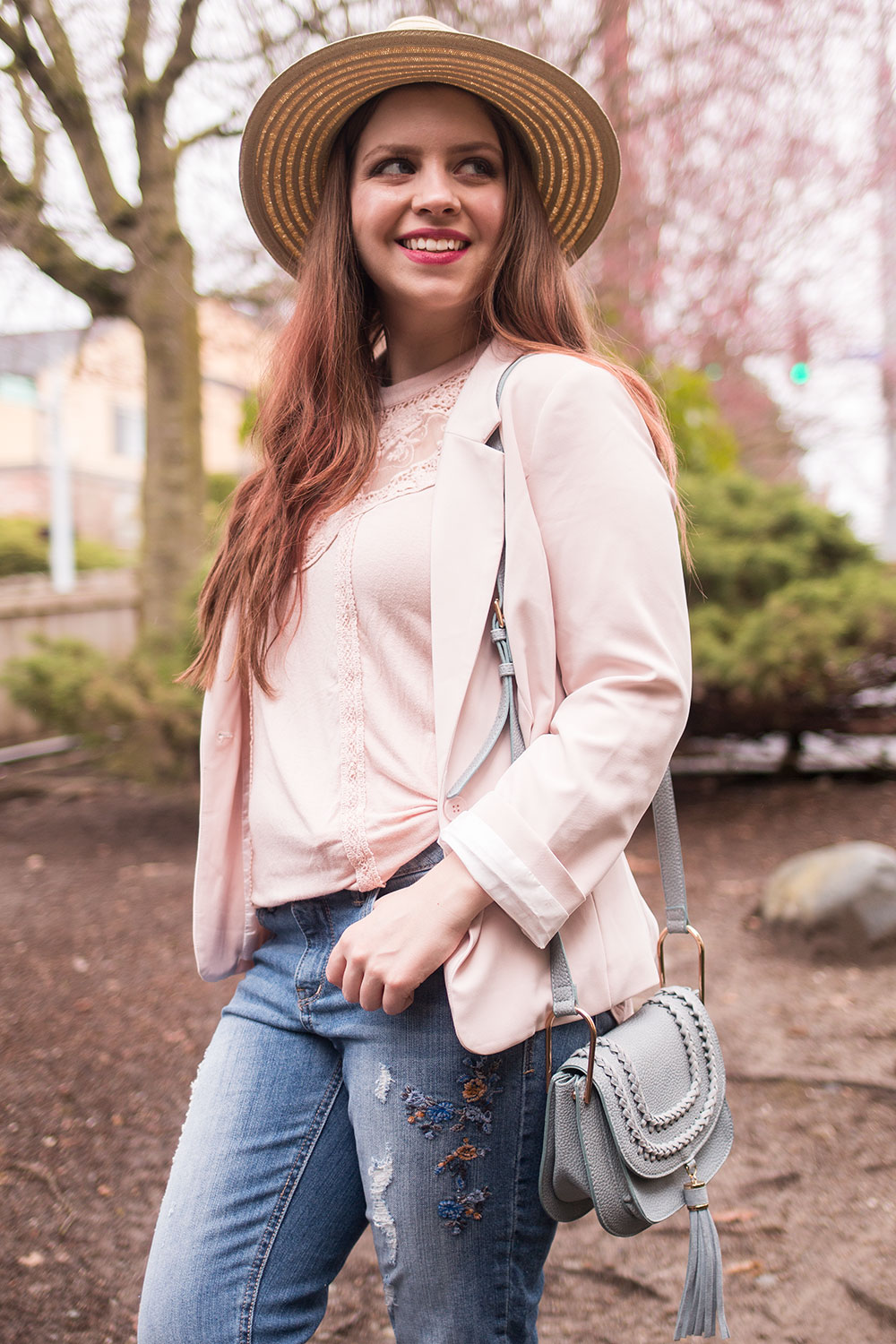 When styling this, I wanted to show a simple way to wear a blazer casually. For me, that means a pair of slightly slouchy jeans and a more casual knit top. These jeans from Democracy Denim have a fun embroidery detail, and distressed look that I think goes well. My top from Energie is comfortable and oversized, so I opted to tuck it in for a bit more of a polished feel. Finally, I topped the look off with a pair of white Converse and a straw hat that will have you feeling all of the spring vibes!
Shop similar pink blazers: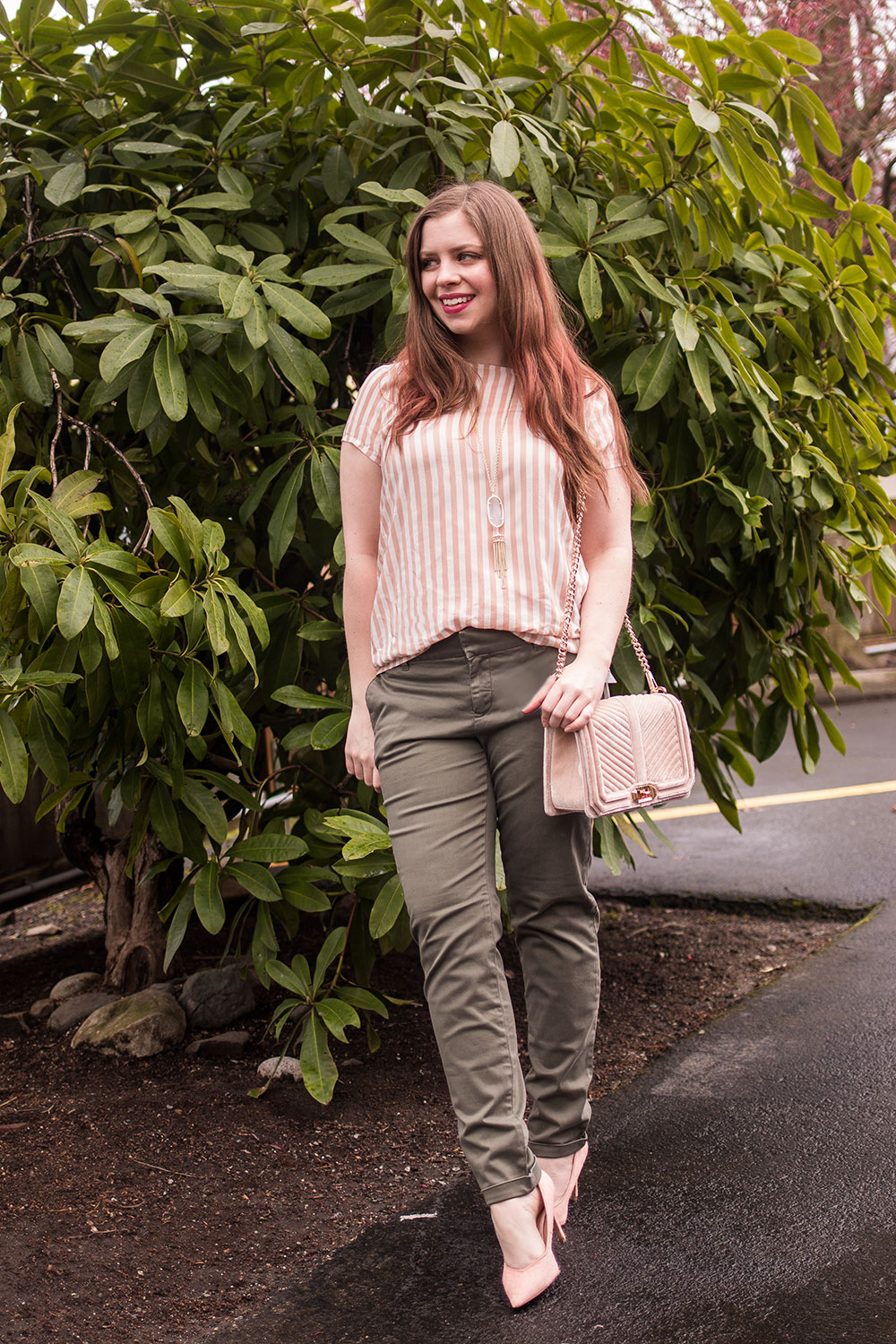 Kut from the Kloth Jilian Straight Leg Pant in Olive, Size 4, $68
Finally, the Kut from the Kloth Jilian Pant in Olive rounded off my April Stitch Fix. After receiving a similar pair of pants from Kut from the Kloth in last month's Fix, my stylist, Erika, decided to send me a similar pair. Unlike last month, these are not a cropped version but instead a full pant. I noticed these also fit differently – a bit looser in the waist and puckered a bit more elsewhere. I preferred the fit of last month's crops better though these were still a nice option to try out. Dress pants are always a hard fit for me, so it's good to know what does and doesn't work!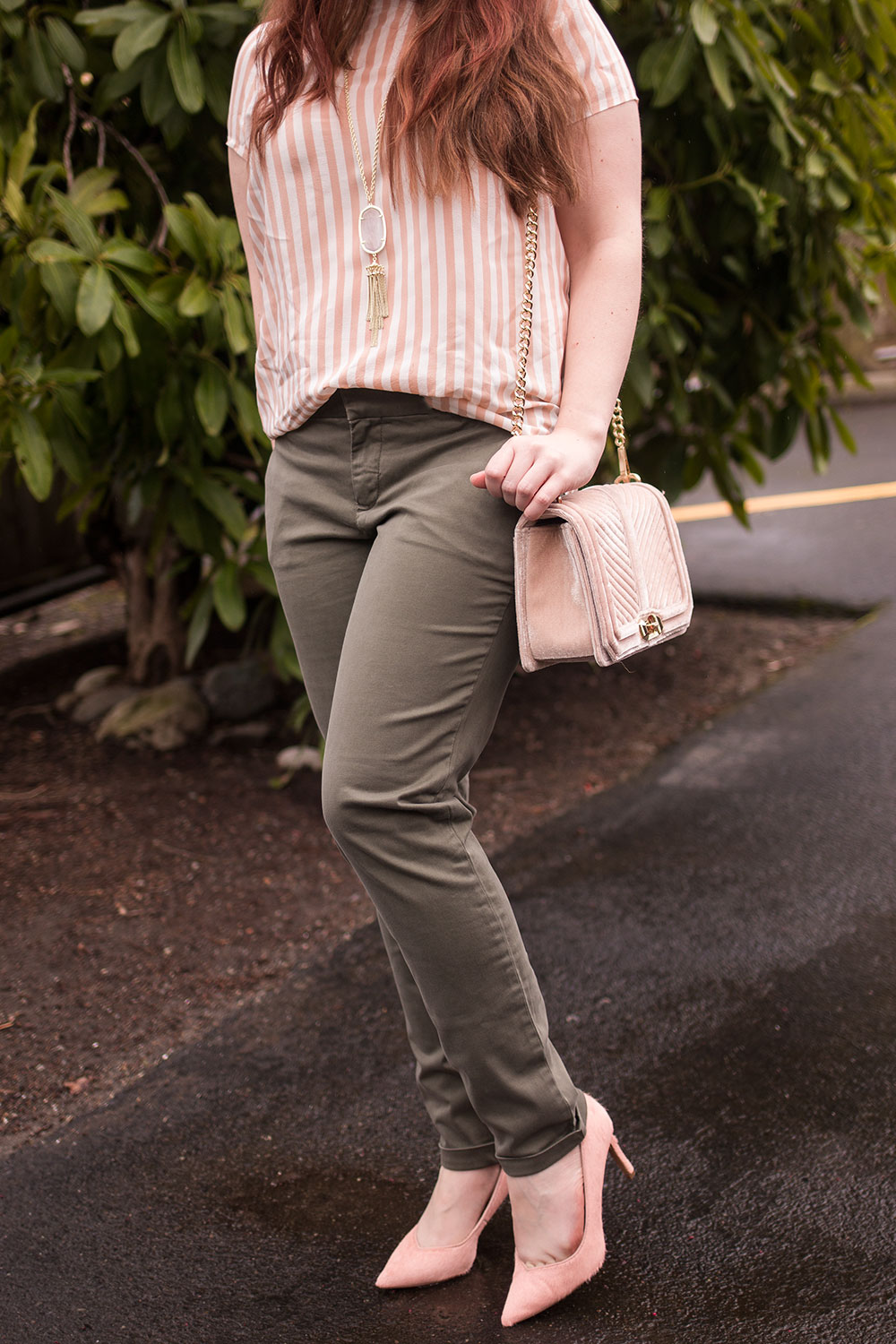 I was instantly drawn to the color (a shade of green is the Pantone Color of the Year, after all!) and wanted to pair it with my other favorite shade, blush! This top from Cuyana is silk, luxurious, and a new favorite. My Madison Pumps from Banana Republic and LOVE Crossbody from Rebecca Minkoff paired perfectly as well. I finished off the look with a Kendra Scott Rayne Necklace that has been a new wardrobe staple for me over the past month. Is there anything that it won't go with?!
Shop similar olive pants:

And that's a wrap on this month's Stitch Fix review! I hope you enjoyed seeing the pieces I got and how I opted to style them into my current wardrobe. Overall, I was pleased with the variety and styles in this month's Fix! My new stylist, Erika, did a great job at honing in on my style and sending me pieces I could see adding to my closet.
Out of all the pieces I received, which were your favorite? How would you style these pieces? I'd love to hear your thoughts about my Stitch Fix in the comments below!