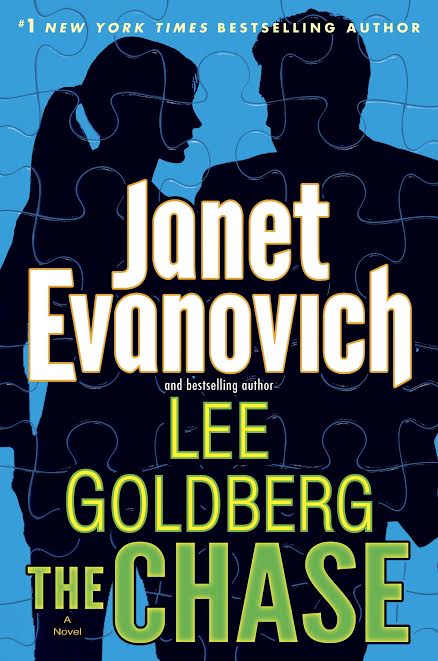 Book to Review: The Chase (#2, The Fox and O'Hare) by Janet Evanovich and Lee Goldberg
Stars: ★★★
Source: c/o NetGalley & Random House / Available today from Amazon
Synopsis:
Janet Evanovich and Lee Goldberg, New York Times bestselling authors of The Heist, return in this action-packed, exciting adventure featuring master con artist Nicolas Fox and die-hard FBI agent Kate O'Hare. And this time around, things go from hot to nuclear when government secrets are on the line.
Internationally renowned thief and con artist Nicolas Fox is famous for running elaborate and daring scams. His greatest con of all: convincing the FBI to team him up with the only person who has ever caught him, and the only woman to ever capture his attention, Special Agent Kate O'Hare. Together they'll go undercover to swindle and catch the world's most wanted—and untouchable—criminals.
Their newest target is Carter Grove, a former White House chief of staff and the ruthless leader of a private security agency. Grove has stolen a rare Chinese artifact from the Smithsonian, a crime that will torpedo U.S. relations with China if it ever becomes public. Nick and Kate must work under the radar—and against the clock—to devise a plan to steal the piece back. Confronting Grove's elite assassins, Nick and Kate rely on the skills of their ragtag crew, including a flamboyant actor, a Geek Squad techie, and a band of AARP-card-carrying mercenaries led by none other than Kate's dad.
A daring heist and a deadly chase lead Nick and Kate from Washington, D.C., to Shanghai, from the highlands of Scotland to the underbelly of Montreal. But it'll take more than death threats, trained henchmen, sleepless nights, and the fate of a dynasty's priceless heirloom to outsmart Fox and O'Hare.
Review:
I've followed Janet Evanovich's writing and novels since the Stephanie Plum series. If you aren't familiar, I highly recommend them. Granted they aren't going to blow you away with their thick plot lines, themes, or complicated symbolism, but they're a fun escape and the perfect read while traveling or relaxing in the tub. The characters are quirky, scrappy, and fun.
The Chase felt a bit different. While I appreciated the escapism and the action, this book didn't quite hit the same mark for me that Evanovich's other books have.  While I still enjoyed it, I felt like it fell a bit flat. While the characters had some of the bits and pieces that I enjoyed (the fun food references, a few sexual innuendos, and some crazy antics), I really couldn't relate or "get to know" any of them.
Kate O'Hare is an FBI agent. Nicolas Fox is on the run. Who would guess that an FBI agent and someones on the FBI's ten most wanted list would be in cahoots? They're not only in cahoots but they're on a mission given to them by the FBI: they're to recover 3 stolen Rembrandt paintings. The plot is full of crazy twists and turns, with
Nick and Kate are quite an odd couple, too. In fact, they're not really a couple at all. There's some awkward sexual tension, but there's nothing that really comes of it. So if you're looking for a steamy romance with a little thriller action, this isn't for you. I'm hoping that if there's a #3 in this series that we see their relationship grow a bit more.
Overall, the Chase is a fun novel to pick up if you're looking for a quick read (I think this was about a 3 hour read for me) and for some crime hijinx. I grabbed #2 without reading the first novel (The Heist) and had no problem jumping right into the action. The dialogue flows well and the plot moves quickly. I really hope to see a third novel that brings back the character development that I remember from the Stephanie Plum series.  Recommended for fans of other Janet Evanovich novels, James Patterson, or other romance-crime novels.
Don't forget to enter to win some fun prizes to celebrate The Chase's launch day.
You can enter here:

---
Follow Jenn: bloglovin / twitter / facebook / instagram / pinterest / g+ / youtube
---