how is it May already?! i was looking at the date today and realized that oh shit, i haven't even posted about the books i read last month. why does it matter? well, i set out to read 100 books this year, for starters. that's a big goal, and of course i want to document it. plus, writing about what i read is fun, and i hope you like it too.
What I'm Reading Right Now: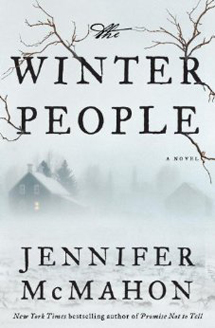 The Winter People by Jennifer McMahon
What I Read in April: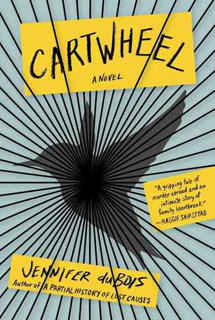 Cartwheel by Jennifer duBois – ★★ –  So technically I didn't really start or end this book in April, but honestly, I just couldn't get into it and finally gave it a new home. I think my main problem with Cartwheel was that it's entirely a rip off of the Amanda Knox story. I'm from Seattle, so is Amanda Knox, so I've heard her story a billion times. And sorry, I guess I'm just over hearing about it. I had thought this book was something different, but really it wasn't. It also had a quite long, drawn out and boring beginning, so I just had to give up on it.
Find it on Goodreads / Amazon
c/o Goodreads First Reads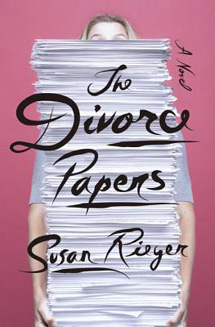 The Divorce Papers by Susan Rieger – ★★ – I feel bad, I guess I'm being hard on books this month. Another 2-starer, this novel just… well, it was a snooze fest. There was a lot of rambling and nothing happened. I gave it about 25% of the way through to grab me and it just wasn't happening for me.
Find it on Goodreads / Amazon
c/o NetGalley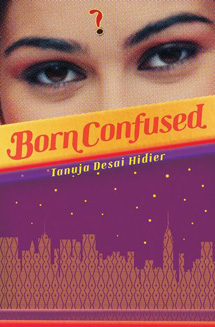 Born Confused by Tanuja Desai Hidier – ★★★★★ – I really, really loved this. The voice was so clear and the characters were so lovely in that they all felt so real! Chick lit, coming of age, and the teen angst of a YA, plus I got to hear all about Indian culture (and the food!)… this is my dream book. I listened to it on audiobook, and I felt the narrator really captured Dimple's voice well. I was sighing over her drunken mishaps (we've all been there!), giggling over her internal monologues, and cheering for her to get the boy in the end. Loved it.
Find it on Goodreads / Amazon
c/o NetGalley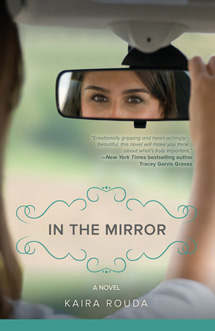 In the Mirror by Kaira Rouda – ★★★★ – Oh my gosh, so depressing but good at the same time. Jenn (no not me, the character in the book is just that cool and spells her name the same.) has breast cancer, is confined to Shady Valley, and has basically exhausted all treatment options. A man from her past resurfaces to visit her, and all hell breaks loose. This books definitely has its ups and downs, considering the subject matter relates to a very serious disease, but its overall very engaging, well written, and a thought-provoking read.
Find it on Goodreads / Amazon
c/o NetGalley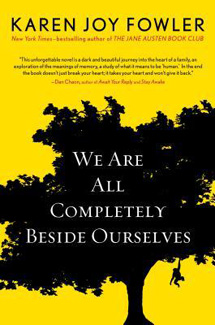 We Are All Completely Beside Ourselves by Karen Joy Fowler – ★★★ – Overall not a bad book, but not very relatable or particularly engaging for me, as I found myself tuning out a lot of the story and only being interested in bits and pieces. This book follows the story of Rosemary Cooke, who is exuberant and outgoing as a child,  then silences herself as young woman because of a string of memories. Perhaps if this book had been a bit shorter and less "choppy" and "drawn out" I would have appreciated the characters more.
Find it on Goodreads / Amazon
c/o NetGalley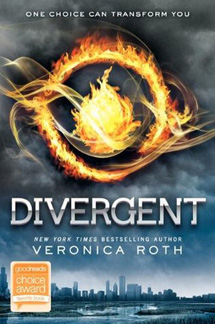 Divergent by Veronica Roth – ★★★★ (3.5) – I think Divergent was a little overhyped to me and was kind of let down. It's not like I expected anything different out of a dystopian YA, but I imagine its how future generations of children may feel about Harry Potter. (They'd be wrong, obviously.) I also made the mistake of not finishing the book before seeing the movie, which also may have swayed me. The first few chapters of the book are kind of boring in a where-is-this-going kind of way. When it finally gets going, its good, and then… it just ends. My biggest problem with it though, was that it took me FOREVER to read it. Why? Maybe I'm just not that into dystopian books because the same thing happened to me with The Hunger Games. I'm still giving it a 3.5. It was entertaining. It's exactly what a dystopian YA should be. But it's not changing lives or anything.
Find it on Goodreads / Amazon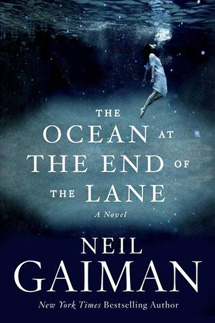 The Ocean at the End of the Lane by Neil Gaiman – ★★★★ (3.5) – Hm. I'm not quite sure what to say about this one. It's a fairly short book (~200 pages) and the writing is beautiful, absolutely lovely. BUT, I can't say I loved it, nor disliked it. It was okay. The story was a bit bizarre, and there was just no emotion in it. And the characters, well, we didn't even know the narrators name, so that should tell you something. One of my fellow book clubbers mentioned Gaiman originally wrote this as a short story, and honestly I think it would have been better to leave it that way.
Find it on Goodreads / Amazon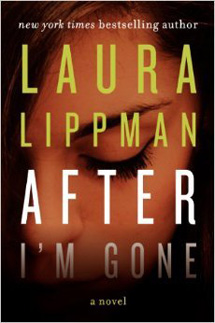 After I'm Gone by Laura Lippman – ★★★★ – It must be all the Nancy Drews I read as a child because I love me a good thriller/mystery. I enjoyed the parallel story lines that eventually came together to an "ah-ha!" moment, and figuring out how these characters got themselves in such a mess was fascinating. As much as I enjoyed the mystery, I never felt terribly connected to any character and I think that feeling continued throughout the entire book. Overall, if you're craving a mystery, this is a good pick.
Find it on Goodreads / Amazon
Total Books this month: 8
Total Books read this year: 33
linking up with treasure tromp
what are you reading?

---
Follow Jenn: bloglovin / twitter / facebook / instagram / pinterest / g+ / youtube
---