With the rise of the long wear liquid lipstick, it would seem like there'd be no need to figure out a way to make your lipstick last all day. The thing is, though, long wear liquid lipsticks are notorious for leaving your pout extremely parched. As much as I love a good liquid lip, I still reach for my traditional lipsticks, especially in the winter months.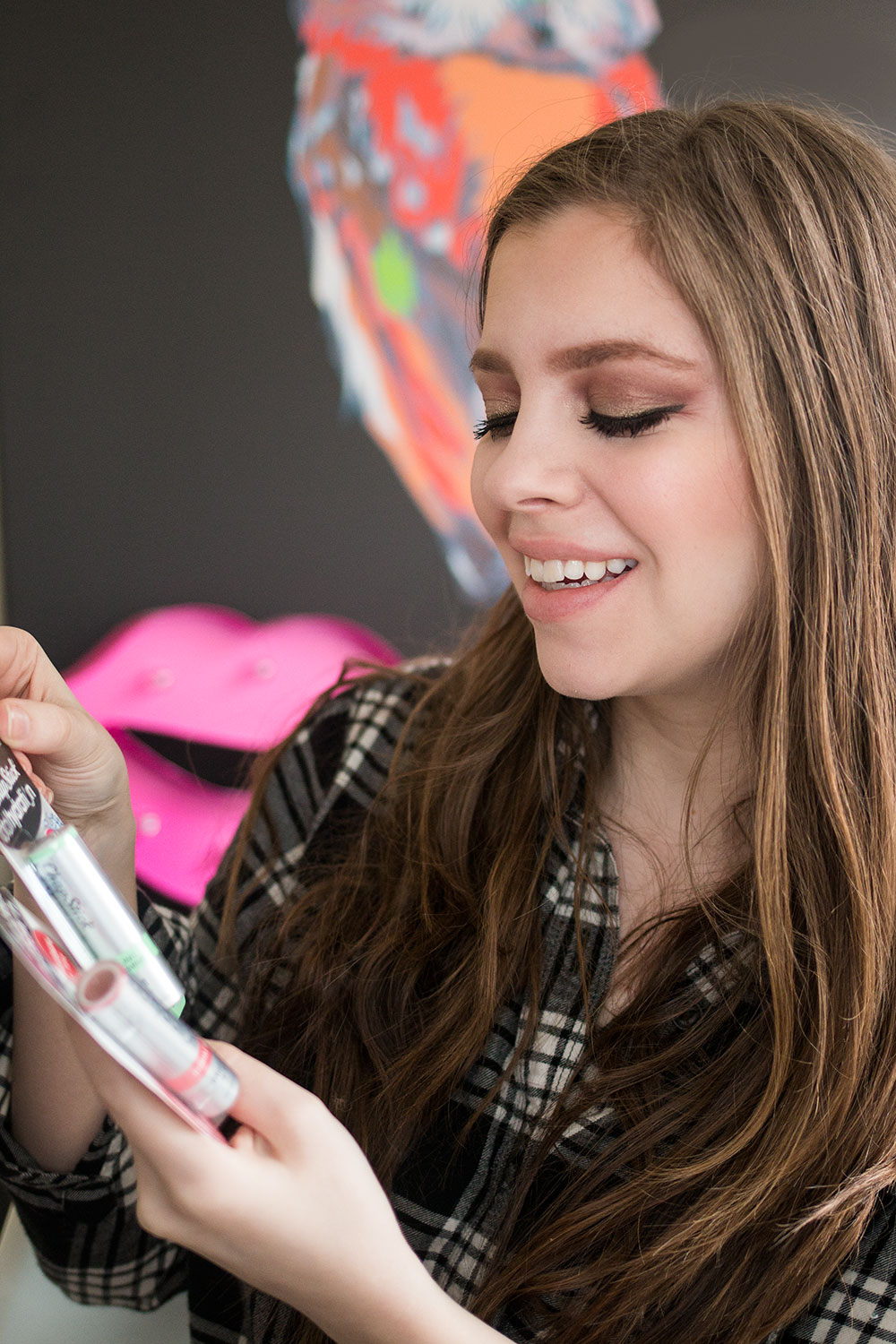 Disclosure: This post is sponsored by Pfizer Consumer Healthcare. All opinions and thoughts are my own!
5 Simple Ways to Make Your Lipstick Last All Day
Fortunately, there are a lot of ways to make all types of lip products last even longer without completely drying out your lips. I thought I'd share a few of my favorite ways to keep my lips in tip top shape, and how to prevent your lip color from wearing off too quick! Best of all, the products and tips featured are all incredibly affordable and can be found at your local Target. If you're like me and have been wearing ChapStick® branded products since birth (well, pretty much anyway) then you'll love their brand new Total Hydration line!

Start with the perfect base
The easiest way to make sure your lip color lasts longer is by having a nice, smooth base to apply your product to! The first way to ensure this is a light exfoliating product. I love the new ChapStick® Total Hydration Conditioning Lip Scrub for this! It is made with sugar crystals that are large enough to help remove dead skin, and the sugar is suspended in a base comprised of Maracuja and Coconut Oil, Shea Butter and Vitamin E that keeps lips from drying out. Too dry of a lip scrub formula can make it impossible to rub on the lips, and this one is the perfect combination of balm to scrub ratio! When you're ready to exfoliate your lips, gently moisten them with a damp cloth and rub the scrub on in circular motions. Then with your damp cloth, gently wipe away the scrub.
Once you've finished scrubbing off any dead skin, add a burst of hydration! I'm using the ChapStick® Total Hydration 3 in 1 Lip Balm that's formulated with Argan Oil, Omegas 6 & 9 and Avocado Butters that I picked up at Target. It's a formula that adheres to the lips without feeling like I'm wearing a sticky or greasy balm on my lips. Instead, it creates the perfect base for any lip product I'll be adding on top.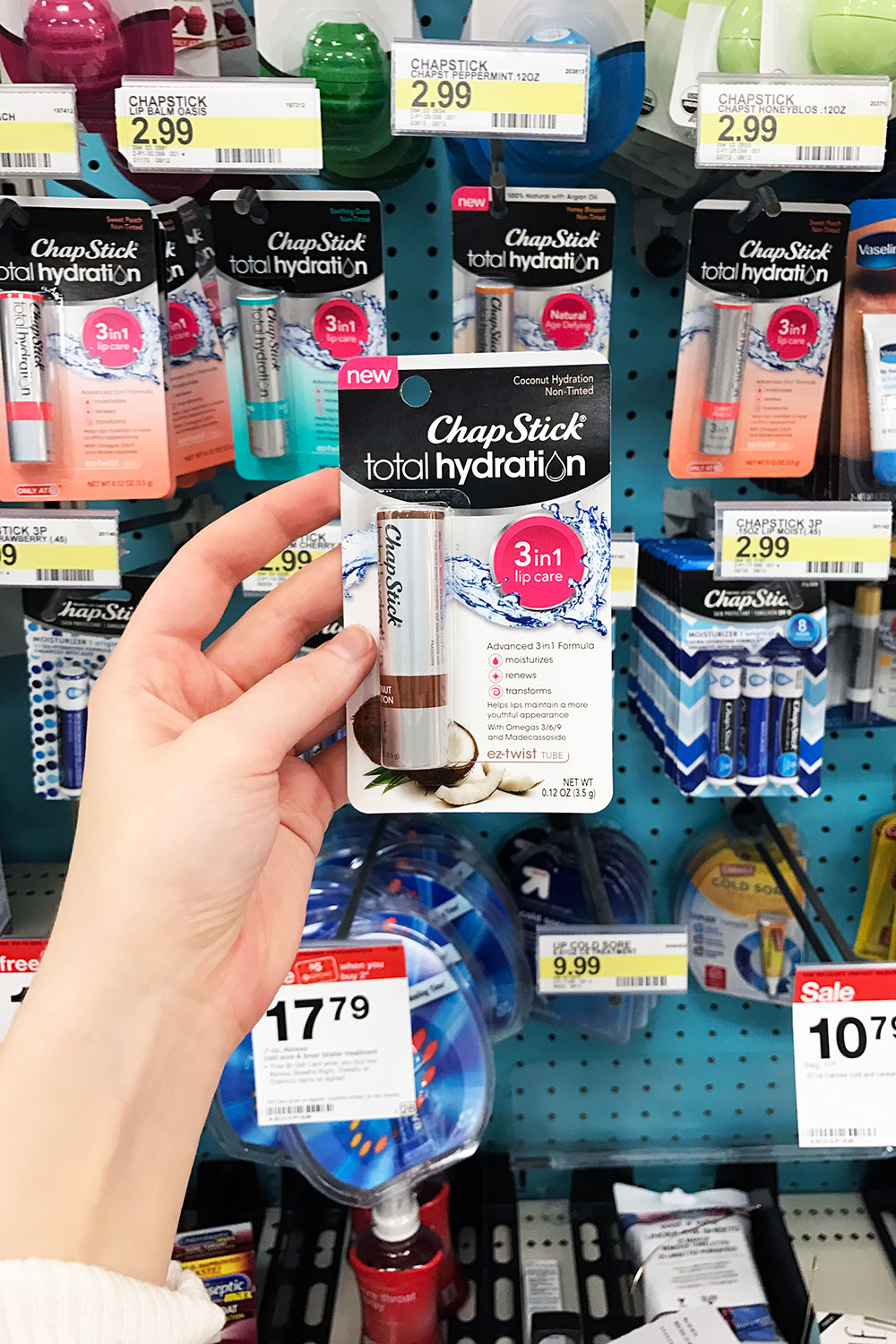 Alternatively, you could use one of the ChapStick® The Total Hydration Moisture + Tint balms to give your lips a pop of moisture and color in one fell swoop. The formula is made up of premium ingredients like Rosehip Oil, Jojoba Oil, and Avocado Butter. Plus, it comes in 3 colors for any occasion, and you can find all of the products mentioned in the lip care aisle near the pharmacy at Target. If you're anything like me, Target is basically your second home. ;)

Line those lips
Lining your lips before applying lip color is super helpful, especially when going bold with your color. It will prevent the color from bleeding outside the lip line, feathering, or prevent your lip color from looking patchy of streaky. If you don't have a lip liner that matches your color, a great option to always have in your beauty arsenal is a nude that is similar to the color of your lips or a translucent lip pencil.

Select a formula that fits your needs
There are so many amazing formulas available for lip colors these days that will suit a wide variety of occasions and needs. I love a good long wear liquid lipstick, though sometimes I don't want to feel like my lips are going to fall off from dryness by the end of the day. In those times, I'll often opt for a matte lipstick, which gives a longer hold without being quite as drying.
If you're more of a fan of a creamy lipstick, look for one that is labeled as being hydrating. You'll often find these labeled with words like cream, creme, hydrating, or even gloss in the formula name. Also keep an eye out for lipsticks in tubes that aren't labeled long wearing. There are many formulas available that give you a very pigmented formula but feel almost like a gloss. Finally, if you prefer a sheer or light wash of color, opt for a sheer balm like the ChapStick® Total Hydration Lip Tint, or another product like a tint in oil.

Blot off any excess
When hurrying out the door, I often forget one of the most crucial steps in the lipstick game: blotting off the excess. I've been horrified to look in the mirror later in the night and see that forgetting to blot meant a lipstick mess all over my teeth. Not cute.
To prevent this, there are a couple of things I like to do. First, is to press my lips into an O shape around a finger. This prevents removing the lip product from the outer edges of my lips but instead removes it from the inside where its more likely to end up on my teeth. If I'm wearing a more creamy or glossy formula, I find blotting a small amount from the center of my lips onto a tissue can also be helpful.

Set that pout
Once you're ready to lock all of your lip color in, a great option is to set your lip product, just like you set your makeup. Lightly press a tissue onto your lips, then use a translucent setting powder over the top of your lips. Remove the tissue, and gently press any powder in. You might find that this won't work well if you're going for a glossy lip, but it will create more of a matte finish.
With just a few steps, you'll be sure to lock in your lip color all day and night long! Of course, if you're trying to make your lip color last, avoid eating and drinking anything oily or greasy. But if there's pizza involved, you might just want to pack your favorite lip color and reapply after. No one should say no to pizza just to make their lipstick last longer. ;)
And best of all, one of you will be able to try out ChapStick® Total Hydration goodies for yourself! Just enter the below giveaway widget for your chance to win a $25 Target Gift Card and a bunch of goodies from the Total Hydration product line! Open to the US only; giveaway ends on 2/6 at midnight EST. Good luck!
What tips and tricks do you use to make sure your lip color lasts as long as possible? Have you tried the new ChapStick® Total Hydration products from Target? I'd love to hear about your favorites in the comments below!