They're cute and they're fuzzy. They kind of look like foxes, wolves, coyotes, and dingos. But they're anything but your "average" dog. From day one, Rigby has brought about so many questions. From the "what breed is that?" to the "I want one!" responses, I thought I'd share some of what I've learned about the Shiba Inu temperament, and other things I think you should probably know if you've ever considered owning one too.
*Please note, Shiba Inus each have their own personality and just like their owners, are special and unique. These experiences reflect my own experiences with my own dog and other Shibas I have met over the years. I am not dog professional, just a passionate dog owner.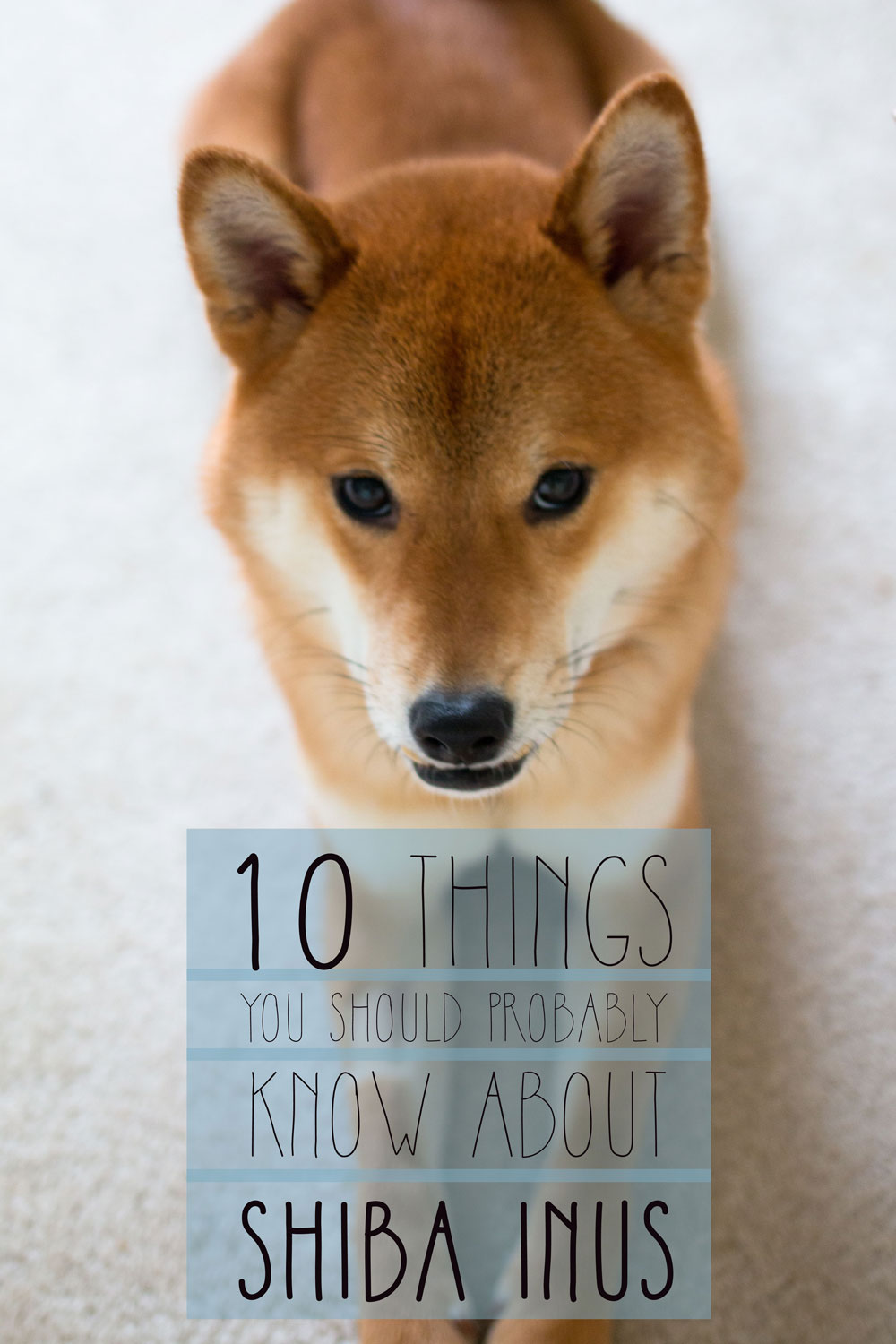 10 Things You Should Probably Know About Shiba Inus (From a Shiba Inu Owner)
1. They're independent, and they're not afraid to show it.
RIgby is incredibly smart. But ask him to do a down stay and actually obey without a reward? Forget about it. Along with the intelligence comes the ability for him to decipher when obeying a command is actually worth his time. Please note, for this reason, Shibas are not to be trusted off-leash. Even with professional training, most (not all, of course) Shibas will not listen once they've found something to "hunt" or that they think is more interesting than you.
P.S. Trying to take the perfect photo of a dog who won't listen? Try my dog photography tips and tricks for some ideas.
2. Be prepared to deal with dog to dog snarkiness, and potential aggression.
I wouldn't characterize Rigby or the Shiba Inu breed in general as being typically dog aggressive. Snarky? Absolutely. Prefer personal space? Most definitely. Intolerant? For sure. Rigby has never appreciated other dogs in his business and this is something that we've had to be very careful about. But with age came a disinterest in spending time around other dogs. He just prefers the company of his people and very short amounts of time with other dogs. Push it and you could have a real problem.
3. They're really not ideal for families with young children, at least as puppies.
They're the cutest puppies, and for good reason. They'll bite the crap out of you. Seriously. I remember one day distinctly when I thought my dog had it out for me. We were just sitting on the floor playing, he came up, latched onto my arm, bit down and wouldn't let go. Yowch! He got a time out and I had a fat bruise from those little puppy teeth. Was he being aggressive? Ha, no way. He was teething and doing what puppies do best – exploring. This isn't generally conducive for environments with young children considering this could really hurt (and potentially scare) a child.
4. Handling them? Forget about it. (Mostly.)
I know not all Shibas fall into this category, but handling Rigby is a nightmare. Trying to clip his nails? What a joke. He screams, cries, and if that doesn't work, starts shaking and panting, or will attempt to nip me. It's a ton of fun. Grooming him is equally as fun, as he hates to be brushed when he actually needs it (during a coat blow.)
P.S. Struggling to clip your dog's nails or brush him? Try my suggestions on how to groom a difficult dog.
5. Speaking of coat blow… Oh, the shedding.
I hope you don't have dark carpets or love your all black wardrobe too much, because it will be dusted with a light coating of fluff year round. Rigby has distinctive coat blows where tufts and chunks of hair come off, but he also sheds on a fairly normal basis as well. It is my understanding that some of this depends on climate (we don't get super distinct seasons in the PNW, but other regions do and I can't speak to that.)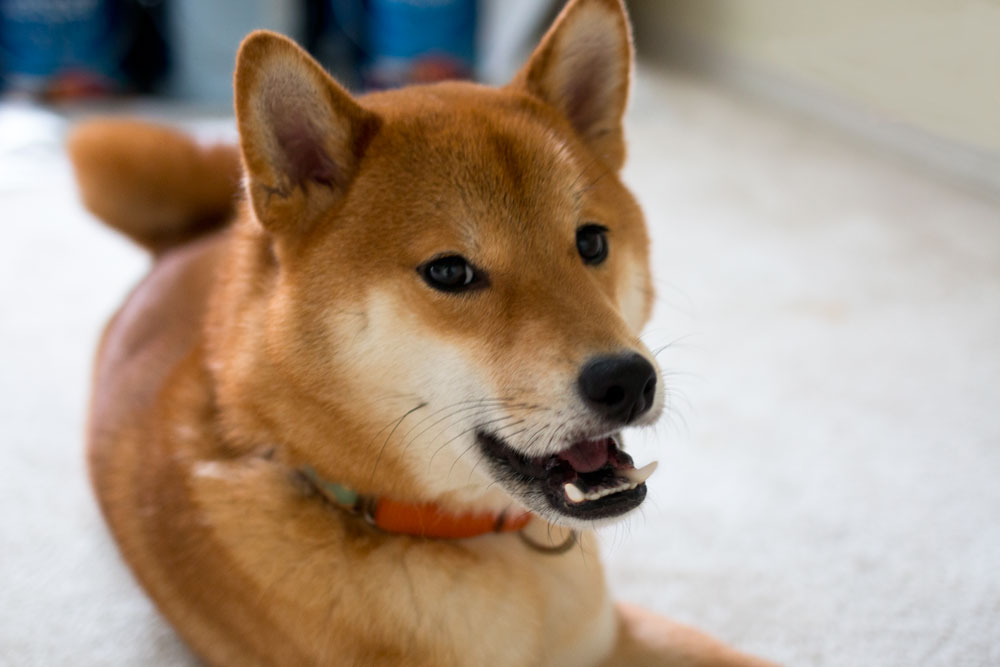 6. Be prepared for anxiety issues.
Yes, anxiety can be a thing in dogs too. And it's definitely not a breed trait. But, I've found in talking to other owners that Shibas tend to be very sensitive to environmental changes and may react more severely to certain stimuli than other dogs. Rigby, for instance, is terrified of going to the vet. He'll shake and pant and would most definitely lash out if provoked. We now give him an anti-anxiety medication before we go to make us all happier.
7. Prepare yourself for a lot of really weird questions/interactions with strangers.
As I said above, Rigby is often (still) mistaken for a fox, a coyote, a wolf, a husky, and numerous other eye-roll-inducing critters. People have also done some really odd things around him, like try to scoop him up without asking, trying to scare him by jumping and yelling boo at him (seriously, what is wrong with adults?), and my favorite, yelling, "my dog is friendly!" while letting their dog charge him off leash. Stop it.
8. Make sure you purchase from a reputable rescue or reputable breeder.
With a good breeder, you have their support for life if anything ever goes wrong. A reputable rescue is invaluable to save the lives of dogs who would otherwise be euthanized, and also is a great resource for helping you through behavioral issues if your dog comes from a less than stellar background. (Here's a great list of Shiba specific rescue organizations.)
9. Resource guarding isn't all that uncommon.
This was something surprising to me, but now after going through this with Rigby, I see it happen all the time. I'm sure you've seen a dog that won't let other dogs come near a bone, tennis ball, or another special toy. That's called resource guarding, and is something Rigby will do with high-value bones or bully sticks. He also used to do it with his food bowl. For him, it wasn't very serious, and we caught it young and worked a lot with him on it. And from talking with other Shiba owners, it really isn't that uncommon. Watch for the signs and work on it early and often.
10. Most of all, be prepared to ask for help.
Without the invaluable resources available on the great Internets like various Facebook groups for Shiba owners, the Shiba Inu Forum, the Nihon Ken Forum, and many other dog behavior websites, I probably would have gone a little insane. Reading threads of others who were once in my shoes was incredibly comforting as well as helpful to deal with problems as they arose.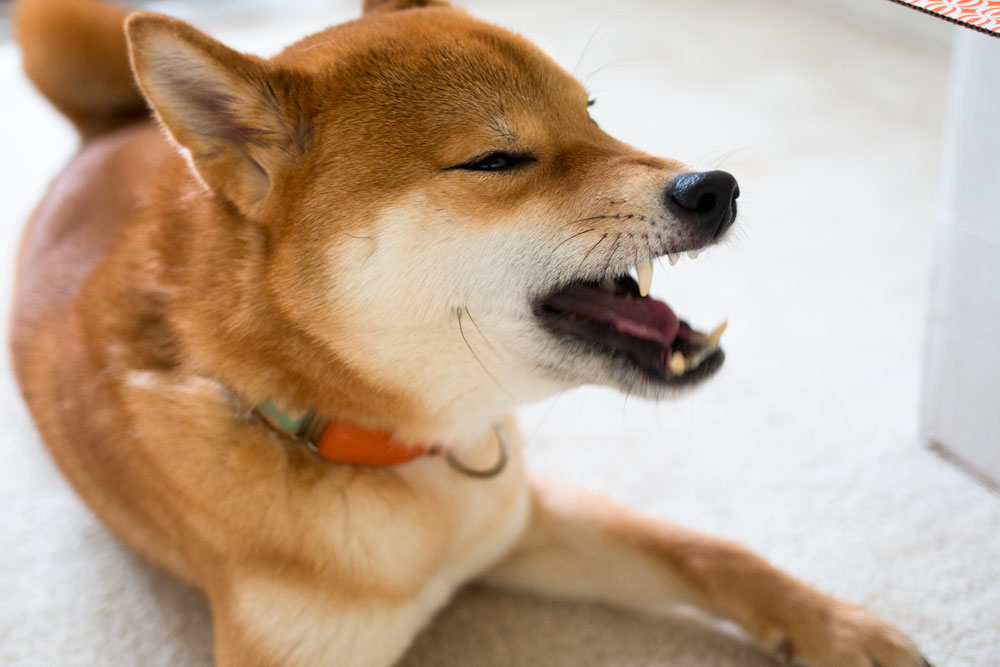 Other things you may want to know:
Are Shiba Inus hypoallergenic?
No.
How much do Shiba Inus cost?
On the west coast, about $1,200-$1,500 at writing is to be expected for a pet-quality puppy. On the East Coast, I'd expect to pay a bit more, from $1,500-2,000 for a well-bred, health-tested, pet-quality puppy from proven parents. If this is too much for you, please adopt, don't shop pet stores or online for a puppy. Supporting online pet brokers and purchasing pet shop puppies supports puppy mills and unethical breeding practices. And yes, even if they come with "papers" and are being sold at pet stores, they're still from a puppy mill.
Do Shiba Inus bark?
While they don't sit and bark just to bark, they definitely have a unique voice. Rigby will bark at the door when someone knocks or is behind the door to alert us. He will also bark if anyone walks in our back porch/yard area. He howls, yaps, yodels, cries, screams, and grumbles more often. Most of the time, it's to get attention or part of playtime.
Are Shiba Inus healthy?
Overall, yes. Shibas were recently ranked as one of the top 10 healthiest of all dog breeds by All State. However, like other breeds, Shibas do have a genetic disposition to a few health concerns including Glaucoma, Cataracts, Luxating Patella, Hip Dysplasia, Allergies, and tooth and/or bite problems. (Rigby, for instance, has a severe underbite. It does not, however, affect his ability to eat or cause him any discomfort.)
More details about Shiba Inu health problems can be found at the National Shiba Club of America website.  It is very important to find a veterinarian you are comfortable with so you stay on top of any potential issues before they become a problem, and another reason to seek out a reputable breeder if not rescuing a dog.
Sometimes accidents happen and it is important to know a few things like how to help a choking dog, ingredients that you may not realize are dangerous for dogs, and what to pack in your dog's overnight bag so your sitter is totally prepared.
What should I feed my Shiba?
This is a personal preference, but I like to feed Rigby raw food. I find he is the most energetic, doesn't have any digestive upsets (TMI: gas or squishy poo), and his coat stays fuller for longer on this diet. We've tried and reviewed several brands that we like such as I and Love and You and Bravo Pet Food. For more on the pros and cons of feeding raw, watch our video!
As for snacks, Rigby is a fan of pretty much anything from Orijen Dog Treats to these DIY easy homemade dog treats that I make every few months and then freeze.
Where can I find Shiba Inu gifts and merchandise?
While Rigby doesn't have his own merch, I have combed the Internet for some of my favorite finds. You can find my complete gift guide for Shiba Inu owners and lovers here! Or, if you're looking for personalized gift options with your pet photos, check out my personalized pet gift guide here!
---
So by now, I'm sure you're wondering, "so why the heck did you get a Shiba Inu?" Well, for all of the above reasons. Whether you think it's a turn-off or not, Rigby has been the most difficult but most enjoyable thing I've brought into my world, and I wouldn't change that.
Was having a certain breed of dog important to you? What do you wish you had known about your dog's breed or personality beforehand?