I don't think it's a big secret that I'm kind of a crazy dog lady. I mean, I did name my blog after my dog after all. But not only am I a crazy dog lady, but I'm also a crazy Shiba Inu lover, too. Shibas are such a unique breed with a variety of quirky behaviors and characteristics. It's hard to summarize them in a word or two, and Shiba Inu owners are probably no different.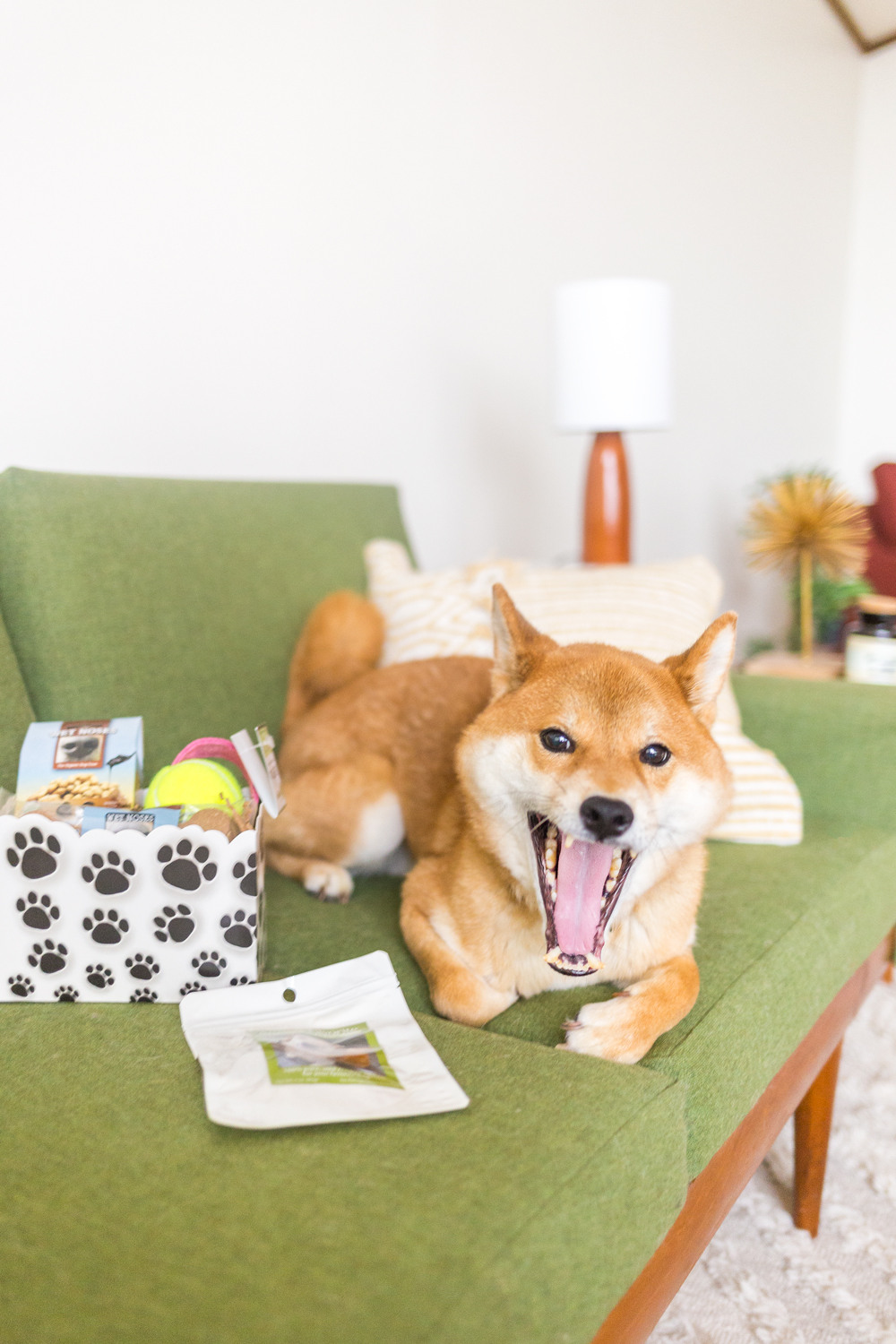 Disclosure: This post contains affiliate links. If you click a link and make a purchase, I may make a small commission. All opinions are my own!
With Shiba Inu's growth in popularity since the "Doge" meme, the Hachi movie, and countless Shiba influencers such as Maru, Menswear Dog, and many many more, it's only logical that there's been a growth in the amount of Shiba Inu merchandise available on the internet, too.
When I first got Rigby, it was nearly impossible to find much more than a book, maybe a keychain, and if I was lucky, a t-shirt or mug with "Shiba Inu" typed on it. Now, there are entire websites dedicated to making breed merchandise, and countless ways to source gifts for Shiba owners.
Shiba Inu Gifts: The Complete Gift Guide for Shiba Owners & Their Shibas
Today, I thought I'd make it a little easier for you by tracking down some of my absolute favorite finds from across the web. I tried to only select Shiba Inu merch from places I would feel comfortable buying from – Amazon, Etsy, DeviantArt, LookHUMAN, as well as treats and toys for the Shiba in your life that you can feel confident in giving your dog since they are Rigby approved!
Gifts for Shiba Owners
With so many Shiba gifts, where should you start? I love hunting on Amazon and Etsy for the best finds! Click the links on the graphic above, or below, to be directed to shop any of these items. Don't forget to see what other Shiba Inu gifts these retailers and artists also offer!
1. Shiba Inu Lovely Badge, $4.50
2. LOOKhuman Shibaccino Sweatshirt
, $35 // Also available in a Shibaccino 
T-shirt, $26-28 or Shibaccino Mug, $15-18
3. "A Lot of Shibas" Print Mug  by olliewhen, $10-12
4. Women's Shiba Character Socks, $12
5. Shiba Inu Charm Bracelet
, $20
6. A Million Dogs: Fabulous Canines to Color Coloring Book, $7
7. Cartoon Dog Pins, $9
8. Shiba Inu Floral All-over Print Women's Legging, $40
9. Shiba Inu Message Card, $4
10. Customizable Pet Neck Tie, $33
11. Always Hungry or Tired Accessory Bag, $18
12. Shiba Inu Pocket Patch, $5
13. Shiba Inu Dog DJ-ing Print, $14
14. I Just Want to Drink Wine and Pet My Shiba Inu Women's T-Shirt, $25
15. Custom Pet Silhouette Foil Art, $95-248
16. Shiba Inu Pillowcase, $15
17. Shiba Wooden Music Box, $55
Shiba Inu Lover Gifts
When it comes to narrowing down Shiba Inu gift ideas, it's always helpful to read the reviews! I've selected some of the top rated (and cutest) Shiba merchandise finds! Most of the items you'll see here are affordable, however I did throw a couple of splurges in just in case you're shopping for an extra special gift.
1. Field Point Key Cover, $7
2. CORIRESHA Cute Shiba Inu 3D Hoodie, $33-37
3. Cute Shiba Inu Cosmetic Bag, $13
4. Shiba Inu Dog Necklace, $19
5. Custom Shiba Inu Cookie Cutter, $3-6
6. World's Okay-est Dog Mom Enamel Pin, $10
7. Shiba Inu Silver Ring with Gemstone Eyes, $132
8. 2019 Weekly Planner, Shiba Inu Dog Weekly Planner, or Shiba Inu Mom 2019 Weekly Planner, $8
9. Shiba Inu Magnet Set, $25
10. Shiba Inu Dog Breed Pillow, $32
11. Red and Black & Tan Shiba Inu Tote Bag, $10
12. Dog Blueprint Pillows, $95
13. Animal Party SHIBA Stationary Collection, $12
14. Always Hungry or Tired Shiba Mug, $15
15. Shibe Plush Cushion, $29
16. Louis Vuitton My World Tour Collection (Pochette shown here, $1400) // Find better prices on gently used items from TheRealReal and FashionPhile
17. Japanese Shiba Inu Dog 2019 Die Cut Desktop Calendar, $19
Shiba Inu Gifts for Women
Treat your favorite Shiba Mom to a little pampering with some of these fun gifts! From sheet masks to a sleeping eye mask to a full onesie, Shiba Inu Moms will be relaxed, comfy, and cozy in these finds!
1. Doge Enamel "Wow Such Pin" Pin, $12
2. Shiba Inu Origami Dog Necklace, $24+
3. Stressed Blessed and SHIBA INU Obsessed Shirt, $20
4. Hiro the Shiba Inu Canvas Tote Bag, $18
5. Cuteforyou Cute Animal Shaped Flower Pot, $10
6. Shiba Inu Kigurumi Onesie Costume, $68
7. Shiba Inu Patch, $6
8. Natural Hydrating Repair Full Face Sheet Masks
, $13
9. 3dRose Shiba Inu Dog Mom Mug, $13
10. GOTOME Origami Animal Gift Bag in Shiba Inu, $11
11. FUYU Cute Cartoon Shiba Inu Sleeping Eye Mask
, $7
12. Louis Vuitton My World Tour Collection (Passport Cover shown here, $495) // Find better prices on gently used items from TheRealReal and FashionPhile
13. Shiba Shaped Photo Pillow, $22
14. Dogeared Women's Be The Person Your Dog Thinks You Are Tote
, $27
15. SHIBE Sushi Keychain, $13
16. D-Sun Dog Pattern Welcome Door Mat, $24
Stocking Stuffers for Shiba Inus & their Owners
Sometimes all you need is a small gift to give your pet (think Christmas or Birthdays!) or your favorite Shiba owner. In this case, here are a variety of options that pets and their owners will equally appreciate!
1. Barkbox Dog Subscription Box for Treats and Toys, $29/month
2. Earth Rated Lavender Scented Poop Bag Refills, $12
3. Evercare Pet Hair Extra Sticky Lint Rollers, $8
4. Petcurean SPIKE Duck, Venison, or Catfish Treats, $11-14
5. SHIBAinc Plush Squeaky Toy, $10
6. Best Bully Sticks Supreme Dog Treats, $22-78
7. Cloud Star Buddy Biscuits Soft & Chewy Dog Treats Variety Pack, $18
8. Mimi Green Customizable Collar or Leash, $18-50
9. Annie's Favorite Salmon Dog Treat, $7 (Also available in the Furry Friend Gift Box for $20)
10. Waggo Dipper Ceramic Dog Bowl, $23
11. KONG Squeak Air Balls Dog Toy, $12
12. Bark Shop Toys for Destructive Dogs (Shown: Adorable Snowman, $10)
13. The Total Shiba by Gretchen Haskett and Susan Houser, $10
Other Book Ideas:
– The Power of Positive Dog Training by Pat Miller
– The Other End of the Leash by Jean Donaldson
– Positive Reinforcement: Training Dogs in the Real World by Brenda Aloff
– Don't Shoot the Dog, Reaching the Animal Mind, and Getting Started: Clicker Training for Dogs by Karen Pryor
– Before and After Getting Your Puppy by Ian Dunbar
14. Bob-a-Lot Interactive Dog Toy, $10
 and 
Omega Paw Tricky Treat Ball, $3-14
15. Minimergency Kit for Dogs, $16
16. Pet First Aid Kit for Dogs & Cats, $30
17. Kyjen Hide a Squirrel Plush Dog Toy, $35
18. KONG Zoom Groom Dog Grooming Brush, $7 and 
Furminator Rake for Dogs, $12
19. CozyCuddlerz Dog Bed, $34
20. Coiled Rope Storage Bin (Fox), $25
Whew, that's a lot of gift ideas! I hope these ideas are helpful if you're in search of the best Shiba Inu merchandise, whether for you, a Shiba owner, or someone who just loves the breed! And if that's not enough…
Need more gift ideas? Don't worry, I have more where this came from! Here are some other great ideas for Shiba Owners: