With the hustle and bustle of the holiday season upon us, there's no time like the present to book yourself a staycation. And if you ask me, Seattle is the perfect city for a staycation. Who wants to worry about traffic and parking during the holidays? Not this girl!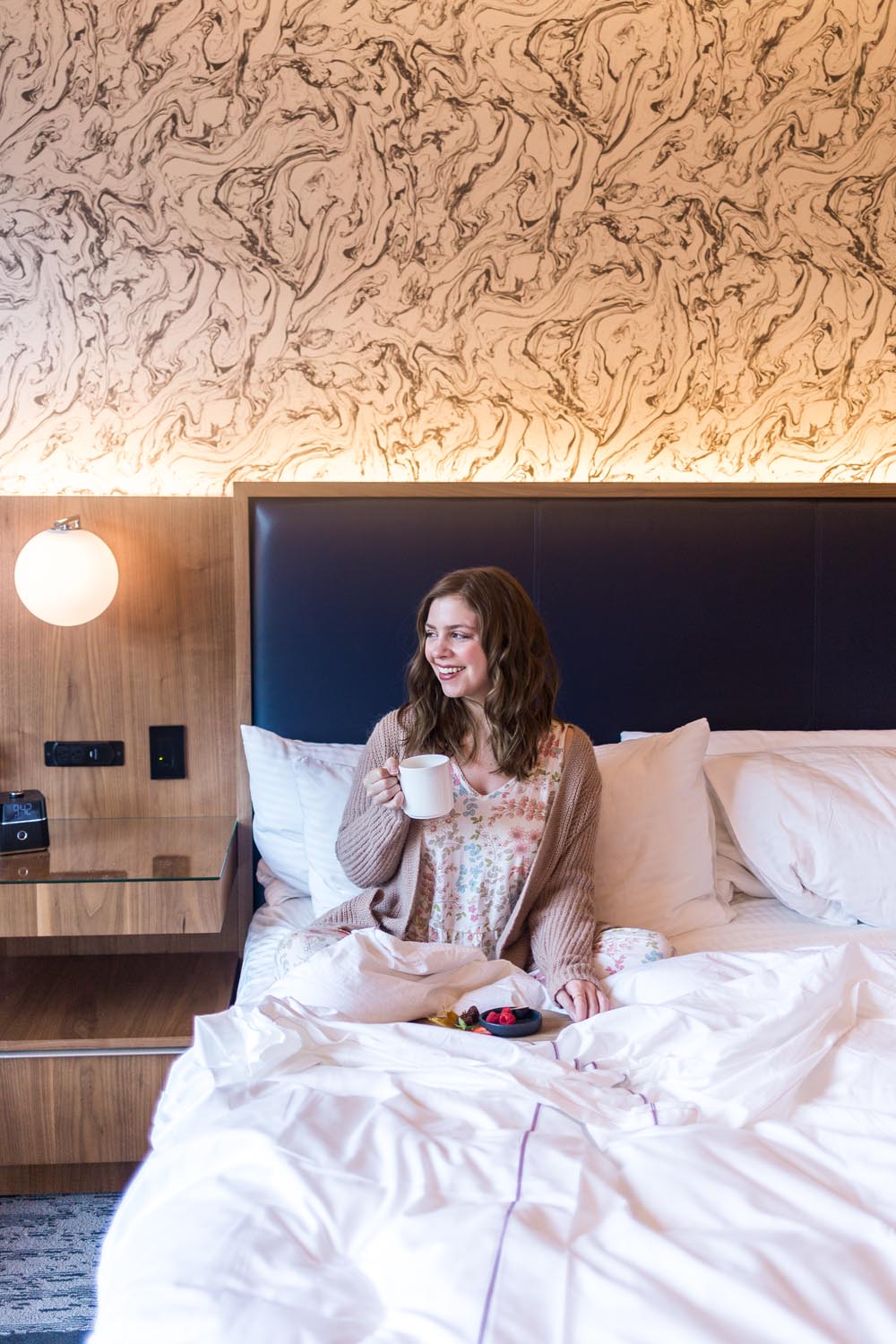 Disclosure: Thanks to the Charter Hotel for hosting us for an overnight stay and providing dinner and drinks. All opinions are my own!
That's why I was so excited when The Charter Hotel, a Hilton Curio Collection hotel, opened up right near Pike Place Market earlier this year. Just steps away from some of my favorite restaurants and event venues, there's so much to do in just a few block radius. Plus, the hotel itself is fresh and modern, for a true staycation Seattle style! And for the full staycation experience, you don't even need to leave the property! Visit the beautiful rooftop lounge, fitness center complete with steam room, sauna, and rainfall shower, and delicious Argentine-inspired restaurant right inside.
So what's there to do in and around the Charter Hotel? Read on for how we spent our staycation in Seattle!

As a Seattle native, playing tourist in my own city can be quite a fun adventure! Fun fact: I still have never been up to the top of the Space Needle. While I've lived in the area my entire life, I'd never actually stayed at a hotel in Downtown Seattle before. Sure, I've been to many hotels to tour and dine, but it felt strange to pull up to the valet, unload a bag, and unpack for the night just steps away from my old office and some of my favorite dining and shopping spots.
Book your stay at the Charter Hotel
The first thing on your to-do list when planning a staycation? Finding a place to stay, of course! We stayed in a King guest room which was perfectly roomy for 2 people! The bed was comfortable and cozy, the bathroom was huge for a city hotel, and the city views were perfection. Despite being in a busy area in Seattle, the room was incredibly quiet and had I not known where I was, I wouldn't have thought I was in downtown.
Cheers to your staycation at the Fog Room
After check in and getting settled, our first stop was to the rooftop lounge, Fog Room. Craft cocktails, shareable bites, and lively ambiance greet you upon being seated. There's also a beautiful rooftop deck, cozy seating inside and out, and a large bar with seating. We ended up grabbing a seat near one of the big windows to take in the city views and nightlife outside.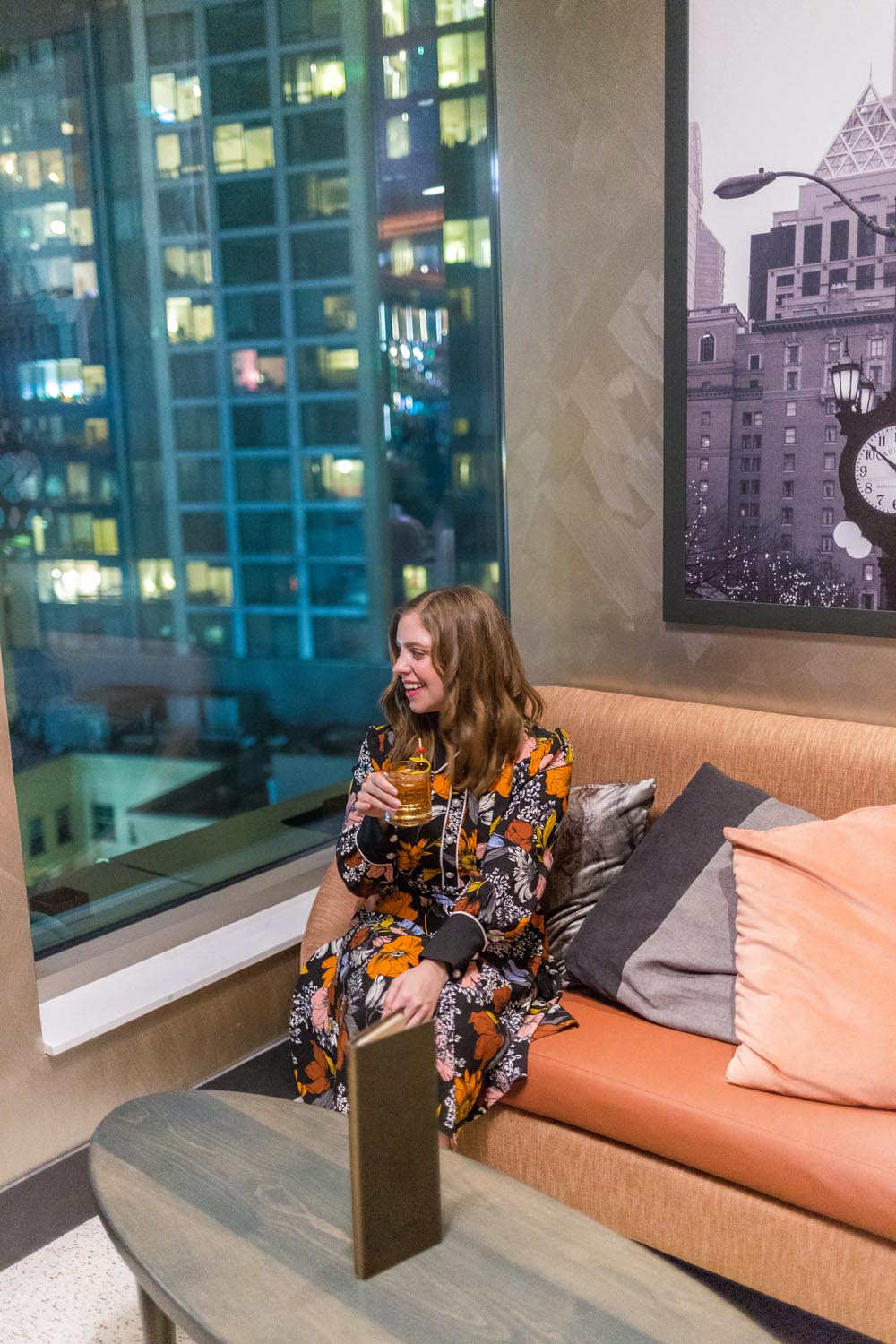 For drinks, I tried the Bank Statement, light and refreshing cocktail made with vodka, vermouth, lemon, lychee rose tea, and sparkling rose. Dave ordered the Hanky Panky, a hotel classic cocktail made with gin, vermouth rouge, and fernet which got its start at the American Bar in London in 1925. To finish off our cocktail hour, Dave ordered an Old Fashioned, which he likes to try at almost every lounge we visit. It's classic style made for the perfect prop for this fun photo we snapped before we left!
Take a trip to Argentina at Patagōn
After cocktails at Fog Room, we headed downstairs to enjoy dinner at Patagōn. It was so nice to be able to enjoy an evening "out on the town" without having to actually leave our hotel! Patagon restaurant offers a variety of Argentinian-style steakhouse favorites, such as New York Strip, Ribeye, and Short Ribs.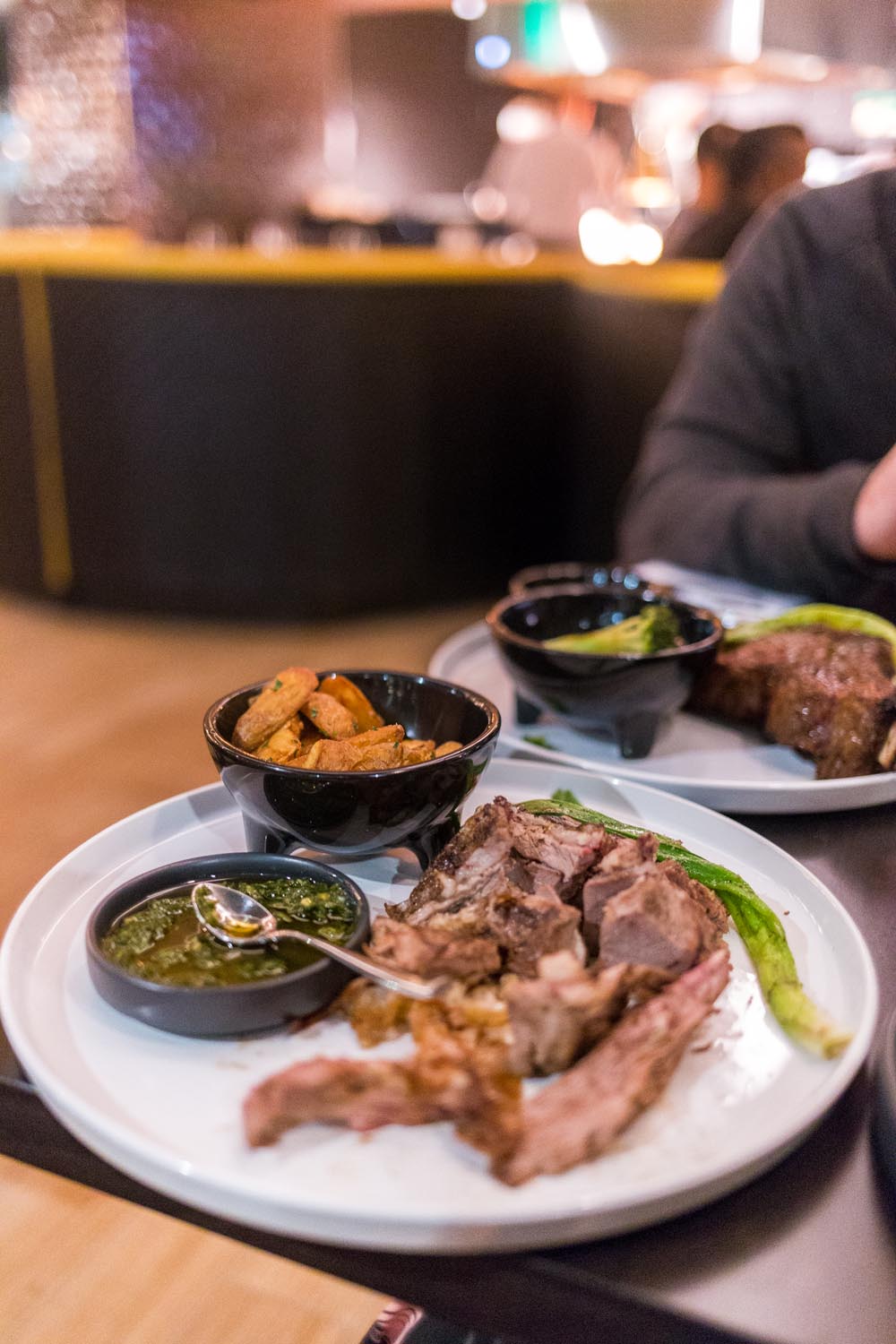 The menu at Patagon is ever-changing with the seasons so while what we had may not be available, something equally as delightful most certainly is! Up first for our meal was a Panzanella fall salad, made with juicy heirloom tomatoes and bites of crusty bread. We also were able to try the roasted beet salad, which was tender roasted beets topped with citrus dressed arugula and goat cheese. For our entrees, Dave ordered the Gaucho Rib Eye with roasted broccoli and I had the lamb special with chimichurri and fingerling potatoes.
Not realizing how large their entrees were, we may have over-ordered… Oops! We easily could have shared one entree. Instead, we went home with doggie bags full of meat which we used to make two more meals! Finally, we finished off a delicious meal with a dessert of fresh churros with chocolate dipping sauce. These come highly recommended by their staff, and I can't say they were wrong. They were delicious, and the perfect end to our meal!
Retire to your room for a sound sleep
After dinner, we both were absolutely stuffed. A cozy robe and slippers and a night catching up on our favorite cable shows (we're a streaming-only household) was a treat! The cozy bedding and comfortable Waldorf Astoria bed made for the perfect relaxing spot. I was tempted to order a midnight snack off the 24-hour in-room dining menu, however, I saved my appetite for breakfast instead. Next time!
Visit Nearby Pike Place Market
Just steps away from the hotel you'll find Pike Place Market. We took full advantage of that and ended up brunching at Cafe Campagne. The market was already getting busy when we arrived, so we made quick work of taking in the sights and sounds before our brunch reservation.
If you're looking for fun things to do, don't miss my post with more than 15 must-visits at Pike Place Market!
Treat yourself to a show
Blocks away from the Charter Hotel, you'll find a variety of venues to take in a show. The Triple Door is host to Can Can Cabaret and various musical acts, with shows happening daily. Nearby you'll also find the Showbox at the Market. Musical acts are on stage nearly every night, so be sure to visit Showbox Presents for ticket information before your stay! Finally, take in the latest show off-Broadway at The 5th Avenue Theatre, the Paramount Theatre, or ACT Theatre.
Below are a few other options to look into before your stay, too!
Play tourist at nearby local attractions
After a restful sleep and brunch to get your day started, which not take on some of Seattle's best attractions? Fortunately, the Charter Hotel is close to so many great things to do that you may not have to walk very fall at all!
Here are some of my favorite things within walking distance:
Downtown (about 0.2-1 miles away)
Westlake Center (shopping and dining)
Pacific Place (shopping, movie theater, and dining)
Washington State Convention Center
Seattle Art Museum
Columbia Tower
Seattle Public Library
Along the pier (about 0.5-0.9 miles away)
Seattle Aquarium
Seattle Ferry Terminal
Miner's Landing (Historic Carousel, Food, Shopping)
Seattle Great Wheel
Pioneer Square (about 0.8-1 miles away)
Seattle Underground Tour
Waterfall Park
Smith Tower
Klondike Gold Rush National Historical Park
Comedy Underground
Near the Space Needle (1.0 miles away)
Chihuly Garden and Glass
Museum of Pop Culture (formerly EMP)
Pacific Science Center
Seattle Center
Seattle Children's Museum
Space Needle
South Lake Union (about 1.5 miles away)
Mohai (Museum of History and Industry)
Amazon Campus
The Center for Wooden Boats
Capitol Hill (about 1-3 miles away)
Starbucks Reserve Roastery
Frye Art Museum
Asian Art Museum
Lake View Cemetry (where the city founders and Bruce Lee are buried)
Volunteer Park Conservatory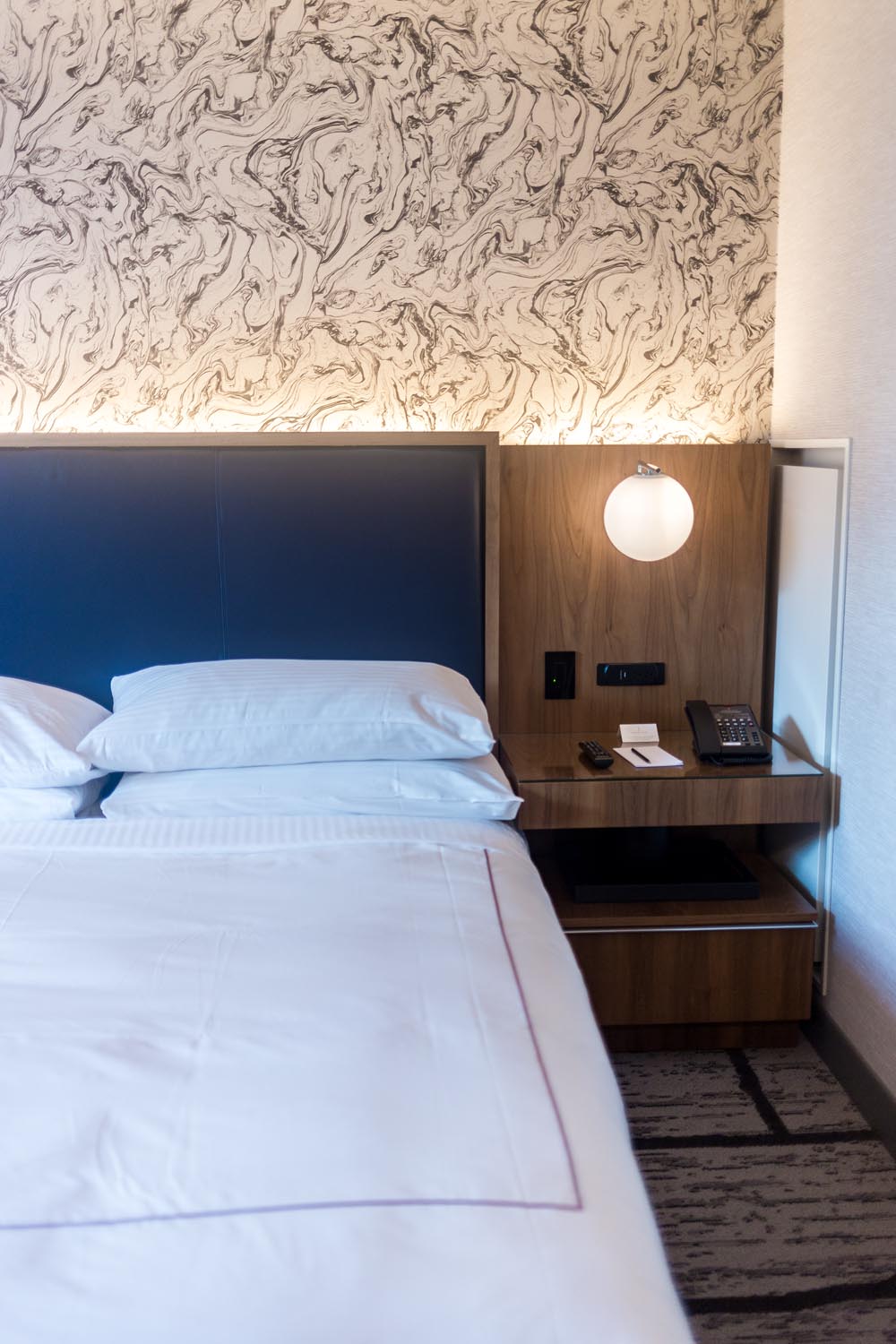 With all of these fun things to do, I'm reminded that not only is playing tourist at home a fun thing but it can give you that vacation feeling without the immense stress that traveling can sometimes bring. I'm about ready to plan my next staycation already!
Have you visited the new Charter Hotel in Seattle? Have you gone on a staycation in your city? I'd love to hear about it in the comments!