It was a cold, drizzly night when I pulled up to Safeco Field. My mission? To meet up with some of my BFFs and explore Enchant Christmas, a light maze, Christmas market, and ice skating rink all inside Safeco Field in downtown Seattle. It just opened up last week, and it's here through the holiday season. I'd been looking forward to it all day and couldn't wait to get inside to see what it was all about!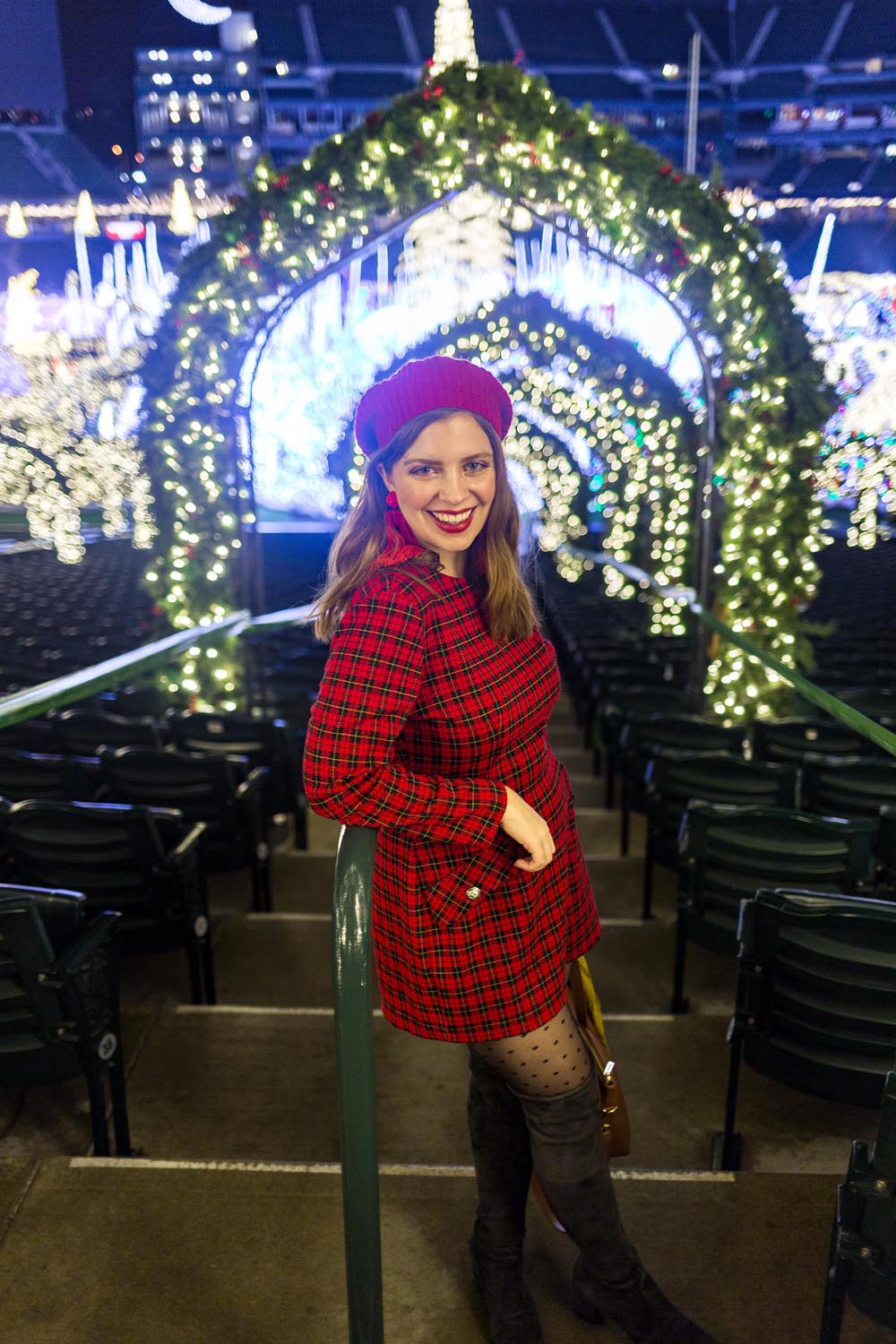 Disclosure: Thanks to Enchant Christmas for sponsoring this post. All opinions are my own!
Once inside, I wasn't disappointed. I attended on Media Night, which meant that I was able to enter through the club level and sample a few of the food offerings before heading down to the light maze area. Let me tell you – the view from above was so incredible! The twinkling lights, fun colors, and festive music put me in the holiday mood.
So what is there to do at Enchant Christmas inside Safeco Field? Read on to find out!
 Shop the Enchant Christmas Market
Have a few gifts on your list? Get some shopping done at the Enchant Christmas Market! Located on the concourse level above the light maze, there are rows of booths from local artisans and brands you know and love. My friend Asa of Lace and Pearls Jewelry is a vendor this week, so it was fun stopping by to see her booth!
Additionally, some other great artisans to shop include BeeKing's raw honey and body care, Big Moon Beeswax for uniquely designed beeswax candles, Hemlock and Rose handcrafted stationary, Glassybaby handcrafted blown glass art, Lulumiere hand-poured candles, Alexandra's Macarons for sweet treats, and much more. You can see even more vendors that will be at Enchant Christmas this season here.
Get lost in the Enchant Light Maze
From the falling snowflakes to the twinkling lights, you might forget you're on a baseball field for a second; I know I did! The Enchant Light Maze is a wonderland filled with Christmas Trees, archways, reindeer, and a variety of light sculptures, all turned on to sparkle as the snow falls around you. The maze is filled with twists and turns, and when you enter, you'll be given a scratch card to complete. Finish the maze, and you'll receive a treat at the end!
Don't forget to snap a few shots while you're there! DSLRs and photo equipment are welcome! You can see some of the fun displays on Instagram with the hashtag #EnchantSeattle or via the location tag here.
Skate away the night
Dust off your skates and get ready for a night on the ice! At Enchant Christmas, you can rent ice skates ($10) or bring your own. Loop around through the festive lights and skate away to live music. Unfortunately, I'm not much of an ice skater, so I didn't experience it for myself, but many seemed to be enjoying themselves out there on the ice!
Celebrate in Style by Going VIP
Make the holidays feel extra special with the VIP treatment. Enchant Christmas offers VIP tickets that offer perks such as skipping the lines, exclusive access into the event, and a private suite for a gourmet all-you-can-eat dinner. VIPs will also receive guaranteed visits and photo ops with Santa! This would be a great option for an unforgettable family experience, or company holiday party. Find out more about Enchant Christmas VIP options here.
Eat, Drink, and Be Merry
Did I mention that Enchant Christmas has a variety of special food options for the event? You can find a variety of comfort food specials such as fries with beer cheese and bacon (YUM!), warm apple turnovers, potato dumplings, and more. Beyond that, the concourse level has a variety of stadium options open such as Ivar's. Feeling a little chilly? Warm up with one of the many warm-beverage options, such as Caffe Vita located at the concourse level, or warm up with hot cocoa (spiked available!) inside the maze!
Take Photos with Santa
Yep, Santa (and Mrs. Claus!) are at Enchant Christmas too! Visit Santa with the whole family for a holiday photo to remember. Nearby, join Mrs. Claus for a special holiday reading. The kids will love it!
Get in the festive spirit with live entertainment
Depending on when you visit, Enchant Christmas will have a variety of performances every night. When we were there, Can Can Culinary Cabaret performed holiday classics and pieces from their upcoming show, Wonderland. There was also a guitarist playing Christmas Classics, a local duo performing holiday favorites, and finally Holiday Harmony caroling through the maze.
Bring your pup for Paws N' Claus
Want to get a holiday with the whole family, including your pet? Bring the whole gang to Paws N' Claus on December 27th! You'll need to purchase a special ticket that includes one human and one dog, and of course, you can buy additional tickets for your friends and family. One dog per adult is requested, and tickets must be purchased in advance.
Don't forget to make sure your pup has on their ID tags, is on a leash at all times, it up to date on vaccination, and is accompanied by an adult 18 years or older. Just in case of any accidents, a veterinarian will be on hand. They'll be photo ops with Santa, fun treats for your pup, and water and comfort stations in the maze.
Some helpful tips for your outing to Enchant Christmas Seattle:
1. To avoid lines and crowds, go on weekdays. It's also cheaper to attend on Jolly Nights, which are December 4th and 11th.
2. Note the bag size constraints. This is especially important if you're planning to bring a change of clothes for holiday photos, or are coming straight after work.
3. Buying parking in advanced online saves you $$$. It's $10 for weekdays and $15 for weekends via their website. Alternatively, you can take Light Rail and get off at the Stadium stop. It's a few blocks away.
4. The crowd thins as the night goes on. Visit during Merry Hour, from 8 pm to close on weekdays (9 pm to 11 pm on Fridays and Saturdays) for the lightest crowds and a lower price.
5. The roof is on at Safeco Field, however, it is still chilly inside. Bring a coat!
6. For families, strollers are allowed in the market area, but not in the maze. They do have a stroller valet for you to park it safely before heading down to the maze.
7. Skate rentals are $10. You can bring your own, as long as they are secured with guards or in a bag.
8. The Christmas Market has a wide variety of vendors, but not all vendors will be there every day. You can see a full list of market vendors here.
9. No outside food is allowed. Food and drinks are available for purchase inside the stadium.
10. No pets allowed, except during Paws N' Claus on December 27th.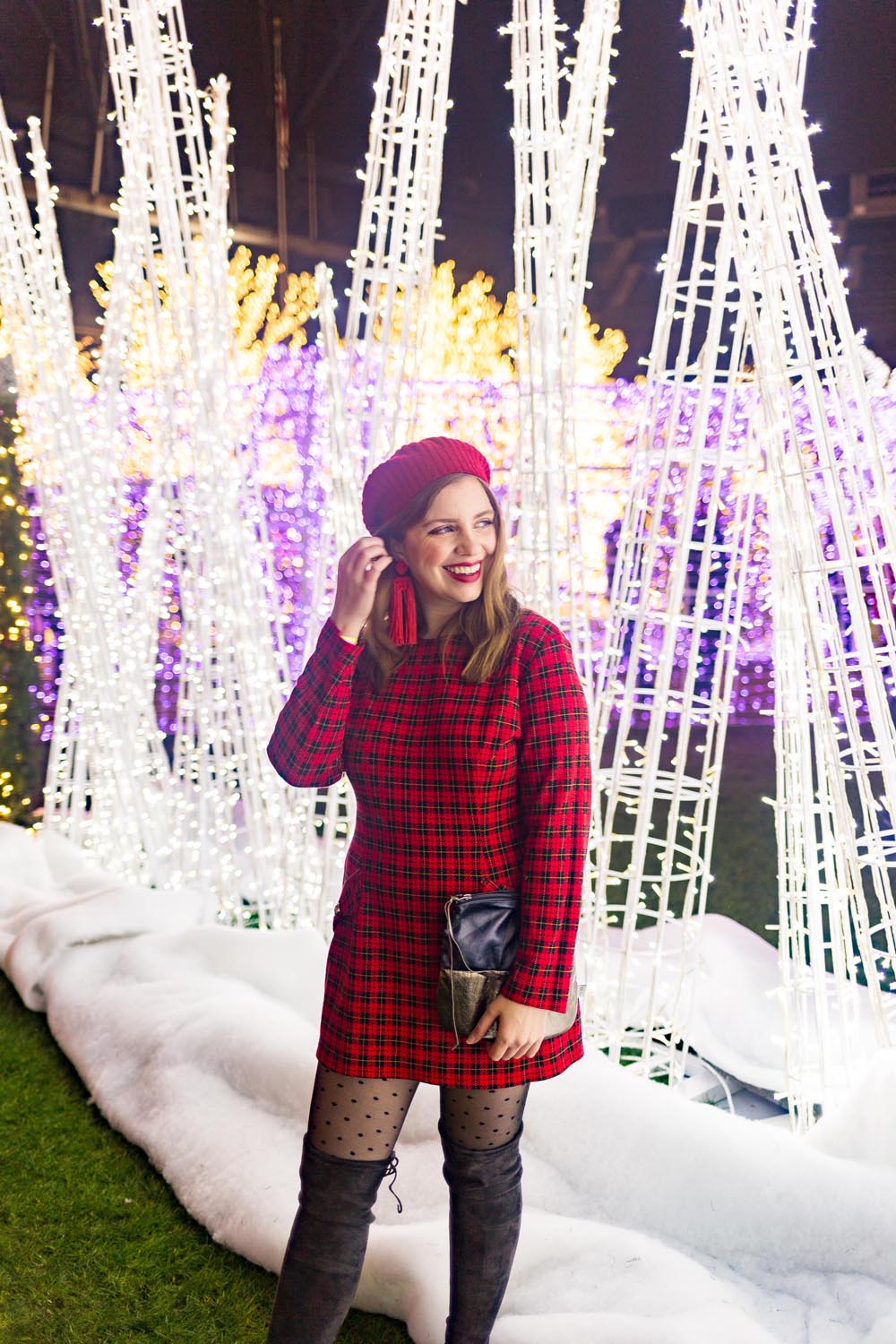 If you're looking for a unique experience this holiday season for the whole family, out of towners, or just want to capture the magic of Christmas for an Instagram photo, look no further than Enchant Christmas in Seattle! It's a winter wonderland of fun, and I can't wait to go back before the holiday season is over. Enchant Christmas runs now until December 30th. Be sure to get tickets early, as select dates are already selling or have sold out.
Do you plan to visit Enchant Christmas this holiday season? Let me know if you have any questions about the experience!