Happy Holidays! I'm just starting now to get in full holiday mode; prepping to take some time off work and preparing myself for the fact that Christmas is just about a week away now. How did that happen?! For those of you who are still shopping 'til you drop, I thought I'd share a fun holiday gift guide for the holiday gifts that every dog lover and crazy dog lady alike will appreciate.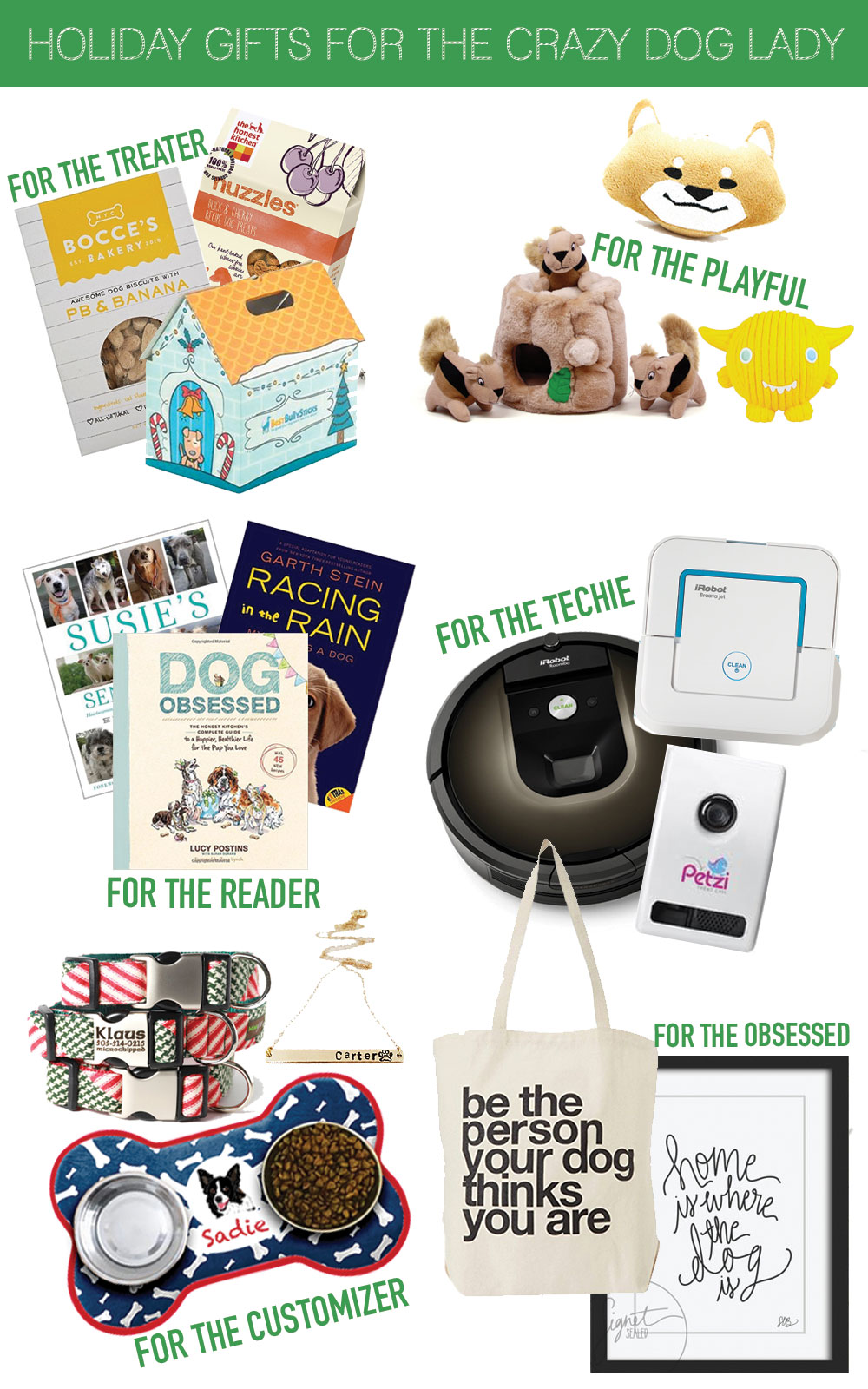 Disclosure: This post contains affiliate links. All opinions are my own!
Holiday Gifts for Dog Lovers
From treats and toys for the special pups to customizable gifts and books that educate or warm the heart, there's something on this list for every dog lover. As with my previous gift guide for fashion lovers, I'm also bringing you a chance to win one big ticket prize, so be sure to read through until the end!
Gifts For the Treater
The Honest Kitchen Nuzzles, $14
A big box of Nuzzles is always a hit with Rigby! I love them because I can break them into smaller treats, and I know they're made by a company who's priority is dog nutrition and health.
Bocce's Bakery Dog Biscuits, $11
Bocce's Bakery only makes dog treats, so you know they must be good! They come in many fun flavors, like this summer I picked up sliders and s'mores treats. The classic flavors are loved by Rigby too, though.
Best Bully Sticks Treats, Price Varies
For the holidays, Best Bully Sticks has a variety of treat container sizes that you can select goodies to go in and deliver a custom package to your favorite dog or dog lover. Best Bully Sticks is my favorite company to buy bulk, affordable bully sticks from and highly recommend them!
Gifts For the Playful
Outward Hound Hide-a-Squirrel Dog Toy, $8
Rigby loves his hide-a-squirrel toy. His is holiday-themed, but it's one of the toys he's had for years that he still plays with and hasn't destroyed.
HuggleHounds Extremely Durable Monstah Toy, $7
This fun little bright yellow guy is Rigby's BFF. He regularly brings him to bed and goes off in search of him for playtime. The squeaker is durable and loud, which is perfect for prey driven dogs like Shiba Inus.
Shiba Inc Plush Dog Toy, $10
I haven't found a Shiba Inu dog toy anywhere else, so was thrilled to see this cute one from Shiba Inc. Any Shiba Inu lover in your life will be appreciative of this find!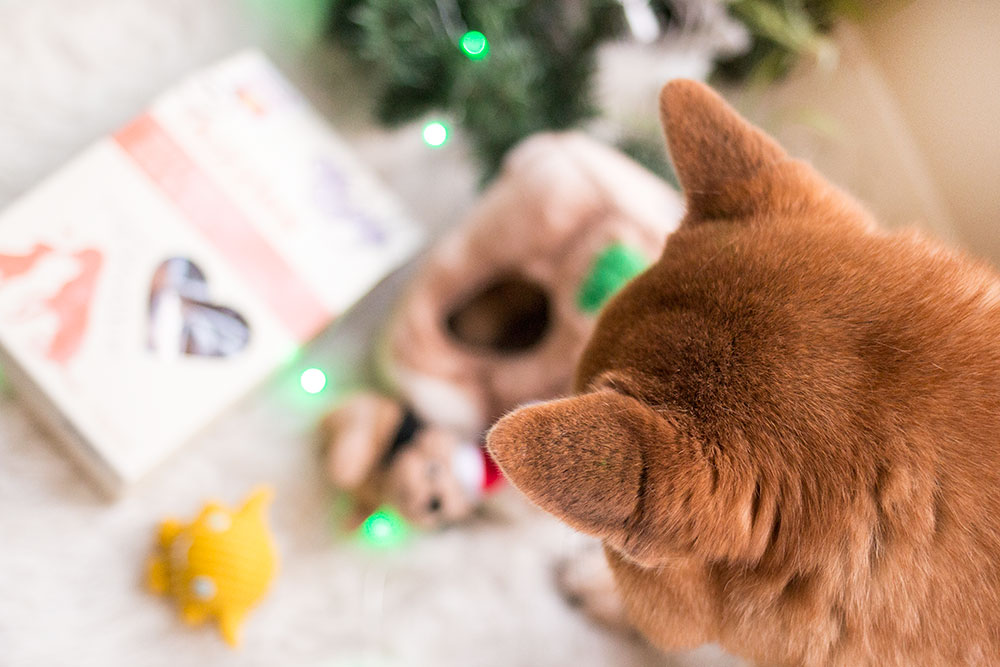 Gifts for the Reader
Susie's Senior Dogs Book, $15
I'm sure you know about Humans of New York, but have you heard about Susie's Senior Dogs? Brandon's wife, Erin, has a passion for senior pups and works to find them new homes. These are their stories.
The Art of Racing in the Rain, $6
For the fiction lover, a dog story that everyone will love. It is a bit heartbreaking, but I promise that dog lovers will find this a worthwhile read. (And honestly, it's good for even non-dog lovers. It's just a great book that features a dog!)
Dog Obsessed: The Honest Kitchen's Complete Guide to a Happier Healthier Life for the Pup You Love, $19
A book full of useful information, from selecting a dog breed and understanding your dog's personality to recipes for treats and homemade meals. This book is written by the founder of Honest Kitchen, and for those who appreciate dog nutrition and health, this will be the perfect gift.
Gifts For the Techie
Petzi Pet Cam, $150
I funded Petzi when they were building the product and had an Indie Go-Go campaign, and a year later I received my device. Now, it's one of the things in my house that I cannot believe I ever lived without! I love being able to check on Rigby while I'm at work, and it also works great when we are out of town to make sure we didn't have any unexpected visitors. ;)
Roomba 980 Robot Vacuum, $898
To say that this is a household staple would be an understatement. Rigby sheds, a lot, and who has time to vacuum constantly?! Not this girl, which is why setting the Roomba and letting it do its thing is the best ever. Plus, I'm giving away one of these, so be sure to enter at the bottom of this post!
Braava Jet, $180
If your pet is notorious for tracking in messes, the Braava Jet might be more your speed. A robot mop, this keeps your flooring all cleaned up and mess free!
Gifts For the Obsessed Dog Owner
Home is Where the Dog Is Hand Lettered Print by Signet Sealed, $7
How adorable is this hand lettered print from Signet Sealed?! I can't wait to frame it and hang it in my future office, and I know any pet lover will appreciate this sweet gift too.
Dogeared Be the Person Dog Tote, $32
An adorable tote to carry around all the dog goodies you can fit! This tote has a fun message and is practical. A win-win!
Gifts For the Customizer
Mimi Green Collars, $28-35
Mimi Green Collars are the absolute best – no more jangly dog tags! We customized ours with Rigby's name and our phone numbers to eliminate the annoying hanging dog tags. Choose from a variety of fabrics and seasonal options, or go for a simple but sturdy webbed collar!
PrideBites Custom Dog Placement, $25
A cute placemat in your kitchen with your dog's little face on it will make you smile. I love the one I have of Rigby, and I can't believe these are less than $30!
Fierce Deer Pet Name Necklace, $24-34
Allow your gift recipient to show their dog owner pride with a necklace customized with their pet's name! Plus, the timeless design will be a hit for any style.
And of course, a gift guide wouldn't be complete without a giveaway. Enter to win a Roomba 980 for yourself or to gift to someone else. We absolutely love ours and are sure you will be thrilled with it if you win. Good luck!
*Please note, due to the heavy weight of this item, this giveaway is only open to the US. Apologies for the inconvenience!
Who are you shopping for this holiday season? What is your favorite gift idea on this list? I'd love to hear your thoughts in the comments below!