Love getting dressed up but don't want to scream holidays? I feel you girl. I find that at this time of year, it can be incredibly hard to find much other than overtly Christmas or New Years type of dresses. That is exactly why I wanted to focus today on two winter party outfits that you could wear to any social gathering, on a date night, or even to work (depending on your office dress code, obviously!).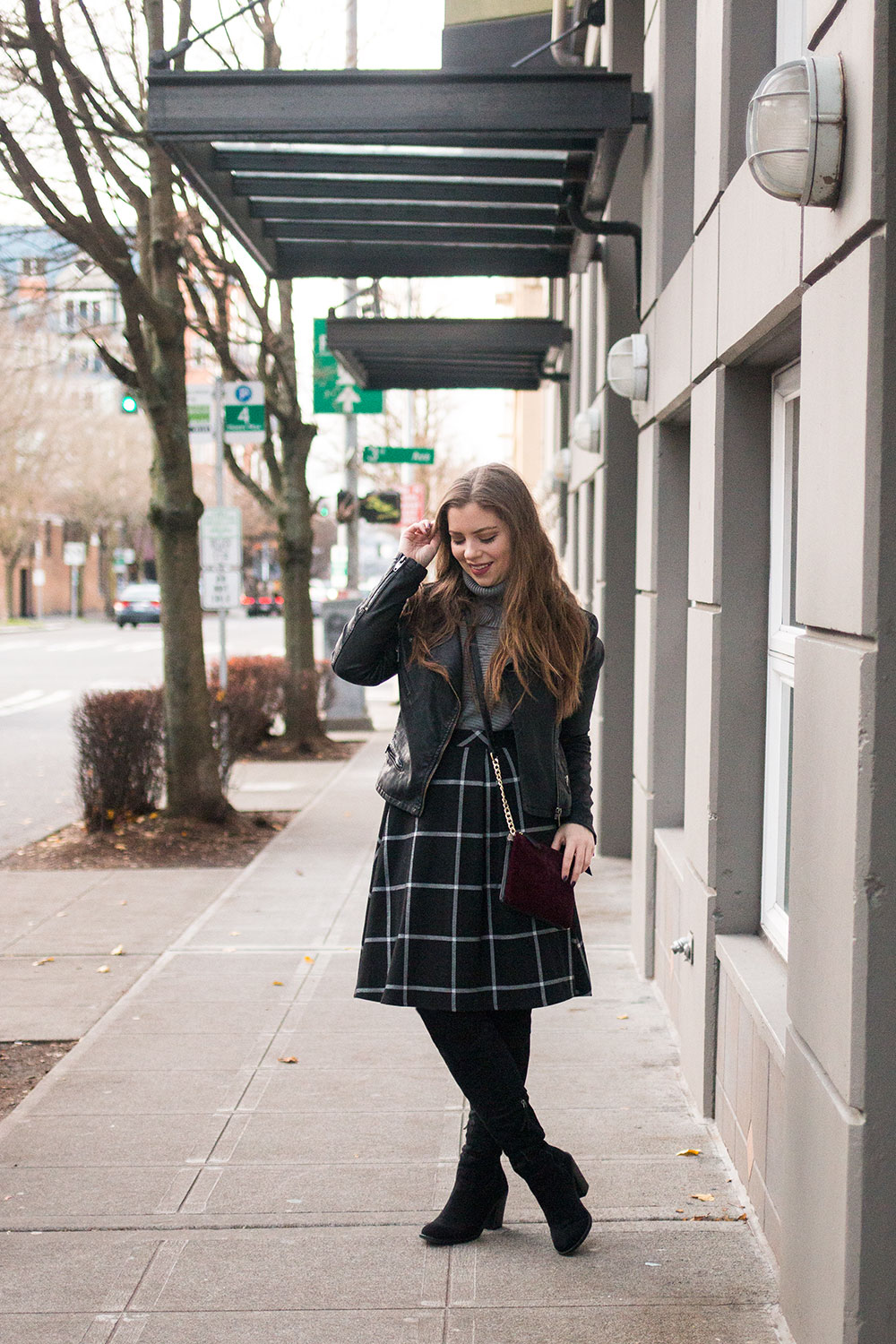 Disclosure: Thank you so much to Fred Meyer for partnering on this post. All opinions and outfit ideas are my own!
Winter Party Outfits
To start your winter party outfit, the first thing you need to do is identify your outfit's story. Where will you be going, what will you be doing, and who will you be with? How does your outfit play a role in each of these answers? For example, if you're going to be hitting happy hour and then going shopping for a girl's night out, perhaps a pair of heels isn't the best choice, and instead, you should stick to chic flat boot or a pair of ballet flats. Or, if you're taking a weekend adventure up to the mountains but need an outfit to wear for a nice dinner, perhaps a warm coat is essential.
Once you've identified the piece to build your outfit around, proceed by identifying a few dressy pieces that you either own or need to shop for. I know this sounds like it could be a lot of work, but typically I find that one or two outfit pairings get me exactly what I want, and it forces me to consider wearing pieces that may have been hiding in my closet. It also allows me to put a new spin on a newer piece to my wardrobe, like in this first outfit, the windowpane midi skirt! I had never thought about tucking a sweater into it when I first purchased it, but when I realized how cold it had gotten, it just made sense!

Winter Party Outfit #1: Dress Up Your Sweater
For this outfit, I knew I wanted to feature the windowpane skirt that I picked up from GNW at Fred Meyer last month. (You can see how I styled it for Thanksgiving here, and yes it was still available at my local Fred Meyer last time I checked!) It's such a fun statement piece, but unlike a lot of festive skirts and dresses, this one doesn't scream look at me and isn't covered in glitter or sequins. Nothing against glitter or sequins, but how practical is that for the rest of the year?!
This makes for the perfect transitional piece that can be dressed up or down. I loved pairing this skirt with this ribbed sweater from GNW, also available at Fred Meyer that also comes in several other colors. In the past couple of weeks, the temperatures have seriously dropped in Seattle and every morning there's been an icy breeze. If you can't tell, my hairs are standing all on end (including my hair, which was trying to flee the cold or something!) in these shots because I was trying hard not to freeze to death. Only slightly dramatic around here. ;)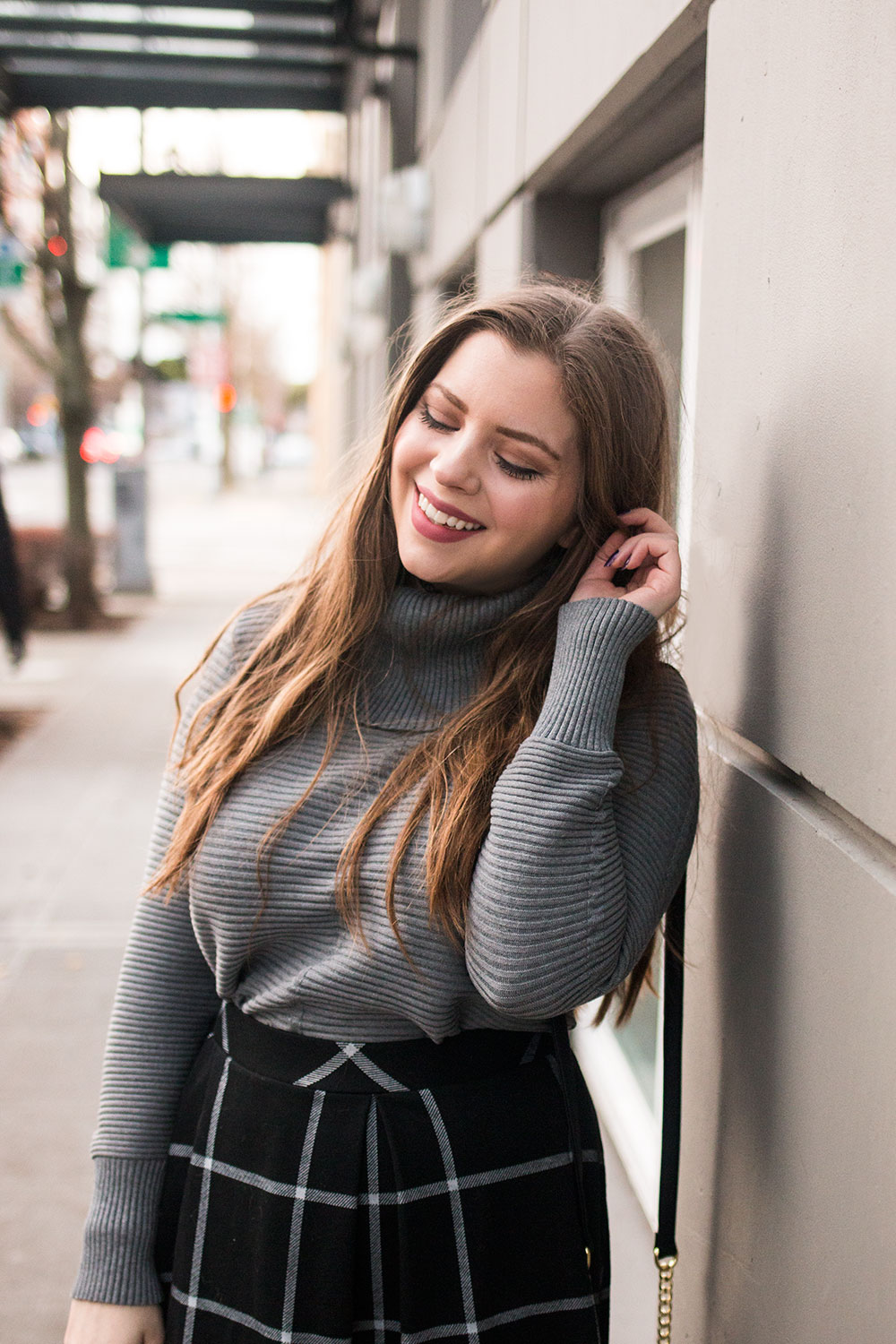 To complete the look, I opted to skip tights, as I feel like I have to wear them every day, and instead decided to go with my over the knee boots from Joré. I'm half tempted to get the flat version of these boots that Fred Meyer also carries because I've worn these so much already this year! Finally, I wanted to play with texture in this outfit, so the final touch was a small crossbody bag from Madden Girl. One side is a burgundy velvet, and the opposite side is black faux leather. Such a fun way to get two bag styles in one!
Recreate this look:
Winter Party Outfit #2: Velvet with an Edge
Did I mention I've been obsessed with velvet lately? If you missed yesterday's post, then you won't know what I'm talking about, but I totally rocked velvet yesterday too. Sorry, not sorry. While it is a holiday-ready texture, what I like about it is that it can easily be dressed down with a pair of jeans, or up with a pair of edgy faux leather pants. When I passed by a rack containing this peplum blouse from Democracy at Fred Meyer, I literally gasped. (Honestly, the Fred Meyer employees and other shoppers probably think I'm nuts, but whatever. The thrill of finding the perfect piece is real.)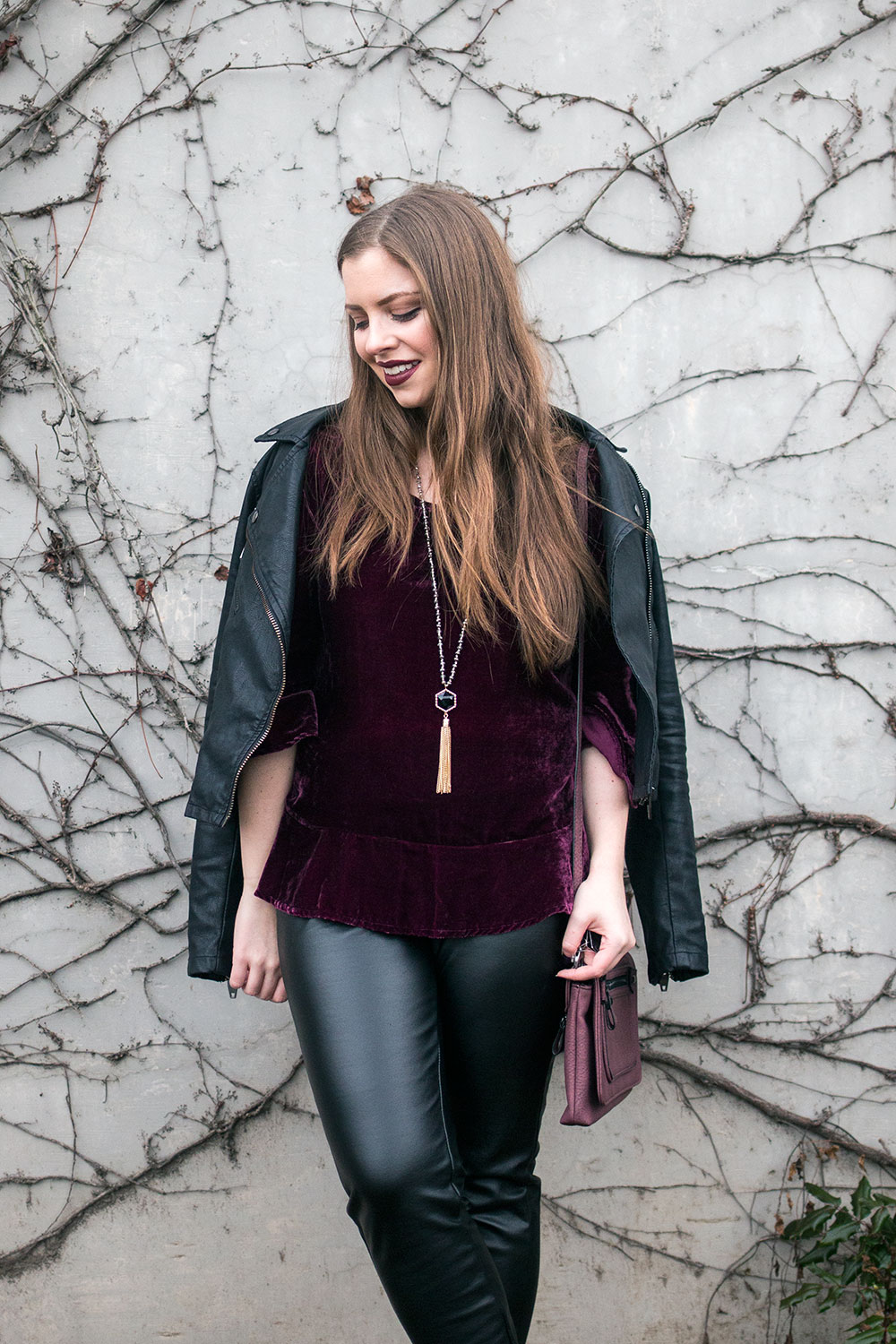 This particular pair of faux leather pants is a new-to-me brand called One 5 One that I found at Fred Meyer also. They're incredibly stretchy and comfortable and feel more like leggings than I expected. The one downside for shorties like me is that I'll need to have them hemmed and potentially tapered at the ankle a bit more, however for now I can just tuck them into a pair of black booties, and no one will know the difference! To dress it up and add a touch of glam, I finished the look with a sparkly tassel necklace that I found in the jewelry section from GNW. They had a variety of colors and other tassel styles as well, all at very budget friendly ($15 and under) prices.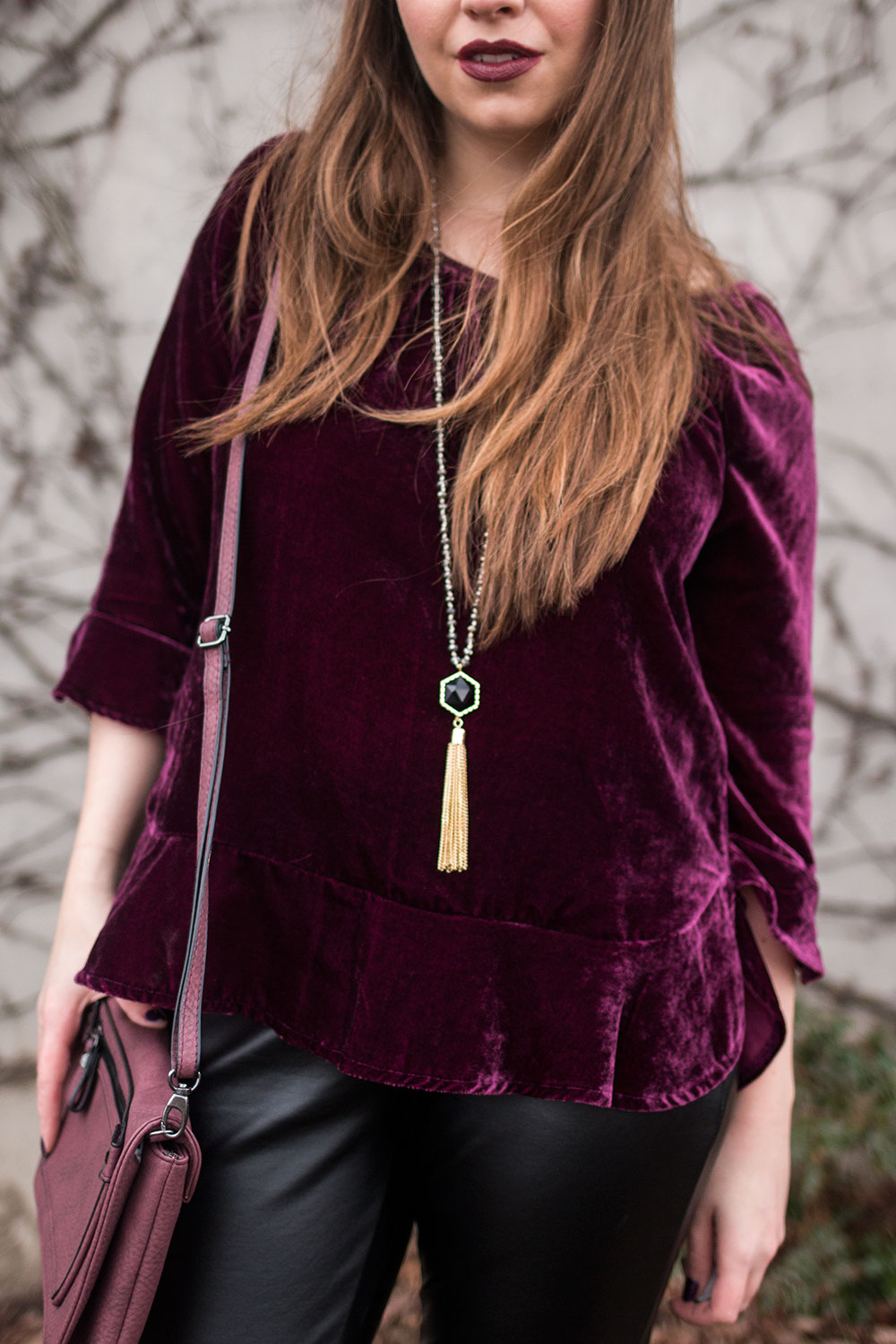 Recreate this look:
How do you dress up in the cold months? Do you have any tricks for staying warm but looking glam while doing so? I'd love to hear your thoughts in the comments below!