Am I alone in being completely and utterly blown away that Thanksgiving is this week?! This year has just flown by and before you know it the holiday season will have come and gone. But, there's no reason to get ahead of ourselves which is why I'm so excited to share some outfit ideas for Thanksgiving!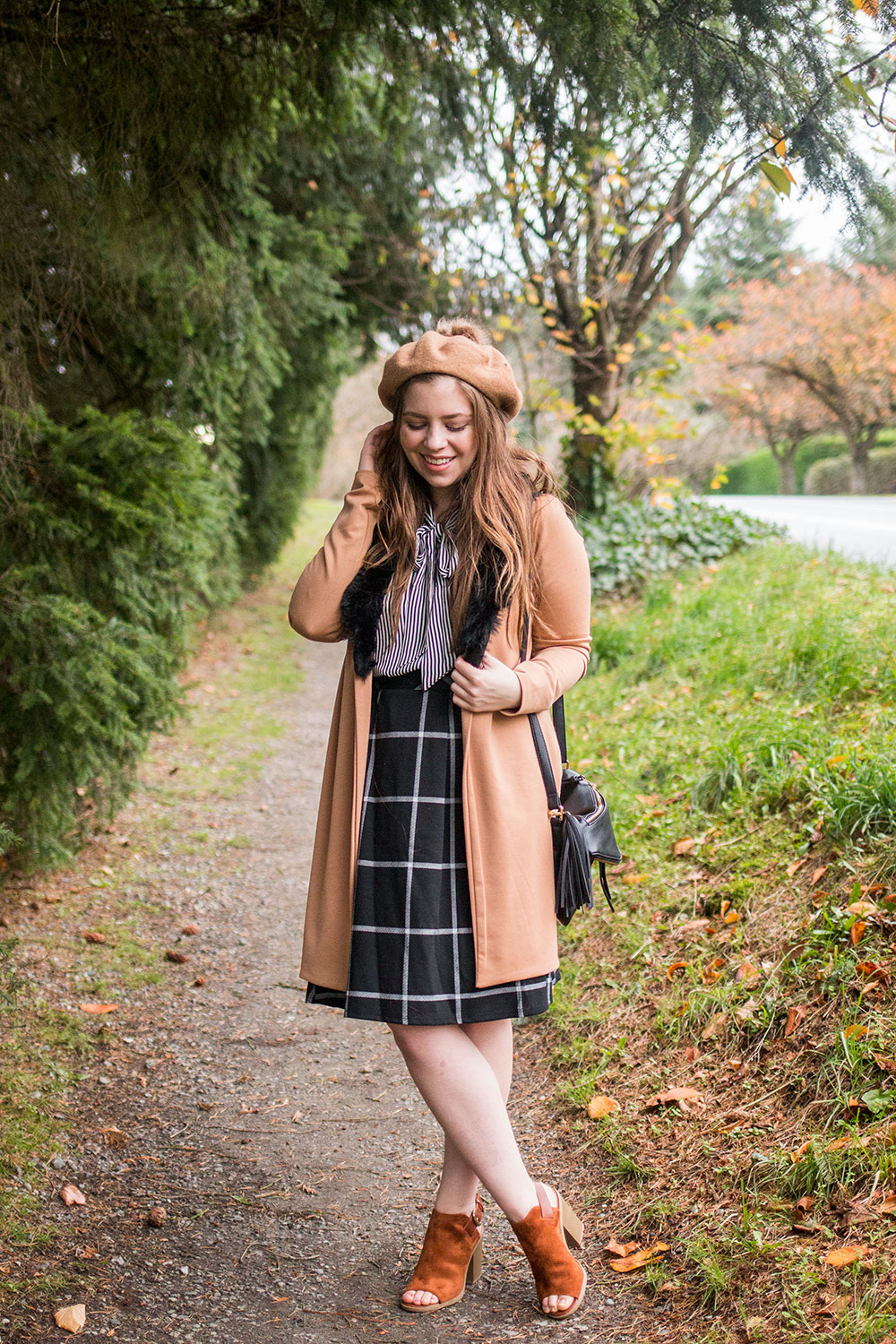 Disclosure: This post was created in partnership with Fred Meyer. All outfit ideas and thoughts are my own!
If you're anything like my family, Thanksgiving is a time to get together, enjoy each other's company, and eat, a lot. I like to wear outfits that while cute, definitely do not accentuate a Thanksgiving food baby. What's great about both of these options, while dramatically different in appearance, are both very comfortable for a long car ride, will mask any over eating, and are budget-friendly and are made up of Fred Meyer finds! (Find your nearest Fred Meyer store to shop these pieces.)
What I'm Wearing: Chic for Thanksgiving
Top: GNW c/o Fred Meyer
Skirt: GNW c/o Fred Meyer
Bag: Under One Sky c/o Fred Meyer
Hat: Collection XIIX Pom Pom Beret c/o Fred Meyer
Booties: Curfew Alicia c/o Fred Meyer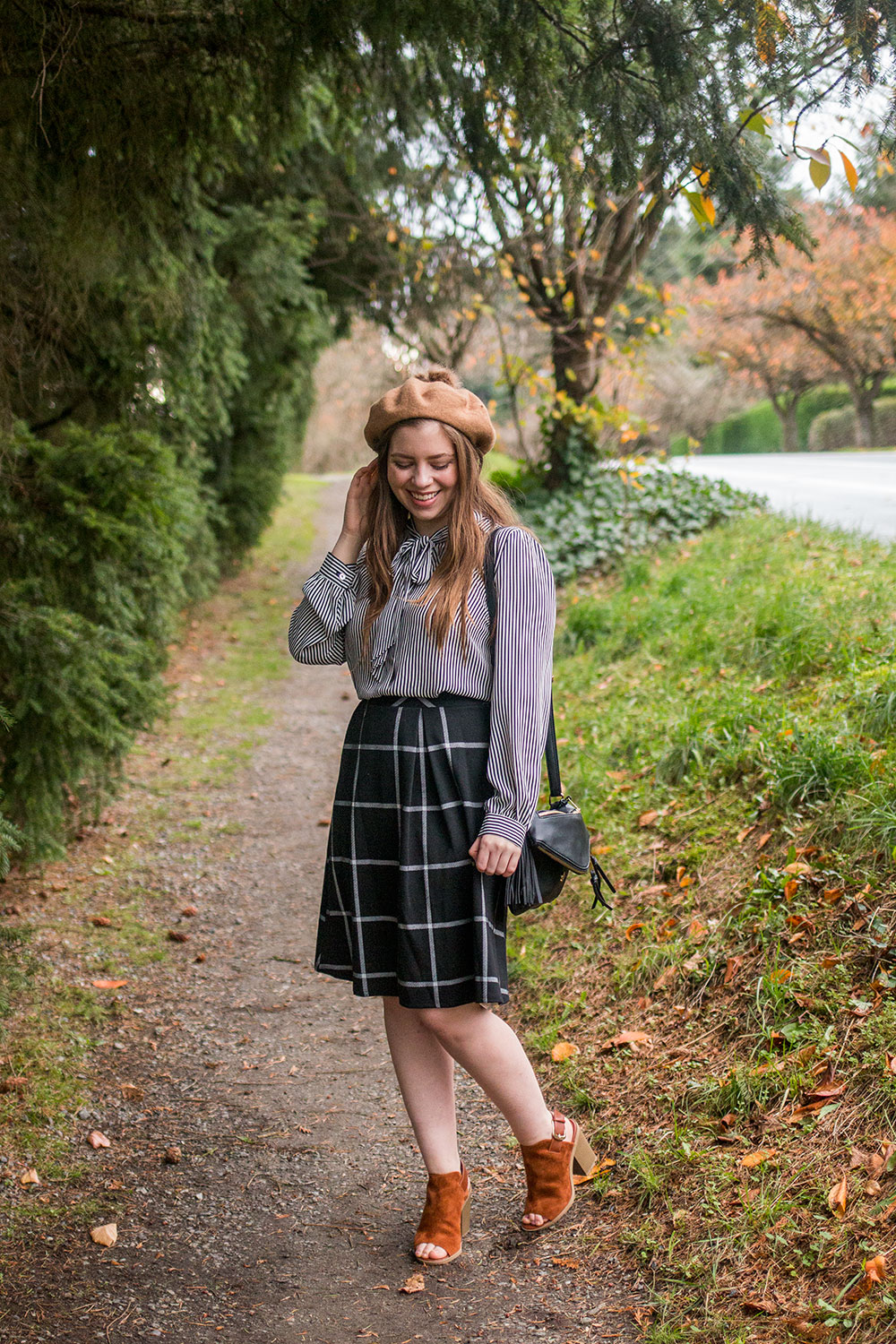 I'm calling my first outfit, "Chic for Thanksgiving," because once all put together, I realized it reminded me of the early Gossip Girl years. Remember the first Thanksgiving on the show? Drama city. I'm blaming that vibe on the plaid skirt, but hopefully, you'll agree it's reminiscent of that in all the best ways. What I loved about this skirt is the thick knit material, and the pattern, naturally. I knew it would make a great starting piece since the elastic waistband ensures comfort and the bold plaid design makes it a standout.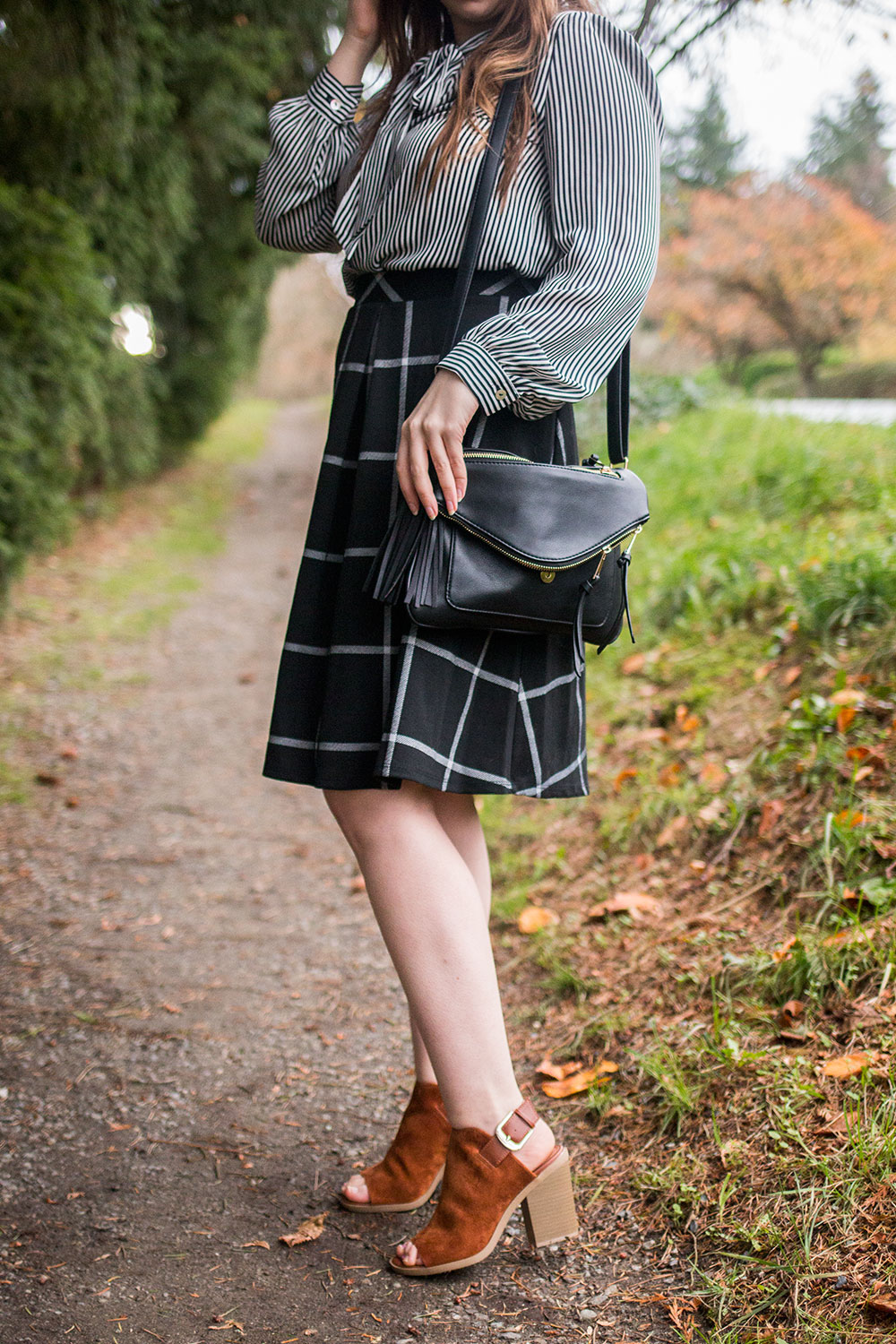 When I found this pussy bow top (yes, that's really the name of this style of top) on a nearby rack, I knew this combination would pair perfectly. Mixing patterns is one of my favorite style tricks, and typically it will always work as long as one pattern is more subtle and the other is bold. In this case, the thin stripes of the top pair perfectly with the oversized plaid pattern on the skirt.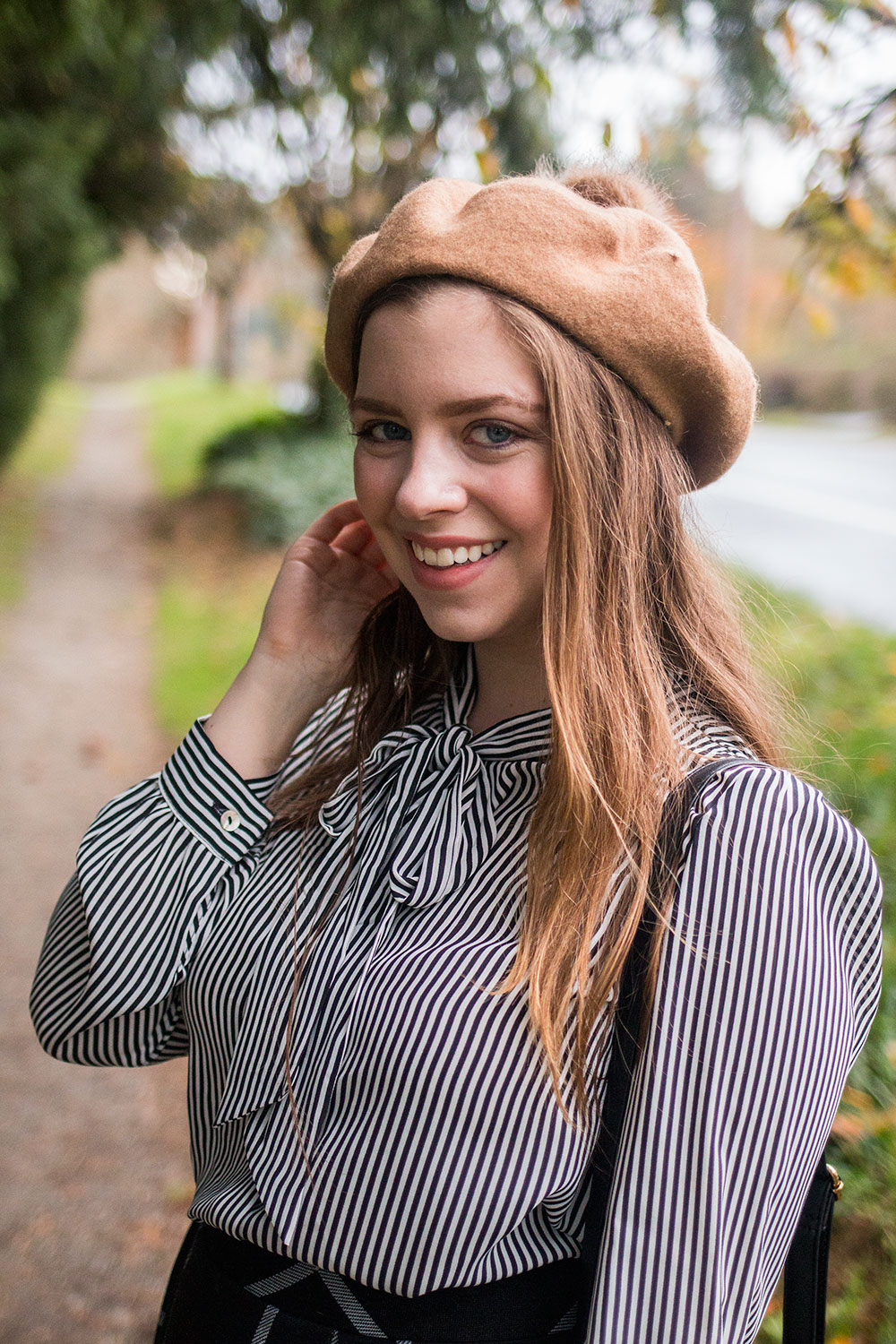 While many say black and brown don't go together, I'd like to respectfully disagree. I think if you pair a brown with enough contrast to black in your outfit and make it a thoughtful addition, then it can work. When I found this beret at Fred Meyer in just this color, I knew I wanted to figure out a way to make it work in this outfit. I paired a coat I already had in my closet (which conveniently is trimmed with black faux fur) to pull the look together. I loved how, while similar in tone, the booties ended up being a little pop of color in this outfit.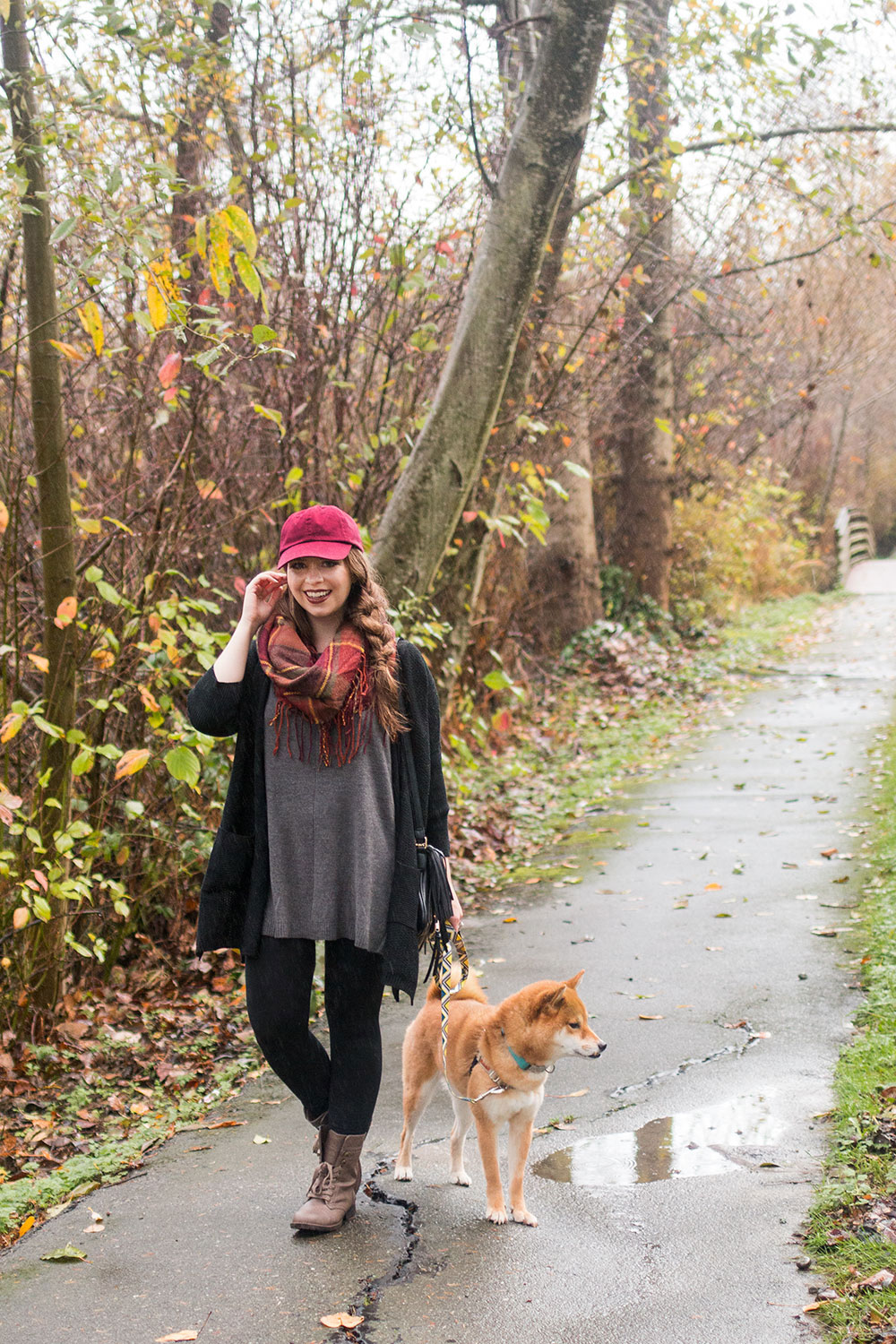 What I'm Wearing: Comfy Athleisure
Sweater: Artisan Crafted by Democracy c/o Fred Meyer
Tunic: GNW c/o Fred Meyer
Leggings: WallFlower c/o Fred Meyer
Scarf: David & Young c/o Fred Meyer
Bag: Under One Sky c/o Fred Meyer
Hat: The Manhatten Hat Company c/o Fred Meyer
Boots: Curfew Stevie Boot c/o Fred Meyer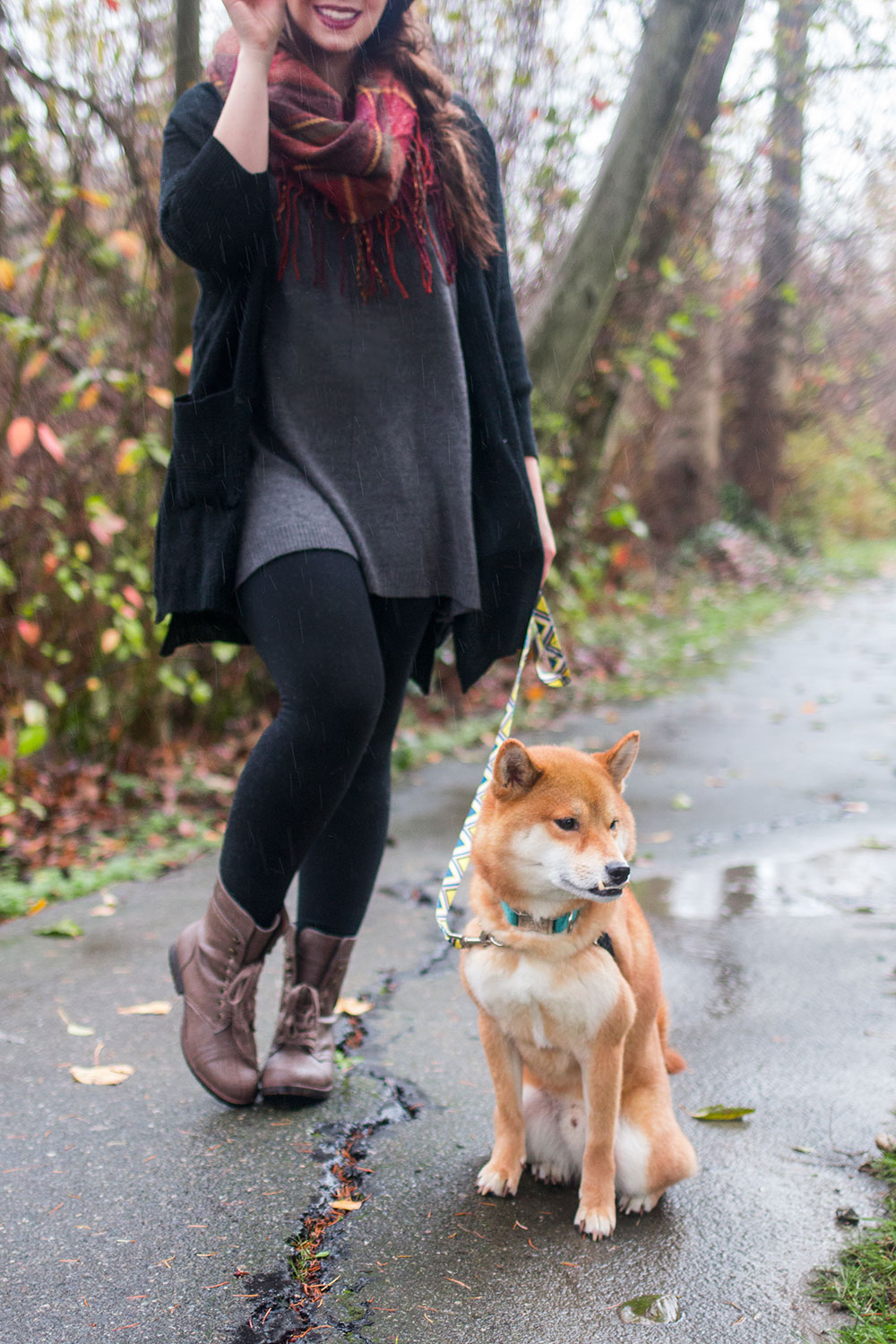 With athleisure still trending for fall, I thought I would through an entirely different spin on my second outfit. I'm still maintaining a lot of the traditional Thanksgiving outfit staples (leggings, scarves, and sweaters) but the baseball cap and combat boots give it a more edgy and athletic vibe. Or at least that's what I was going for. The goal of this outfit was to dress in layers, so you'll be sure to stay warm, cozy, and comfortable no matter what your Thanksgiving plans are.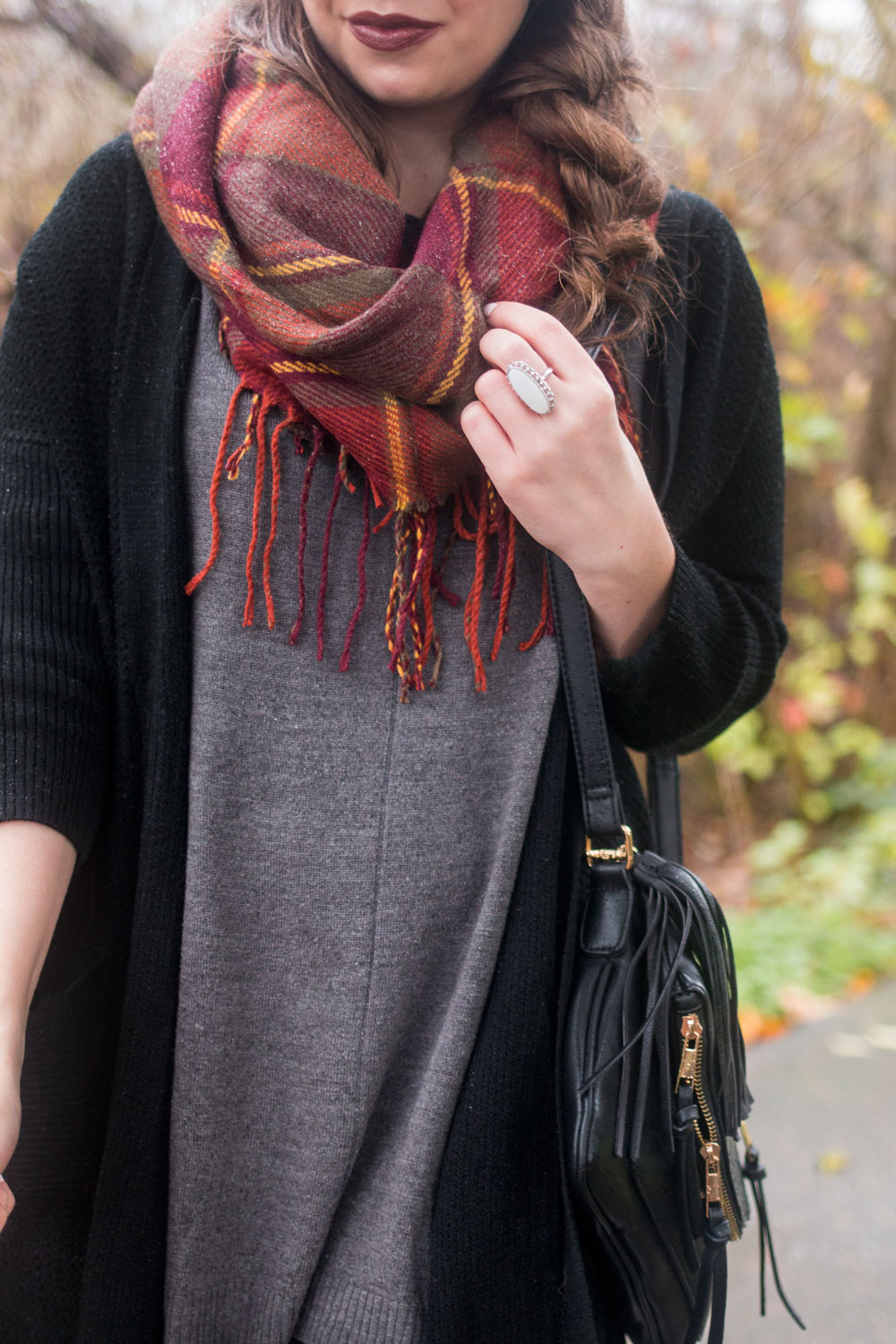 This is the kind of outfit you can feel ready to grub down in. And also take a nap after the festivities die down and feel like you are already in your pajamas. Let's be honest; leggings are most definitely an excellent substitute for pajama pants, and these from WallFlower in the Junior's department at Fred Meyer are perfection. They're not only less than $7 each, but they're also the coziest and most comfortable legging I own.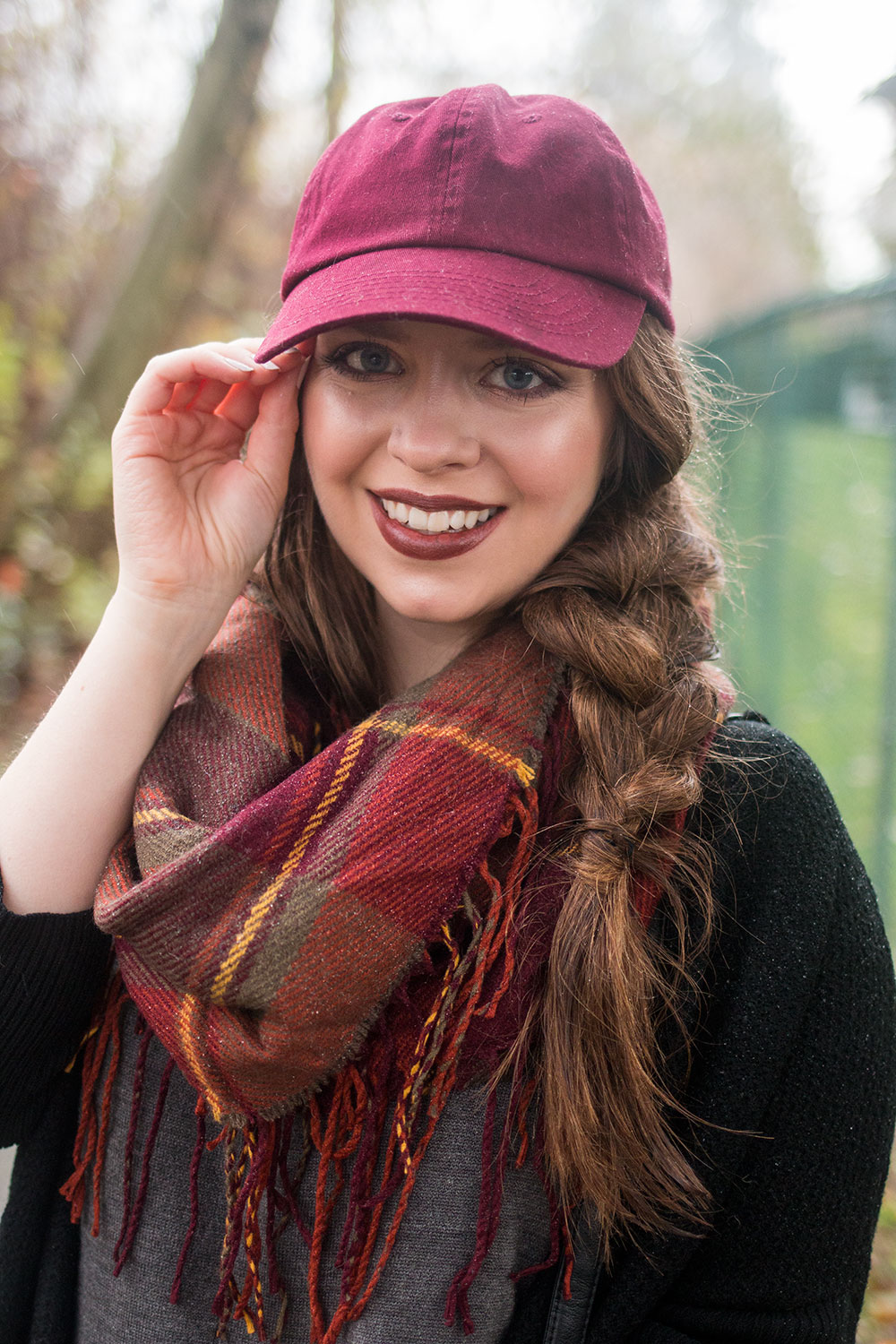 Speaking of cozy, there is nothing cozier and more multipurpose than a big old blanket scarf. They may not be the most flattering thing in the world on my petite frame, but they do add a bold pop of color to an outfit and double as a blanket. Remember that long car ride to grandma's house? Snuggle up in your blanket scarf and take a nap, girl! I'm pairing mine with a baseball cap, so when you're taking a nap, no one will notice. Just kidding. Kind of. ;)
Hopefully one of these outfits will inspire your Thanksgiving outfit this year. I had fun coming up with each of these outfits with the help of my local Fred Meyer store. Speaking of, they're having a fabulous Black Friday sale, and all the details of the sale have already been released here. What's on my list, you ask? Totally loading up on socks for Dave and I (they're all 50% off!), holiday sleep pants for $4.99, some sweaters from the misses department for $12.99, and maybe a new pair of booties on sale for $19.99, down from $50-70. I'll also be hitting the cosmetics department for buy one get one 1/2 off everything!
What are you planning on wearing this Thanksgiving? I'd also love to hear which outfit is your favorite of the two. I still haven't decided which outfit I'll actually be wearing on the big day!