Did I get your attention? Because honestly as a "short girl," I've been told to avoid so many styles that I ended up loving that I want to debunk one major one. The style in question? The midi length. I've read and heard over and over again that wearing anything midi length (hitting mid-calf), be it dresses, skirts or pants, is sure to make my legs look short and stumpy, and my frame to look overall frumpy.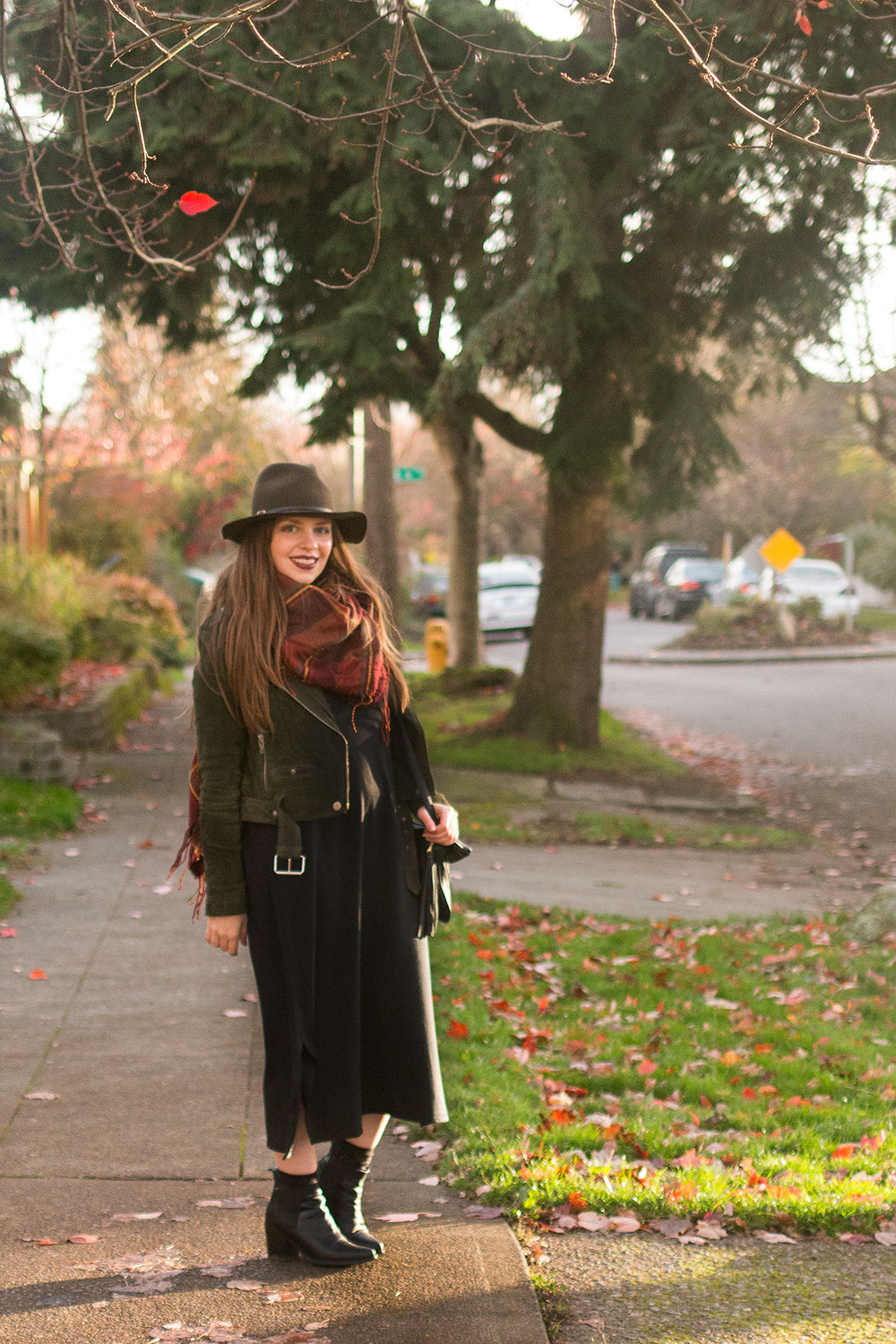 Disclosure: Some of the items in this outfit were provided courtesy of "c/o" of the brand and are labeled as such. This post contains affiliate links, and if you click on them, I may make a small commission on your purchase at no cost to you. All opinions are my own! :)
What I'm Wearing
Jacket: BlankNYC Morning Suede Jacket (similar under $50, under $100)
Dress: Pure Jill Luxe Tercel Dipped Hem Dress c/o J.Jill
Scarf: David & Young Blanket Scarf c/o Fred a Meyer
Hat: Topshop Classic Fedora (similar under $30)
Ankle Boots: Steve Madden Pistol Booties via Nordstrom
Bag: Under One Sky Crossbody
Socks: K Bell Soft & Dreamy Socks
Spoiler alert: I hate the idea that petite girls are told that they can't pull things off, and no one needs that kind of negativity in their lives. The truth of the matter is that you can wear whatever you want. If you feel good, you will look good. And I also want to share how you can wear a midi dress and still look pretty dang cute this fall.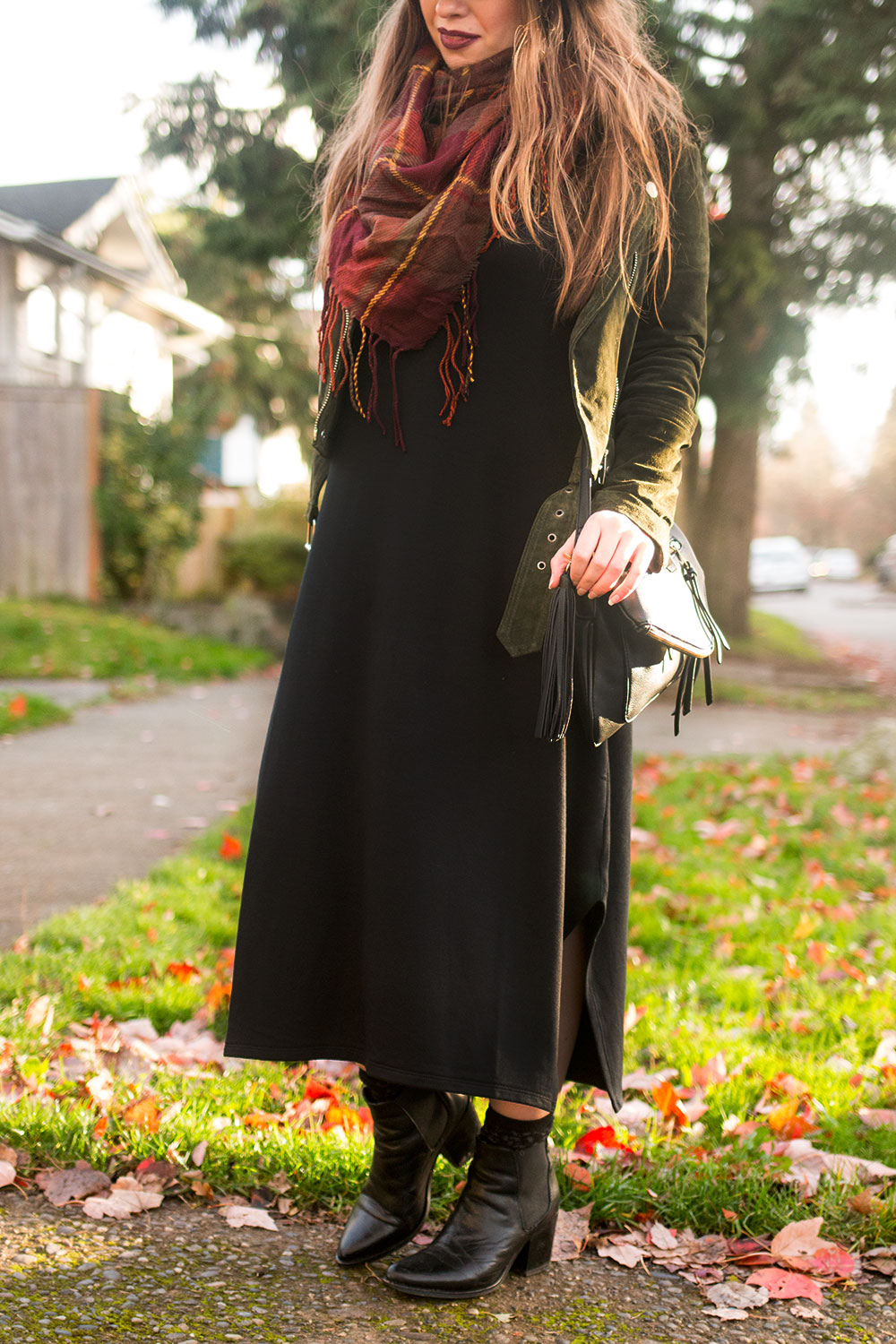 While it may be true that it this particular style doesn't make me look any taller, I'm here to tell you that if you've been avoiding the midi dress because of this lie, then try one. (Though it is true that there are a few style tricks to look taller, and check that post out for 5 of them!) It's the only true way you'll know if it will work for you. Every style is not for every girl, but the worst thing you can do for yourself and your wardrobe is write off a style of garment or a new trend without having tried it. I giggled at the thought of wearing chokers again, and now I'm addicted and have room many!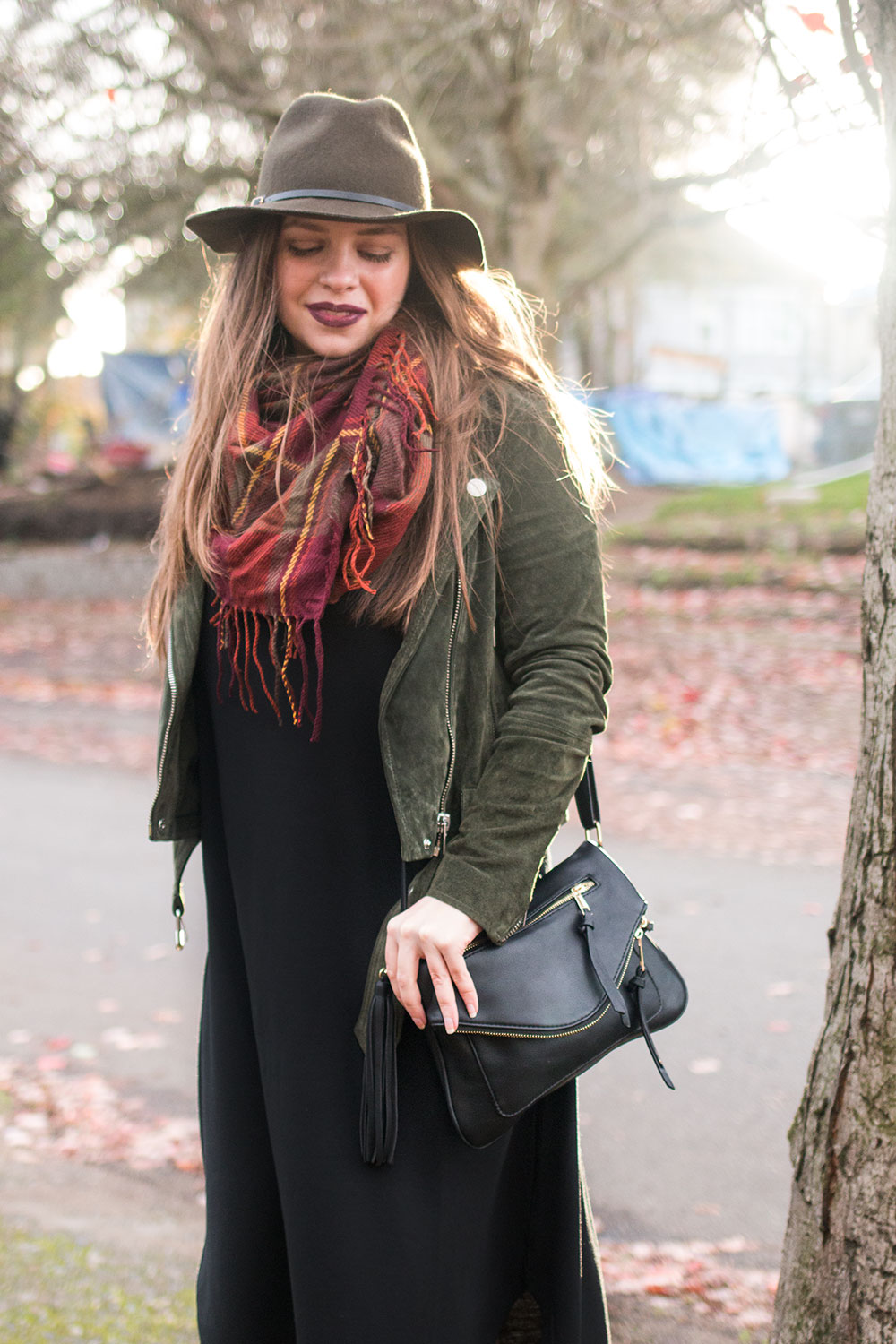 If you're looking for a midi dress to try, I'd highly recommend this Pure Luxe Tencel version from J.Jill. They sent me a few pieces from their new collection, and I cannot get enough! The effortless styles mean you can dress each piece up or down for your everyday look, and the fabric is one of the softest I have ever felt. If you want to feel like you're wearing comfortable pajamas without looking like it, then you'll love this collection as much as I do!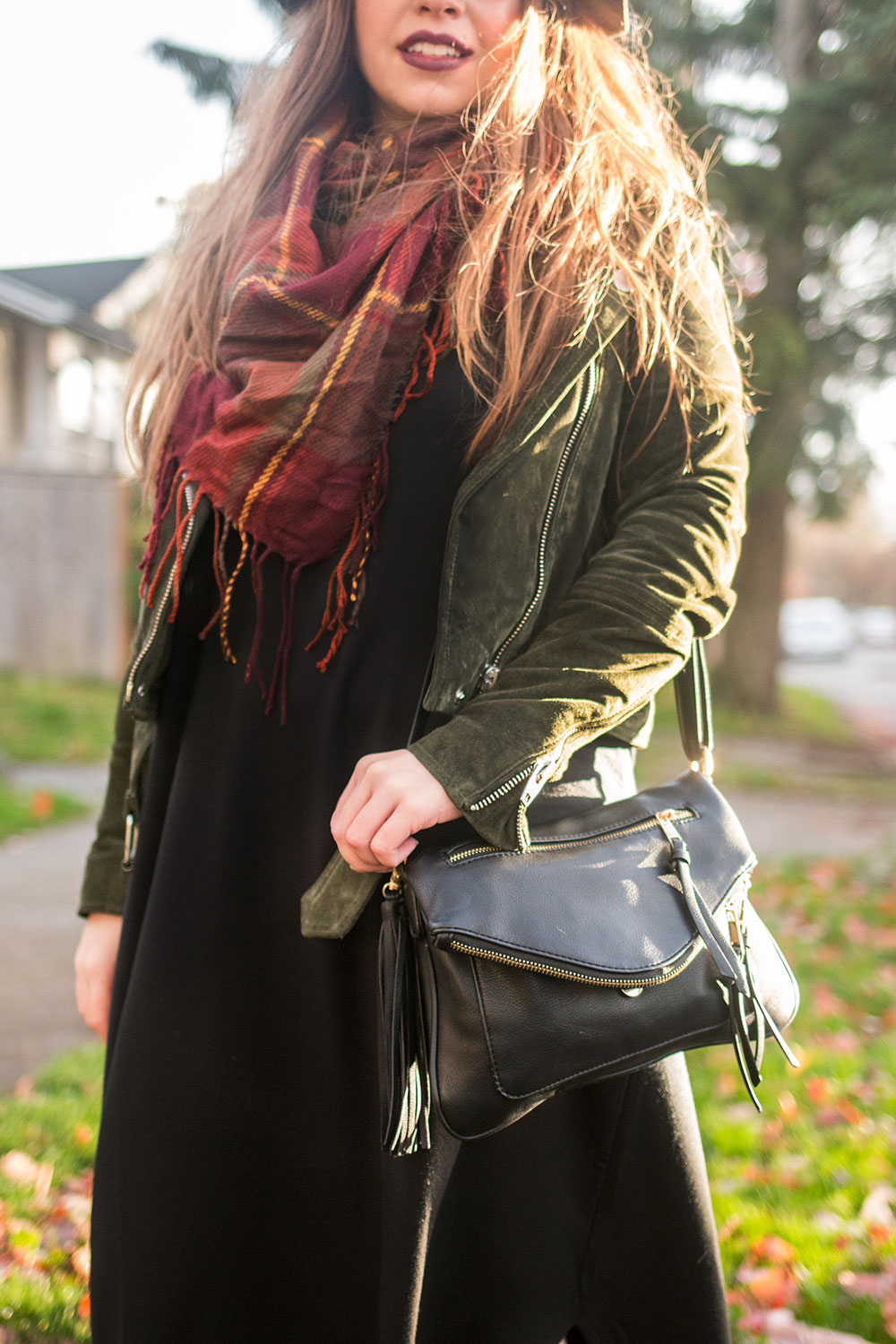 Easy pieces like this Pure Jill dress are what wardrobe dreams are made of. For me, it means quickly putting together an outfit as I rush out the door for work, or in this case, creating an outfit I'll be comfortable in all day. Saturday was a busy day; from hitting up the Nordstrom Fall Beauty Event at the Southcenter Mall to seeing some disappointing open houses, I was comfortable for hours of walking and driving. Plus my favorite suede moto jacket from BlankNYC and my blanket scarf from David & Young that I found at Fred Meyer kept me toasty! The weather is finally cooling down in Seattle, and there's a definite crispness in the air that tells me winter is most definitely coming.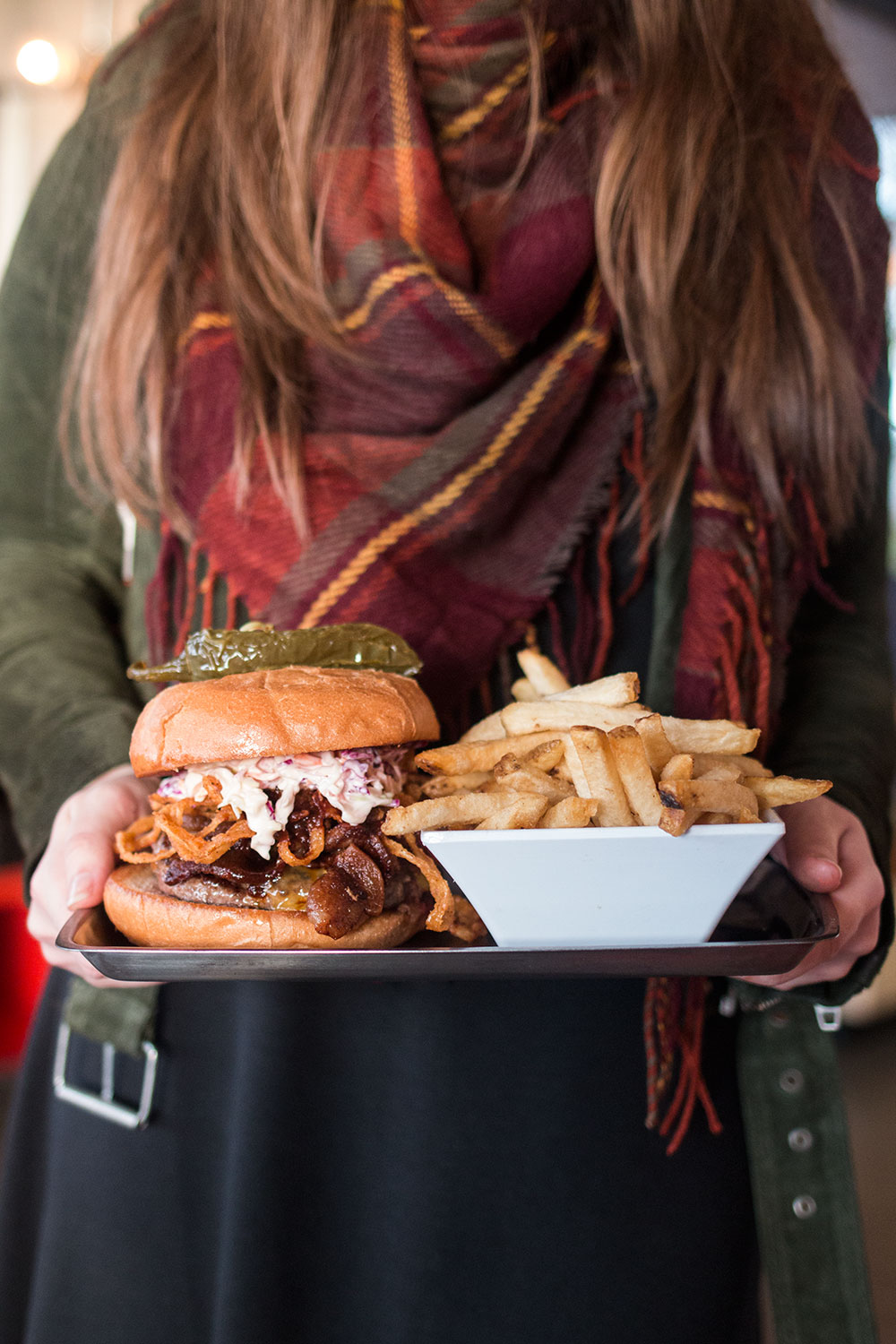 Our Saturday adventure concluded over a delicious meal at the new Feed Co. Burgers located in Seattle's Central District. (If you love a good burger, go there now!)  The shot above is Dave's order, the Texicana Burger with hand cut fries. Both were delicious, as was my Asian-inspired burger and cheese curds. (Yes, cheese curds. Definitely, try those!) We washed our tasty burgers down with milkshakes made with ice cream from Snoqualmie Ice Cream. Basically, the perfect end to a busy and exhausting day.
How do you dress for a busy day? Have you given the midi length a chance? I'd love to hear your thoughts in the comments!