Affiliate Links / Product Sample
A couple of weeks ago when I launched my blog update, I asked for feedback regarding what kind of style/beauty/life content you're looking for. There were some amazing suggestions and questions in there and I'm so excited to get started on posts that will hopefully cover everything. The first one is today! Angelica asked how to wear clothing to make your legs appear longer, so I thought I'd share 5 style tips to look taller. As a very short person (I'm 5'2.5″… and yes, that half an inch is necessary) I feel very qualified to cover this!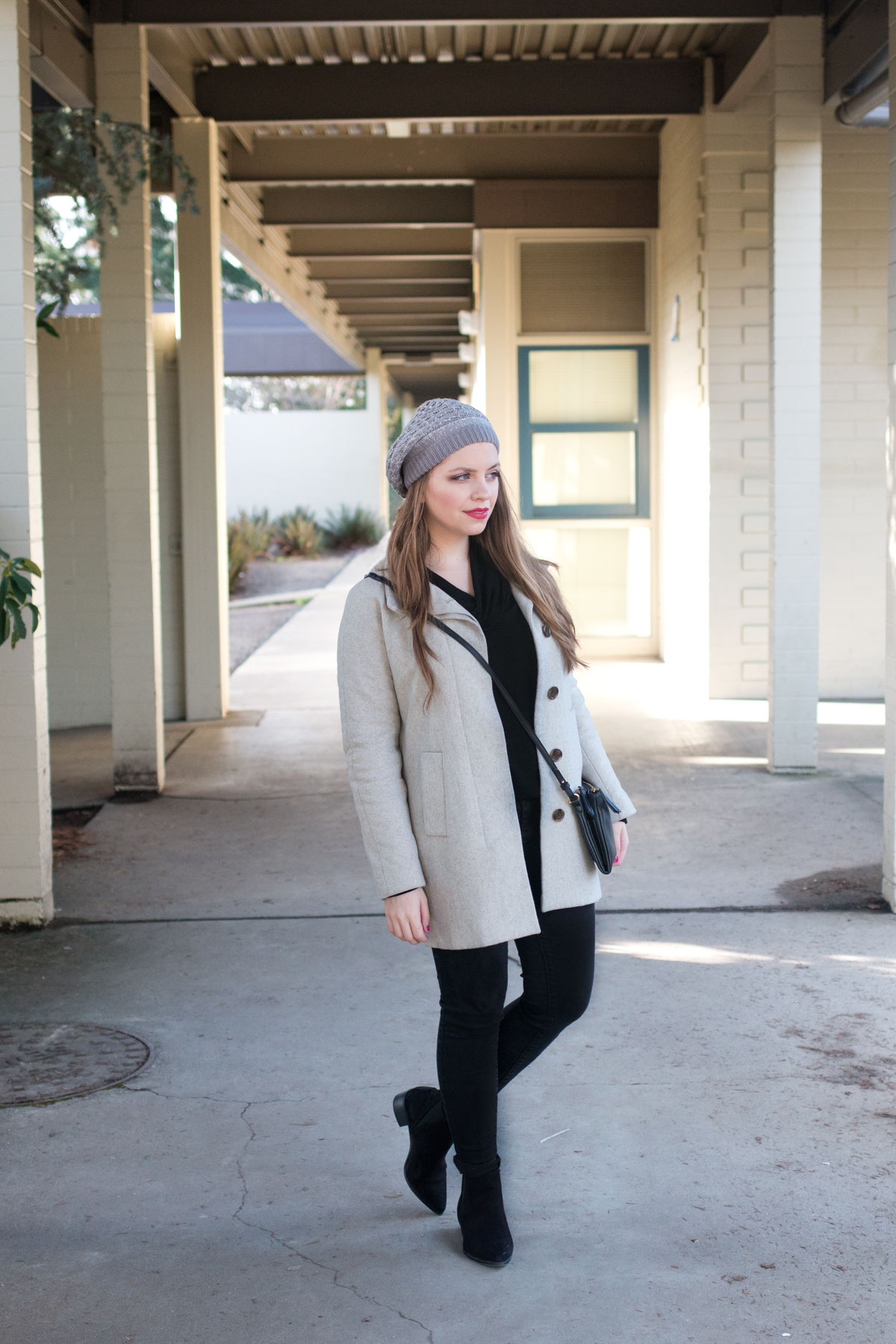 What I'm Wearing
Hat: Scala Designs Metallic Slouchy Beanie, c/o
Coat: J. Crew Factory City Coat
Sweater: Karen Kane Funnel Neck via Dillard's (similar)
Jeans: LC Lauren Conrad Jeggings via Kohl's
Booties: Sueded Pointed Toe Ankle Boots via Old Navy
Bag: Bifold Faux Leather Crossbody Bag via Old Navy
I was thinking about that particular issue when I got dressed on this very morning. One of the things I've always worn (since they become popular, anyway) was skinny jeans. The reason I love skinny jeans so much is that they make my legs appear much longer, as they have a nice streamlining effect if you find the right pair. Personally, I will not buy any skinny jean that bunch at the knee, loosens too much at the waist, or sag in the behind region. After buying a few pairs with these issues and then having to essentially give them away because I hated them so much, it's just not worth it.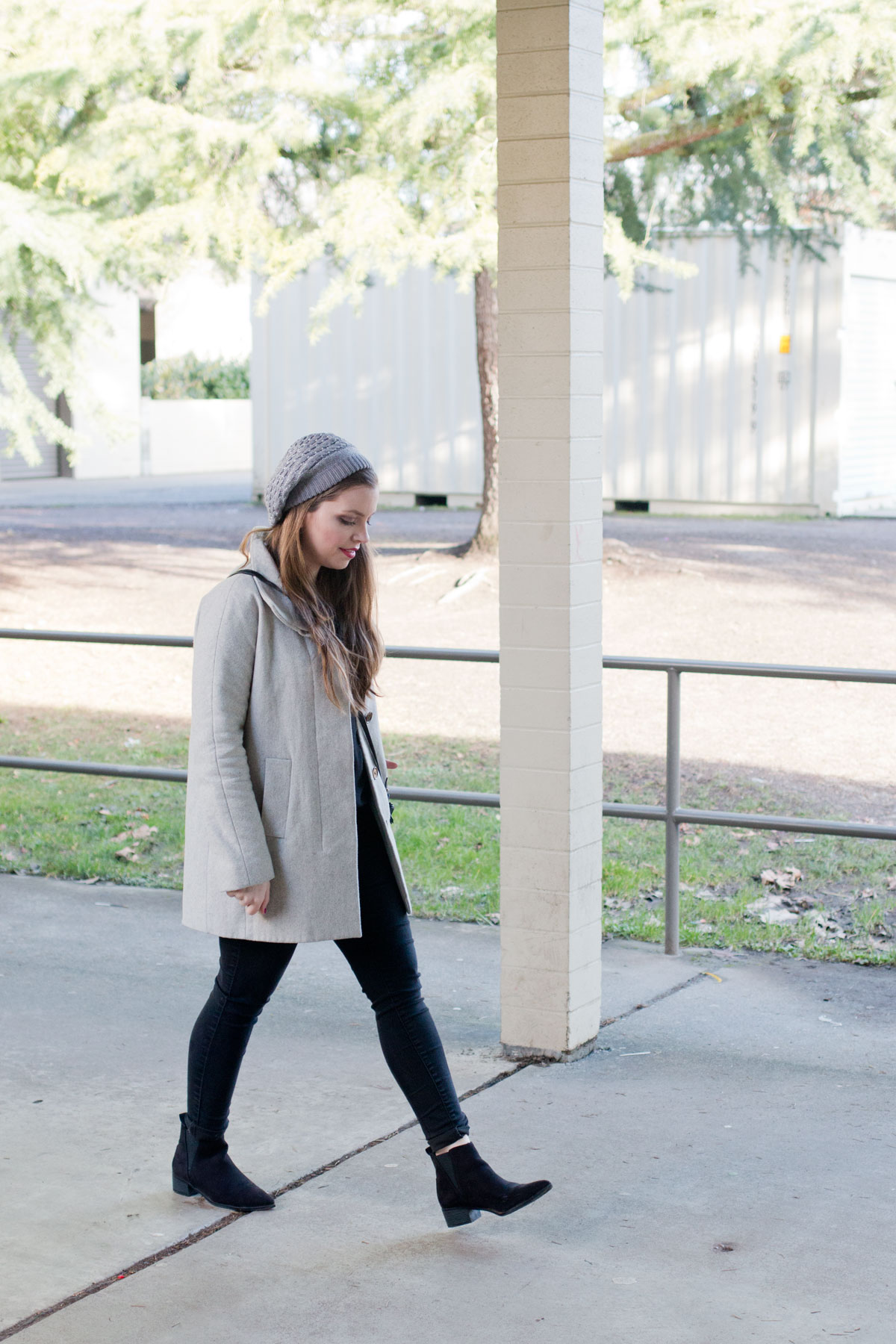 In order to make sure you've found a pair that won't loosen up, I recommend buying the jean, leaving the tags on, and wearing it around the house while you're doing laundry or something that involves a lot of movement without risk or ruining the jeans. Obviously I don't condone wearing them all day and then returning them, but if you're sorting laundry and then loading it you'll probably get a pretty good idea if the jeans will work for you.
To that same end, I also think it's important as a petite person to buy clothing that fits, or get it tailored so that it does. A lot of times I see shorter women wearing clothing that is just too big for them and it makes them look even smaller! No swimming in your pants or jeans allowed, unless you're going for that Mary Kate/Ashley Olsen look, anyway. In the same regard, wearing tops that don't fit (my problem area is my chest) only makes you look larger than you really are. If you need help knowing if something is the right fit before you buy it, you can always shoot me a photo on Snapchat. I'll happily provide my opinion! (Yes I'm serious, and my username is hellorigby.)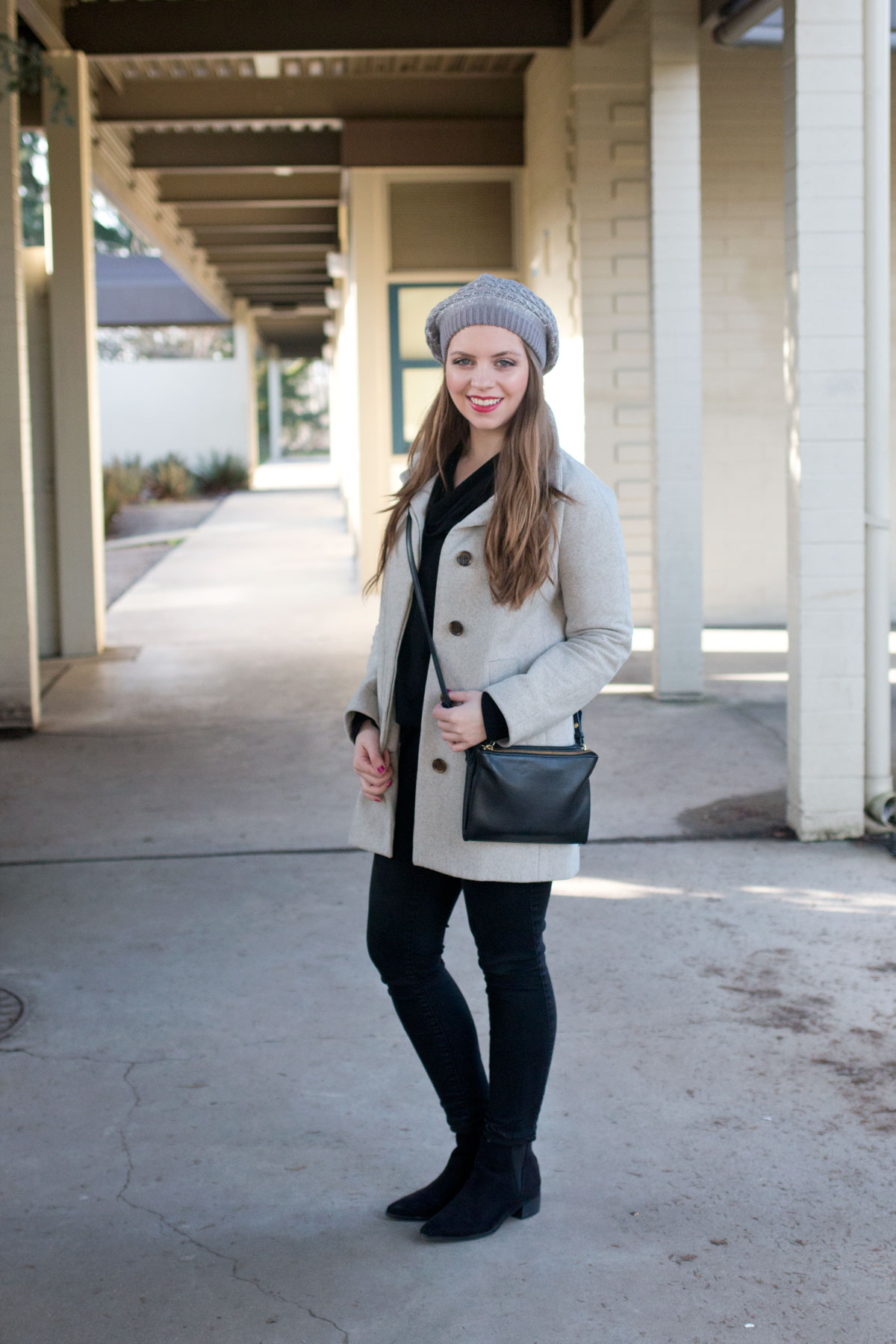 Another idea for showing off those legs is to wear one color. I know this isn't always possible, but even sticking with similar colors would do the trick too. I partricularly gravitate towards dark colors, like in this outfit. An all-black outfit is not only slimming, but will make you look longer and leaner. Plus, something about wearing black just looks super chic and put together. If you don't want to wear all black, try mixing a dark gray top with a black pant, or I'm a fan of navy and black together. Yes, some say that's a fashion faux pas but let's just agree to disagree.
Another way to elongate the leg is the half tuck. I know, I know… this trend can look super silly, but honestly it's great for those of us who are trying to make the leg look longer because the tuck is extending the leg line. I already have a short torso, so for me the half tuck really helps draw even more attention to the leg. I find that a loose but not oversize top works best for the half tuck. Too tight of a top won't look right, and too oversized will either drive you crazy all day or look messy.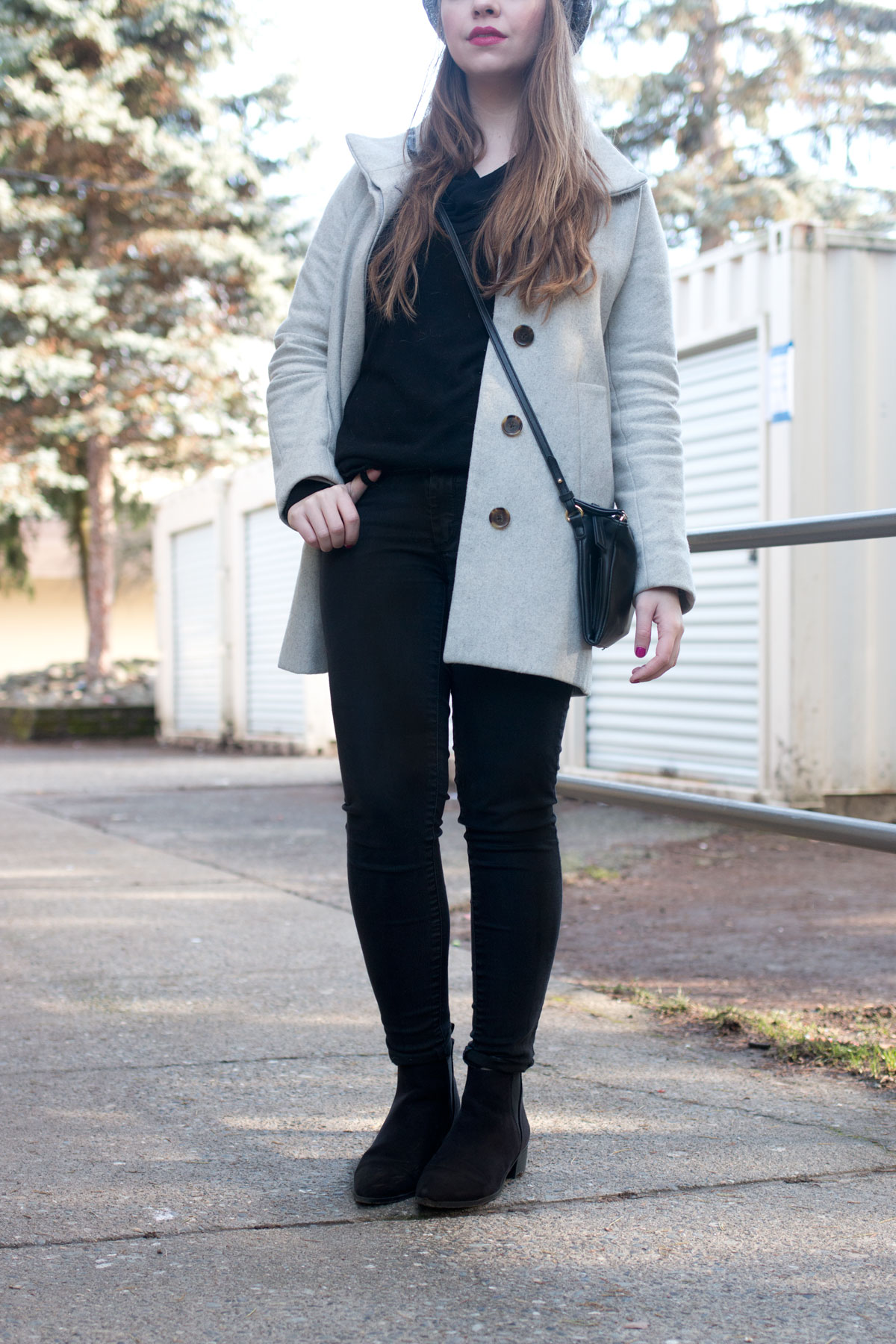 It's also important to pick out the right footwear. For me, that means a pointed or almond shaped toe. These booties are the perfect example because the pointed toe allows the leg to automatically look longer, even though they are a flat boot. Heels are also a great way to make your legs look longer, but I know for many of you this isn't an everyday option. (For me either, I love heels for dressing up and special occasions but they just aren't practical for my day job.)
The final suggestion I have has nothing to do with clothing, but instead is a hair trick. When I'm really feeling short, I'll often put my hair into a top knot and I really think it makes me look taller. Maybe it's all in my head, but regardless, I think it's something to consider trying if you're trying to look as tall as possible. Or you just need a different hairstyle. Or you just love top knots. Whatever.
I hope those suggestions were helpful to all of my fellow shorties out there! Are there any tips or tricks you use to look longer and leaner? I'd love to hear about them in the comments below. And if you're interested in having me tackle a style or beauty question, feel free to leave that below or shoot me an email anytime!