Affiliate Links: If you click a link in this post I may make a small commission.
Let's be real –  the top knot is not a new hairstyle. There are many iterations, even. From ballet to messy to hot cross (oh wait… that's food) there are so many types of buns. My favorite? This top knot tutorial. It's a little bit messy, but more importantly, super simple to create.
For me, the top knot is a fall and winter staple, and it felt wrong to write about it in summer. Sounds strange, but since it never gets that hot here in Seattle, I prefer to wear my hair down. In the cooler months, however, I often stretch out how often I wash my hair. Having a wet head when it's chilly is the absolute worst!
So, the top knot became my go-to, nearly everyday hair style and now that it's getting cold again, I'm happy to share my formula with you. I've tweaked it slightly because I know not everyone has the same hair type as I do (long, thick, & crazy) but it still gets the same look that you've seen in past outfit posts. Now don't get me wrong – not everyone is going to like this look, and that's totally okay. Feel free to do whatever kind of bun makes you happy. But if you like how mine looks, I promise it's super simple to create! :)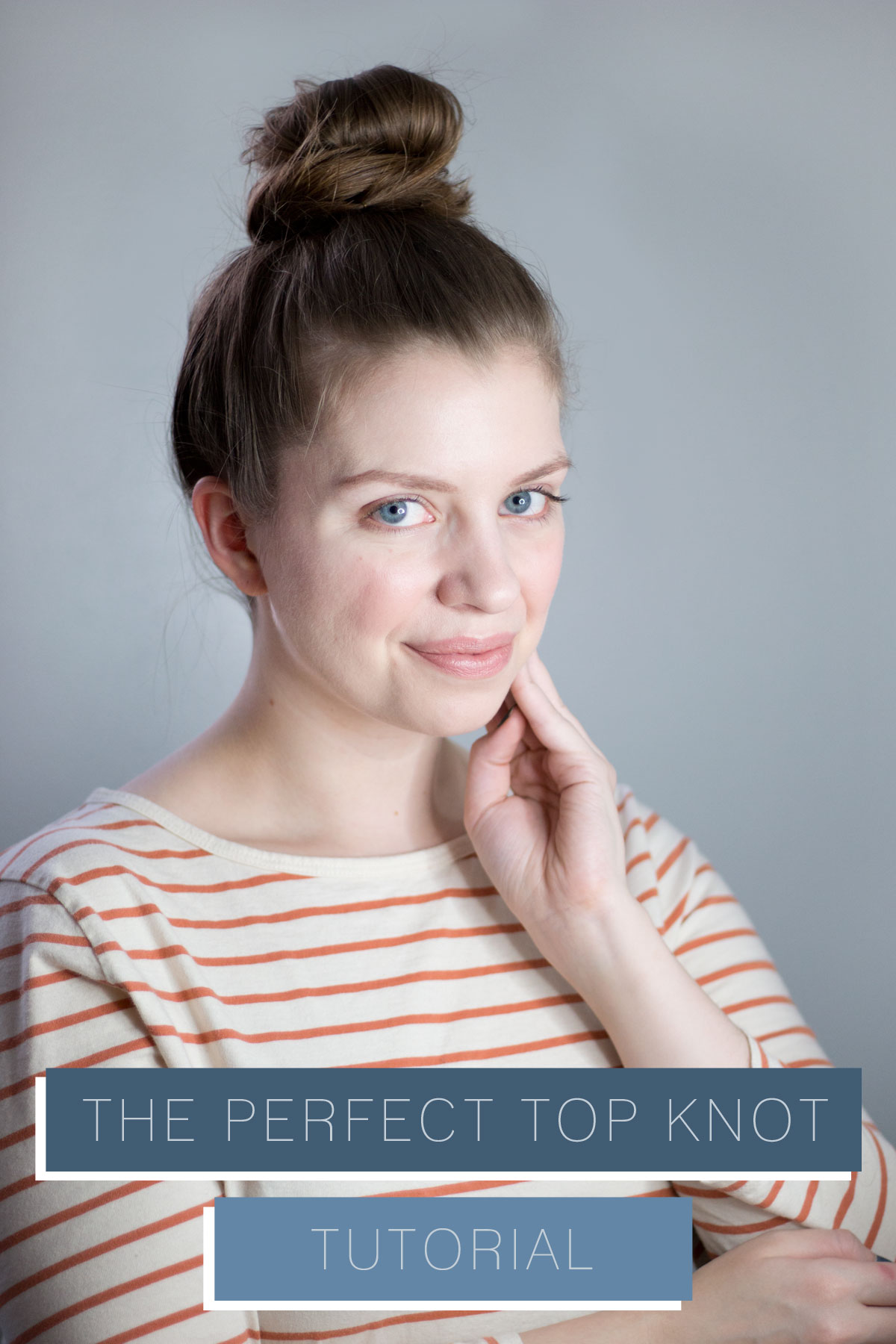 The Perfect Top Knot Tutorial (Step by Step with Photos!)
Tools needed:
Dry Shampoo (Don't have any? Try Batiste. It's my favorite.)
Hair Brush (I love the Wet Brush, but anything will do.)
Tangle Teezer (If you have tangle-prone hair, this is a favorite!)
Hair Elastic (I prefer the Goody Ouchless, and aren't the ribbon kind. You don't want it to show.)
Bobby Pins (I used 2, but depending on how much hair you have and the texture, you may need more or less.)
Hairspray (Any kind will work, I love the budget-friendly Suave Luxe Hairspray.)
Toothbrush (Please not the one you use on your teeth, though! An older clean one will do.)
1. Grab your favorite dry shampoo. Mine is Batiste in the Original scent, but any will do. Proceed to douse your roots with it. If you already have dirty hair, you probably won't need much. If you have freshly shampooed hair, use a bit more. It adds some texture so that your hair will stay put all day. Then, brush it from root to tip.
2. Next, brush out your whole head. If you have tangles like I do, I highly recommend the Tangle Teezer. It hurts far less than a standard hair brush, and since it has so many more bristles, it can work the tangle out quicker too. (P.S. Sephora carries these and will be having their VIB sale starting tomorrow. 20% off all the things with VIB20! You're welcome.)
3. Grab your hair elastic, and then brush your hair smooth all around your hair and put it up in a high ponytail. Use the hair elastic to secure it tightly.
4. Once your hair is secured in a high pony, grab the end and twist from the tail, so the pony tightens a bit. Next, begin to wrap it around itself.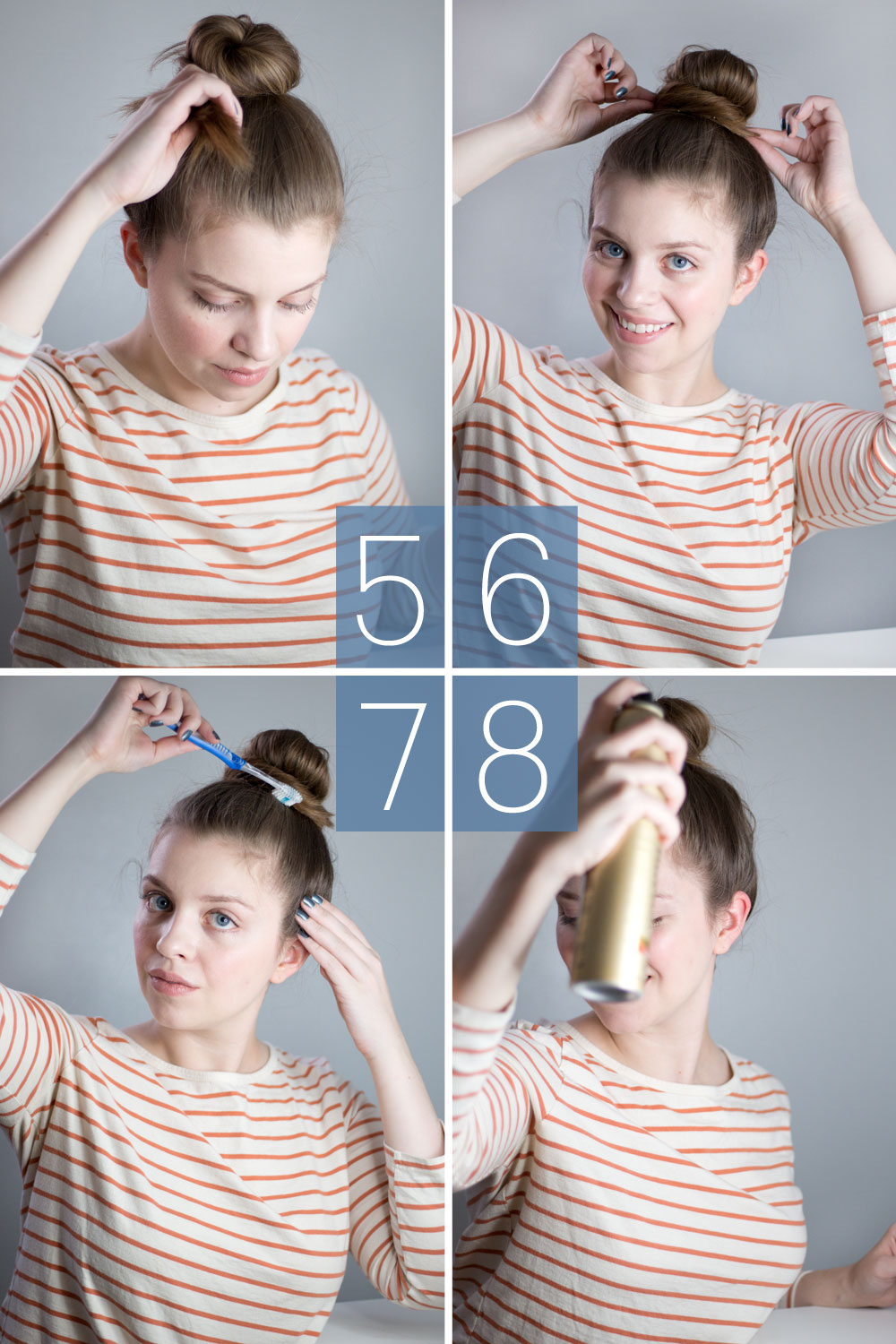 Steps 5-8
5. As you get to the end of your ponytail, you might notice little pieces of hair going a little crazy. That's okay – it's what our bobby pins are for! With one hand, hold your bun in place. With the other, grab a bobby pin and secure the end.
6. Use additional bobby pins to pin any stray hair sections that may be loose. Or let them free – it's up to you! This can be as messy or as put together as you'd like. I usually like to leave a little hair loose, so it looks a little lived in.
7. If you battle baby hairs at the crown of your head like I do, give that old toothbrush a spray of hairspray. Then, run the toothbrush from the front of your hairline towards the bun, focusing on areas that have the most flyaways.
8. Finish with a light coating of hairspray to keep those hairs in place. Now get out there and rock that top knot!
Are you a fan of the top knot? How do you create yours? I'd love to hear how you like to style your hair in the colder months too in the comments!