Happy Thanksgiving! It's become a tradition around here to share what I'm wearing for Thanksgiving. So why stop this year? When looking back at past Thanksgiving outfits, I couldn't help but notice a pattern of wearing a color combination that's heavily debated: black and brown. Do black and brown outfits work? Do they not?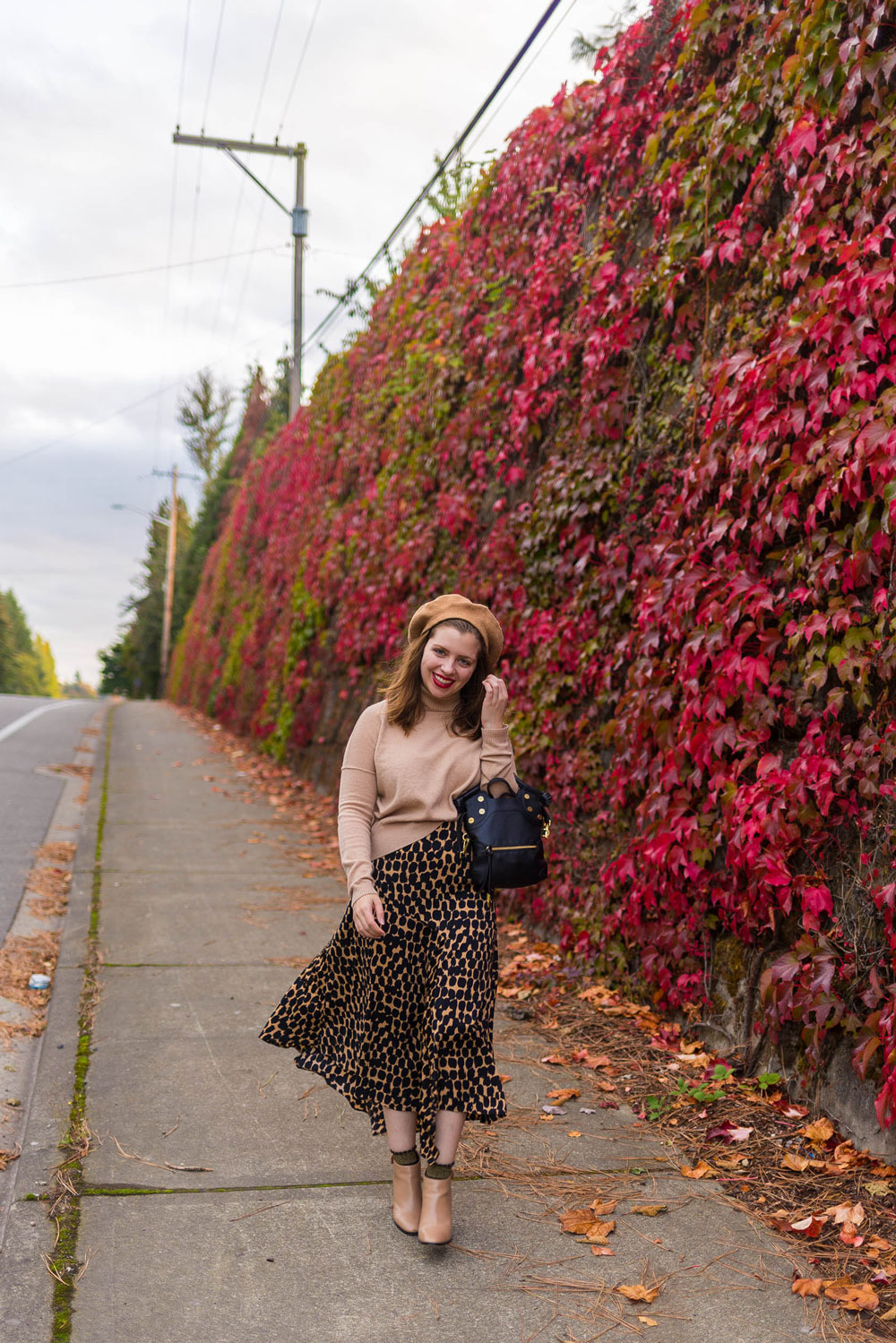 Disclosure: This post contains affiliate links. This means that if you click on a link in this post and make a purchase, I may receive a small commission. All opinions are my own! Photos by Diary of This Girl Megan, Story of My Dress, and Ashley Cook Photography.
Personally, I'm on team black and brown, which is why I thought it would be fun to share a few different outfits that incorporate this color pairing. Where do you fall on the style spectrum? Are you a black and brown hater, or do you think they can work together?
I'll share my personal style tips when it comes to this pairing and you can let me know what you decide in the comments below!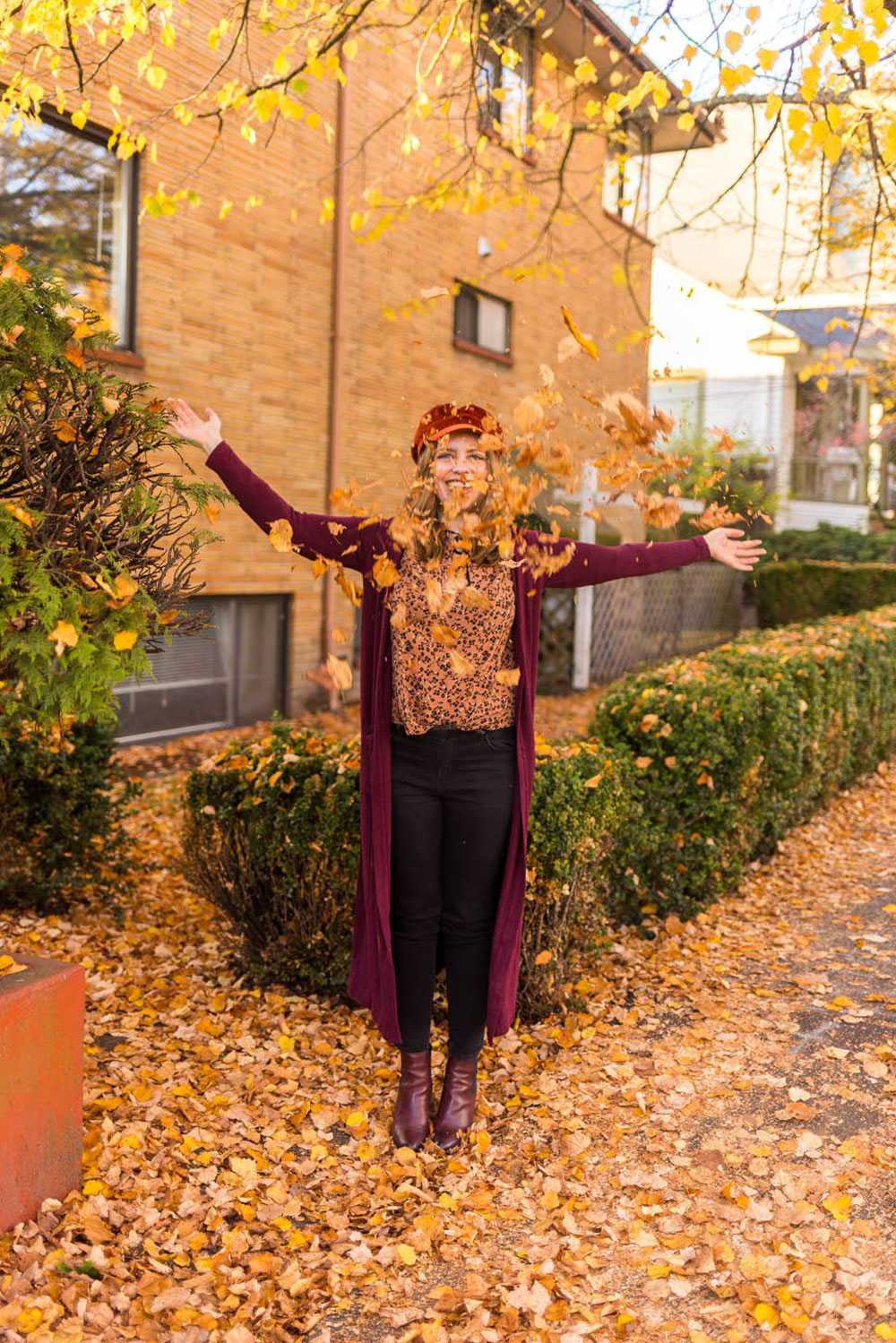 So how did this post come about? Well, just ask a man! There's some weird notion in men's fashion that black and brown don't go together. I first heard about this fashion "no-no" years ago from a guy friend. He had mentioned that my outfit "didn't go together" when I was wearing brown shoes with a black bag.
Yep, really.
It's that outdated thinking that I like to dispel here. As a petite-in-stature person, there are all these style rules out there that say you shouldn't wear a variety of things because they will make you look shorter. No midi dresses. No cropped pants. Only wear skirts above the knee. I could go on for days about the "rules" of fashion for short people.
The fact of the matter is, for almost every fashion rule, there's a way to break it and still look good, no matter what "they" say. Really as long as YOU like it and think you look good, you absolutely will.
But, that doesn't mean that some fashion rules aren't still a bit tricky to overcome when you have it in your head that it's "wrong" or won't work for you. So that's what I'm going to share with you below!
Go for a more orange-toned brown
If you're dipping your toes into wearing black and brown together, then I highly recommend going with a brown that's a bit less controversial. Cognac or any warmer or orange toned brown work perfectly with black!
You can also incorporate other warm tones in your outfit to make it feel cohesive. Just look to the leaves and the colors outside for inspiration! Yellows, oranges, maroons, burgundies, and other warm tones will make your outfit feel like fall in all the best ways.
Shop this Outfit:


Find pieces that are already incorporating black and brown together
As this "style rule" has become more and more outdated, brands are beginning to pair black and brown together already. Take my Zac Posen bag above, for instance. It has three pieces of leather in varying hues sewn together. Black, tan, and beige pair perfectly together in the bag, and in my outfit as a whole!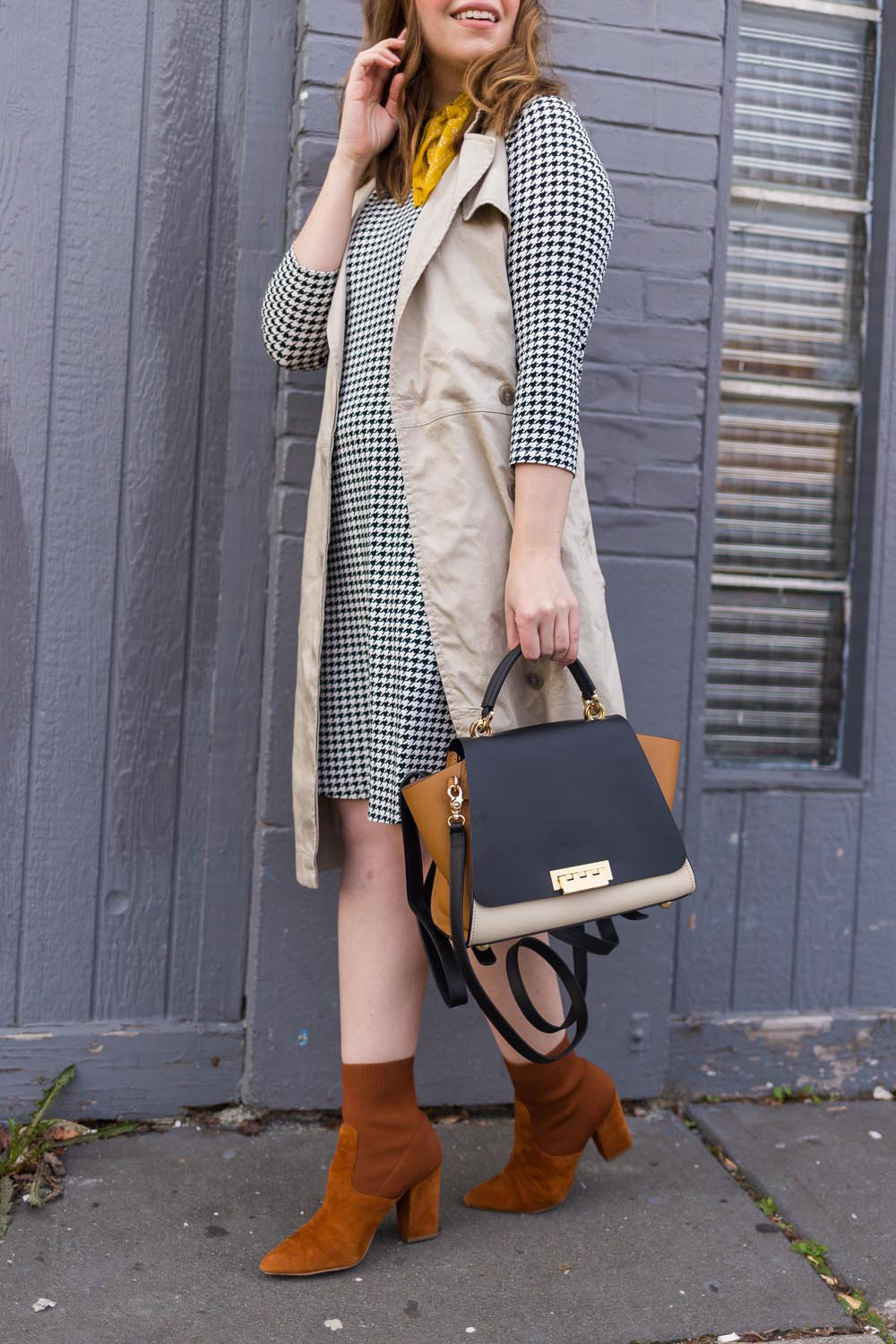 To make the outfit feels like it all "goes" together, I've used my bag as my inspiration piece. The black is repeated in my houndstooth printed dress from J.Jill, the brown tones are repeated in my Steve Madden Sock Booties, and the beige is repeated in my trench vest. I popped a third tone in there – a pretty mustard scarf – to give the outfit my own flair. It's a nice jewelry alternative for busy printed pieces, too!
Shop this Outfit:


Pair pieces together with similar tones
Speaking of coordinating tones, a great way to piece an outfit together is based on basic color theory. I love pairing warm pieces with warm pieces, so when putting this outfit together, I looked to the print on my blouse as a guide.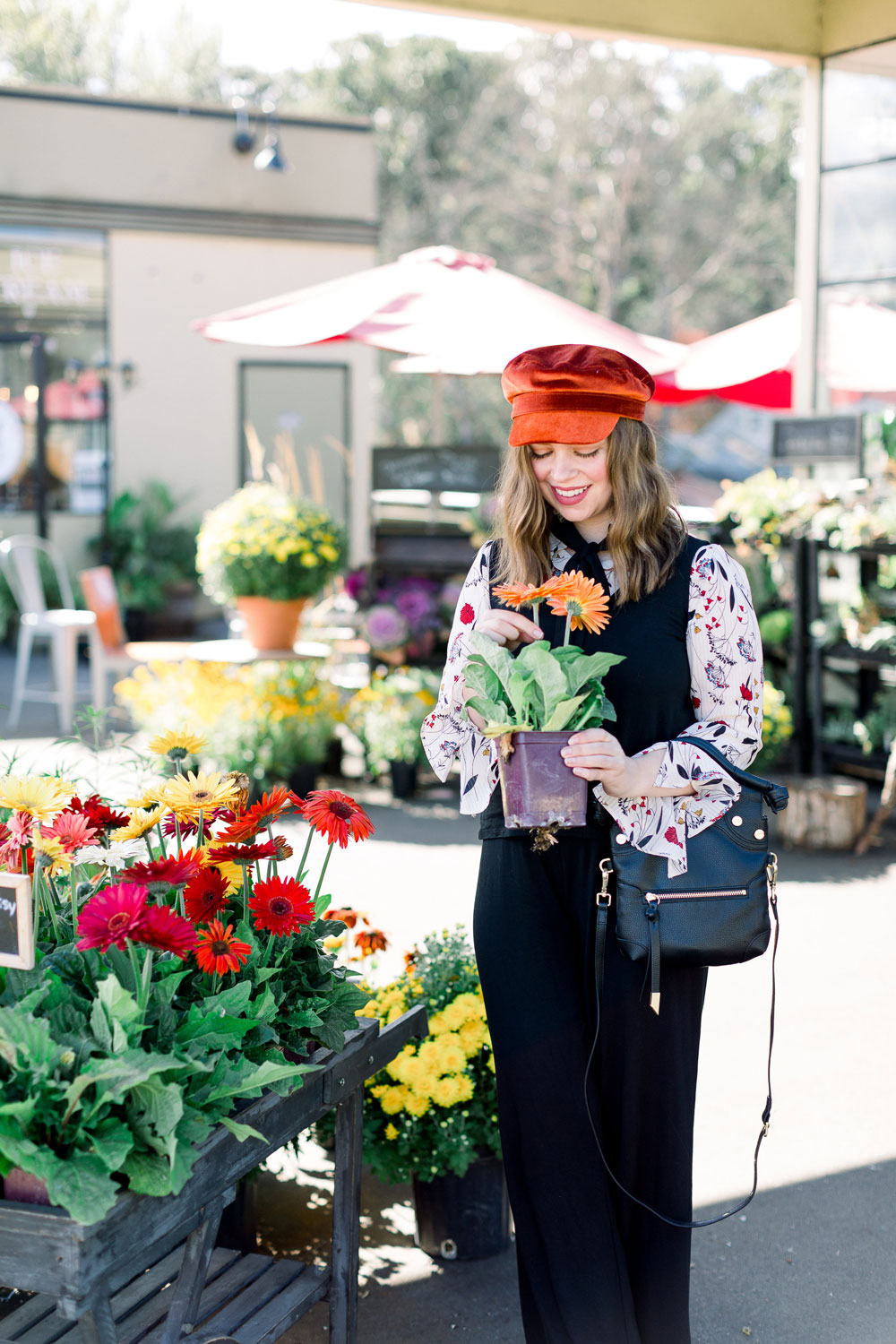 The orange flowers in the blouse were the perfect jumping off point to incorporate some warm browns into my outfit. The copper-toned baker boy cap looks great with red, as does the cognac sock booties from Steve Madden. It was easy to pair the all black jumpsuit with the black tones in the blouse, and finish off the look with one of my favorite Foley and Corinna Crossbody bags!
Shop this Outfit:


Opt for a print instead of a solid
A simple way to pair black and brown together is with prints! So many prints incorporate these tones together organically. Cheetah, leopard, and tiger prints all bring together varying shades of black and brown together. You can also find floral, stripes, and textured prints such as faux fur that balance varying shades of black and brown. Keep an eye open the next time you're out shopping – I would bet that you'll see black and brown pairings all around you!
Go for a monochromatic look
A simple way to make brown and black work really well together? Wearing an almost entirely monochromatic look! The way to do this is pretty simple; just grab a skirt and blouse pair or a dress, your favorite accessory, and shoes of similar tones. Then, throw a print into the mix that incorporates black and brown together. Finally, throw on a bag of either tone to complete the look. You'll be looking chic and sophisticated in your tone-on-tone look!
Shop this Outfit:


Break it up with your third piece
The concept of a third piece is one I employ all the time. In fact, I've featured it in several outfits in this very post! If you're not familiar with the concept, it's essentially taking an outfit, in this case, a long sleeve shirt and a printed pant. Instead of calling it good with those two pieces, I've added a third piece into the mix, a suede trench vest. This third piece adds interest to my outfit and also coordinates with the tan plaid in my pants.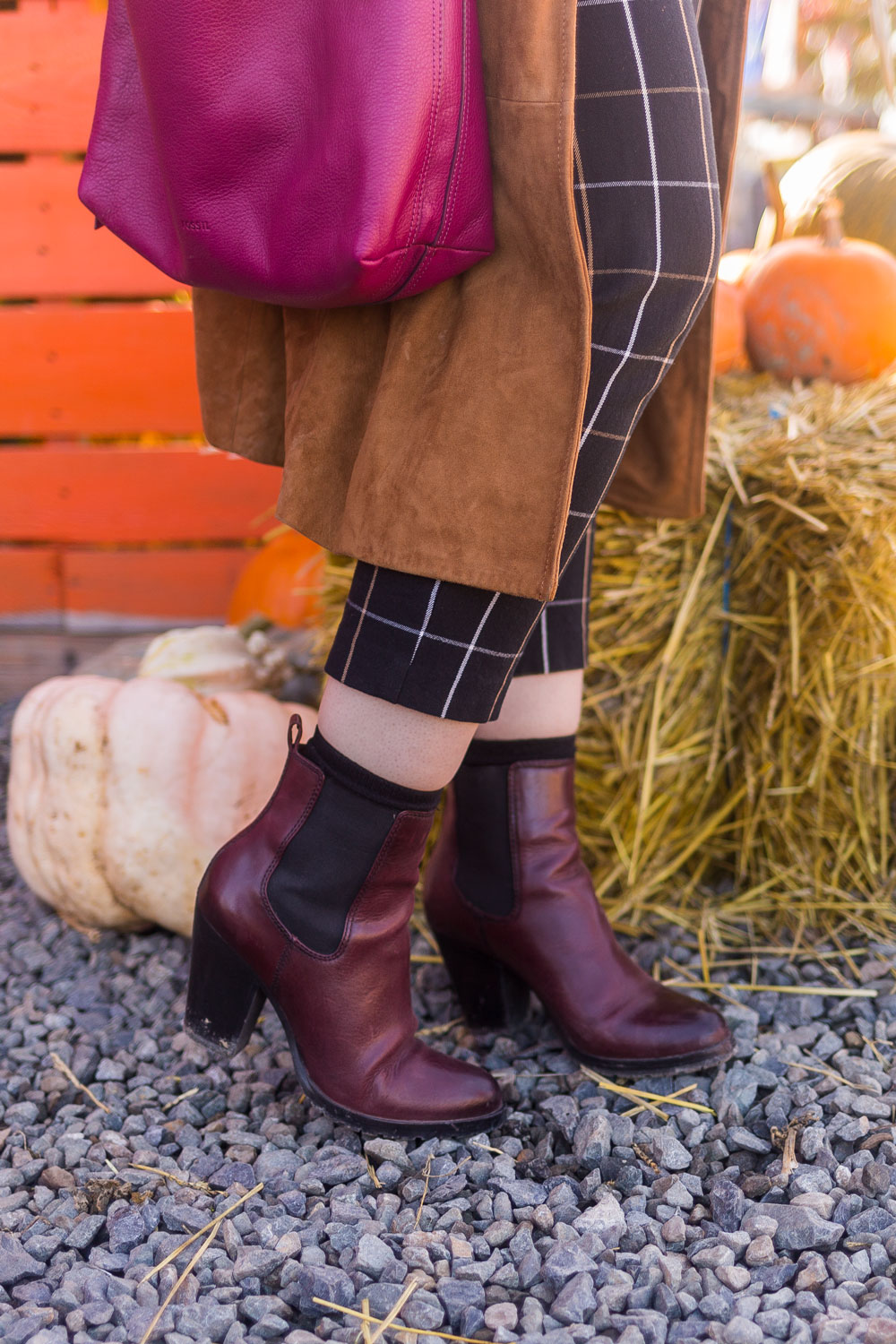 Utilizing a third piece often elevates a simple outfit. It also allows you to incorporate different accessories than you might feel would go with your outfit otherwise. Incorporating a warmer toned brown in my third piece in this look, for example, paved the way for a burgundy boot and bag. All of these tones were also easily reflected in my scarf, too!
Shop this Outfit:


So now that you have a few ideas on ways to wear black and brown together, what's the verdict? I say black and brown can and should be worn together, but of course, every fashionista can have their own opinion. But if I had to try to persuade you, I'd just say that this formula almost always works: black base outfit (pant/top, blouse/skirt, or dress) + warm brown bag or shoe + warm-toned brown third piece (scarf/overcoat/vest)  = the perfect black and brown outfit.
Ok so tell me – what do you think? Have you joined me on Team Black & Brown, or do you think it's more of a style fail? I'd love to hear your thoughts in the comments!