Oh em gee. Can you believe Thanksgiving is this week?! With it falling early this year, it feels so strange to begin referring this time of year as the "holiday season." Send help please; I am most definitely not ready for fall to be over yet!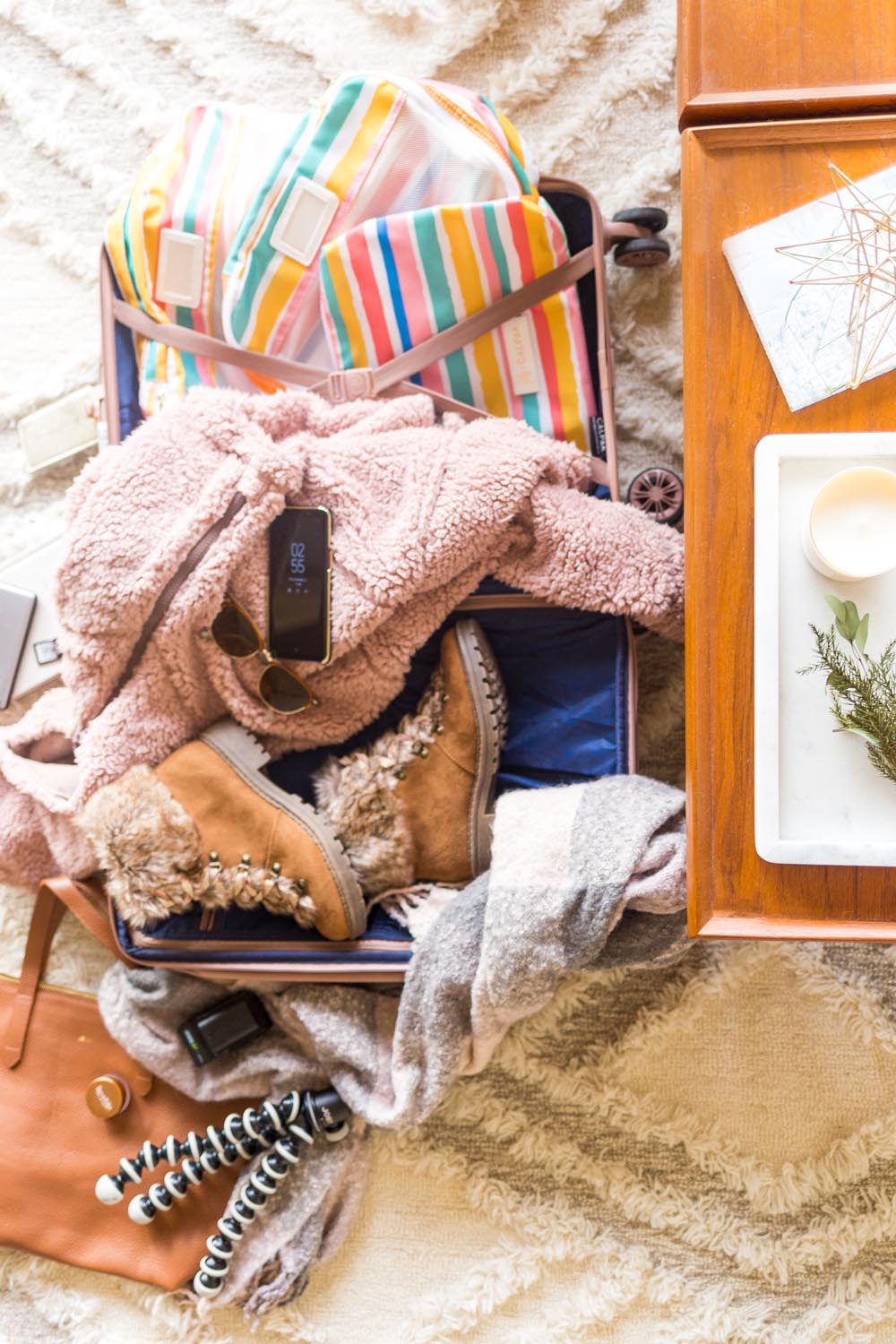 Disclosure: This post contains affiliate links, which means if you click on them and make a purchase, I may make a small commission. I also was able to borrow devices for travel from Verizon Wireless. All opinions are my own!
With the holidays impending, that only means one thing: lots of holiday travel. While I'm fortunate that all of our family lives within a few hours of us, a busy fall season with trips back to back led me to grow my travel packing skills exponentially. If you're looking for a travel checklist to help you stress less, and packing tips to make sure everything fits into your bag, I think you're going to like this post. And even if, like me, you're not traveling this holiday season, it never hurts to save this post for later. Never know when you might need it!
10+ Packing Tips + Travel Checklist for the Holiday Season
If you're ready to up your packing game, learn some packing tips for winter travel, and download a travel checklist, so you never forget your toothbrush again, then read on!
Pack it up strategically
I think the biggest thing everyone struggles with when packing is how much to pack! I'm a chronic over-packer, and beyond that, I've also been caught packing the wrong things. A trip to Florida in January with temperatures in the 70s seemed warm to me, however, what I didn't know was how windy it is. And my first trip to New York Fashion Week, I began running out of outfits as I didn't realize two changes per day was the norm.
What I'm getting at here is do your due diligence before you begin packing. Check the weather and determine what activities you have planned (Are you going to be walking a lot? Do you need special gear for a hike or other activity? Do you get cold in hotel rooms easily?), then begin the process of deciding what you need to bring.
Once you have that covered, a few tips to make the most of your space:
Roll all of your garments
Invest in a set of packing cubes (I love these pretty ones from Oh Joy for Calpak!)
Put valuables in your personal item and/or carry on
Utilize pockets in your suitcase and other luggage items
Wear Your Bulkiest Outfit
It's pretty much common sense. However, it helps when it comes to winter travel. What's that? Wearing your biggest, bulkiest, and heaviest items, of course! You may feel a little silly when going through airport security in your overcoat, boots, hat, and scarf, but you'll thank me later when your suitcase is light and your arm isn't killing you.
This tip is also helpful if you plan to purchase items on your trip and need some extra space. If you're typically a shopper when traveling, pack a little bit less and intend to treat yourself at your destination!
Document your memories
If there's anything I've learned as I've gotten older, it's that memories fade and it's nice to have a physical reminder of good times and loved ones. Having just put together a photo album for the holidays with old family photos, I realized how many years went undocumented. Don't make those same mistakes going forward, and be sure to document, document, document. You may annoy those camera shy friends and family members now, but you'll be able to look back on those times fondly in the future.
To make documenting life a little bit easier, I was recently able to test drive the Samsung Galaxy S9 thanks to Verizon Wireless. Snapping photos and sending them on the go was super easy – and the built-in Selfie Mode was so fun to document some of my favorite people with! Not only that, but I love how easy it is to add those photos to my Google Photos app and then share them, or create something fun like a Photo Book. A Photo Book from your travels would make a great gift to your host or hostess, too!
Another fun way to document your travels and re-live those fun memories is with the Lifeprint Photo and Video Printer. I recently was able to borrow one from Verizon Wireless, and I loved how easy it was to print some of my favorite photos. Just download the Lifeprint App, add your pictures or even videos, and select print! The little printer does the rest – no need to wait around for photos in the mail or pick them up in store. The small size is perfect for decorating my desk and bulletin board in my home office, too!
Pack small items inside of larger ones
Packing cubes are helpful, but they don't work for everything. I wear a lot of hats, so for me, I try to stuff these with small items like socks and underwear. Not only does it help the hat maintain its shape, but it also means less wasted space inside of small bags. I also do this with medium to large size handbags, and shoes can be stuffed with socks, tights, and other small, soft items.
Don't forget to utilize the pockets inside and outside of your suitcase as well! These storage spots are great for small items like undershirts, toiletries (not liquids), and other personal items.
Check with your accommodations to see what appliances they have available
Iron? Steamer? Blow Dryer? Mostly unnecessary these days when traveling! Typically you can find out exactly what items will be in your room for your use on the hotel website. If not, give them a call! Many hotels offer a variety of free items during your stay beyond appliances such as toothbrush, toothpaste, and more if you forget, too.
If you must pack these items and do a lot of traveling, consider investing in travel size appliances. Hair dryers, curling irons, steamers, and irons all come in smaller sizes that are much easier to pack!
Make a List
A few days before I leave on any trip, I begin a list in the Reminders app on my phone. I start it several days before I begin packing to remind myself of special things I might need for the trip. Think jewelry for a special occasion, a particular pair of shoes I want to bring, things that I frequently forget (chargers and batteries, eek!), and basics that are often packed at the very last second (deodorant, toothpaste, toothbrush, etc.)
I've created a list of things I've forgotten on past trips to hopefully help you, too! Grab the travel checklist here.
…Then Check It Twice
Making a list is great, but this tactic only really works if you double check it! There have been a few times where I've almost forgotten to pack something because I was sure it had been packed… only to find it still plugged into the wall outlet (laptop and phone chargers) or still in the bathroom (toothpaste and toothbrush). Whoops! I often run through the list right before I'm ready to zip up my suitcase to be sure that nothing has been forgotten.
Don't forget the chargers
Picture it: you get to your destination, you're ready to hit the town, only to realize that your phone is dead. And then the panic sets in – you can't find your charger!
I hate to admit that this has happened to me more times than I'd like to admit. It's been such a problem that I now typically bring 2-3 ways to charge my phone on every trip. My first recommendation is a Mophie Powerstation, which allows you to charge your phone a few times on-the-go. Another great option is a Mophie Juice Pack, which is a phone case and charger all in one. And my final tip is to double check you have your chargers before you leave home. This goes for phone, laptop, tablet, and camera batteries, too!
Make use of your free personal item when flying
I like to take full advantage of the size of my personal item when flying. A large tote is perfect for a complete outfit (just in case you end up checking a bag and it goes MIA), and I also carry my valuables in my personal item as well. Just be sure to double check that your tote or other bag fits within the size guidelines of your airline when flying.
I encourage you to look for one with a crossbody strap or long enough handles to fit around your suitcase easily. Why? Because when you're standing in line waiting to board, waiting in security, or waiting for transportation, you can give your arms and shoulders a break by slipping the straps around the handle of your suitcase. Just be cautious – if the tote slides sideways, it might slip off causing your luggage to tumble.
Don't forget TSA Rules
If it's been a while since you've flown, you might want to brush up on the TSA rules and baggage restrictions of the airline you're flying. I have been known to make errors in judgment, like the time I got pulled out of line by TSA for an oversized hair product (which I, for some reason, thought was a powder, not a liquid. Oops!)
Here are some other TSA regulations to keep in mind:
All containers of liquid need to be 3.4 fl oz. or smaller
Pack all liquids in a quart size clear bag (I like this one from Sephora! It's just $5 and can be used over and over.)
Don't pack anything that could be mistaken for drugs (other than prescription), such as baking soda
(Storytime: My mom insists that she packed it once in a baggie (LOL!) and they removed it from her bag. I think she just forgot to pack it, but it made me laugh nonetheless. And if you're wondering why she packs baking soda, she uses it as a spot concealer. YMMV on that one!)
If you're an over-packer like me, get a scale for your bag to prevent the embarrassing shuffle at bag check (Most domestic airlines require your bag to be under 50 lbs without having to pay an exorbitant fee!)

Holiday travel can be stressful. Take some of the stress out of it by beginning to pack a bit earlier then you think you need to, making sure all of your devices are charged, double checking your list before you leave, and getting to the airport or other transportation places early. I should probably take my advice on that last one, but I must admit, waiting around at the airport is one of my least favorite activities.

And most of all, don't forget to have fun! Wishing you safe travels this holiday season!

What tips and tricks do you use when packing for holiday or winter travel? I'd love to hear about it in the comments below!