As I sit here working on this post, the wind is blowing away, the leaves making crisp rattling noises as they hit the side of the house. Earlier, the rain was falling gently, glistening in the fall sun. And me? Well, I'm inside, with my chilly toes hidden under blankets and a cozy pullover keeping my upper body toasty. What can I say, 'tis the season to get hygge!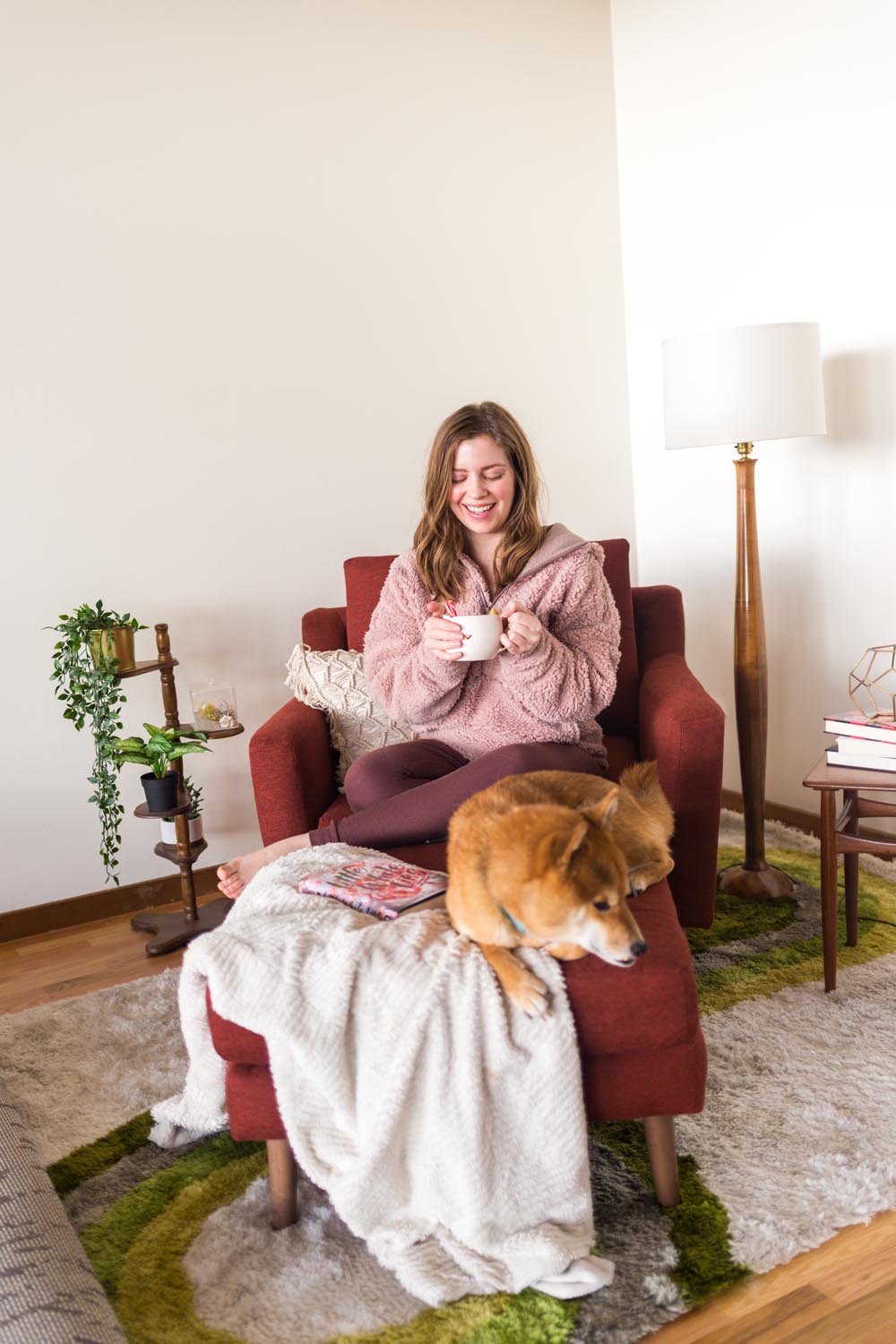 Disclosure: Thanks to prAna for providing some of the clothing featured in this post. All opinions are my own!
But wait, what's hygge? A Danish and Norwegian term describing a mood or feeling of coziness, comfort, wellness, and contentment, despite the long, dark days of fall and winter. It was all the rage last winter, and I predict we'll see a resurgence again as the temperatures drop. From beauty products to candles to books, there are a variety of products for sale that capitalize on the concept of how to hygge. However, there's also a variety of things you can do at home that will inspire feelings of hygge, too.
Today I thought I'd share a few of those ideas as the weather changes, the nights get longer, and we begin to transition our homes, wardrobes, and mindset for the holiday and winter months.
Figure out your hygge triggers
To get in the mood of hygge, I think it's helpful to identify what brings you comfort and contentment on a personal level. After all, hygge is about what makes you feel warm, cozy, and fuzzy inside, despite what is going on outside. Do you have a color, scent, or food that gives you the warm fuzzies? Does spending time with a certain person, pet, or on an activity spark those feelings of happiness inside? By identifying some of the things that give you those feelings, you can better set up an environment that makes your home feel even more comfortable and cozy!
Dress in hygge clothing
Something that triggers the feelings of hygge for me is cozy clothing. There's something about soft materials, fuzzy fabrics, and pretty colors that instantly makes me feel more comfortable, and even in some ways, calmer. Is there a particular material or type of clothing that sparks these feelings for you?
This season, I've been living in my prAna Permafrost Half Zip Pullover and Akiak Leggings. Both are made with eco-friendly and recycled materials. My pullover reminds me of a warm, fuzzy blanket and when I'm feeling moments of stress, the softness of the material feels calming and soothing to me. The soft materials against my skin feel like a warm hug, and are exactly what hygge symbolizes for me! If you're interested in checking out prAna, a sustainable brand for cozy clothing, be sure to use my code WPHRF18 at checkout for 15% off!
Cozy up with a cup of hygge
When it's cold outside, the first thing I think of is warm beverages. There's nothing quite like being warmed from head to toe from a nice warm cup of cocoa, tea, cider, or coffee. No matter which you prefer, heat up something warm for yourself and indulge in the taste of the season. Don't forget to add a marshmallow, dollop of whipped cream, sugar cube or something else special on top, too!
Calm your senses with warm colors & scents
They say scent is tied to memory. What scents trigger happy or cozy memories for you? For me, I love rich, warm scents like vanilla, coconut, rose, and spicy, woodsy scents. Each reminds me of different people in my life, seasons of the year, or brings back memories from childhood. Plus, the warm glow of a candle or a fire in your fireplace is incredibly soothing for the senses. Here are some other suggestions of ways to evoke memory through scent and color:
Burn a candle
Diffuse your favorite essential oils
Boil water, then add some of your favorite chopped fruits (I like sliced apples and oranges) with spices such as cinnamon sticks and clove
Draw a warm bath, then throw in your favorite bath products such as a bath bomb, bubbles, and more
Encourage togetherness
Hygge isn't just about personal time – it's also about spending time with those who bring you comfort and joy as well! Enjoy some of your favorite calming activities in the company of loved ones. If the weather is nice, consider an outdoor picnic or gathering at the beach. If the weather is frightful, move your picnic indoors, or host loved ones for a cozy brunch meal. After all, there's nothing more warm and comforting then being hygge together!
Get your hygge on with activities at home
Don't mistake the feeling of hygge for laziness. While the goal is to be calmer and provoke a feeling of wellness and comfort, it doesn't mean you just have to sit around. Indulge your creative side, or get outside and enjoy nature with friends and family. Looking for some ideas? Here are some of my favorite calming pastimes!
reading
knitting
beach walks
crocheting
hiking trails
quilting
scrapbooking or collaging
playing with makeup
painting
needlepoint or cross stitch
Warm your belly with comfort foods
There's nothing like a nice homecooked meal to bring about a sense of familiarity and comfort. For me, that's homemade mac and cheese. The cheesy sauce, al dente pasta, and a crisp breadcrumb topping make for a meal that's irresistible. For some, it's familiar recipes that mom and grandma used to make. Whatever type of comfort food you choose, don't forget to share it with those you love, too!

As we transition into the coldest and darkest months of the year, don't hesitate to find the ways that bring you the feeling of hygge on a daily basis. It doesn't have to be something big, just a simple warm drink, a bath at the end of a long day, or even a comfort meal can be a special, cozy treat. The best thing about hygge is you don't have to go out and spend a fortune to feel cozy at home – though it is nice to treat yourself with something warm and fuzzy from time to time too!
How do you plan to incorporate the feeling of hygge into your home and life this winter? I'd love to hear about it in the comments below!