Known best as "Oregon's Wine Country" the Willamette Valley is a 150-mile valley in central Oregon that is home to much more than just wine. It also happens to be where I spent 4 days back in September with a group of Seattle bloggers, Kate of All Things Kate, Emma of Emma's Edition, Adria of Emerald Palate, and Marissa of Postcards to Seattle. As it was my first time visiting, I was grateful to have some more experienced travelers (Adria had previously visited last year) and the help of the Willamette Valley Visitor's Association and Travel Oregon who put together an amazing itinerary of things to do in Willamette Valley for us!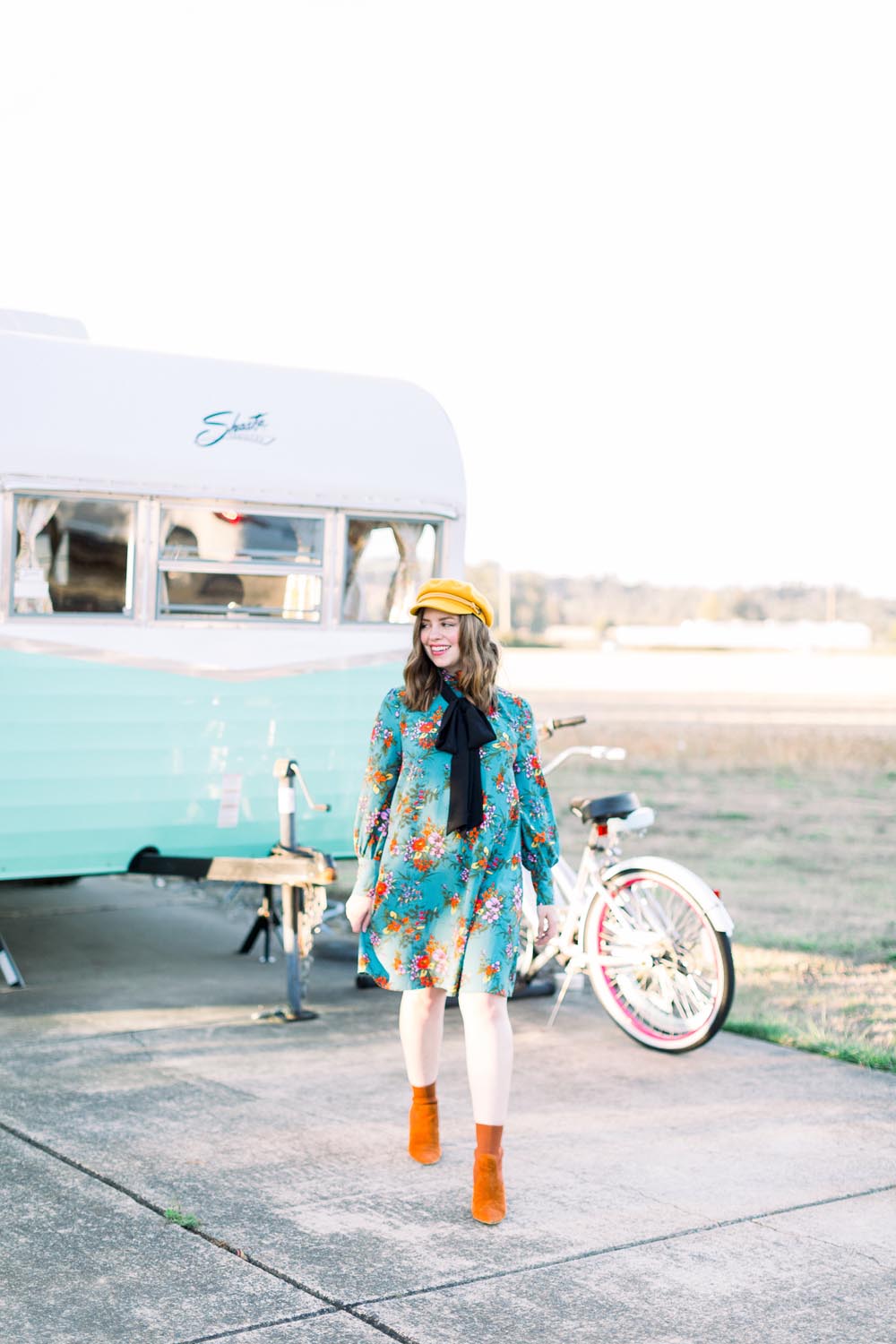 Disclosure: Thanks to the Willamette Valley Visitor's Association for providing accommodations, activities, and meals during this trip. All opinions are my own! Photos by Ashley Cook Photography
Of course, we discovered some other gems along the way, too, and today I want to share more about this whirlwind of a trip. It was such a busy trip that I had people ask me if I even slept! Surprisingly, I did, and despite one 5 am wake up call for our hot air balloon ride, I felt refreshed and rejuvenated at the end of our excursion! Or maybe that was the facial… ;)
Either way, if you're itching for a long weekend vacation read on for why the Willamette Valley should be your next destination!
  Where to Stay in Oregon's Willamette Valley
Ever been glamping? I hadn't until we stayed at two unique options in Oregon's Willamette Valley! Both were a unique experience, set in fairly desolate areas in the Valley with a lot of noises from creatures unfamiliar to this city girl. While you won't be truly roughing it, you'll get a camping-like experience with all of the luxuries of home such as bathrooms, heat, and depending on which destination you choose, home-cooked meals!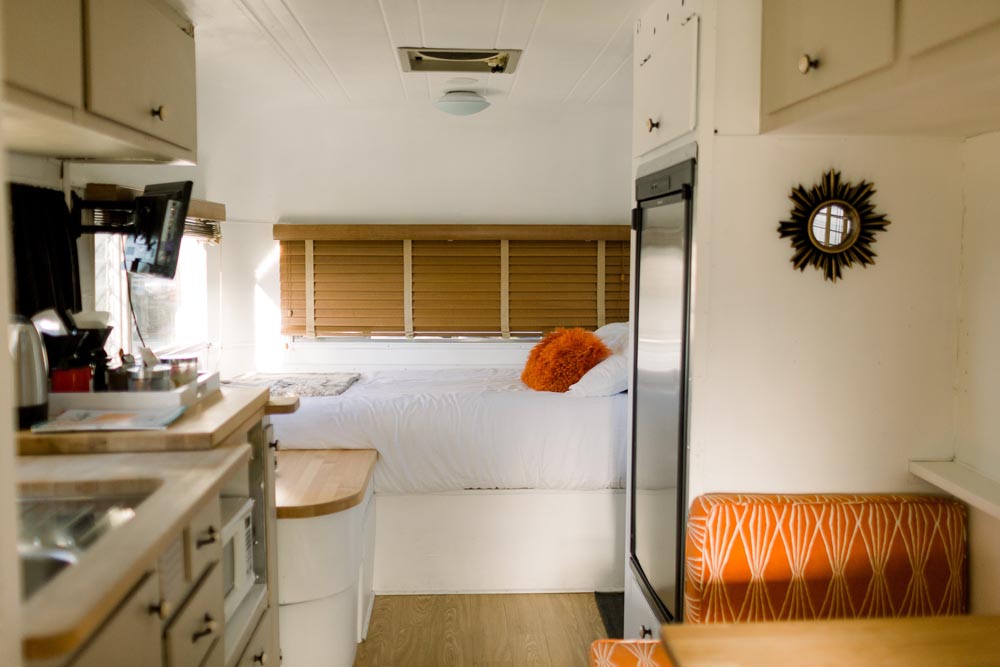 The Vintages Trailer Resort // Dayton, OR
If retro is your thing, you'll definitely want to stay at The Vintages. My little vintage-loving heart was in heaven staying in one of the many renovated Shasta trailers. While the accommodations are rather petite, there's still room for a  kitchenette, comfortable bed, seating area, and bathroom in each trailer. Additionally, each is outfitted with air conditioning and heat so these are worth a visit anytime of the year. I couldn't help but get in the spirit of the trailer resort by matching my outfit to my surroundings, too! ;)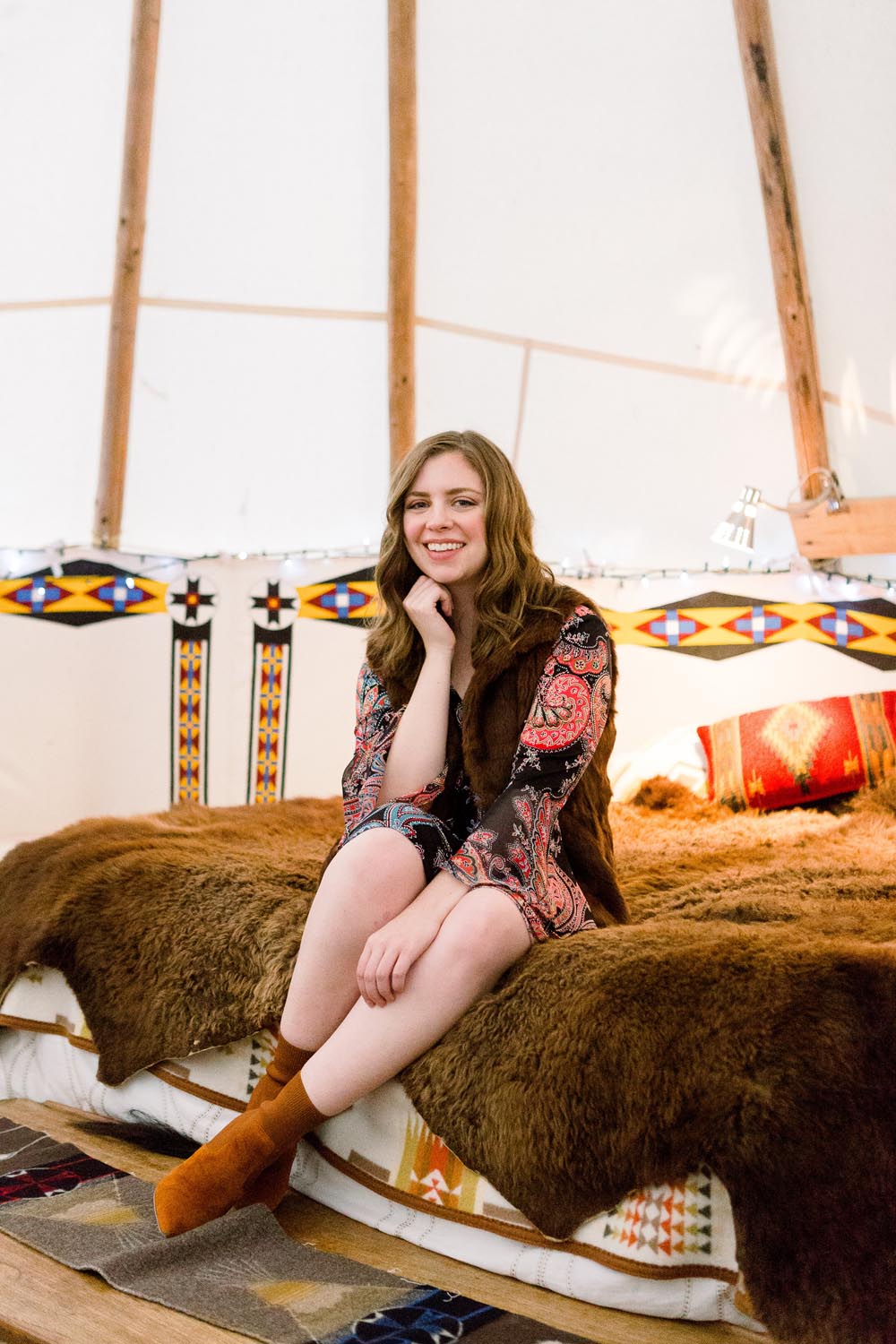 Tipi Village Retreat // Marcola, OR
If being one with nature is more your style, then you'll love Tipi Village Retreat. Follow a dirt road across a small bridge and you'll find yourself in Ken and Janet's oasis away from the hustle and bustle of the city. It's a quiet, quaint, and a glamping experience you won't soon forget. Opt to stay in one of the many tipis on the property built to honor Native American leaders, or stay in one of the studios for more modern comforts. There are two bathrooms on site with large showers, and the hosts open their home each morning for a home-cooked breakfast.
Where to Visit + What to Do in Oregon's Willamette Valley
Oregon's Willamette Valley region is huge, and there's so much to do! Obviously, there's plenty of options for wine tasting which I've included a few selections for below. In addition, there are plenty of amazing hiking trails and state parks, unique things to see, and adventurous options like a hot air balloon ride!
Cascades Raptor Center // Eugene, OR
Animal lover? The Cascades Raptor Center is a sanctuary and home to many raptors who are no longer able to live safely in the wild. Read their stories and enjoy the variety of raptors who call Eugene home at Cascades Raptor Center.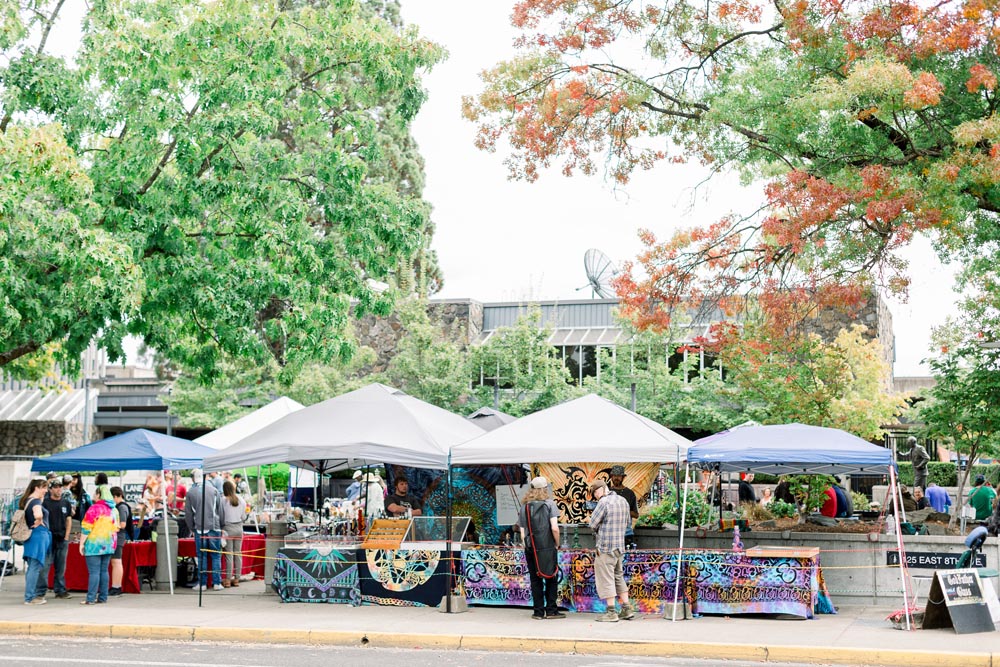 Eugene Saturday Market // Eugene, OR
If you're familiar with Portland's Saturday Market, then you'll be happy to know Eugene has something very similar! In fact, a lot of Eugene felt like Portland to me, which was a welcome feeling because it also reminds me of home. Visit the Eugene Saturday Market artisan booths for a little shopping, grab a baked goodie to take home for later, and don't miss some of the delicious street food. We got giant taco salads that were incredible from Saritza's! (Pictured below!)
Wine Tasting – King Estate, Oregon Wine Lab, and Iris Vineyards // Eugene, OR
Of course, a trip to the Willamette Valley wouldn't be complete without some wine tasting! While I didn't get to indulge in each of these wineries, I did visit and taste at King Estate, which not only offers lovely wine but also incredible views and grounds. Some of our group also visited Oregon Wine Lab and Iris Vineyards for even more tasting!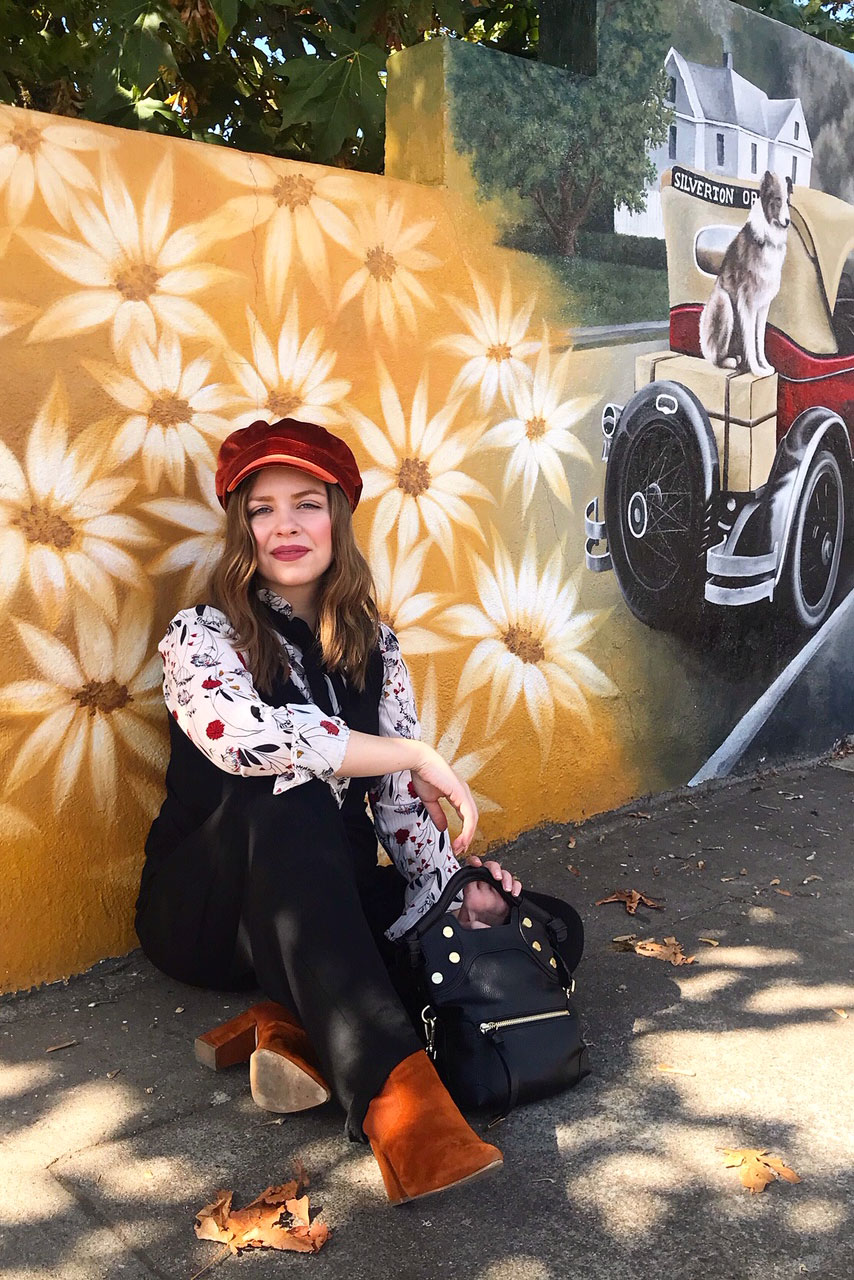 Silverton Murals // Silverton, OR
Small towns with character are kind of my favorite. That's why stopping in Silverton is a must. Visit a coffee shop, then take in the fun murals around town and pop into a few of the quaint shopping spots. I particularly loved the antique shops and found a fun vintage owl vase to bring home with me!
Silver Falls State Park // Sublimity, OR
A popular park and set of trails can be found in Sublimity, OR, just outside of the Silverton area. Walk through lush greenery and rocky pathways to find yourself staring up at one of the most beautiful falls. The trail is easy enough for even me to trek, so don't let the idea of a hike stop you from experiencing nature at its finest!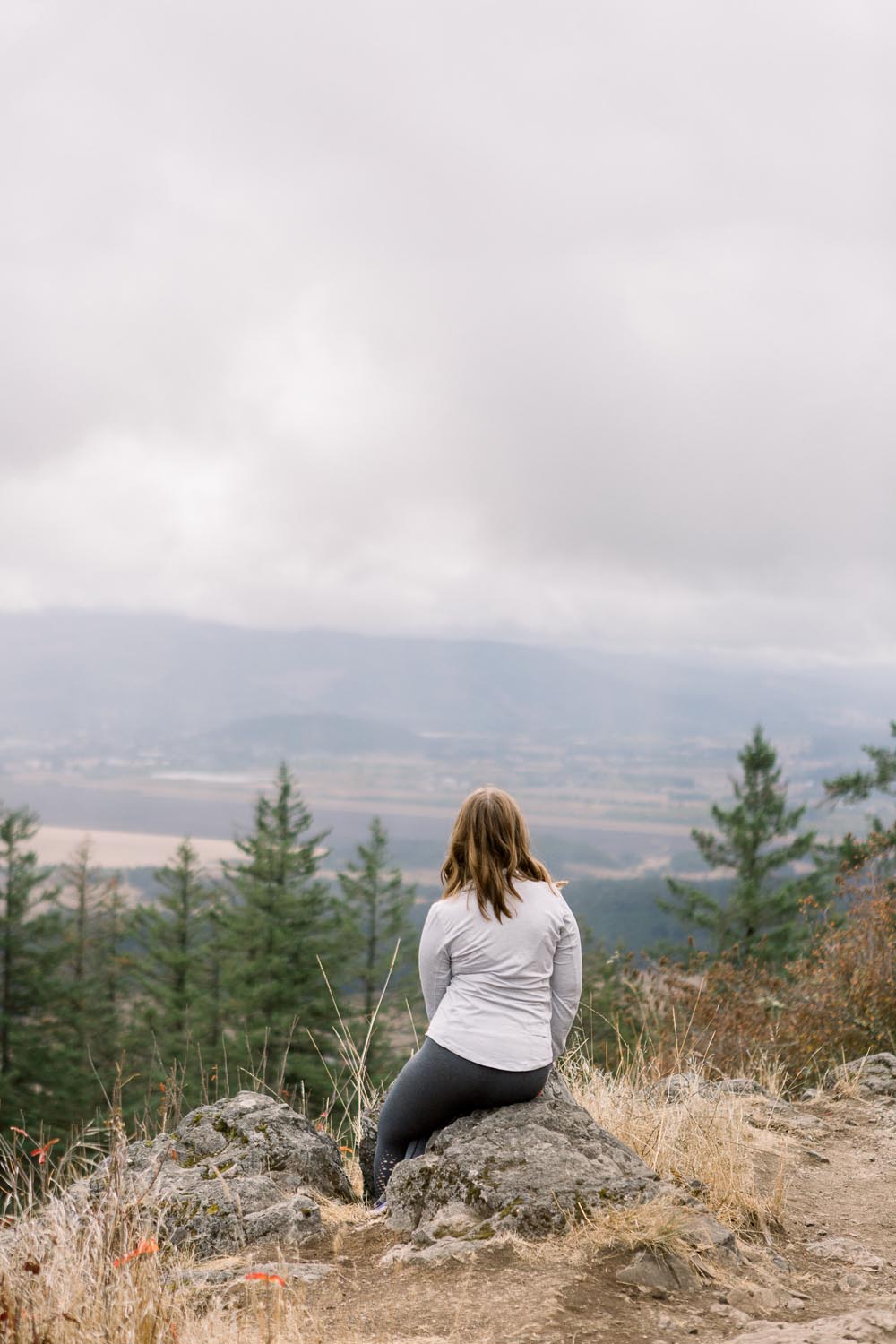 Spencer Butte Trail // Eugene, OR
At just over 2,000 feet elevation, Spencer's Butte offers some of the most expansive views of Eugene and the Southern Willamette Valley. Pick your poison; there are several trails from quick and easy to long and steep. We picked one of the shorter trails at just about two miles round trip!
Covered Bridges // Various, find a list here
Oregon seems to have a small obsession with Covered Bridges, which makes sense when you think about the history of the Oregon Trail. Beyond their photogenic nature, they are now a now mostly defunct way to cross between roads as many are no longer operational. Once upon a time, Oregon had close to 500 of them, but now their number has dwindled to just about 50 bridges. I'd recommend stopping for a photo op in front of at least one during your travels!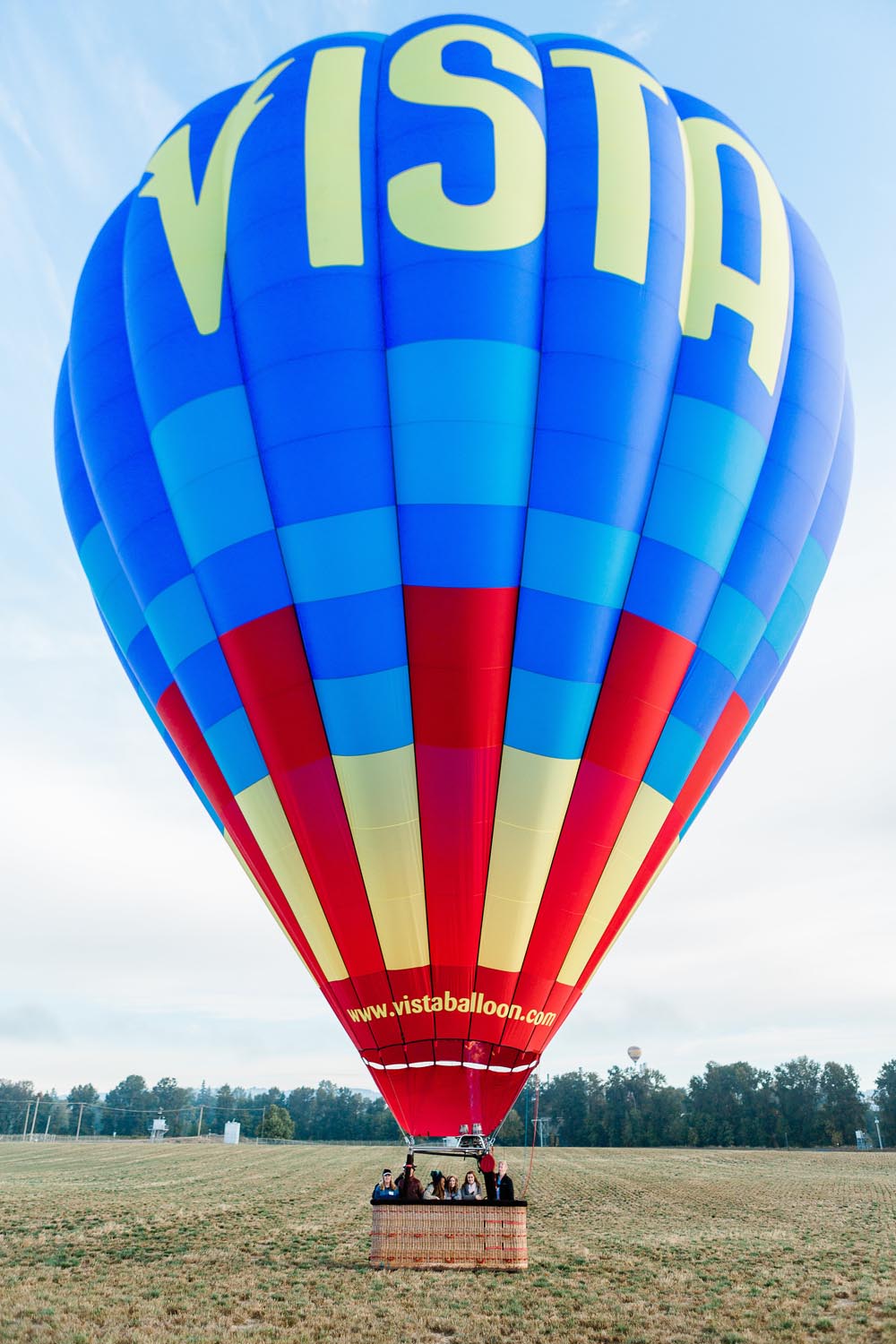 Hot Air Balloon Ride with Vista Balloons // Newberg, OR
Unforgettable. That's about the only word that comes to mind when thinking back on our journey in a hot air balloon with Vista Balloon Adventures! Rise before the sun to arrive at the Newberg launch site. You'll help your pilot get the hot air balloon ready for lift off. It all happens pretty quick, and then you'll have a nice leisurely ride across the valley for about an hour and a half. It's beautiful in the air, and we had the perfect combination of hazy fog and sun for our morning adventure! Once you descend back to the ground, you'll then help your pilot and crew pack up the balloon too! Once back at the launch site, Vista Balloons treats you to a champagne brunch spread.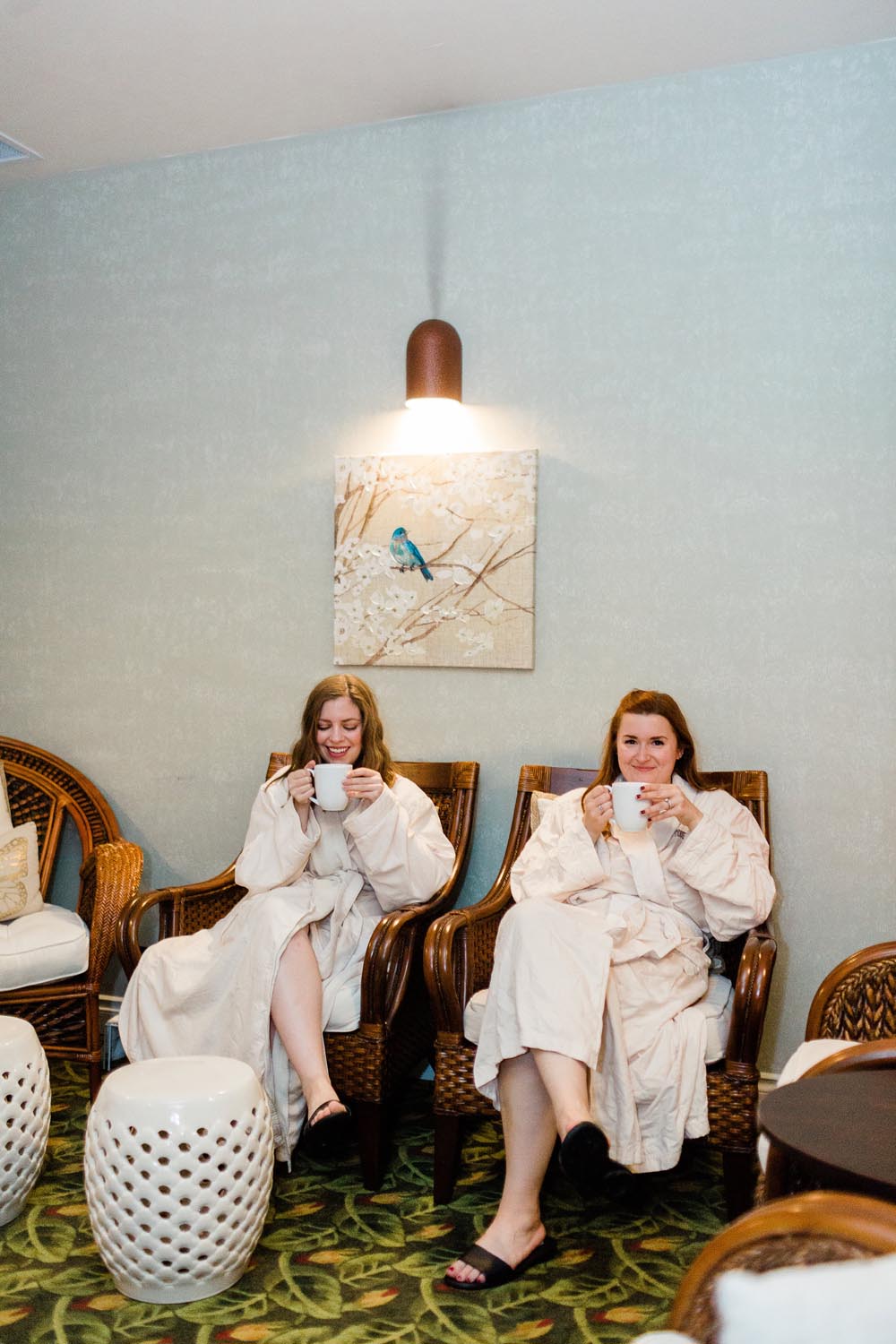 Oregon Garden Resort // Silverton, OR
Want to end your trip on a high note? A stop at the Oregon Garden Resort is definitely in order on your way out. We popped in for a spa treatment at Moonstone Spa. I was given an incredibly relaxing hydrating facial, while the other girls received a massage.
Just steps away from the resort is the Oregon Garden, which offers a beautiful and quiet respite after a busy trip! Finally, don't miss the only Frank Lloyd Wright house in Oregon! The Gordon House is located right across from the Garden and is an architectural masterpiece.
What to Eat in Oregon's Willamette Valley
Whether you're just hungry or are looking for the best foodie spots, there's something for everyone in the Willamette Valley when it comes to dining. We were treated to some of the finest cuisine, as well as a few street eats along the way during our travels!
George + Violets // Springfield, OR
It would be hard to pick one favorite, but I have to admit that George + Violets, a new steakhouse in up-and-coming Springfield was probably my favorite dining experience of the trip! Coming from a girl that typically passes on steak, I think that's a serious stamp of approval.
PublicHouse Hub// Springfield, OR
A former church-turned-pub, PublicHouse Hub has an incredible aesthetic not to mention a wide variety of beers on tap and food options to choose from! We were so stuffed from dinner that we didn't indulge at PublicHouse Hub, minus a sampling of edible cookie dough available from one of the many food pods. The place was bustling with locals and a lively place to spend a Friday or Saturday night.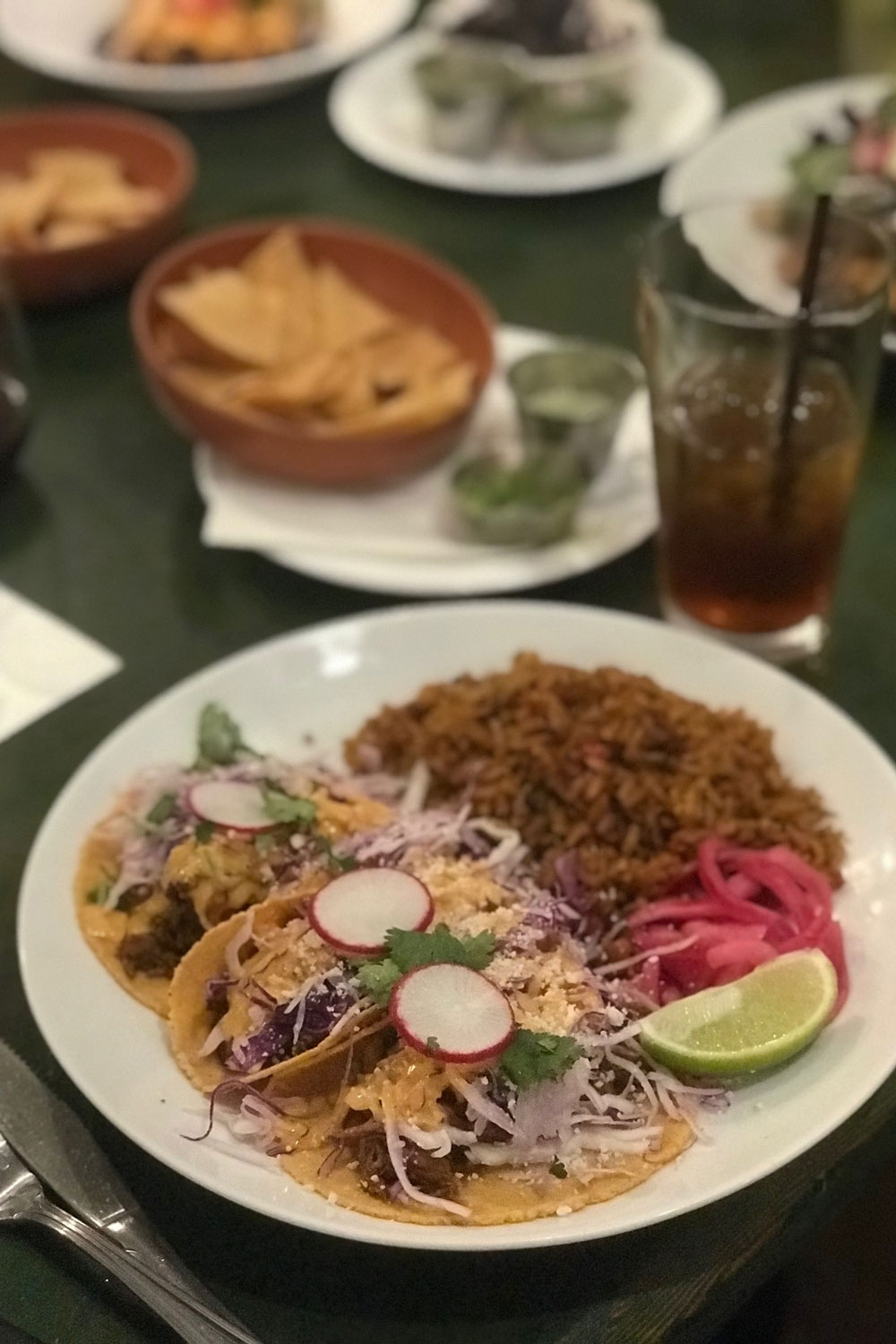 Pura Vida Cocina // McMinnville, OR
Hungry for some authentic Latin American cuisine? Pura Vida Cocina is a hip little spot in downtown McMinnville that boasts some tasty options. The homemade chips, served with sides of salsa, beans, and guacamole, and tacos were my favorites. I'd recommend ordering a few different plates and sharing with the table!
Voodoo Doughnut // Eugene, OR
Love donuts? Who doesn't?! Voodoo is famous in Portland and for good reason. Their donuts comes in all sorts of shapes and sizes with toppings galore. Stop in for an Oregon favorite while you're visiting the Saturday Market – it's just a few blocks away!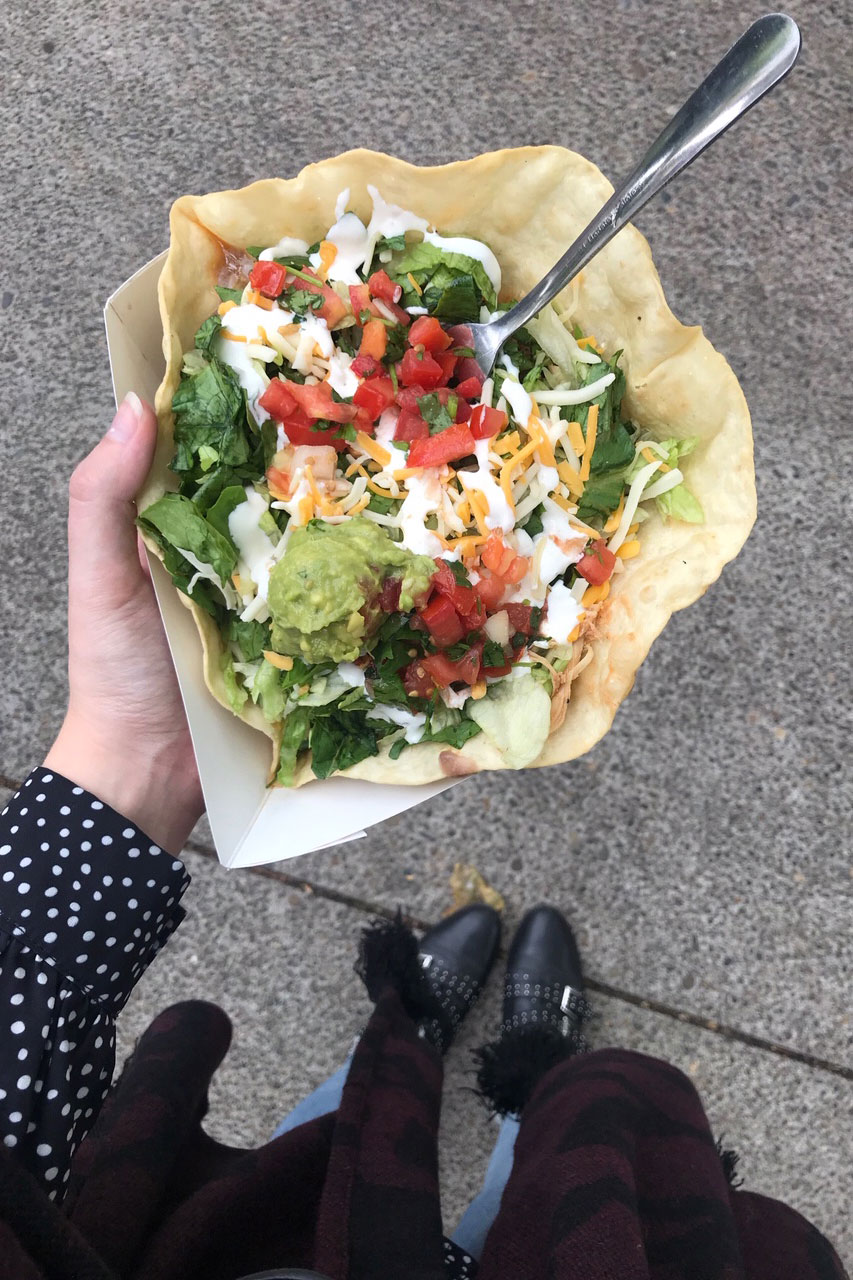 Eugene Saturday Market // Eugene, OR
Speaking of the Saturday Market, don't forget to check out the street eats! This taco bowl from Saritza's was one of the best I've ever had, topped with fresh guac, salsa, and pico. Steps away was a coffee shop that also served housemade sodas. I'd recommend both for a refreshing and healthy-ish lunch!
King Estate Winery // Eugene, OR
After your tasting adventure, why not stay for dinner? Offering a delicious regional menu, many of the items come directly from the Estate's 30-acre organic garden and orchards. I indulged in a fresh pasta made with organic vegetables from the garden, while many of my travel buddies couldn't stop talking about the truffle fries that came with their burgers!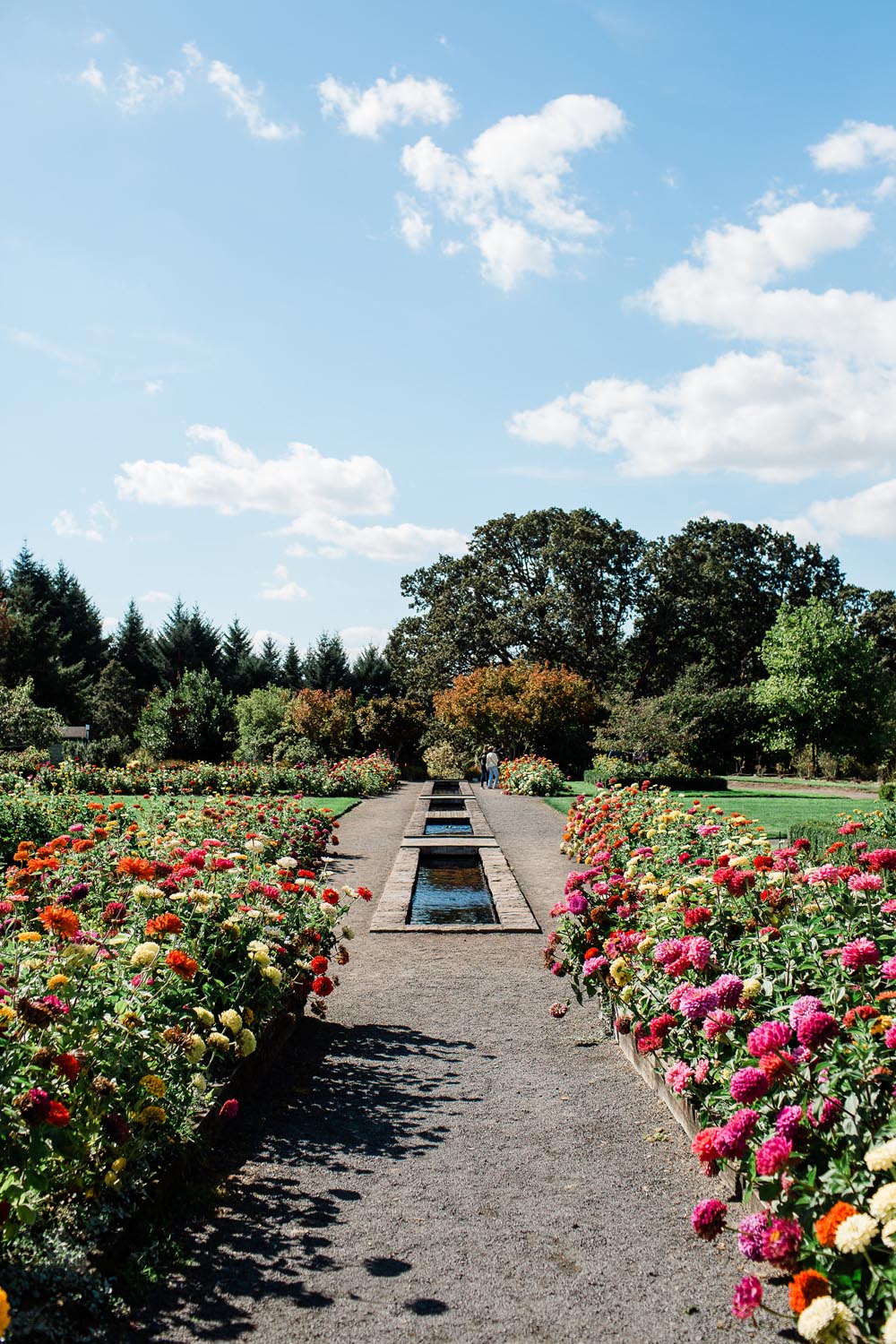 The Garden View Restaurant at Oregon Garden Resort // Silverton, OR
If you're stopping at the Oregon Garden Resort for a massage, or just to visit the Oregon Garden, be sure to pop in for a meal! The Garden View Restaurant offers delicious lunch options. I enjoyed a club sandwich that was filling and the perfect treat after a spa treatment!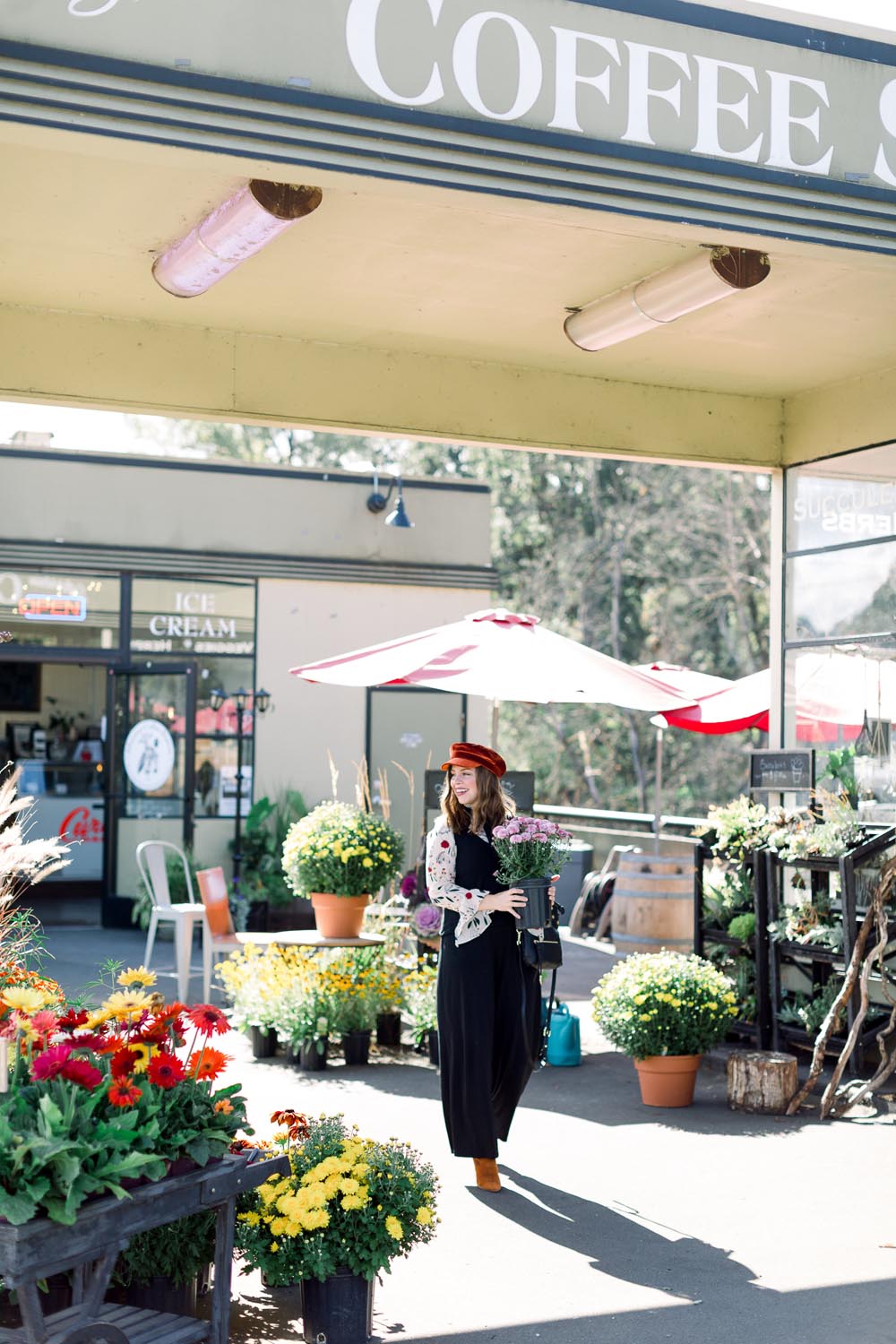 Silverton Coffee Station // Silverton, OR
Housed in what appears to be an old gas station or auto repair shop, Silverton Coffee makes a mean cappuccino. I was pleasantly surprised that Oregon seems to prefer a strong cup of joe, too. If you find yourself stopping by, be sure to check out the pretty flowers and plants out front, and the cute gift shop, too!
The Chocolate Box // Silverton, OR
If you know me, then you know I can't travel without bringing home a sweet treat. Located inside of the Whimsy, etc. store off of Main Street, The Chocolate Box had me covered with their salted chocolate peanut butter cups. OMG they were divine! I kind of want another one right now, actually…
What's on my List for Next Time
As with any trip, 4 days of fun wasn't enough! There's still plenty we didn't have time to do while we were visiting Oregon's Willamette Valley. I thought I'd share a few spots on my place to visit next time I'm in the area!
Mt. Angel, a town founded by German Settlers with a variety of Bavarian-style storefronts and old world flavor
Tamolitch Falls & Blue Pool Hike
Breitenbush Hot Springs
5th Street Public Market
Wine tasting at Birgadoon Winery, J.Scott Cellars, Tyee Cellars, Nectar Creek, and High Pass Winery
Mt. Hood Tiny Homes
For more about Oregon's Willamette Valley
For even more in things to do in Willamette Valley, don't miss some of my travel companions' posts! They each offer a unique perspective on what to do while visiting the area.
With so much to experience in Oregon's Willamette Valley, I'm sure you can now see why I recommend it for your next weekend excursion! At just about 4 hours south of Seattle, you can easily pop down on a Friday and be home on Sunday after a weekend of fun. Or, plan on a longer trip and take on some of what Central Oregon has to offer, or venture back up north to Portland!
Have you visited Oregon's Willamette Valley before? If so, do you have a favorite spot that I missed? I'd love to hear about it in the comments!