Before I left for NYFW, I did a lot of research about what I might see people wearing. After all, who wants to show up unprepared? Not me! Around the same time, I was asked to be on local Seattle TV Station, King 5, to talk about the fall fashion trends that I was excited about.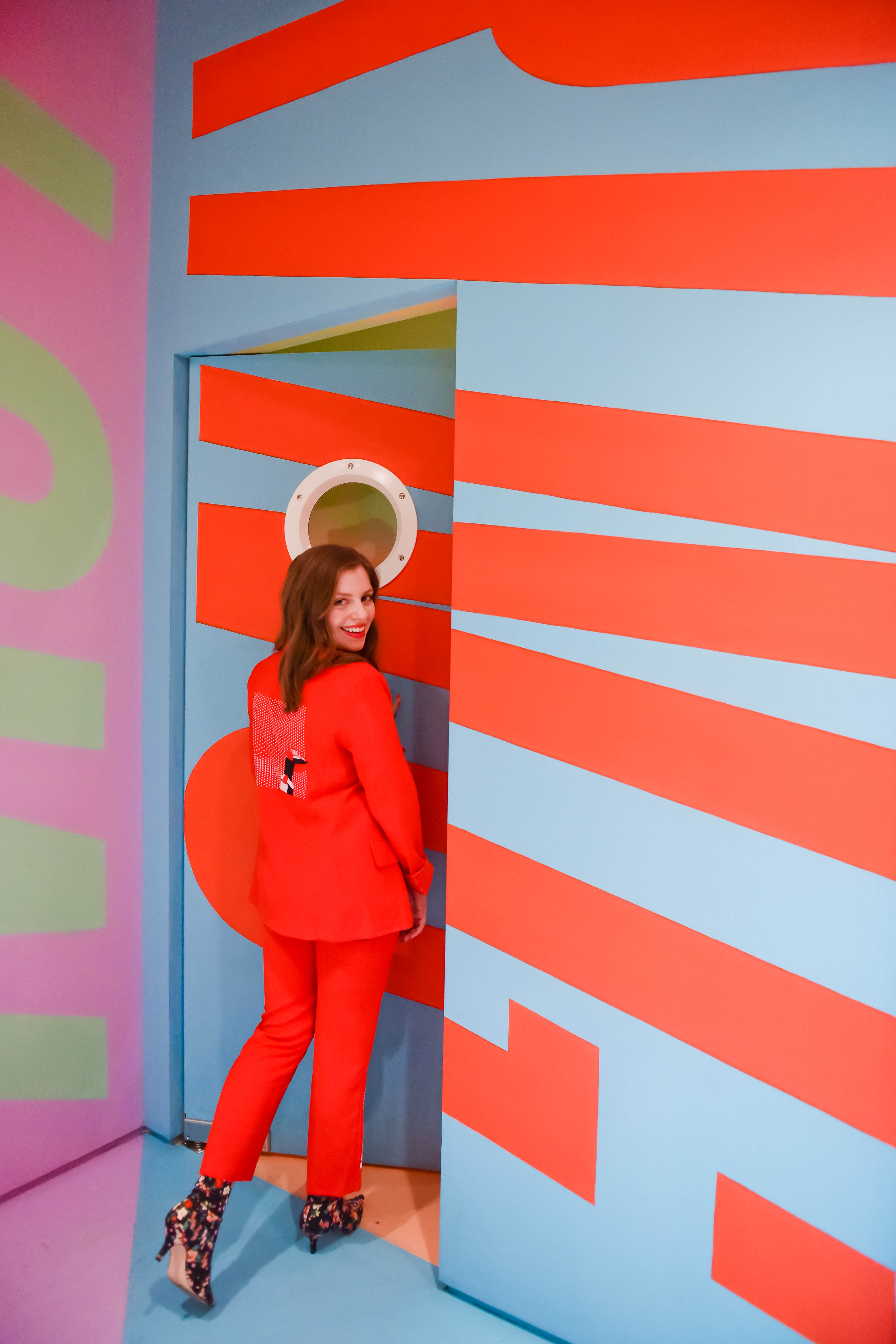 Disclosure: Some of the links in this post are affiliate links. That means when you click on them and make a purchase, I may make a small commission. Thanks so much for your support! // Photos by Vivian Hsu Photography and Diary of This Girl Megan
And, while I was able to cover quite a few of my favorites, I wanted to keep my mind open to what was actually being worn on the streets this season.As usual, NYFW and NYC, in general, didn't disappoint when it came to the catwalk on the streets. Today, I thought I'd share some of my absolute favorite trends, and how I've already been incorporating them into my wardrobe!
So what's trending this season? Here are my top picks!
1. The Power Color Trend
Nope, red isn't out! It's back with a vengeance this year. Red also happens to be my favorite color, so I was sure to pick up a few red statement pieces before I jetted off to New York. My top pick? Combining multiple trends: tone on tone, power suits (see below), and red! You'll be sure to stand out!
My friend Rebecca over at Blogger Not Billionaire also highly recommends statement-making pink this season, and my friend Lisa of Story of My Dress can't get enough of mustard. I couldn't agree more with both of these suggestions!
2. Menswear Plaids & Checks
Give me all the prints! Yes, florals are fun, and in my opinion, never go out of style. Similar to last fall, prints such as glen plaid, check, and now houndstooth are trending. If you haven't added a plaid blazer to your wardrobe yet, now is the time. I promise, like me, you'll find a wear to wear it with everything. Over little dresses and with jeans and a tee or sweater tucked in are my personal go-tos.And hey, if plaid isn't your thing, try a check, houndstooth, tweed, or a textured solid color instead! There are plenty of colors and styles to fulfill any preference.
3. Funky (Faux) Fur
While a heavy fur coat can feel a bit dated, funky fur accents are on-trend. Whether you're a fan of shorter fuzzies like the teddy bear coat, or want to jazz up your favorite coat with a faux fur cuff or collar, it's hard to go wrong. Plus, as the seasons change you'll be glad you made this investment now so you can stay cozy all winter long.
4. Strong Shoulders
The 80s are back and better then ever, especially when it comes to shoulders! Yep, shoulder pads are cool again. And honestly, if you pay much attention to suiting, you'll know they never really went away.So how do you wear this without looking like you belong in Pretty In Pink? I found the coziest vintage sweater at Value Village in the prettiest Big Bird shade (LOL) that also happened to come with shoulder pads. It adds just the right touch of volume to my shoulder, and the oversized fit helps it not feel too uptight or outdated. As a petite person with broader shoulders already, this trend can be a bit tough to make work. If you're finding yourself in the same position, try a rounder shoulder. It softens your frame while still adding structure.
5. Western Style
Yeehaw, cowgirl! Okay, maybe that's a little too much, but this season grab your cowboy boots, don a western hat, and let's giddy up. Excuse the cheesy puns, but what I'm saying here is that if you've ever wanted to rock a pair of western boots, it's the time. Because I'm not sure how long this trend will last, I've been keeping an eye out for them at my local thrift store.
If western isn't really your thing (because it's honestly not mine either) I've really been a big fan of western with a twist. Think studded cowboy boots, or statement making colors like red and white. I have my eye on this pair and think this one is pretty good-looking too.
6. The Pant Suit
As I mentioned above, the pant suit is definitely here to stay. I rocked a plaid one last year and I'm pretty sure that was one of my top-commented on post on my Instagram feed that month. You guys really liked it, and honestly, I did too! This year, I've added a few additional pant suits to my wardrobe. Over the summer, I added a palm leaf printed suit from a local boutique. For fashion week, I wanted something that really stood out and ended up purchasing this suit from local designer, Gibran.
If you're hesitant on this trend, start small with coordinated separates. A jacket and skirt combo is perfect for mixing and matching with other pieces in your wardobe. Then once you feel comfortable, pair them together. As soon as the compliments start rolling in, I guarentee you'll be a fan of this trend!
7. Hair scarves
I'll be perfectly honest; I can't get down with the scrunchie trend. I think if you were old enough to wear scrunchies a lot as a kid and saw them fall out of fashion and become a huge faux pas, you might be with me on this one. That doesn't mean, however, that you can't get the look! As an alternative, try tying your favorite silk scarf in your hair. Or, if you're down with the scrunchie, go on with your bad self and rock it. I won't judge.
8. Unexpected Metallics
I feel like metallics are a trend that never really goes away completely. I mean, metallics are especially good for the holiday season. But what about before then?Well, I think the futuristic trend gets the thumbs up as I saw everything from blingy manicures, oversized holographic parkas to funky silver boots and shiny dresses that could be seen from outer space. Keep it simple with a metallic liquid lipstick or nail polish, or go all out with a full metal on metal look. Mixing metals is a fun trend to try – think about pairing a silver metallic handbag with a gold dress or skirt for a fun take on the "mixed metal" trend.
9. Up the volume
From exaggerated, chunky knit sweaters to larger than life outerwear, going oversized is having a moment. Layer multiple oversized pieces for a fun look, or try a single piece to make a simple statement. My personal favorite look right now is a simple oversized coat. I also can't wait to try the layered coat look; just layer your favorite moto jacket under your oversized coat. A win for extra warmth and cool-factor, of course!
As a short girl, this again can be another harder trend to master. To get the look, I try to pick pieces that look intentional. Look for a piece that nips in slightly at the waist, fits in the sleeve, or is the right length for you. Avoid pieces that completely drown your body shape like a full-length coat.
10. Don't hate on Utility (Boots)
Known for being a little bit hippie and a little bit granola, the hiking boot is in! For those who gravitate for something edgier, the combat boot is a perfect choice. And if you're a bit more of a romantic or bohemian kind of girl, pick a pair decorated with fur, tassels, or other embellishments.If, like me, you actually don't own a pair of hiking boots to try this trend, I found some amazing options at Target! Most of the boots I had been seeing (and loving) were upwards of $200. Target, however, has them for under $40. I just ordered a pair that had almost 5-star reviews, so stay tuned for some outfit inspo soon!
Whew! That was a lot of fall fashion trends. I hope you found a few new ideas to get you out of your comfort zone this fall. Fortunately, most of these trends can take us straight into the colder months as well. I personally can't wait to make use of my furry hiking boots and teddy jacket. What can I say, I like to stay warm!
What trend are you most into this fall? Which trend(s) have you tried so far?! I'd love to hear about it in the comments below!