One of the gift recipients that I didn't touch on in my last gift guide about giving the gift of experience was for our pets. It's pretty hard to give a pet a gift of an experience, unless you count walks and visits to the dog park as a gift. ;) I always like to give Rigby a Christmas gift, and fill his stocking with goodies, so today's holiday gift guide is going to focus on just that!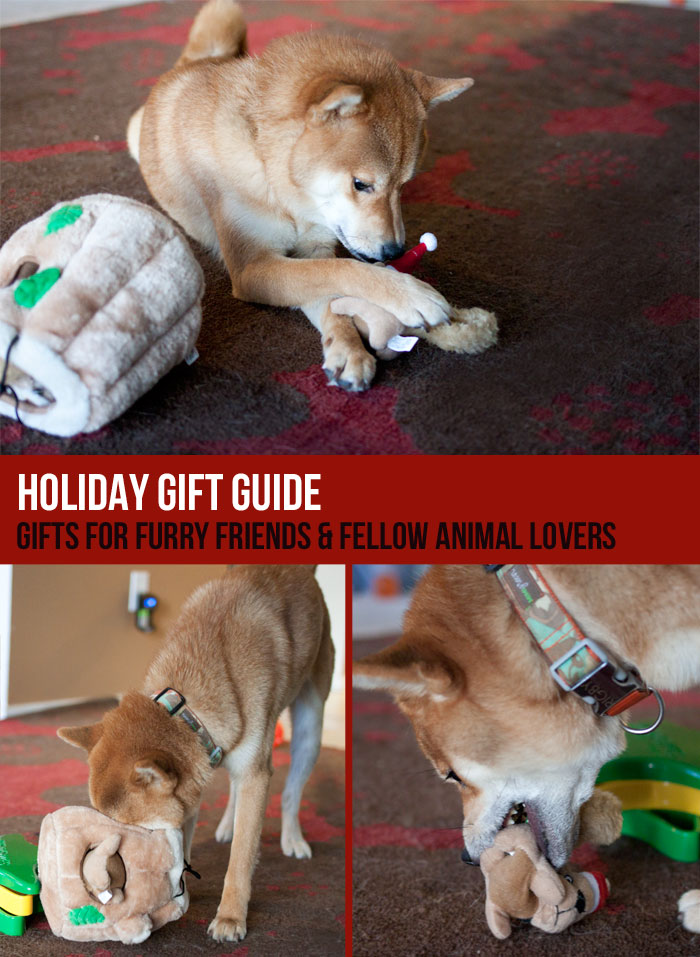 Rigby is not the easiest to shop for though! He's pretty smart, so a lot of dog toys are boring. He also has a love of chewing, and will destroy even the most "indestructible" toys, especially the plush stuffed kind if left to his own devices.
I have learned a few things over the years of owning him about what kind of toys do work, and don't. And also, as a dog owner and animal lover, I feel like I may know a thing or two about what my fellow pet lovers wouldn't mind seeing under the tree.
Gifts for your Furry Friends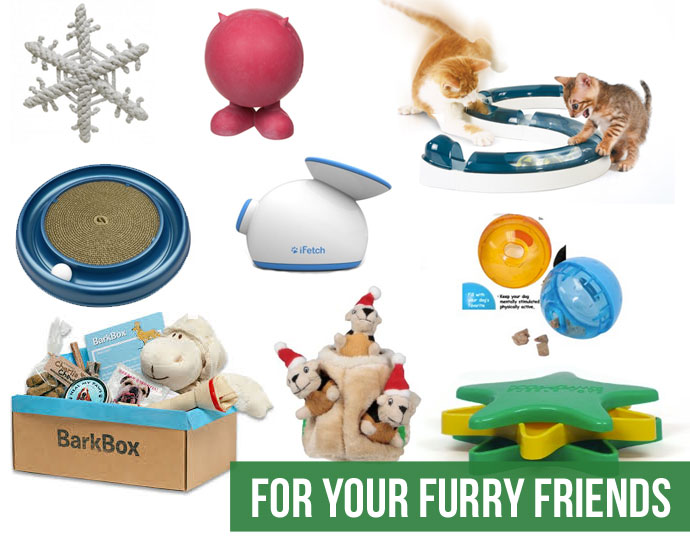 Jax & Bones Snowflake Rope Toy: How cute is this? This is one toy I wouldn't mind seeing on my floor! (PetSwag, $14)
Bad Cuz:  This is pretty much indestructible and bounces all over the place, plus it makes a squeaking noise that is sure to drive your dog (and maybe you) crazy. (Amazon, $5.99)
Catit Design Senses Play Circuit: Okay, this looks pretty cool. You can set up the track in all sorts of configurations, and the ball is paw powered. Plus, look at that tiny cat's face in the photo. Nailed it. (Amazon, $8.45)
Bergan Turbo Scratcher Cat Toy: The cats we had growing up had one of these, and it was one of those things that almost always got used by one of the cats. If they weren't zooming the ball around, they were scratching the cardboard. (Amazon, $12.74)
iFetch Ball Launcher: Um, how cool is this? When you're busy, now you don't have to feel bad about not being able to play fetch with your dog. (PetFancy, $115)
Kyjen Holiday Hide-a-Squirrel: This is seriously so much fun. Squeak the squirrels, get your pup excited, then watch them tear into this to get to the little rodents. Fun for all. (Kyjen, $18)
Our Pets Smarter IQ Treat Ball: We got this in a Barkbox a long time ago (and unfortunately Rigby was left unattended and ended up breaking it…) but it was so worth it. On this one, you can set the size of the treat dispenser larger or smaller, so you have full control over how long the dog will be entertained. (Amazon, $9)
Barkbox: Speaking of Barkbox, why not just put a box under the tree? We loved Barkbox, and get it every few months when we're running low on treats and toys. (Barkbox, Starting at $19/month. Use code CYBERMUTT for new subscribers for 3 free months when you sign up for a 3, 6, or 12 month plan. Previous subscribers, use code WOOF for 20% off.)
Kyjen Puzzle Toys: We got to try out the Spinning Star puzzle and let me tell you, it's a lot of fun! Seeing a little puzzled look on Rigby's face was priceless. It didn't take him long to figure it out though! (Kyjen, $20)
Gifts for Animal Lovers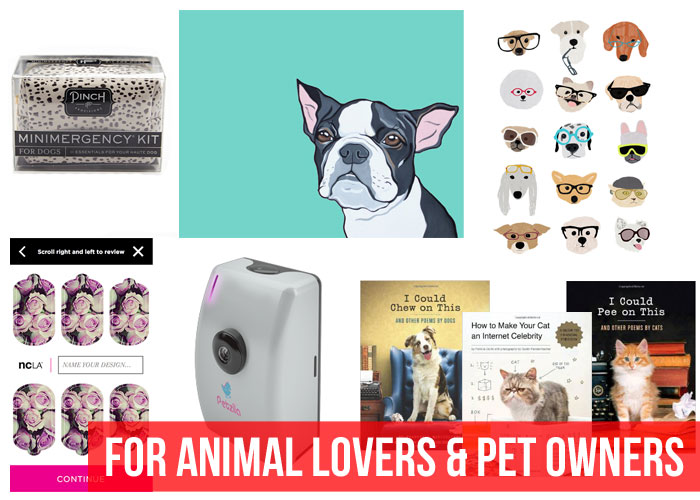 Mini Emergency Kit for Dogs: How ingenious is this? A tiny collection of essentials that you can keep in your car just in case of a doggie emergency. (Free People, $16)
Custom Pet Artwork: I love the idea of having a pet portrait commissioned, and there's one that suits every budget on Etsy. For a small gift, try a pet portrait mug ($18). For a bigger splurge, have a pet immortalized in a piece of artwork like this comic style painting or this watercolor style!
Dogs with Glasses Art Print: Okay, seriously, how adorable is this print? I want it! (Hanna Melin, $36.75)
Nail Wraps: Put your pet's face on your nails with NCLA's MyNCLA app! See an example of custom pet portrait nail wraps on Racked here. (NCLA, $19) Jamberry also has this option, though you'll have to do it through a consultant. (Jamberry, price varies)
PetziConnect: I funded this over a year ago and I can't wait for it to arrive this month. This is more than just a pet camera, you can interact with your dog through their Petzilla app and even offer a treat for good behavior! (Indiegogo, $169)
Humorous Books: There's nothing more fun than a dog poking fun at our interesting relationships with our pets. I love the concept behind How to Make Your Cat an Internet Celebrity, I Could Chew on This: And Other Poems by Dogs, and I Could Pee on This: And Other Poems by Cats. (Amazon, price varies.)
Our friends at Kyjen (well, more of  Rigby's friends then mine… he does love their toys!) sent us an extra Holiday Hide-a-Squirrel Dog Puzzle to share with one lucky doggie, plus I'll throw in some of Rigby's favorite treats (uneaten, of course!) and a few other fun things. Get yourself entered below!