So I know, tis the season. Welcome to the beginning of the bombardment of all the gifts you should be buying for everyone and their sister. Right? Well, I'm jumping on the bandwagon… but I'm going to try to do things a little differently.
Today, I'm going to be sharing gifts that I've given before, or if I haven't given them, have wanted to. You see, I am not a gift traditionalist. As I've gotten older, what I've realized is that traditional gifts tend to suck. Gift cards to Best Buy, towel sets, random appliances… boringggg. I'm more a fan of giving an experience. I try to think about something that person really wants, but can't afford to do, or doesn't feel is worth the "splurge" and do my best to either give it to them (if it's not cost prohibitive) or help them do it (gift card with as much as I can afford.) So today, I am sharing my top-secret gift ideas with you. Guess they're not so secret anymore! ;)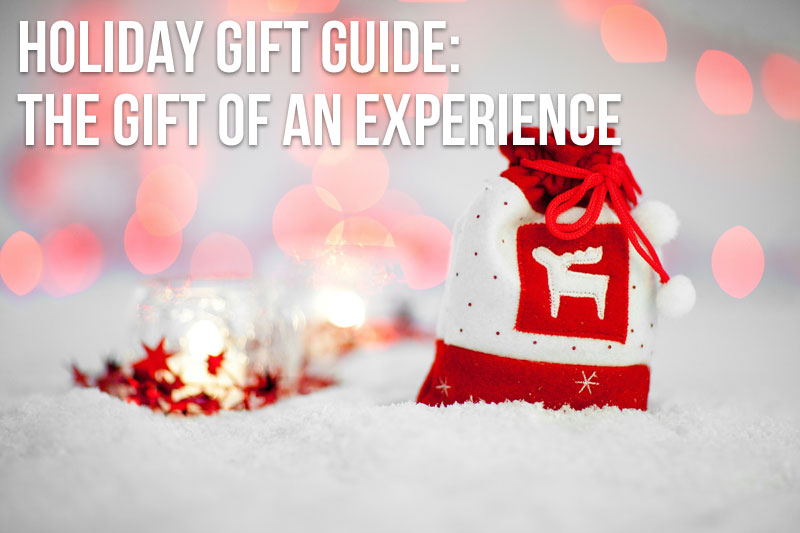 Holiday Gift Guide: The Gift of an Experience
Most of this list can be applied to nearly everyone, but I've split it into categories based on what I've bought for people in the past. No worries if you have a mom that loves golf and a dad that love spa days, just swap 'em!
For the Dudes:
A round of golf at a new course: Golf is expensive. Pay for a round, or give a gift card to put towards a round of golf at a new course they've been wanting to check out.
Concert or Sports Tickets: I think this is self-explanatory, but splurge on a ticket (or pair so you can go too!) for a concert or game that the dude (or chick!) in your life has been dying to go to.
Music Boxed Set: While this may sound boring, there's something about giving a unique music collection. The best gift I've ever given my dad was The Beatles Mono Boxed Set. He listened to it over and over for weeks.
Dinner & a movie: We do this for my dad every year for his birthday. He's so hard to buy for, so we just take him to The Metropolitan Grill in Seattle and I pay for all of us. It's pricey, but worth it.
Once in a lifetime experience: Have they always wanted to do something? Now's the chance to make it happen! Maybe it's driving a race car, parachuting, riding in a Hot Air Balloon, or bungee jumping? Whatever it is, now they'll have no excuse!
Beer (Rootbeer or Cider) Making Kit: For those dudes who appreciate handcrafting things, or have always wanted to make brewski of their own.
For a Significant Other:
A new wallet (or purse) full of things to do: The first year Dave and I were together, I gave him a new wallet (his poor wallet had seen better days) and filled it with gift cards of things we could do together, and of things he'd like to do on his own. Some examples of what I put inside were a gift card for the Nintendo shop (we had just got a Wii U), gift card to see a movie at iPic, and gift card for a round of golf.
Plan a Trip: Pick a destination and get to planning! I always keep the destination a secret for as long as possible and do all the research and itinerary planning myself. I put together an itinerary, and give it to the recipient when we embark on our journey. We've done local trips (like to Lummi Island) and we've gone out-of-state.
For the Ladies:
Spa Gift Certificate: Sounds a little boring, but my mom never splurges on herself. I purchased a certificate to cover both of our services, since she likes hanging out with me.
Sentimental Gifts: Custom Pet Portraits and custom handwritten jewelry are all things I've given or considered giving.
Charitable Donation: This really would fit on any of these lists, but I think making a gift in someone's name is a very honorable gift. This is especially perfect for those who have everything and needs nothing.
Flower Delivery: Flowers delivered around the holidays are always a nice gesture. You could also deliver fruit or treats from Harry & David's as well! No one would say no to flowers or chocolate, right?
Family Scrapbook: True story: When I was younger for about a year, I researched my grandma's unknown family history, dug up photos, and tried to find her birth certificate. I put all of my findings in a scrapbook and gave it to her for Christmas. Cue the waterworks – this was a good one.
For someone you don't know so well:
Audible Subscription: Sure, this is technically a "gift card" but if you know someone who loves books they will use and appreciate this.
Something handmade: Now that I'm older, I really appreciate handmade gifts. Try a scarf, bath and body products, or even sweets. Who doesn't like sweets?
DIY Tea or Coffee Set: Etsy has some amazing sets. This chai set would be an awesome gift, or what about a set of 3 fresh roasted coffees?
Subscription Box: Treatsie is my favorite food/sweets box, it would be great for anyone with a sweet tooth. There's also Love With Food, Naturebox, or Graze. For the ladies, Rocksbox is my favorite jewelry service, and there's always the tried and true Ipsy or Birchbox. For men, you've got Birchbox, Bespoke Post, or Freshneck.
Activity Sets or Board Games: Okay, so maybe it's because this is on my personal wish list… but I love Spirograph! It's totally retro, but super fun and would make a great gift for a designer or artist. Or what about a fun board game? We love Cards Against Humanity, Bananagrams, Settlers of Catan, and Dominon. (Though be warned, Cards Against Humanity is not something you should gift to your grandma or anyone easily offended!)
…And on that note, With Black Friday coming up, I thought it would be fun to bring you a giveaway to send you on a mini shopping spree or to put towards the gifts on your list. When Cat of Oddly Lovely came to me with the idea of a group giveaway, I thought why not! They helped me pool together more money then I could afford on my own, and these fellow bloggers are some of the best of the best! We're excited to be bringing you the opportunity to win $175 Paypal cash for you to spend as you please, and I highly recommend checking out these gals while you're at it.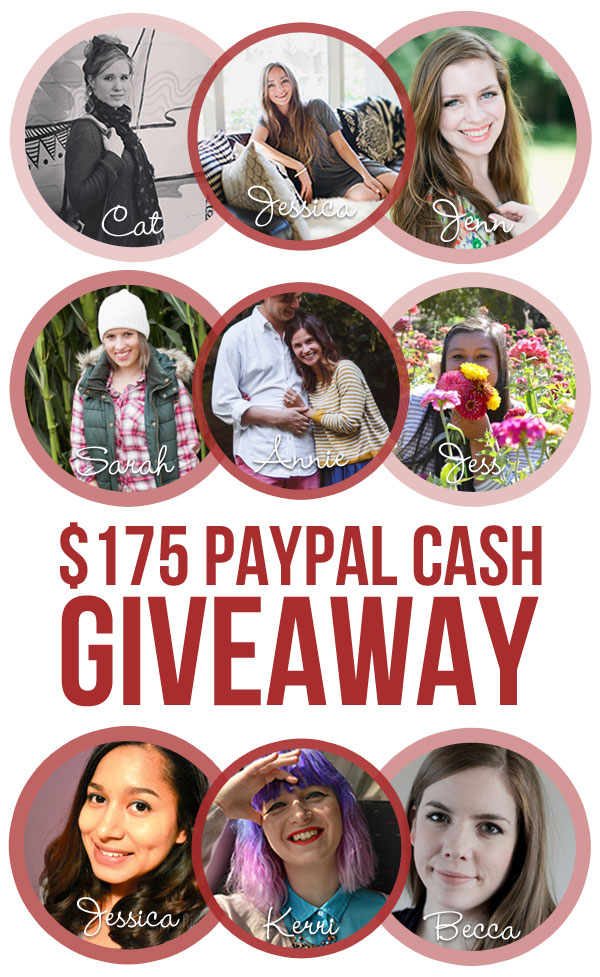 Cat of Oddly Lovely / Jessica of Team Wiking / Jenn of hellorigby!
Sarah of SarahChristineStyle / Annie of MontgomeryFest / Jess of Jess Loves This Life
Jessica of The Pyreflies / Kerri of Crumbs In The Bed / Becca of Becoming Adorrable
Giveaway ends November 24, 2014 at 11:59pm EST. Open internationally to anyone with a valid Paypal address!