Affiliate Links
I can't believe how fast this month flew by. It seems like just yesterday it was February 1st and now the month is basically gone. Shorter month meant I had less time to shop, right? Well, kind of. Since it was my birthday month, I splurged on Stitch Fix AND Golden Tote… it didn't necessarily work out and I ended up staying under budget after all was said and done. Phew!
What I Bought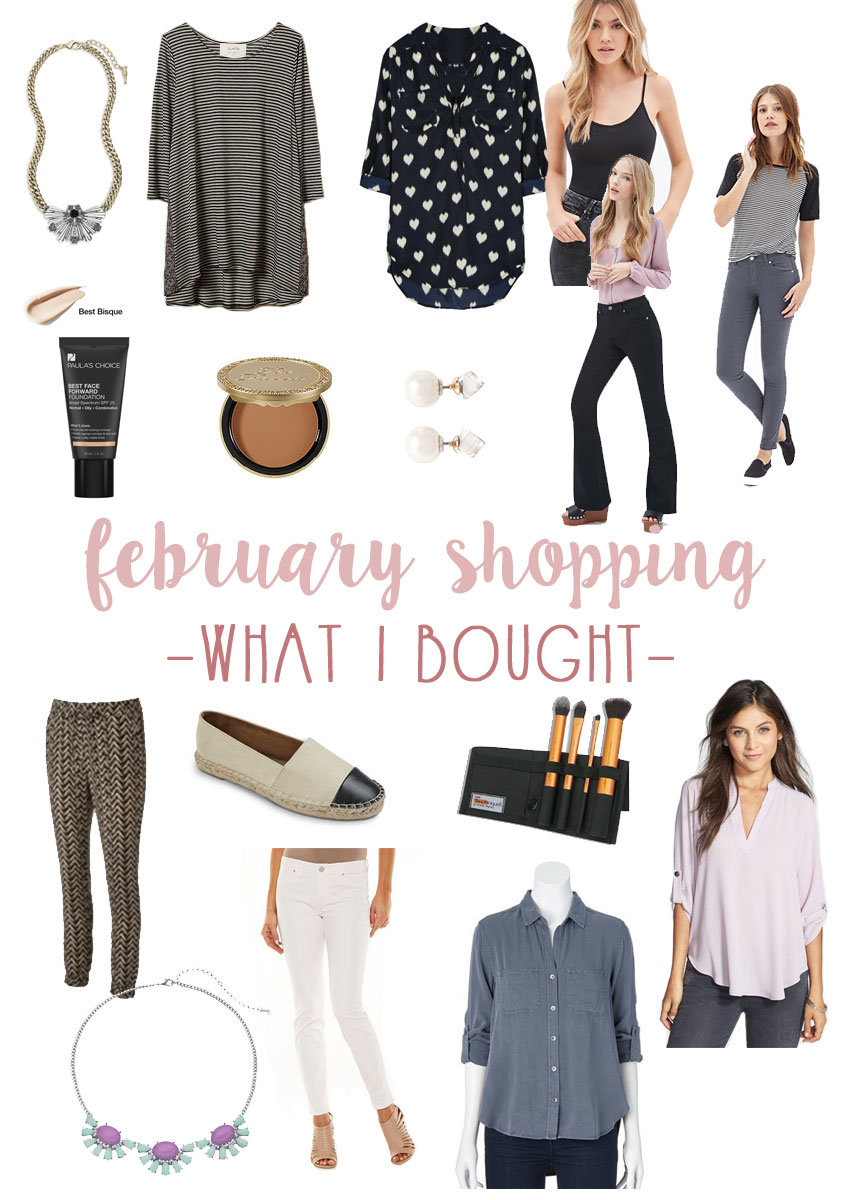 Chloe + Isabel – I bought this gorgeous Deco Fanfare Necklace back in December, but it just arrived at the beginning of this month after being back ordered. It's a little more than I normally spend on "costume jewelry" but it's lovely. – $44
Golden Tote – I bought this super comfortable Puella swing top from the Golden Tote Trading Group. It came in January's tote, and I just had to have it. It was a good purchase; I've already worn it 3 times and I could live in the thing. – $37
Sephora – I redeemed my birthday reward (a Nars mini lip crayon set) on my purchase of the Too Faced Milk Chocolate Bronzer. Finally, a bronzer for pale ladies! Love this, it smells heavenly. – $30
Stitch Fix – I took a risk and ordered my third fix this month. I actually ended up liking almost all of it, but had some fit issues so only kept one item. The winner was the Pixley Heart Print Blouse, and it was an adorable way to dress for the holiday without looking too crazy. – $48
Forever 21 – I ordered some wide leg jeans from them after my Golden Tote bust (see below) and LOVE THEM. And they were only $15! If you're not sure about going back to flares, this is a great way to test the waters. I also grabbed a pair of gray skinny jeans (but they sent the wrong size… no I am not a 24!), a dark gray cami, and these fun  pearl and crystal studs. – $33
Paula's Choice – I got a sample of their Best Face Forward when I bought Dave a skin care set for Christmas. I loved it, and as I'm running low on my normal BB cream, I decided to pick this one up on sale. If you've never tried Paula's Choice, I've been happy with their products, especially the Resist Oil Booster. If you're planning to buy anything, using my referral link will give you $10 off your first purchase. – $16
Target – I picked up another set of the Real Techniques brushes, this time the Core Set for my new bronzer purchase. I also grabbed these adorable Dianne Cap Toe Espadrille Flats. Can't wait until the weather is a little less chilly to wear these everywhere! – $28
Kohl's – I picked up a few new styles for spring like this Rock and Republic top (it's so soft!), this LC Lauren Conrad Cabochon Bib Necklace, these fun LC Lauren Conrad Colored Skinny Jeans, and these soft track pants (which I totally got to fulfill the free shipping… but I think they'll be great replacements for my Golden Tote ones that are super ratty.) – $62
Nordstrom – A lot of my purchases at Nordstrom this month were flops, but I did love this Lush Blouse. – $38
What I Returned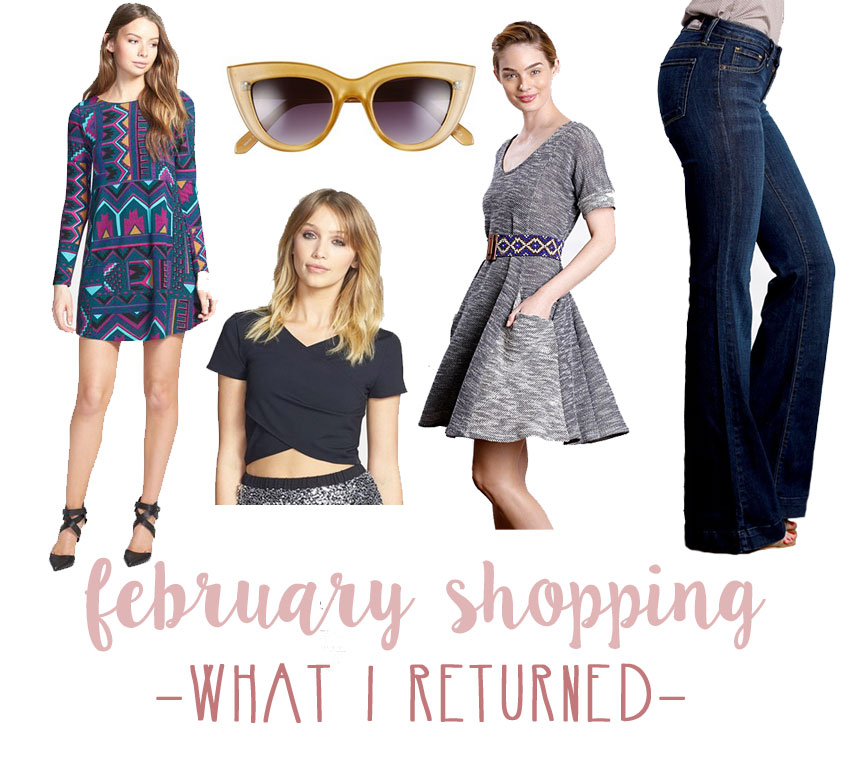 Golden Tote – If you read my review, you'll probably know why, but this was a bust for me this month.
Nordstrom – I loved the concept of these Tildon Sunglasses, but they really looked more costume-y than wearable. I also loved this Everly Abstract Print Shift Dress (and the price!) but it was far too tight across the chest. Finally, I've been dying for an adorable wrap crop top to wear with skirts this spring, but it did not love me or my boobs. Back it went!
What I Received
As always, I am beyond appreciative of the brands I get to work with and I'm really not trying to "humble brag" here. I think it's important to be clear about what I receive, hence why I started including it in this post. Thanks, Fran, for the inspiration!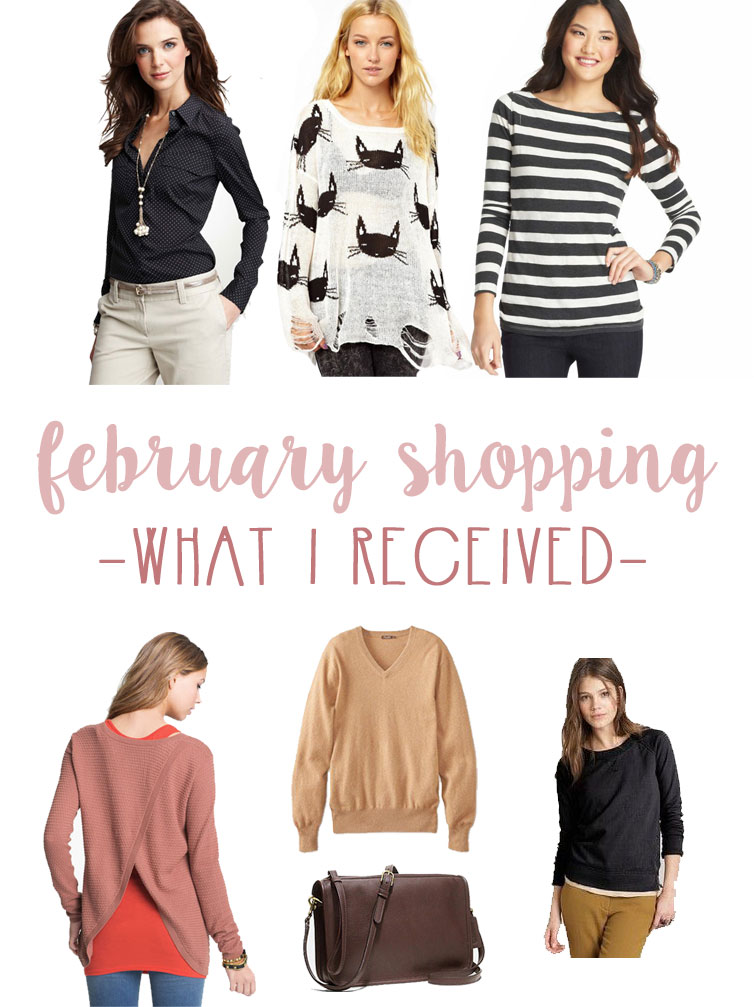 Value Village – I was invited to the grand opening of the Value Village Issaquah location last week. Bloggers were treated to a $50 gift certificate to put towards their finds. I spent $49.20 and got a striped top from LOFT ($6), a WildFox Cat Print Lennon Sweater ($5, retail $355!), J Crew Zip Side Sweatshirt ($7), an Ann Taylor Polka Dot Silk Blouse ($10), Frenchi Pointelle Split Back Sweater ($3), a Vintage Westbury Cashmere Sweater (it was totally mislabeled and is a men's sweater but whatever, it's so soft! $9) and a Vintage Coach Basic Bag $5.
Porch – I'm participating in a Pantone Style Challenge next month with my friends at Porch. They provided $100 for me to spend on items that fit my particular color. Some of those are listed here, but I won't spoil the surprise by telling you what. ;)
What I Earned
I earned a bit of money this month, from an eBates rebate ($46), from a sale on Poshmark ($40), and selling a dress ($13).
All in all, not a bad month. I'm working harder on being more discerning and only bringing things into my closet that I absolutely love.
Linking up with Fran for Budgeting Bloggers
How did you do shopping this month? I'd love to hear about what you bought!