Affiliate Links: If you click a link below, I may receive a credit if you sign up. I pay for this subscription.
I'm sure Stitch Fix isn't anything new to you, but if it is – here's a quick debrief. Sign up for a fix (you can use my link to sign up; if you do, thank you!) You'll pay a $20 styling fee upfront on shipment. You receive a box containing 5 items based on a customized style profile. You then receive the shipment, have 3 days to try on the goods, and keep what you like, less the $20 fee. If you keep nothing, you do lose the $20 fee. Package it back up in the return envelope, drop it at the post office, and check out online. That's it. No in-store returns… those are my least favorite part of shopping online! ;)
After my last terrible fix in June, I figured I'd be a glutton for punishment and order another. Why? Because I'm nuts and it would come in time for my birthday. I mean, there's nothing that screams fun like getting potentially awful clothes, right?
Right!
The good news is that I didn't end up getting awful clothes. I would actually venture to say that this is the best fix I've received. This is based on a small sampling, as I've only received 2 others, but I do like to creep on what other people get so I've seen quite a few fixes.
Without further ado… onto the clothes and my thoughts. At the end, tell me what you think I should keep – I have one day left to decide and I may be waffling a bit still.
Stitch Fix February 2015 Review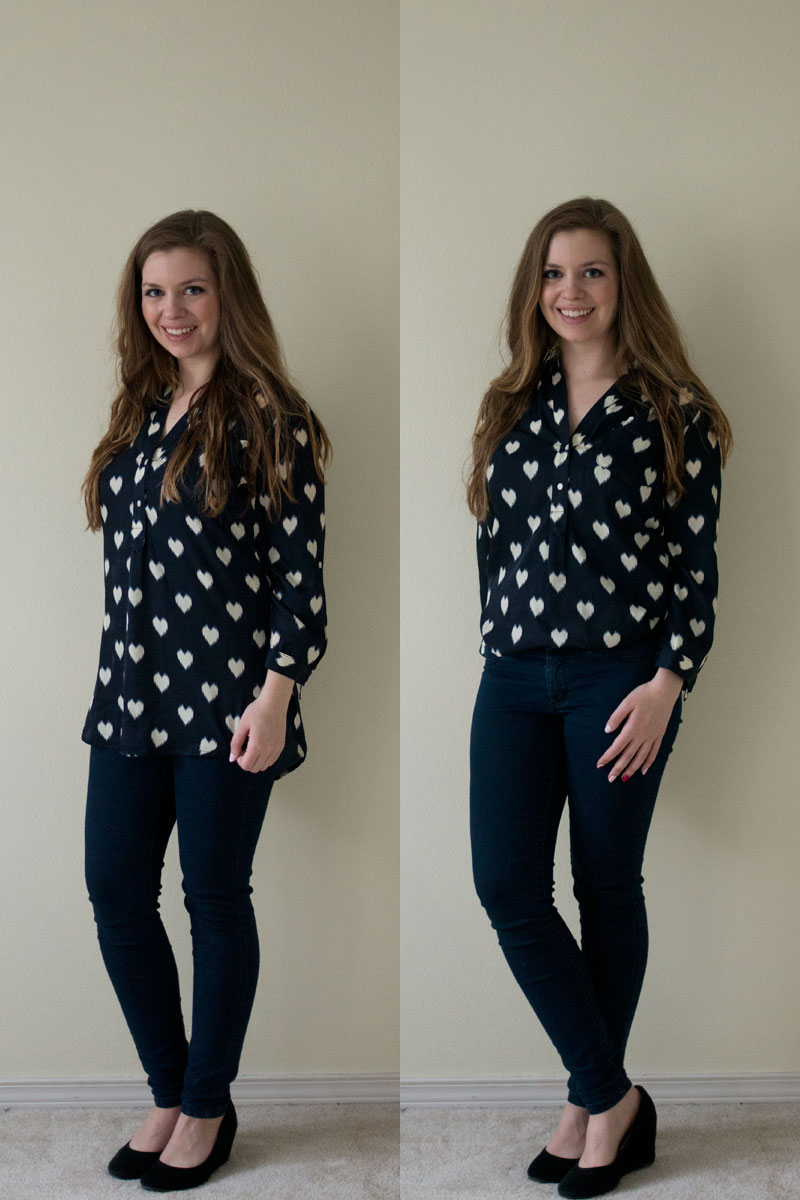 Pixley Colibri Heart Print Tab-Sleeve Blouse in Navy, $48
Oh, petite girl problems. The fit on the left is straight out of the box. I tucked it in on the right and like it much better. I love the print and think it's fun for Valentine's Day without being unwearable for the other 364 days of the year.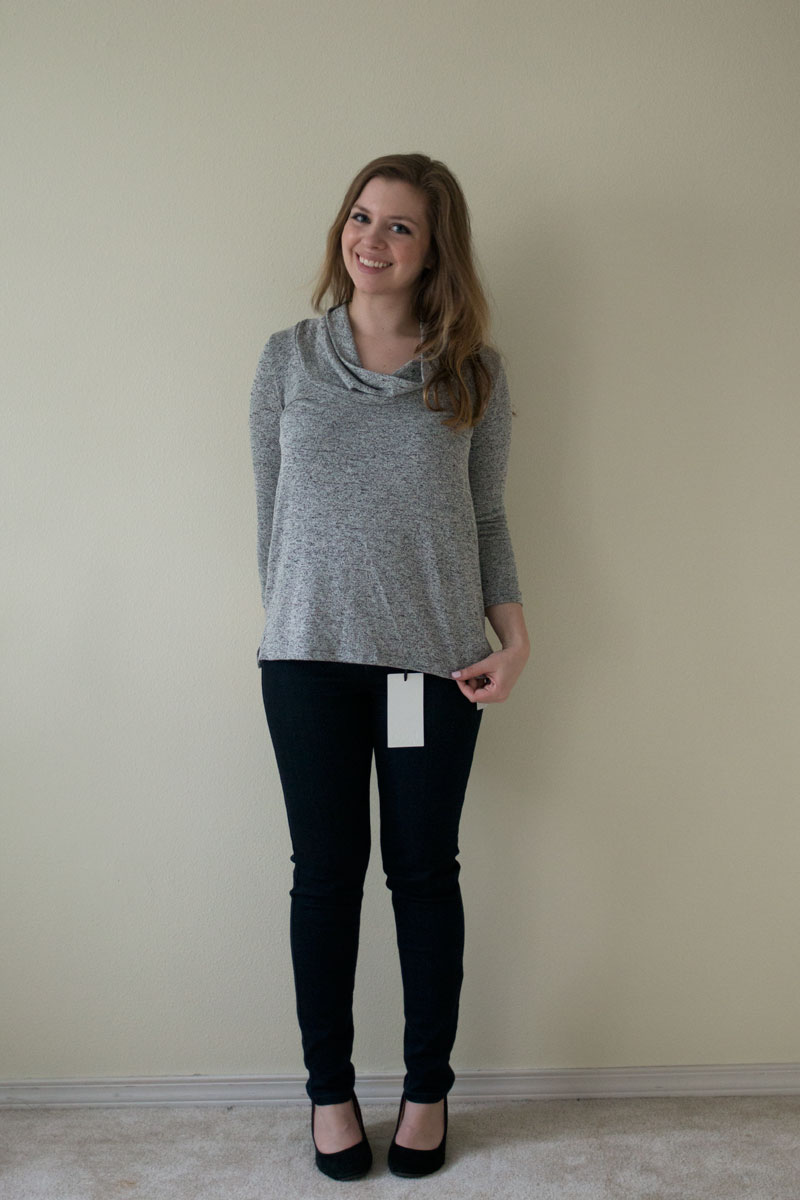 Market & Spruce Chambers Cowl Neck Knit Top in Grey, $48 and Kensie "Johnny" Ankle Biter Skinny Jeans, $88
I really liked the top until I see it in photos. I think it looks better in person, but Dave mentioned that the cut wasn't the most flattering on my chest. It is very comfortable though and would be a super easy wear to work top.
I loved the jeans when I put them on initially, but seeing them in comparison to my normal jeans (err, jeggings, whatever), I like them less. They're too wide at the ankles and knees in my opinion and bunch in a weird way. I could have them taken in though… petite girl problems strike again.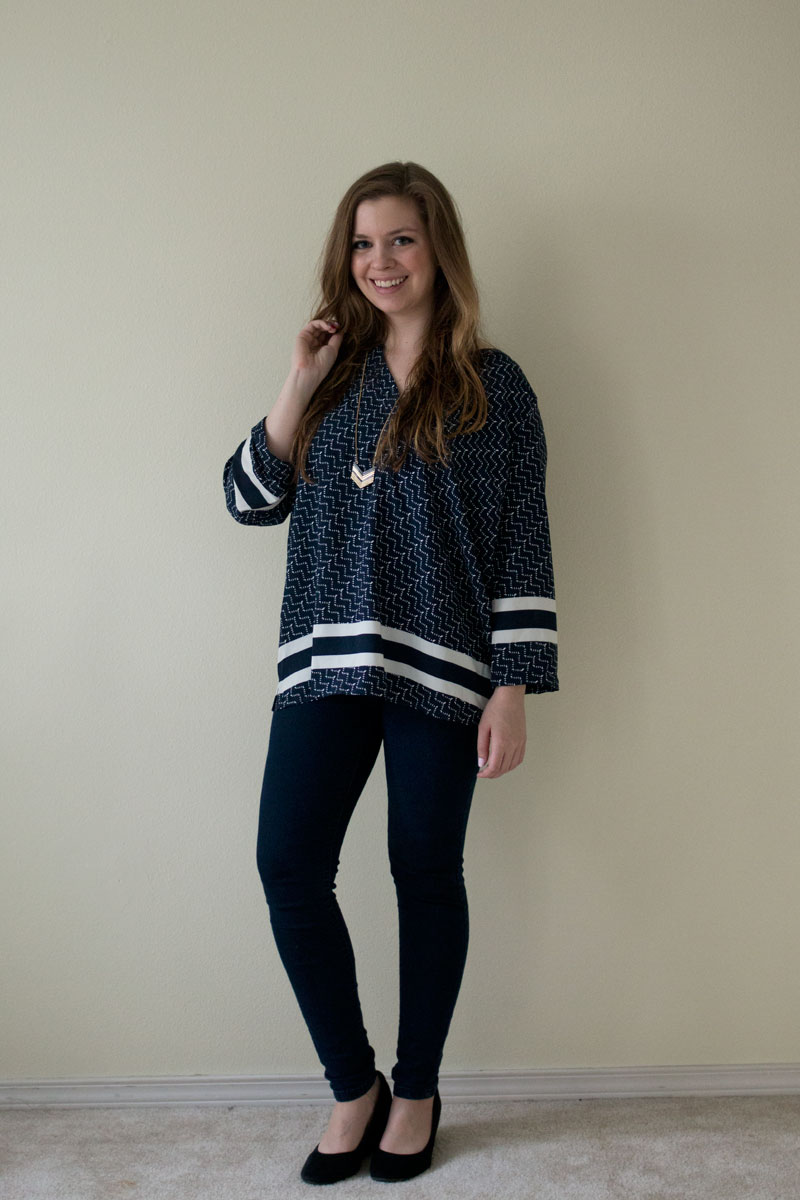 Skies are Blue Gabi Split Neck Blouse in Navy, $68 and Romolo Genevieve Necklace, pictured close-up below
I like this blouse, but it is quite oversized. This is a small, yet it feels more like a medium or even a large. It's loose, lightweight, and feels bohemian and spring-y, plus I dig the sporty stripes. I do like it, but I'm not sure I want to spend $68 when I'm not 100%.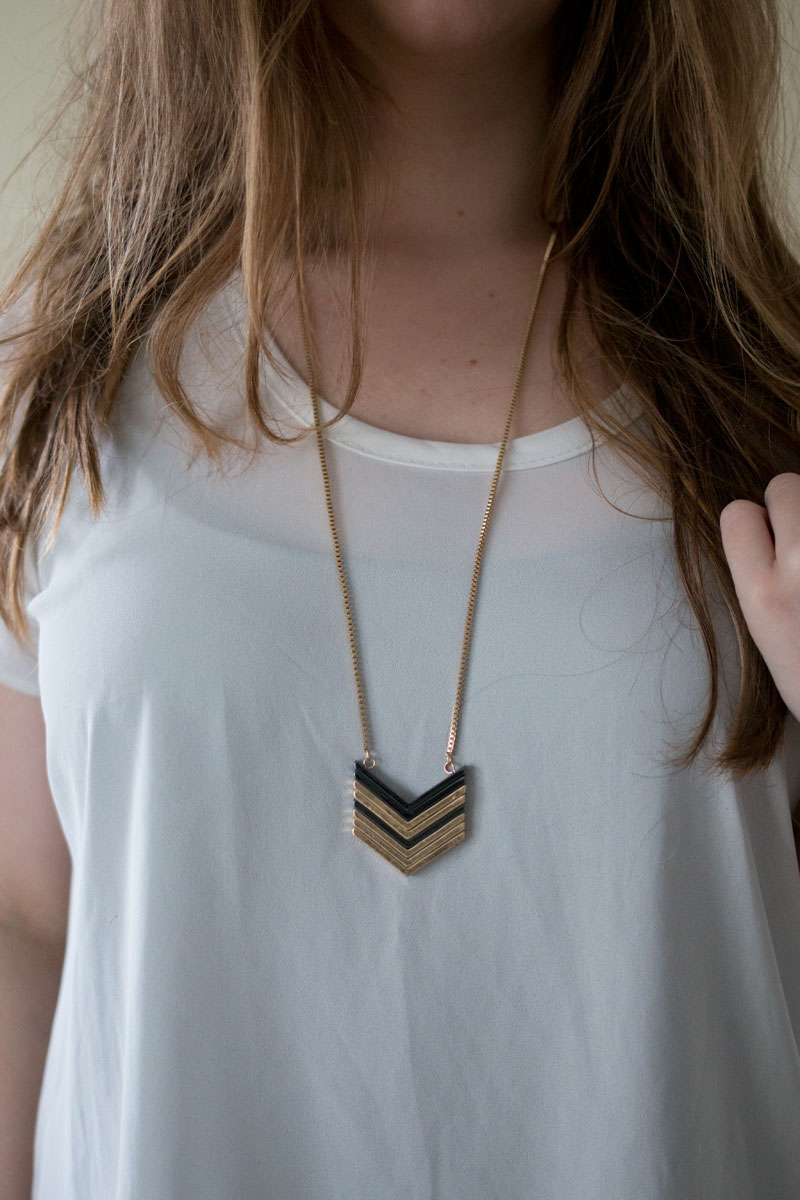 Romolo Genevieve Stacked Chevron Pendant Necklace in Dark Grey, $28
While chevron is one of my least favorite prints these days (thanks, Pinterest!), I don't hate this necklace. I think I would have probably preferred a solid gold, grey, or silver version, but I don't hate it and could see it being fairly versatile with tunics.
(Similar necklace available at Target, $14)
So what made this fix so much better? I felt like my style was much better represented here. I like a little boho and a little classic in my wardrobe, and I think they did a good job of merging that. I also think that pinning items to my Fashion Pinterest board from their style boards on Polyvore really, really helped. I pinned both the heart print tunic (I thought it was cute for Valentine's) and the Skies are Blue top, so I was happy to see them in my box. I also made sure to update my style profile to reflect what I wanted for this specific season, which was tops in neutral colors, and that's what I got.
All totaled, my fix came to $280. Less $20 styling fee that I already paid at time of shipment and the special "Buy 5" discount of 25%, I can keep it all for $195, which is less than I expected.
If you think Stitch Fix sounds like fun, you can sign up for your first fix via my referral link.
Disclosure: This post contains affiliate links. I may make a small commission if you schedule a fix after clicking one of them, which helps keep the lights on around here. ;) I paid for this Stitch Fix with my own funds and no other compensation was received for this post.
So, now my question to you – what should I keep? :)