If you haven't figured it out yet, I like to read. And I may slightly "cheat" the system. All the books I read aren't paperbacks, hardcovers, or even via e-Reader… I listen to audiobooks. In the car? I have an audiobook on. Folding laundry? Yep, audiobook is on. We got rid of cable last year and it's definitely helped with getting through my huge pile of To Be Read books.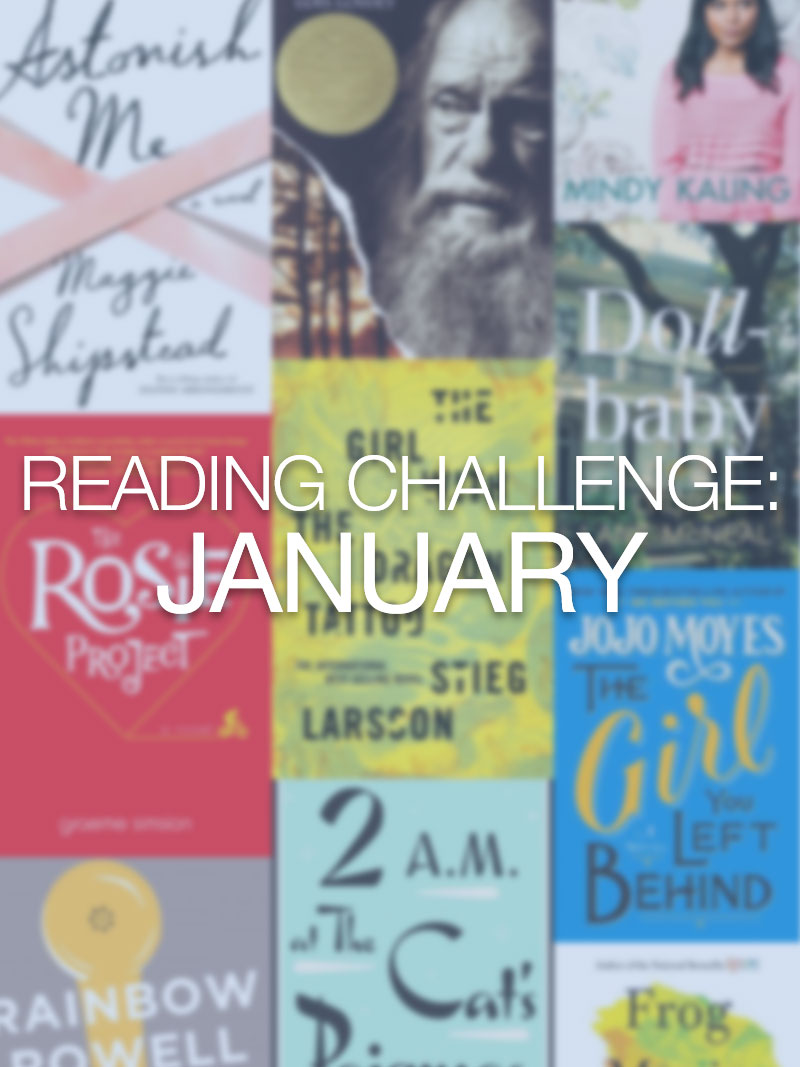 Reading Challenge: January
The Giver by Lois Lowry – ★★★★ – This is a re-read, I remember reading this in elementary school but couldn't quite recall specifics about the book. I figured since it's short I'd listen to it before I watched the movie, which I have heard great reviews of. The book is one of my favorites and didn't disappoint on the second read through.
Frog Music by Emma Donoghue – ★★ – Well, considering I didn't finish this, I can't recommend it. After reading Room by this same author, I expected another winner. Maybe I expected too much, as this book was a snooze. I just couldn't be bothered finishing it.
Astonish Me by Maggie Shipstead – ★★★ – Good, not great. Joan is a ballerina who was once very famous and had a very public relationship with another dancer. Most of the book focuses on her decline; she become pregnant, settles for a man who has admired her for many years, and the rest of the book follows her child into the dancing world. Honestly, ballet is just not that intriguing to me, and so I couldn't get super into this.
c/o NetGalley
The Oakdale Dinner Club by Kim Moritsugu – ★★★ – Another "good not great". It seemed like a lot of the details in this book were a little overdone and there were too many characters and relationships or wanna-be relationships to keep track of. The book is about a woman who discovers her husband's affair and decides to create a dinner club to start an affair of her own.
c/o NetGalley
Is Everyone Hanging Out Without Me? (And Other Concerns) by Mindy Kaling – ★★★½ – Okay, let's be real: this book isn't going to teach you anything you didn't already know. It is purely entertainment, humorous, and fun. I read it on the beach in the Bahamas, and I couldn't have picked a better book. It's funny, it's light, and it's enjoyable. If you're not a fan of Kaling's, best to skip this one though.
Landline by Rainbow Rowell – ★★★½ – Another light read, Rowell's latest adult fiction is entertaining, but not revolutionary. Georgie McCool is a TV writer and is super attached to her career. Her husband is sick of it and continues on to the planned family trip back in Omaha. Georgie can't go because of work. She visits her parent's house when her old school landline phone transports her back in time to former conversations her and her husband had when they were still dating. A fun premise and I enjoy Rowell's writing style and books, but I wouldn't expect to be blown away.
Since You've Been Gone by Mary Jennifer Payne – ★★★ – This book was honestly incredibly depressing. A single mom takes her daughter and escapes to another city every few months to get away from her husband who is an abuser. He finds them in a new town, and mom goes missing. Not a happy book but unfortunately all too real feeling. I felt like just as the book picked up it was over, so a little disappointing in terms of character development, but this is a new author to the YA genre.
c/o NetGalley
Mr. Kiss & Tell (Veronica Mars #2) by Rob Thomas and Jennifer Graham – ★★★★★ – I think I liked the last book better, BUT, this is more Veronica Mars. How could I not like it? And I'll say it again, if you haven't watched the show, or seen the movie, or read book #1, you probably should do those things first.  They all go in order and you'll miss out on too much if you haven't.
c/o NetGalley
Dollbaby by Laura Lane McNeal – ★★★★ – I really, really liked this. At first I'll admit I was kind of bored, but one review compared this to The Help so I had to continue on. I'm really glad I did. This is the coming age of Ibby, a young woman whose father dies unexpectedly and she's shipped off to live with her eccentric grandmother, Fannie, in the south. Lots of secrets are uncovered about her past, and you easily get wrapped up in the characters. I wouldn't say this is the next Help, but it is definitely enjoyable.
c/o NetGalley
The Girl with the Dragon Tattoo by Stieg Larsson -★★★ – Considering the amount of love this book gets, I feel like I missed something. Perhaps the story was too heavy to listen to on audiobook (I find that happens with some books) or I just wasn't in the mood for that type of book at the time, but I couldn't get into it. The book felt slow and heavy, then picks up about halfway through. I think this will have to go in the re-read pile.
The Girl You Left Behind by Jojo Moyes – ★★★★★ – If you've ever asked for a book recommendation, I probably told you to read Me Before You by the same author. This one is what I'll be recommending from now on. It was a captivating story, written in two different time periods about two different women, all based around a painting called The Girl You Left Behind. Loved it.
c/o NetGalley
The Rosie Project by Graeme Simison – ★★★★ – I had been wanting to read this since it was released and finally had a chance to on vacation. If you haven't heard of it, it's basically about a man with Asperger's (who doesn't know he has Asperger's) who wants to find a wife. He launches what he calls the "Wife Project" until he meets Rosie, who changes everything. So good, and reminded me a lot of some of the nerdy types I've worked with. ;)
The Hitchhiker's Guide to the Galaxy by Douglas Adams – ★★★★ – It seemed odd that I had never read this, so I finally checked it out from the library. What a completely quirky book. I really had no idea what this was about, and throughout I just kept laughing at the nonsensical-ness of it all. Humorous, entertaining, and quirky… definitely not life-changing, but worth reading at least once.
The Alchemist by Paulo Coehlo – ★★★½ – I've never read Coehlo before (despite owning a few Kindle books of his… oops) so figured it was time to give The Alchemist a try. I'm glad I did though I can't say I enjoyed it too terribly much, but it felt like one of those books everyone should try at least once. The Alchemist follows the journey of Santiago from Spain to the Egyptian Desert. Instead of discovering real treasure, he instead finds the "treasure within." A little cheesy, but definitely a "follow your dreams" inspirational type of ending.
2 A.M. at the Cat's Pajamas by Marie-Helene Bertino – ★★★ – Eh. This was just okay. Essentially this book all happens in the course of one night, ending at 2 AM at the Cat's Pajamas. You meet multiple characters throughout, a stars-in-their-eyes singer, a recently divorced teacher, and the club owner who is about to lose the business if she can't make up the money owed. A little predictable, and honestly, a little hard to follow in book format. I often confused the characters and had a hard time keeping track of who was who.
c/o NetGalley
My Reading Updates
Total Books this month: 15
Total Books read this year: 15 / 150
Total Books Read for the Modern Mrs. Darcy Challenge: 2 / 12
Total Books Read for the Semi-Charmed Winter Book Challenge:  8 / 13
Linking up with Modern Mrs. Darcy
What have you been reading lately? Any recommendations?