So admittedly, I've been terrible at reading these past couple of months. I set a goal of reading 100 books this year and am 7 books behind. Yikes! I decided to join in Megan at Semi-Charmed Kind of Life with her Winter Book Challenge in hopes of jump-starting my reading again!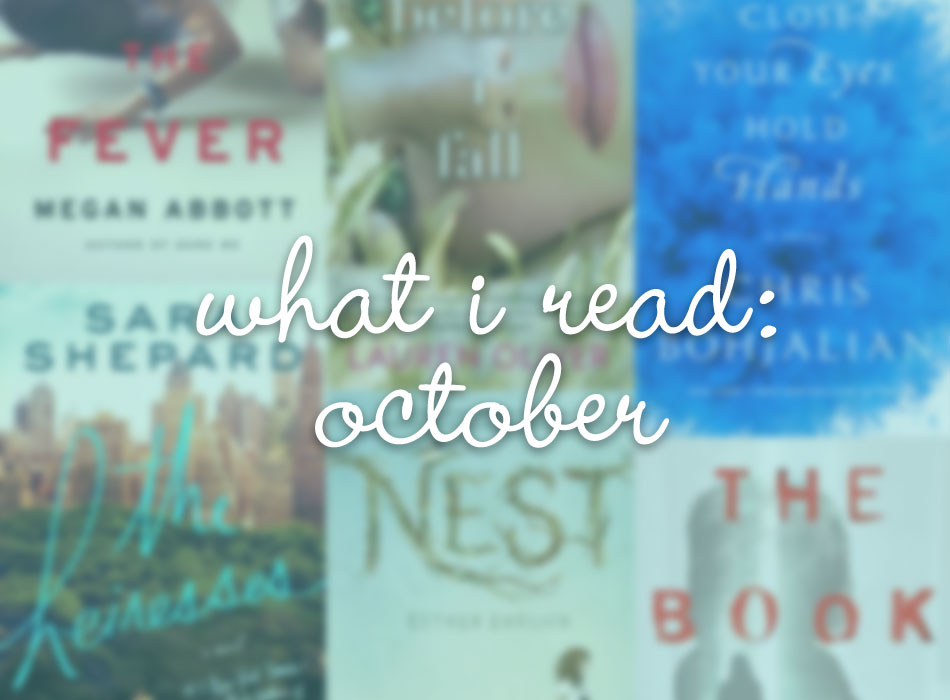 What I Read in October
Close Your Eyes, Hold Hands by Chris Bojilian – ★★★★ – This has got to be one of the oddest book plots I've read. A homeless girl living in an igloo in Vermont, both of her parents are dead, and it was all their fault. As the daughter as the most hated man, she's left to pick up the pieces. What's so tragic about this story is this poor girl is spinning out of control, and there's no one that can help her. A really captivating read that pulls at your emotions for poor Emily.
c/o Netgalley
Nest by Esther Ehrlich – ★★★★ – This is a little younger than I typically read (Middle Grade) but honestly, you wouldn't have known this was meant for younger young people. I really enjoyed this sweet yet very sad and tragic story. It's about a girl who's faced with tragedy – first her mother is diagnosed with a debilitating disease, then begins having mental health problems and is institutionalized. The voice is really strong, and the characters just break your heart.
c/o Netgalley
Before I Fall by Lauren Oliver – ★★★ – This book had a really creative premise – it starts out with the death of the main character, and she re-lives her "ending" 7 times. However, something about this just felt weird and I didn't totally get into it until the end. It's really hard to stay tuned in for the first half of the book, but once it gets going you can get past some of the "teen drama" brought at the beginning. A solid three stars.
The Heiresses by Sara Shepard – ★★ – After reading the Pretty Little Liars series, also by Sara Shepard, I was excited to see what was in store with this one. I'm not sure if this is written by someone else pretending to be her or what, but this was NOTHING like PLL. Seriously. This does not read like a YA. There are so many characters in this book I couldn't keep all of them and their families straight. Basically, I stuck it out, but this was not a book I would recommend.
c/o Edelweiss
The Book of You by Claire Kendal – ★★★★ – Oh my gosh, this was so creepy. This is a thriller, about a man who is stalking a woman, whom he's created (in his mind) an elaborate relationship with. Clarissa writes the Book of You to him, her stalker, and catalogs all of his run ins with her. Paralleling her story of her stalking, she is a member of the jury in a trial about another stalking victim and sees how poorly the court system treat another woman in a similar position. I would recommend avoiding this one if stalking or rape is a trigger, but otherwise this will have you questioning your own thoughts and reactions if you were in Clarissa's shoes.
c/o Edelweiss
Semi-Charmed Winter Book Challenge
5 points: Freebie! Read any book that fits the general rules.
The Rosie Project by Graeme Simsion
10 points: Read a book written by an author who has published at least 10 books.
If I Stay by Gayle Forman
10 points: Read a book of short stories.
A Visit from the Goon Squad by Jennifer Egan
10 points: Read a book with a food in the title.
The Ice Cream Queen of Orchard Street by Susan Jane Gilman
15 points: Read the first book in a series that is new to you (so no rereads for this one!)
Cinder by Marissa Meyer
15 points: Read a book that was originally written in a language that is not your native language.
The Girl with the Dragon Tattoo by Stieg Larsson
15 points: Read a book written by a local author.
Warm Bodies by Isaac Marion
20 points: Read a "bookish book" (in which books play an important role.)
Miss Buncle's Book by D.E. Stevenson
20 points: Read a book with a direction in the title (e.g. north, south, east, west or any combination of those).
Witches of East End by Melissa de la Cruz
25 points: Read a book from a genre you don't usually read.
Delicious by Susan Mallery (Romance)
25 points: Read a book with a song lyric in the title. Be sure to tell us the song name and artist as well!
The Girl You Left Behind by Jojo Moyes
30 points: Read two books with a different meal in each title (e.g. breakfast, lunch, dinner, supper, brunch).
The Oakdale Dinner Club by Kim Moritsugu & Fifth Avenue, 5 A.M.: Audrey Hepburn, Breakfast at Tiffany's, and the Dawn of the Modern Woman by Sam Wasson
My Reading Updates
Total Books this month: 8
Total Books read this year: 73 / 100
Total Books read for the Reading Pile Challenge: 40 / 40 Completed!