PR Sample
I don't think it's a big secret that I enjoy exercising as much as I enjoy getting my teeth drilled (which luckily has only happened once, and I no longer have those teeth so…) But what I do love is wearing work out clothes as soon as I get home from work. Don't lie, I know you know what I mean. You get home, and the first, second, or third thing you do is strip off the uncomfortable bras and skinny jeans and into something… well, actually it is kind of tight, but in a much more forgiving and comfortable way. Yes, I'm talking about yoga pants.
No, I don't do yoga. Not yet anyways.
But I can pretend in my yoga leggings that I basically live in on the weekends and have even figured out how to add into my rotations for work wear. With the cold season upon us, I figured now is as good as time as any to share my secrets for where I find my trusty leggings, yoga or otherwise, and for when I am dragged to the gym by certain people who shall not be named, what I like to wear.
5 Places for Great Activewear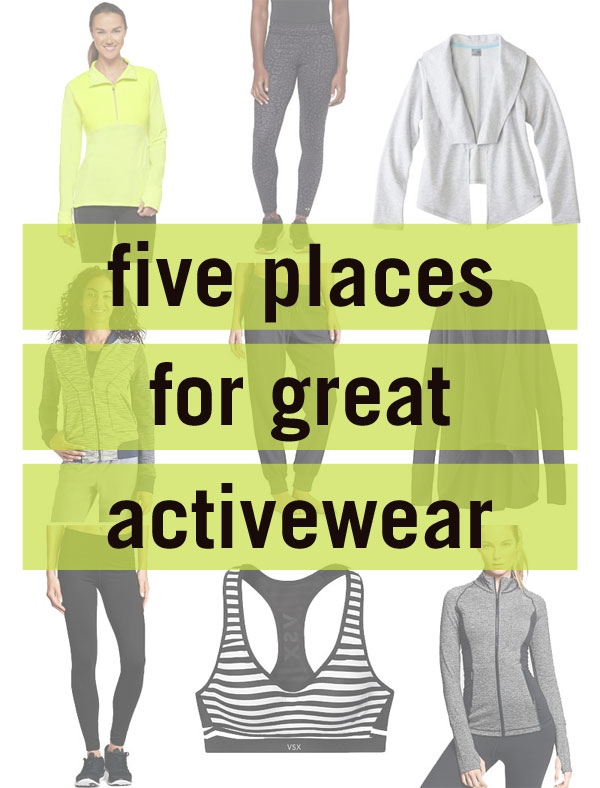 Fabletics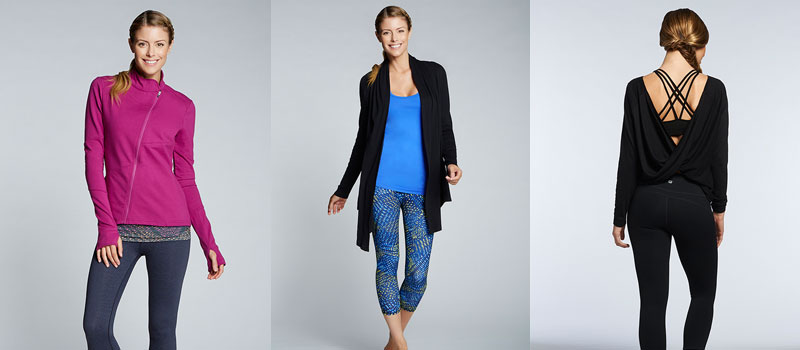 Grid $80 / Power $80 / Chasse $60
Fabletics was my first foray into the subscription work out clothing universe, and I'm so glad I tried them! Their compression leggings and crops are my absolute favorite, and I swear they make me look 5 pounds lighter. They come in a ton of styles and colors, and they have new collections each month with different fabrics.
While I haven't had the best luck with their tops (I ordered a t-shirt that's too big, and a sweatshirt that was too small… both in the same size) I did love their sports bras. So comfortable for lounging around. Their return/exchange policy is super great if you do run into any problems, and if you sign up through my referral link, your first outfit is 50% off. $25-35 for an entire outfit is a pretty great deal, but don't forget that it will sign you up for a monthly subscription. You can either skip the month between the 1st and the 5th, or cancel the service completely.
Old Navy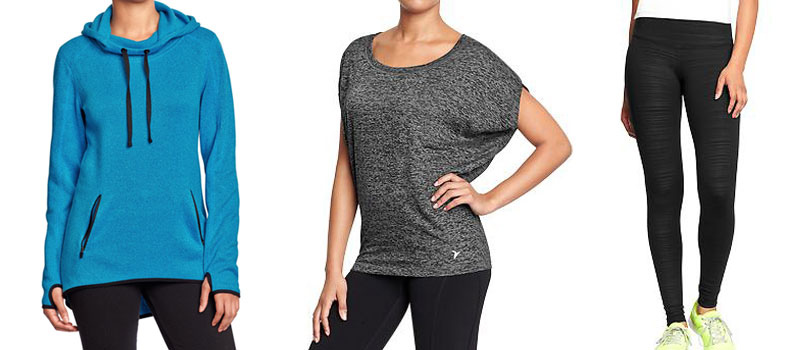 Pullover $40 / T-Shirt $15 / Legging $27
I've been buying work out gear at Old Navy for a long time. I love the yoga pants and crops. So comfortable! They also last for a long, long time. I have a couple of pairs that I wore in college. (Yeah, that was about 5-6 years ago now…) Plus they run coupons and sales all the time, so you really can't go wrong here.
Athleta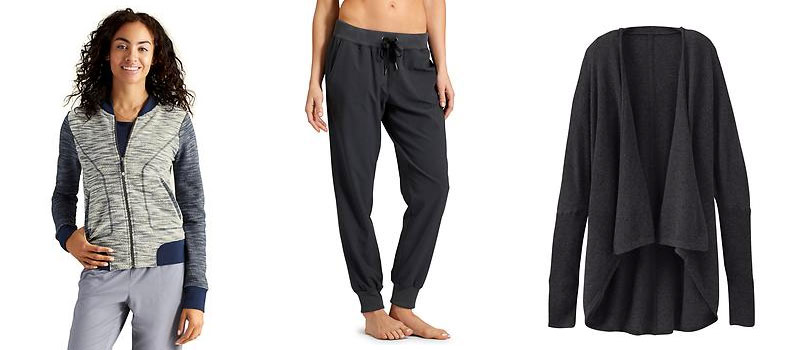 Jacket $108 / Joggers $89 / Sweater $198
While I had heard of Athleta, it is a new to me find. What I really like about Athleta is that a lot of their "work out" gear doesn't look like it. They have a wide array of things I could wear to work and get away with it, like the above cashmere cardigan (total splurge!), the Slub Bombtastic Jacket, and the jogger pants.
Victoria's Secret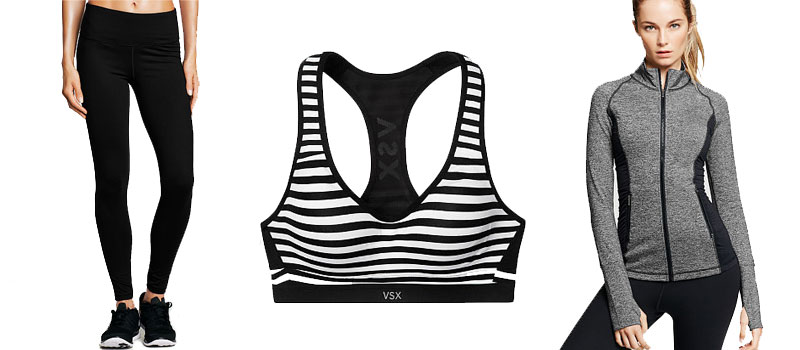 Tight $65-73 / Sports Bra $50-60 / Pullover $93
I've been buying sports bras from Victoria Secret's Sport line for a long time, so when I saw that Influenster would be sending a sports bra my way from their new Knockout line I was pretty excited to try it out! I love the fit of their new style – so much support, and they have tons of sizes (and colors!) to choose from, including 32-40 band size and up to DDD cup size, which is pretty uncommon in reasonably priced sports bras.
I also received the Knockout Tight, and they are AMAZING. What I love about them is that they are a little high-waisted, so they cover up that tiny pooch (that I admit to having… I'm sure I'm not alone.)  They offer short and tall sizes as well. My only complaint about them is that I can't wear them to work without boots because there is a logo on the calf that gives these away as workout gear. ;)
C9 by Champion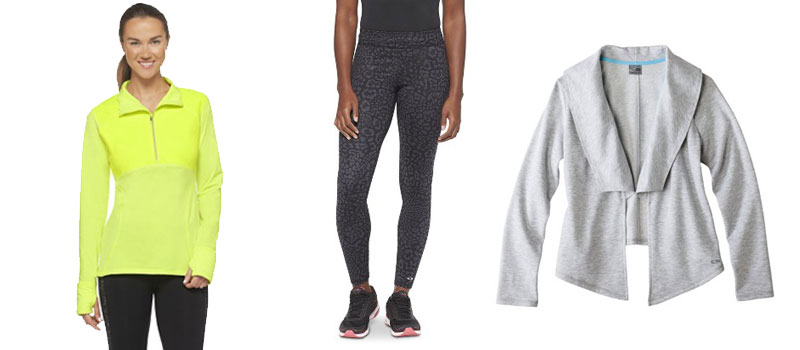 Pullover $35 / Legging $25 / Layering Top $12.50-25
Obviously I couldn't leave off Target, I mean, they have everything. Their C9 line is mostly what I buy for Dave – socks, shorts, t-shirts… but I've also bought running tights and a zip up that I absolutely love there too. I find the quality comparable to items double their price, and I think they hold up long-term too. Make sure you check out the Cartwheel app and their coupons online – the by Champion line goes on sale all the time!
Runner ups
For comfy, inexpensive yoga pants, I love Kohl's in the juniors section. They run fairly true to size, and last quite awhile. Two years ago, I bought a pair during Black Friday for $7.
Get discounted sports and activewear year round at your local TJ Maxx, Marshall's, or Ross. I swear the ones by my house ALWAYS have insanely full racks.
Now I can't recommend the workout gear from Zella at Nordstrom myself because I have yet to purchase, but I've heard they make the most amazing leggings ever.
The Adidas, Puma, and Nike stores at the Seattle Premium Outlets always have a decent selection, but I can't say the deals are always amazing. Try signing up for the mailing list of the outlets near you to find out when they're doing across the mall discounts – that's when you get the good stuff! :)
And no, even though I'm posting about work out gear I'm not becoming a fitness blog. I will never get up on any soap boxes and yell at you to eat cleaner, dine on a juice for a week instead of real food, or tell you how to do squats the right way (is there a wrong way? I don't even know.) Really I just thought you should know where I like to buy leggings since it's going to be winter before you know it. You're welcome.
Where do you like to shop for lounge and/or work out gear?