The life of a fashion blogger is not easy when it starts getting dark at 6pm and you have a full-time job… and you leave the office at 6pm. Clearly I am not used to this mayhem, and thus have no photos of my own for you today. But, now that I know, I'm going to try to better plan in advance. Can't it just get dark at 8pm year round? I like that better.
But, I've been shopping a lot as usual (though not actually spending much of my own money, I've actually been doing pretty good this month!) and have a round-up of some of my favorite items that really scream "FALL!" to me.
My Fall Fashion Must Haves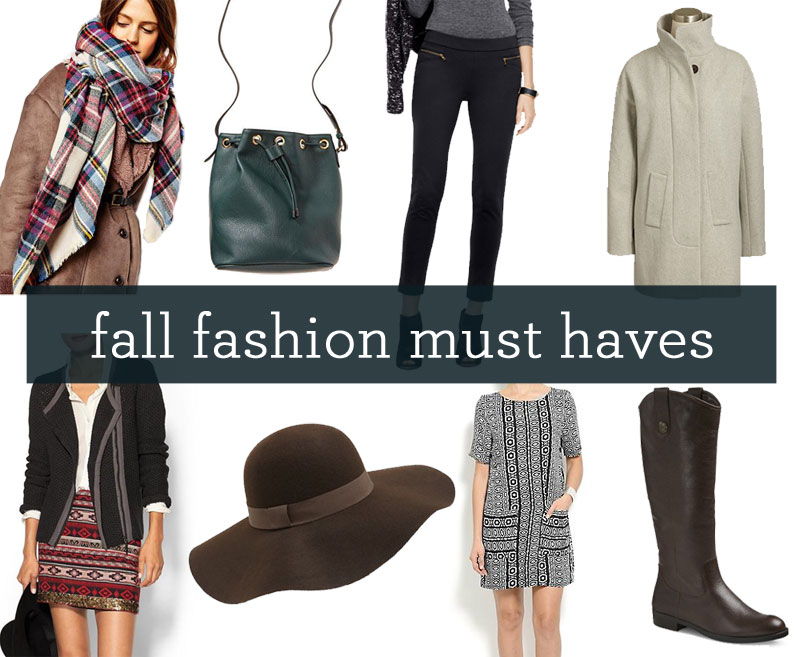 1 / I shared this on Twitter earlier this week, but this blanket scarf is definitely topping my list for next purchase. It looks so snuggly and warm, and I absolutely love the colors in this one. I feel like it would go with anything! (ASOS, $34 use code RMNOCT if you're spending $75+ for 10% off!)
2 / These Ponte Zip Leggings are so versatile! I absolutely love the zipper detail, and they can be dressed up or down. I'd love them with a cute blouse for work (I doubt anyone would know you were wearing leggings!) or my Everlane white tee on the weekends. (Ann Taylor, $79 Use code "RMN50" for 50% off pants to drop them to $39.50!)
3 / Love the new color that Old Navy is offering this bucket bag in! This emerald-green really says autumn to me, and I've heard nothing but good things about the quality of this bag! (Old Navy, $30 in Green, Black, or Cognac Use code TREAT to save 25% off through Saturday, 10/18!)
4 / The J. Crew City Coat has been on my must-have list for many seasons, but I've never found just the right color…. or just the right price. But right now it's a bargain at less than $150! I'm loving all colors offered, but the Heather Cloud seems like the perfect neutral. (J. Crew Factory, $136.50 in Navy, Green, or Heather Cloud)
5 / These riding boots are totally "inspired" by the Frye Melissa Button Boot… but are less than a quarter of the price! And they're even real leather. A great deal and pretty good reviews! (Target, on sale $64 in Black, Tan, or Brown)
6 / As the temperature drops, I love wearing hats to keep my head and ears warm. This floppy hat looks gorgeous, and much more expensive than it actually is. Win-win! Oh, and I may have to pick up a friend, like this fedora in burgundy. (Nordstrom, $28 in Gray or Brown)
7 / This shift dress is so cute… and it has POCKETS! Everyone knows the only thing better than a cute dress is a dress with pockets. Oh and it's on sale too! (Lucky Brand, $50)
8 / Finally, my office blasts the AC until mid-November (our building managers are awesome! not…) so I pretty much always have a knit sweater on me in case I freeze to death. The asymmetrical zip on this one is such a fun detail! (Piperlime, $89 Sign up for their email for 30% off!)
What are your fall fashion must haves?