Affiliate Links
If you've been reading for a while, you may have seen some pieces here and there from Golden Tote, or as part of my Budget recaps. It's been awhile, but I figured I'd treat myself to a tote this month for my birthday.
Well… let's just say it didn't go exactly as planned. You'll see why below, but first I'll take a step back and explain a little more about Golden Tote from an insider's perspective. (And I say insider as someone who actually purchases totes and doesn't receive a "blogger tote" for review.)
I started following Golden Tote over a year ago and bought my first tote last February. It was love at first checkout. Their house brand, Puella, is made in California and very much has that California-cool-vibe. Their pieces are also sold at Anthropologie, dresses going for about $70-80 and tops for $50-60. When you buy a tote from Golden Tote though, you get to pick two pieces that they've curated for that month's collection, and then 4-5 more are added to your tote by their "stylists" for $149. There's also a smaller tote for $49 that lets you choose one item and they pick one or two other things for you. The small tote has a much smaller selection of items, however. You then fill out a quick survey/style profile and can add comments about things you do or don't like.
Here's the thing though: Golden Tote isn't really customized. Not like Stitch Fix anyways. They basically have a pool of "surprise" items each month that they go and buy from smaller designers, then when your order is fulfilled, you are getting something from that pool. This used to work well for me, as I tend to gravitate towards boho and flowy pieces that they used to almost exclusively stock. Now? Well, it seems like Golden Tote and I may have parted ways in the style department.
Besides the unique way of shopping, Golden Tote also has a Facebook group that they encourage tote purchasers to join. You can then buy, sell, or trade items in the group with others, at your own risk, of course. This has proven valuable to me to get pieces a la carte since I haven't bought totes for a while and only want a single piece. The other bonus? Tons of women who have a shopping/fashion obsession. We've had two meet-ups in my area and there are even off topic groups to participate in too.
Now that I've prepped you with some details about how it all works, onto the Golden Tote review!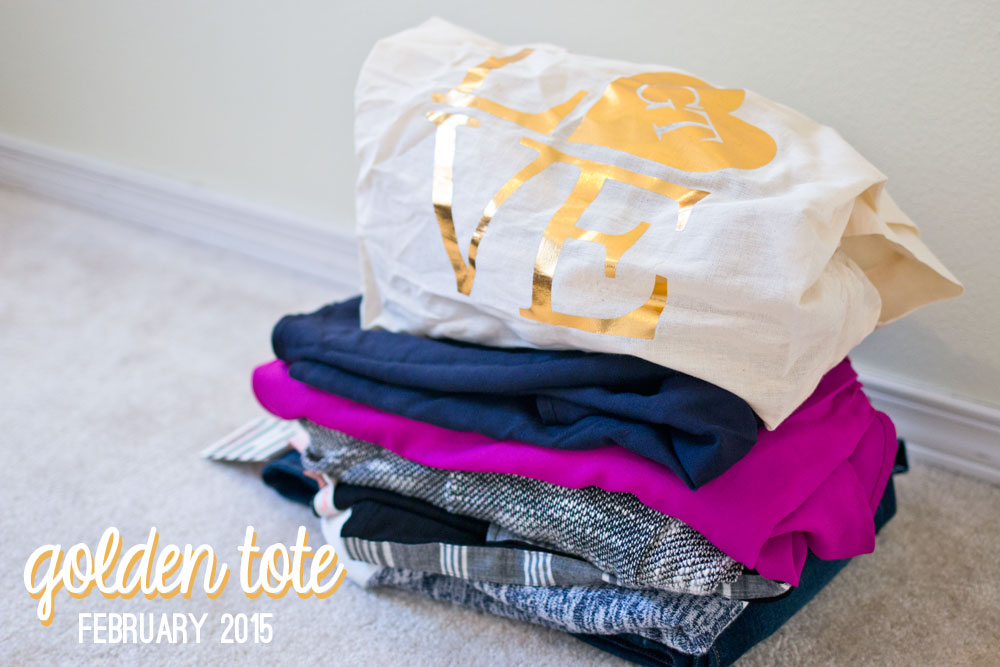 Golden Tote February 2015 Review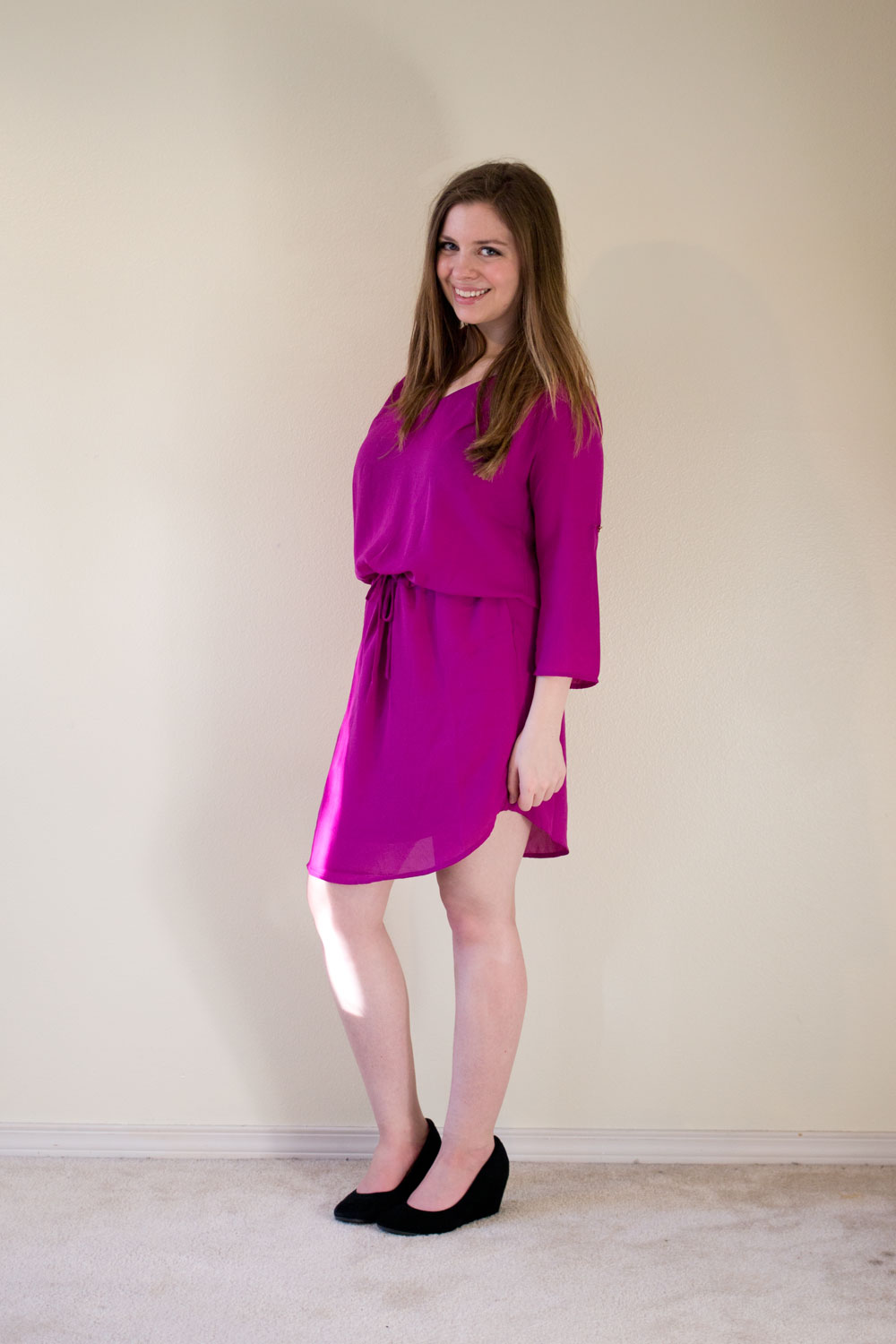 Renee C Drawstring Drop Waist Dress in Fuchsia (Value $45) – Let's be real, this dress looks like a hot pink potato sack on me. I clearly have always had "no drop waisted tops or dresses" in my profile, and yet I still got one. I can't imagine ever wearing this.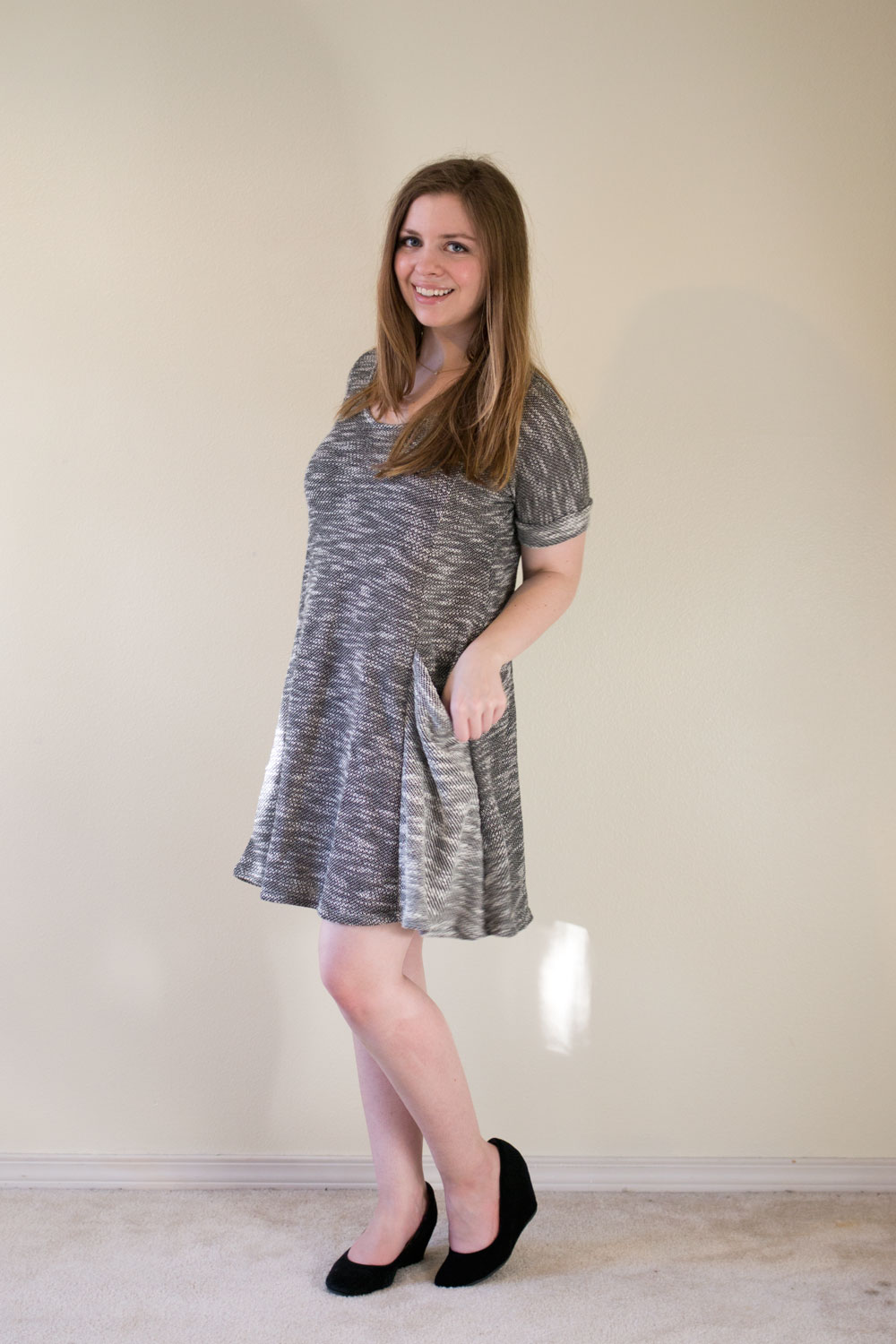 Puella Pocket Short Sleeve Swing Dress in Black, $78 – This is comfortable and I love the pockets, but the cut has way too much extra material for a size small and really isn't working for me.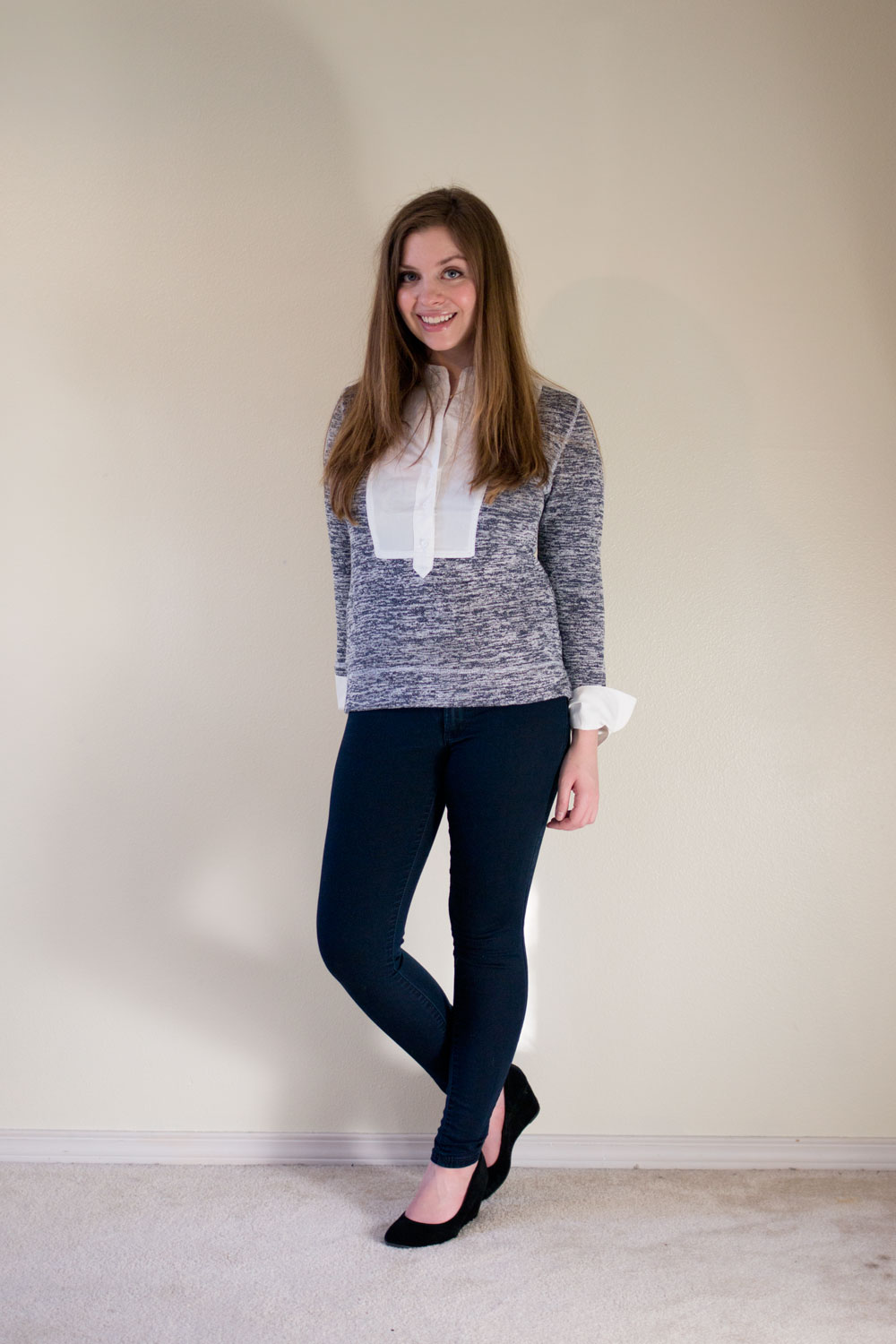 Grifflin Paris Yoke Top in Blue (value $35) – This is just so not my style at all. I call this the "Pilgrim" top. It's too tight on my bust to button up any more than this and it's terribly unflattering in my midsection.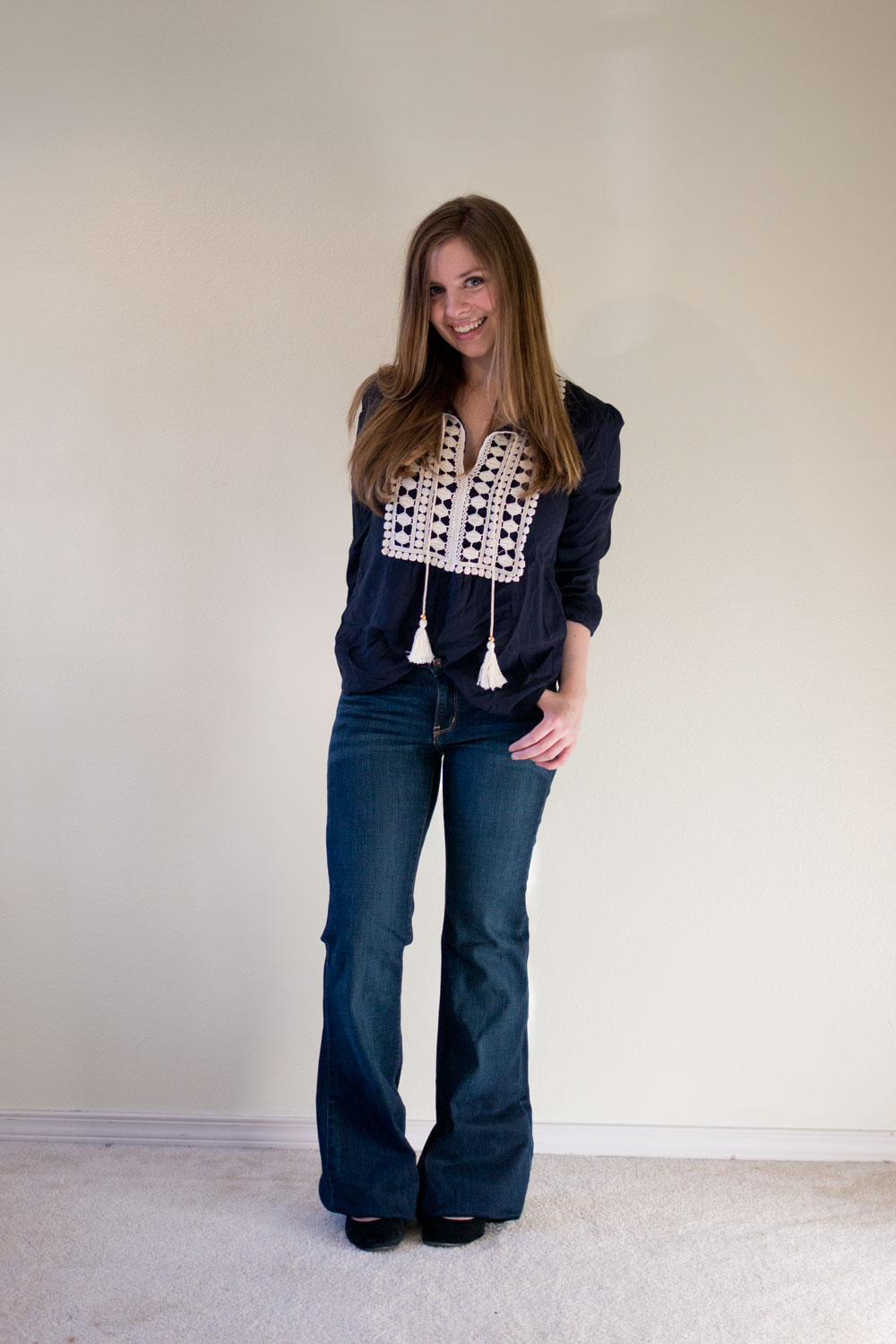 Skies are Blue Embroidered Crochet Top with Tassels in Navy (value $40) – I loved this out of the box and love it on too. It's just a touch tight in the bust, but it's not terrible, and this is probably the only thing out of the entire tote that I'm sad about sending back.
Just Black Wide Leg Jeans, $70 (above) – I loved the concept of these, but the inseam is just insanely long. I would have to get them hemmed about 6 inches (I folded them under for the photos) plus the knees are too baggy since they're made for someone who is built quite different from me. If only I were 6 inches taller… :P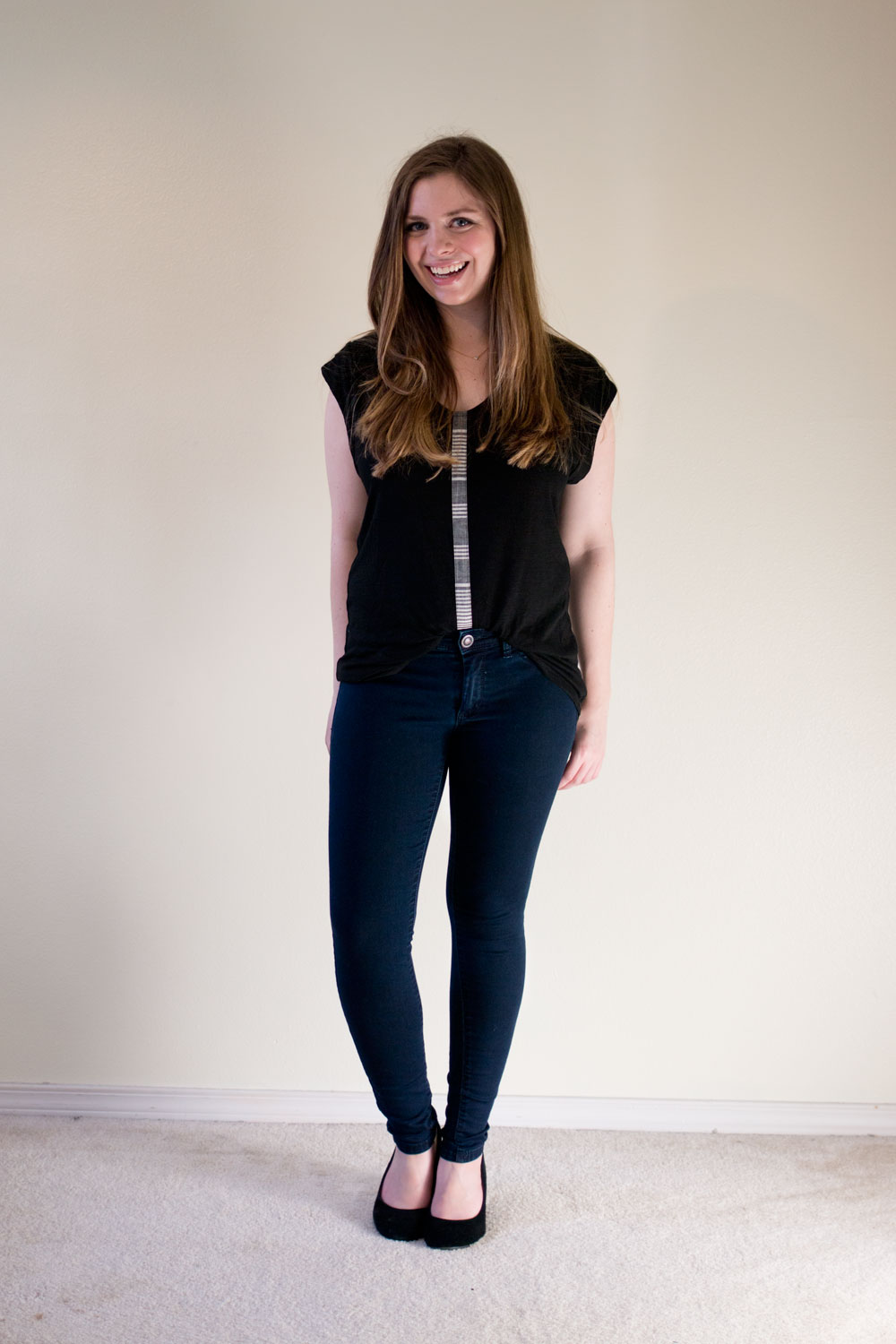 Le Sample Cap Sleeve Top in Black (value $30) – This is cute, but it's also not quite a short sleeve, so it has that awkward gaping thing going on from the side in the armpit area. I just don't bother with tops like this anymore because  that means they always require a sweater or jacket over them.
All in all, a bummer tote that will be returned. Unfortunately Golden Tote is an all or nothing deal, so even if I wanted I couldn't keep the Skies are Blue blouse… and it's definitely not worth $149. :P
If you loved my tote and/or want to still give Golden Tote a try, you can use my referral link to sign up. (And thank you in advance!)
Have you ever purchased from Golden Tote? What do you think about the items that were picked for me?