Product Sample: A complimentary travel pet bag was provided to me in exchange for being included in this post. All opinions are my own, of course!
We were really fortunate to have been able to have gone on one of my dream vacations this summer, which really only sparked even more thoughts of new dream vacations. We have a lot of thoughts and ideas (Dave says Spain, I say Ireland, but we both agree we'd like to go to Greece too. Oh and back to London. And the English countryside. And maybe Italy. Oh nevermind…)
The only problem? That's expensive. And we have a dog to worry about.
Luckily, we have a fantastic support system of dog lovers (my mom is Rigby's #1 pick for pet sitter) but sometimes even she isn't available. I came to this realization a few days ago that we were both invited to a wedding out of state, requiring me to figure out new travel plans for the little man. Because Rigby is Shiba through and through, I can't just drop him off and hope for the best.
He requires a lot of planning, and one of the things I always plan at least a day in advance, if not more, is what to pack for him. I've come up with an extensive list that I thought I'd share just in case you have any vacations coming up where your pup will be enjoying a "vacation" of his/her own too.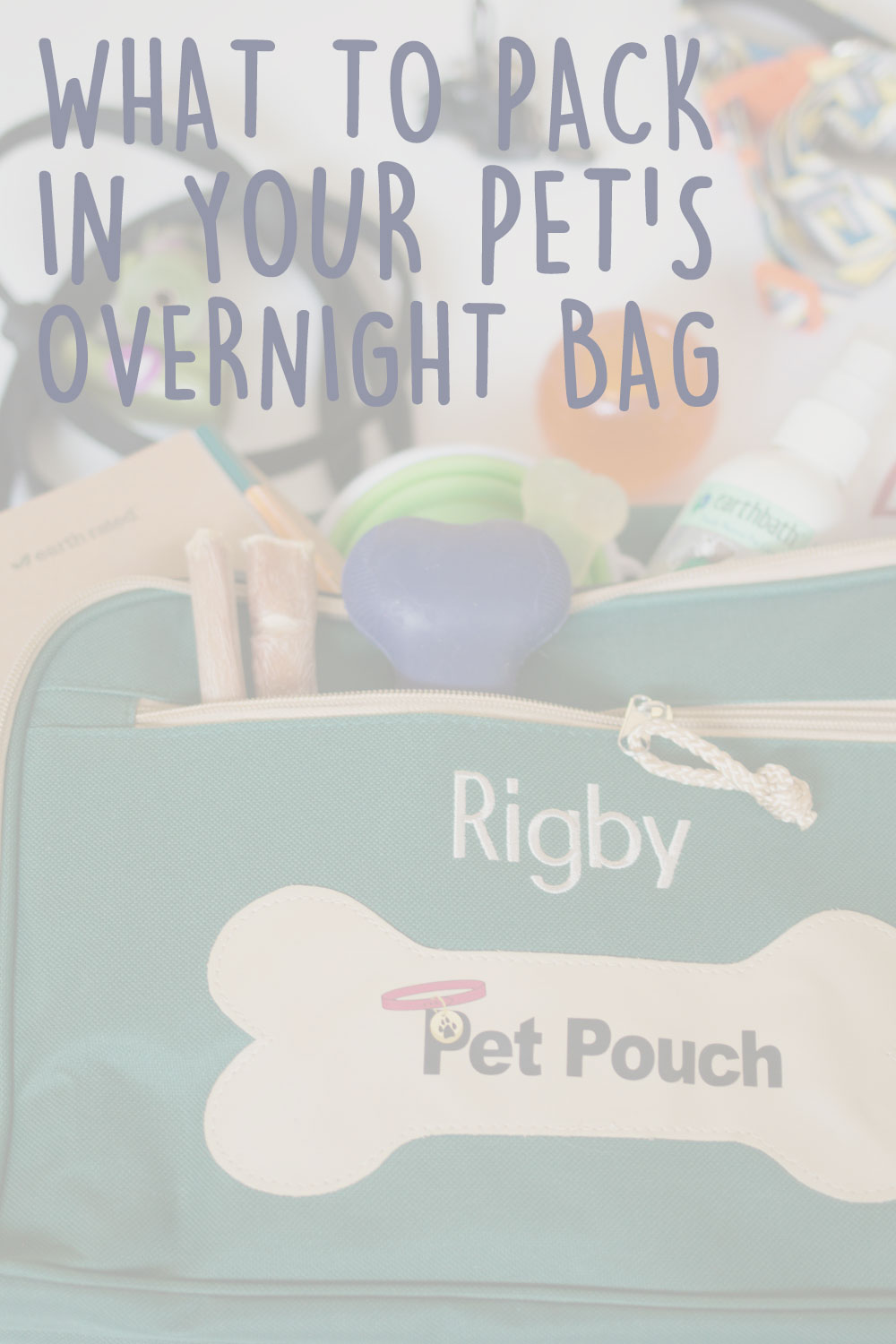 What to Pack in Your Dog's Overnight Bag & a Travel Checklist
Poop Bags: Gross, but true. Dogs have waste just like we do, and I always send him with scented poop bags (the ones pictured are lavender scented from Earth Rated!) so that the picker upper is less grossed out by the duty.
Favorite Toys: I can't take Rigby's entire toy box, but I always am sure to pack him a variety of toys (balls, chews, tugs) to keep him entertained.
Favorite Treats & Chews: Just like his favorite toys, Rigby requires many treats and chews to keep him busy and out of trouble. I usually pack a brand new bag of treats and a few bully sticks.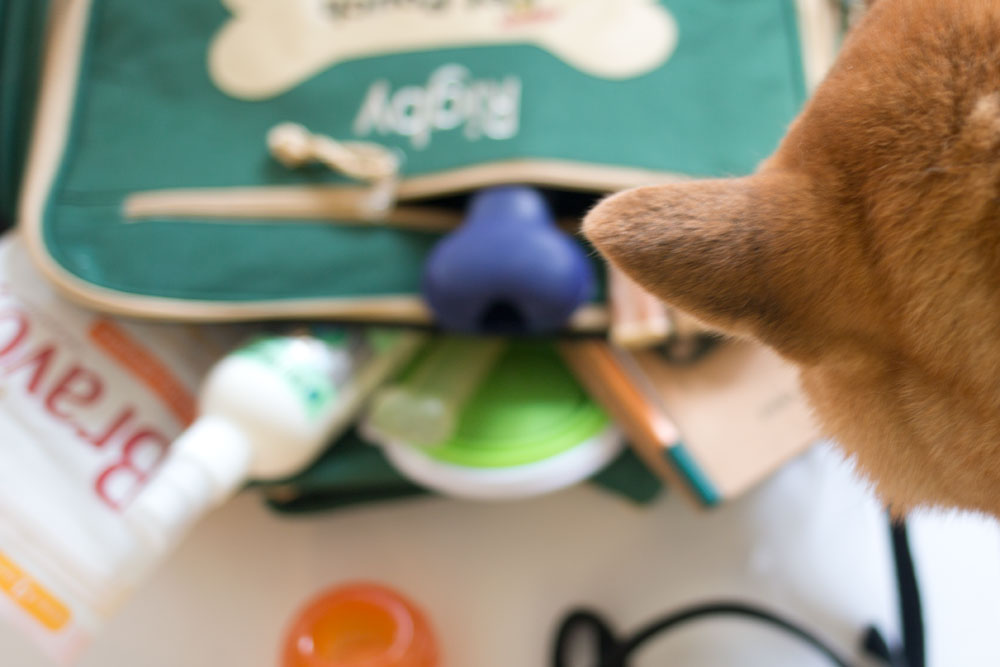 Whistle: Rigby was whistle recall trained as a puppy and he without fail, to me anyway, will come back when he hears it. This is something we ensure his sitter has and knows about.
Notebook with Emergency Numbers: This is probably the most complicated item, but once you have done it once, you can reuse the notebook for each new pet sitter. I always include:
– Vet name, address, and phone number
– Closest Emergency Vet name, address, and phone number
– If your pet has a microchip, be sure to include the 800 number associated with the company (our is Home Again) in case they go missing while you are gone
– Poison Control: ASPCA 1-888-426-4435 (they charge $65 consultation fee), or Home Again 1-888-466-3242, x2 (If you do not have an annual membership the call is $60)
– The location that you are staying and a contact number there with hotel room number or address if you know it already
Long Line, Extra Collar, Extra Leash: If you have an escape artist or the potential of one, I highly recommend purchasing a long line. These are 20-30′ leashes that are great for backyards and parks where your dog could technically be off leash, but may not be trustworthy enough for that. Extra collars and leashes are good to have as a back up in case something happens to the one you normally use (breaks, is lost, etc.)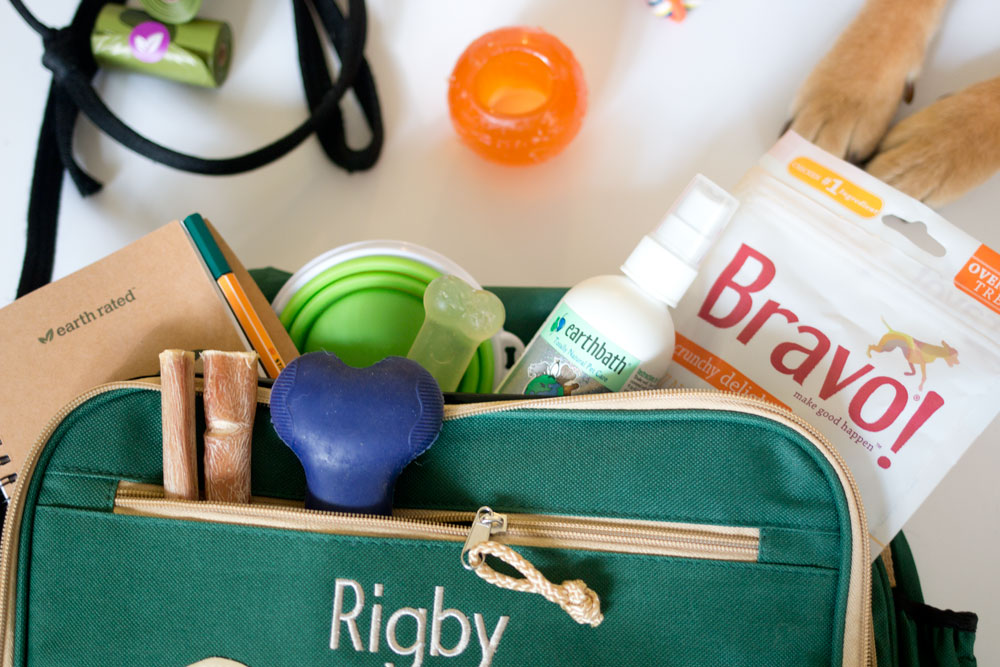 Hot Spot Relief or other first aid product: Rigby is an obsessive licker if he gets injured, so I always try to pack a first aid item (liquid bandage, hot spot relief) in case of a minor scrape or spot.
Food & Travel Bowl: If you're not sure of the pet feeding situation at your pet's destination, a packable travel bowl can come in handy. I always try to pack the simplest food for someone else to prepare, which is one of the major reasons I love Bravo's freeze dried raw.
Medications or Supplements: We don't have any of these, but if your dog is currently on medication or supplements be sure to pack those with instructions!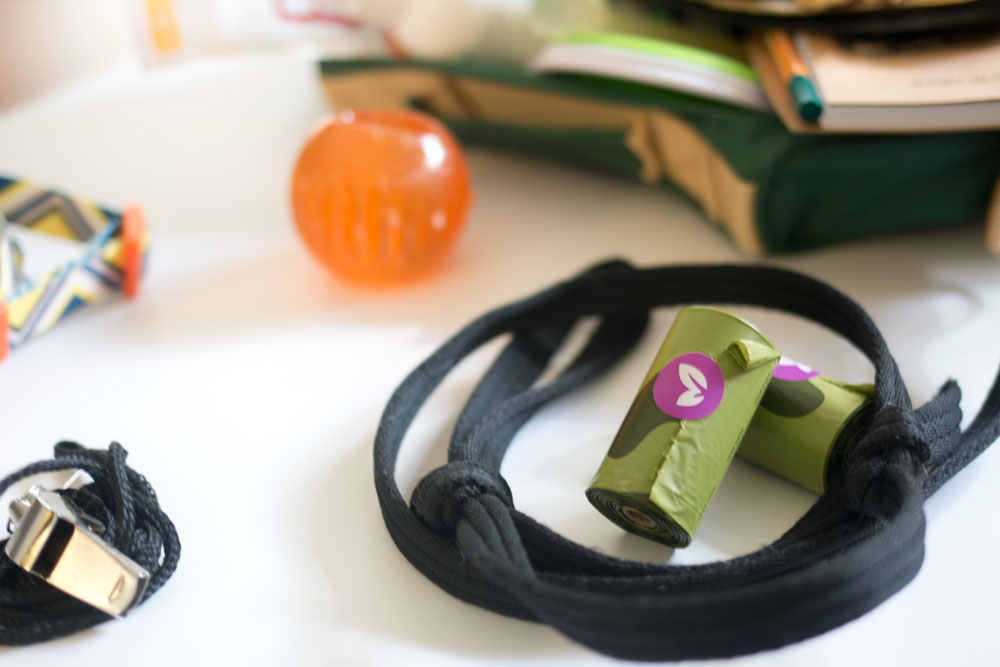 Bed, Crate, or Blanket: If your dog has a safe bed, crate, or blanket that they always sleep with, be sure to pack this. A crate may not be the most convenient thing to pack ever, but if it's your dog's safe zone, it's important that they have it where they're staying too.
I pop all of that into my bag from Personal Creations (personalized with Rigby's name… how cute is that?!), zip it up, and Rigby's all set for his new digs while we're off traveling. It never ceases to make me nervous to leave him (even when he's staying with my mom) but I would hate to miss out on travel opportunities while I'm young. ;)
What do you pack for your dog when you're away? Where is your next travel destination, or your dream destination? I'd love to hear about it!