Affiliate Links: If you click a link below, I may receive small commission. 
I'm doing things a little differently this month. Instead of sharing an entire post about my budget, I thought I'd try out something new by combining a few of my "month's end" posts into one. Let me know what you think of this new format, it's been something I've been thinking about doing for a while.
What I've Bought
Old Navy: I picked up a couple of basics (Classic Chambray Shirts in Light and Medium, White Dolman Sleeve Tee) plus this Floral Romper, which I'm loving!
Nordstrom: I used a Nordstrom note towards the Blank NYC Moto Jacket, making it a crazy steal during the #NSale!
Ulta: So I got a 20% off everything Ulta coupon… so this happened: Anastasia Beverly Hills Shadow Couture World Traveler Palette, Urban Decay Naked3 Palette, Too Faced Beauty Expert Darlings Kit, & Too Faced Melted in Fig. Oops!
Macy*s: I've wanted to try a pair of combat boots, and these Rampage Jeliana Lace Up Combat Boots were the right price at less than $40. (Plus I had a Macy*s gift card from 2 Christmases ago!)
DailyLook: I received the Sinatra Fringe Bucket Bag in my final DailyLook Elite Box, and I'm so glad I kept it. I also grabbed the Classic Vegan Leather Saddlebag with a $15 coupon code making it cheap even if I did have to pay shipping!
Golden Tote: See what I got in this month's Tote.
To offset some of my purchases, I sent another bag to ThredUp, received my cash back "paycheck" from eBates, sold some clothes in the Golden Tote Trading Group, and returned a couple of last month's purchases to Nordstrom (the poncho and the vest from last month that I just wasn't in love with, and a pair of jeans that I got at the end of spring that I didn't ever wear.)
What I've Read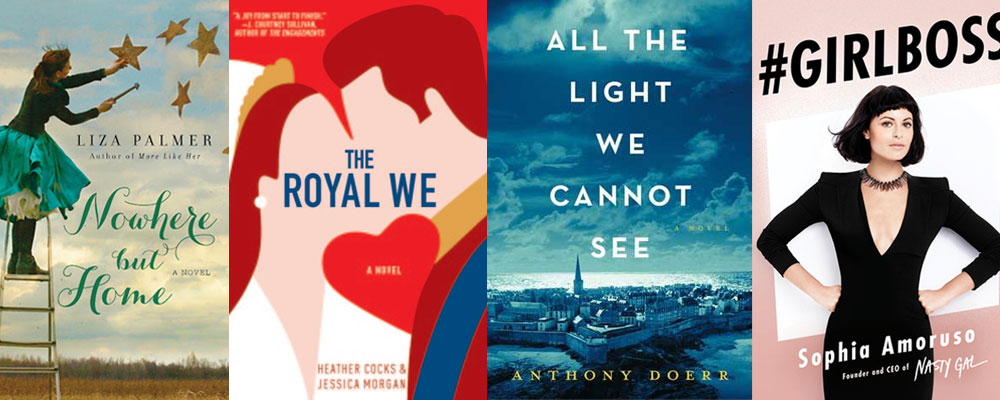 I missed sharing my reading updates last month, so my apologies that this one is on the long side. I tried to categorize them so you can easily pick out my top picks.
My Favorites (4 or 5 stars)
The Royal We by Heather Cocks & Jessica Morgan (From Go Fug Yourself): Fan of all things royal? You'd love this. It's essentially Kate Middleton Fan Fiction, as the storylines appear to be eerily similar without being precise.
What I Was Doing While You Were Breeding by Kristin Newman: Pretty amusing, this would be great for fans of Chelsea Handler.
Nowhere but Home by Aliza Palmer: Loved this! Not my usual pick in terms of geographic location or overall storyline but I enjoyed this and would recommend it.
Walk Two Moons by Sharon Creech: A throwback to my childhood from the Modern Mrs. Darcy 2015 challenge, and I loved rereading it.
Dewey: The Small-Town Library Cat Who Touched the World by Vicki Myron: And I thought I was a crazy dog,lady! Myron puts me to shame, but this was a sweet book. Who doesn't love a good book about a pet?!
All the Light We Cannot See by Anthony Doerr: I may have been expecting this to blow my mind based on all the praise, but this book is beautifully written, and the story is one I want to read again.
Small Steps: The Year I Got Polio by Peg Kehret: Another childhood re-read, and one of my Mom's favorites for the Modern Mrs. Darcy 2015 challenge. Recommend this if you haven't read it before!
#GIRLBOSS by Sophia Amoruso: If you love a good rags to riches story, you'll enjoy this. It's also got a nice girl-power vibe.
Mockingjay by Suzanne Collins:  Yay, I finally finished The Hunger Games! I enjoyed these books, but Harry Potter will forever be my favorite teen/YA series.
The Goods-but-not-greats (3-stars)
Euphoria by Lily King: I probably shouldn't pick books around anthropological themes, as this was my absolute least favorite subject in college. If you're into that sort of thing, you'd probably love this.
I Was Here by Gayle Forman: I had a hard time deciding on the rating for this. I enjoyed it. However, I think the story could have been more emotional. It didn't feel very deep.
When to Rob a Bank by Steven Levitt & Stephen Dubner: As much as I love the Freakonomics books, this one seemed the most repetitive. (e.g. Have we heard this story already? …I thought we had.) It seemed the weakest since almost all content came from a blog or podcast. (Luckily we don't read or subscribe to either.)
Breakable by Aimee Salter: While I liked the overall message (anti-bullying, empowerment, and mental wellness), I felt like this book dragged on longer than necessary and was very repetitive.
Trigger Warning by Neil Gaiman: I'm finding that I may just not be a big fan of Gaiman's writing style…
Model Misfit by Holly Smale: I'm in between a three and a four on this. I liked that Smale put a spin on a stereotype – taking an aspiring model teen and making her somewhat awkward and geeky.
The Girl on the Train by Paula Hawkins: Disappointing. I felt like I saw it coming from the beginning…
Princess in Love and Princess in the Spotlight by Meg Cabot: Pretty self-explanatory, easy, quick and enjoyable reads. (And yes, I know I'm too old for these. Whatever.)
Paris was the Place by Susan Conley: Good, but not great. I don't think I would have enjoyed this as much if we hadn't just visited the city.
Insurgent by Veronica Roth: I think I may be alone in my not-enthusiastically-in-love with the Divergent series.
The Ship of Brides by Jojo Moyes: Enjoyable, but not my favorite from Moyes.
The I-Don't-Recommends (1 or 2 stars)
Nothing this month! Yay.
2015 Reading Updates:
Total Books Read for the Modern Mrs. Darcy 2015 Reading Challenge: 6 / 12
Total Books Read for the Semi-Charmed Summer Challenge: 11 / 12 (didn't finish… dang it!)
Total Books Read for the Literary Ladies Book Challenge: 6 / 10
Total Books this month (and last): 20
Total Books read this year: 88 / 150
What I've Used Up
Apparently I was a little Negative Nancy about some of the stuff I've used up. I did have some amazing products I finished out, and some new things I tried that were not so pleasing.
What I Didn't Like
Fashion
Old Navy: I had a lot of misses at Old Navy. I usually shop there at the change of the season to get some good basics, but this peter pan collar shirt was probably the biggest bummer. It looked like it was made for a child (and fit that way too.) Not cute.
Beauty
Covergirl: The hyped up LashBlast Super Sizer Mascara and Intensify Me Liner were both duds for me. I used both 2x and gave up. The mascara is too wet and ended up all over my lids, while the applicator tip of the eyeliner is "innovative" but harder to use than the standard felt tip of most pen liners. Plus, it took multiple coats, and it still wasn't opaque.
Books
Nothing this month!
What were your favorites, or least favorites, for the month? Pick up any good books lately? I'd love to hear about it!