Affiliate Links: If you click a link below, I may receive small credit. I pay for these subscriptions.
So I feel like a broken record. I have a beauty subscription problem. It only got worse in July when I was on vacation and forgot to put my Julep Maven Box on hold (as well as a few of those other recurring services like Just Fab and Fabletics. Oops.)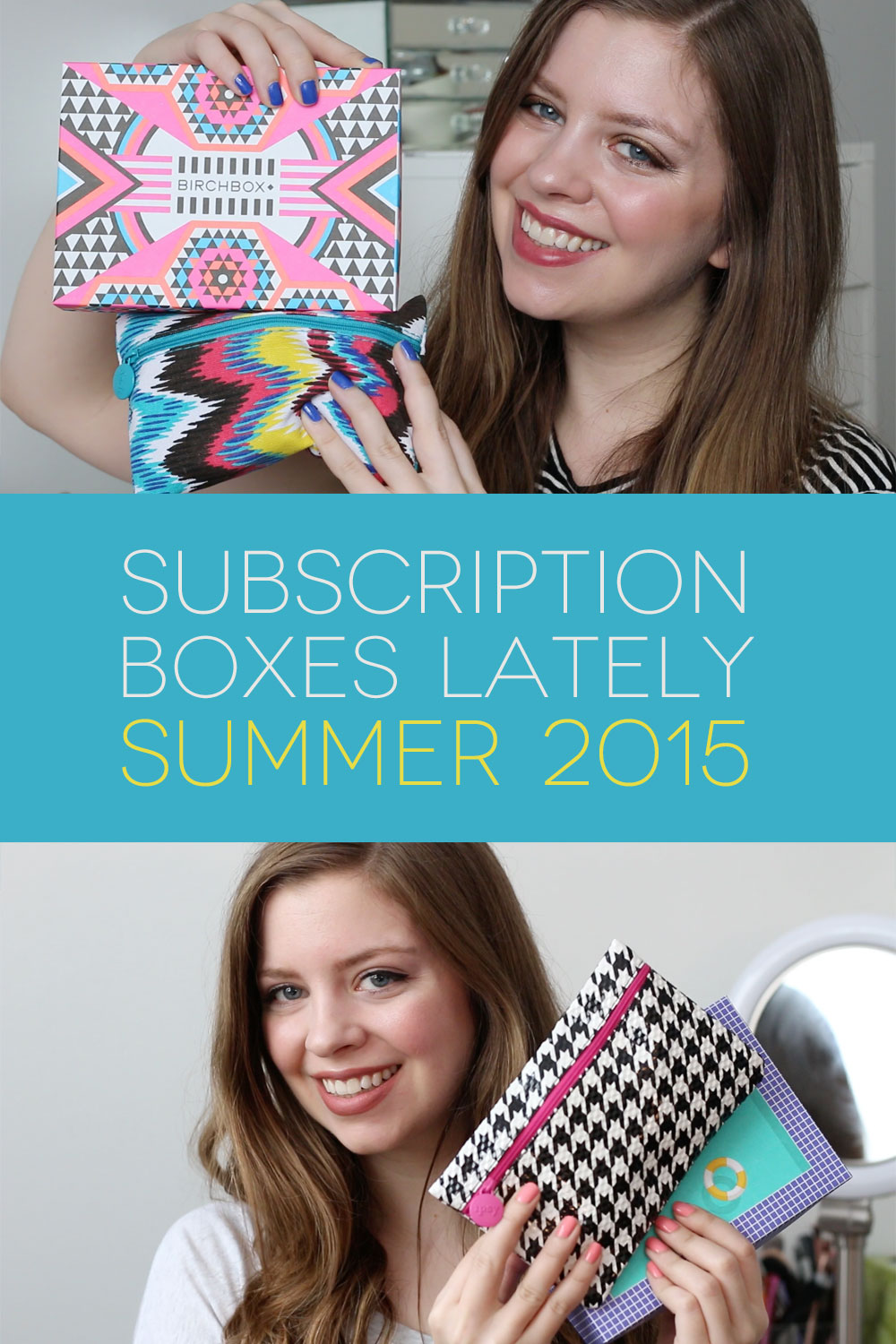 I event went so far as to try out a few new ones this summer: The Zoe Report Box of Style (so not technically beauty, but has beauty products in it) and the Jouer Le Matchbox. These are both quarterly subscriptions, but are much more splurgey than the $10-a-month Ipsy or Birchbox. While I could have posted about each of these individually and taken photos and video, my summer just disappeared and I realized I was running out of time before the next quarterly boxes ship. So… if you're not a fan of videos, no worries, I will write out my overall thoughts about each month below the video. ;)
Walmart & Target Beauty Boxes
I had been seeing reviews for the Walmart Beauty Box floating around YouTube for awhile, so I finally pulled the trigger back in May. I basically received the Spring box and the Summer box in nearly the same month, so I skipped reviewing the spring in favor of summer. Walmart sends you a box of samples for $5 shipping. The samples are random and it seems everyone gets a slightly different box. There are too many to list, but some of my favorites were the Healthy Mascara from Neutrogena, the Aveeno sunscreen, and the Nivea hand cream.
I also had seen a lot of these Target Beauty Boxes and finally grabbed a couple that appealed to me. I picked up the Honor Roll box and the Summer box. Both had a couple of products that I had been wanting to try (Covergirl Outlast Primer, Burt's Bees Cleansing Cloths, Herbal Essence Dry Oil, and the Wet N Wild Mascara) so I grabbed both. These boxes are released at random (typically at the beginning of the month) and are $5 each.
Birchbox vs. Ipsy July (& Bonus Julep Maven Box)
Next up is probably my all-time favorite between the two (because I prefer receiving higher end products) but Ipsy has been redeeming themselves the past few months. I ended up loving two of the items in my Ipsy bag: the Read My Lips Lipstick and the City Color HD Setting Powder. The rest? Eh, not really too impressed. The lip balm especially was a fail as it's not spreadable at all.
In my Birchbox, I received a repeat from the spring Le Matchbox, the Jouer Daily Repair Oil. I love this product, and will save the small size for travel. The Oribe Beach Wave & Shine Spray was great and smells really good… however the full size is $39 and that's too much of a splurge for me. The Stila Liquid Lipstick is super, super bright, like neon pink. It's definitely not an everyday shade, but I do think the formula is promising. I know it hasn't worked for everyone (I saw Sarah mention on Snapchat that it ended up making a huge mess on her face) so be warned: you may not like it either. For me, it dries in about 30 seconds to 1 minute and then stays in place while eating and drinking. I still need to test out the  Juice Beauty Green Apple Sensitive Peel and the Coola Sunscreen, but overall I ended up liking my Birchbox more than my Ipsy bag.
Finally, I received my typical Julep Maven Box in Boho Glam (since I missed the pick or skip window, I didn't customize it at all or even know what I was getting!) I loveee the Poppy polish (it is a Jelly polish, so it's sheer), the cuticle cream is very thick and hydrating. I've used the Brightening Base Coat a few times and my nails do appear to be less yellow from older polish, so I believe it works well too.
Jouer Le Matchbox & The Zoe Report Box of Style
So I decided to sign up for The Zoe Report Box of Style after seeing the first box. For $100 quarterly, Rachel Zoe curates a box inspired by the season and what is currently trending. For example, this summer box included Too Faced La Creme Lipstick in Spice Spice Baby, which is a pretty neutral and also made it into my Neutral Makeup Favorites video! To get the summer glow, she also picked the Too Faced Sun Bunny Bronzer. But my favorite item? It was definitely the Cambridge Satchel Company Crossbody bag, which alone more than paid for the box. (Retail value $150!)
I signed up for Jouer Le Matchbox after a friend recommended it to me after hearing me complain about how much I wasn't into Ipsy. At that time, I thought I was going to cancel Ipsy and instead just get this box. Of course, the next month I loved my Ipsy bag, so didn't end up canceling. I've been really pleased with the Le Matchbox so far – the bronzer we received in the summer box is super pretty and perfect for my fair complexion, and I was so happy to receive the SPF tinted lip sheer. I've used the cream eyeshadow on days when I don't have time to do a full eye look.
Ipsy vs. Birchbox August (with first impression reviews!)
Alright, down to the last two! We're making progress. My August Ipsy and Birchbox were definitely not my favorite months ever, but Birchbox did indulge some of my wishlist items- the Coola Makeup Setting Spray and the R + Co. Dry Shampoo. Honestly, I didn't end up loving either, but they saved me from spending over $30 on each product to try out, so that more than pays for the box.
Ipsy this month sent me two lip products I ended up loving – a lipstick from Noyah in Desert Rose and a lip liner from Lord & Berry in Nude. I'm wearing both in this video and I think it's a really pretty pair. I loved the concept of the Doll 10 cream blush, but didn't find it to last very long on me. I still need to play with it more to make a final decision, however.
Giveaway
Update: So sorry, I forgot to embed the giveaway! If you want a chance to win a makeup bag filled with some extra samples/deluxe samples and other goodies, leave a comment telling me your favorite subscription box or service, or your favorite beauty products lately! If you already commented, you're entered! :) Ends 09/07 at 11:59pm PST.
And the winner is… Kim C. Congrats! Kim will have 48 hours to respond to an email before an alternate is chosen. ;)
Whew! If you watched and/or read all of that, thank you so much, and hope it helped someone make a decision on what subscription might be (or not be) right for them. Are you subscribed to any of these boxes? What box or bag is your favorite?