If you can believe it, I barely read anything in the month of June. I'm not quite sure what happened… but I guess I wasn't in the reading mood. Regardless, the books that I did choose to read were good ones, and I've already kicked it up a notch for July so that I don't fail my reading challenge this year. Whoops!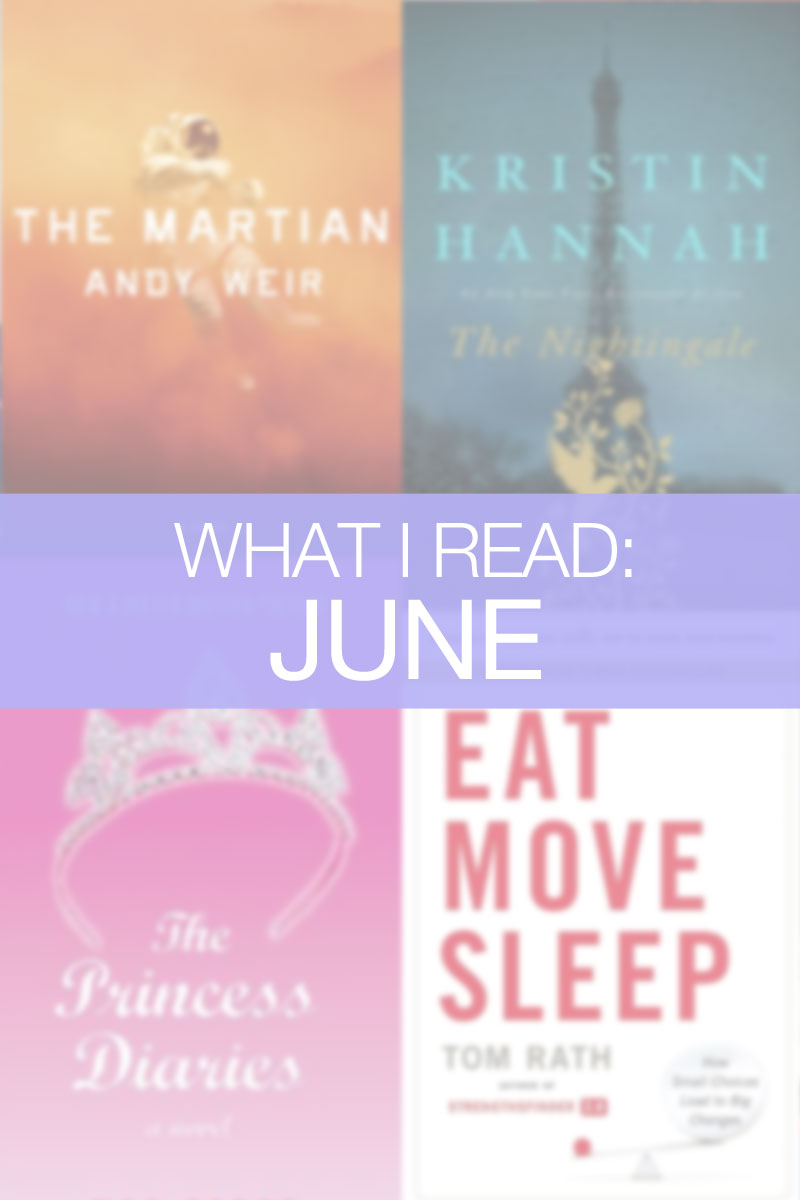 What I Read in June
The Martian by Andy Weir – ★★★★ – It seems like everyone, and their mom had already read this, so obviously I had too as well. While this was a Sci-Fi book (which normally I have zero interest in), it was entertaining and engaging. This is also being made into a movie, and I'll have to see it!
Eat Move Sleep by Tom Rath – ★★★★ – The author has a genetic condition that causes his body to create tumors (malignant and non-malignant) at whim. With a healthy diet and lifestyle, Rath has been able to keep his condition from completely invading his body. He believes eating well, moving more, and getting enough sleep has kept him healthy. Rath dives into some of his lifestyle changes and makes suggestions on how everyone can make them too. To me, this was mostly inspiring, but also a bit repetitive and did feel like it could have been a bit more concise.
Advance Reader Copy provided by Netgalley
The Princess Diaries by Meg Cabot – ★★★★ – This was a reread, because honestly who hasn't read at least one of the Princess Diaries books?! I saw that Cabot had released a new book in the series so I may or may not have decided to re-read it… ;)
The Nightingale by Kristin Hannah – ★★★★ – I'd been hearing so many good things about Kristin Hannah's latest book, so I had to read it. Turns out it was a timely choice since the book took place in France and it was fun to hear a little French language infusion. (As I was learning it at the same time!) Overall, I would recommend this to anyone who is a fan of historical fiction, especially World War II era.
Summer Reads Book Swap
This month also marked the Summer Read Book Swap organized by Chelsie and Ashley at American Honey. I was paired up with Shannon, who writes over at Shanndelier. (See what I sent her here!) She's a fellow Shiba dog mom and avid reader, so considering we had those two things in common, I knew this would be a great swap. And I was right! It was fun stalking Shannon's blog to find out a little bit more about her so I could send her books and an activity that I thought she might enjoy. Plus the bonus with any blogger swaps is getting to know them on a deeper level and forming a friendship. Books and friendship? Win-win!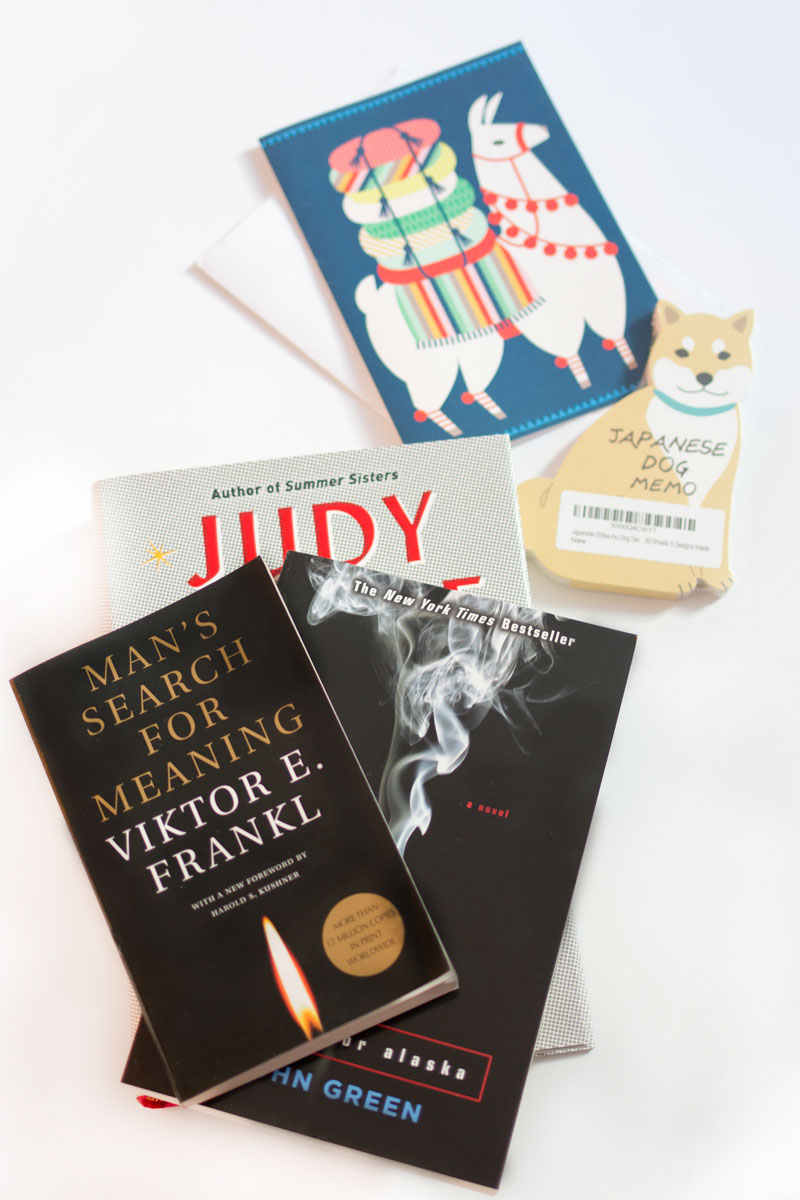 As for the goods? She sent me Looking for Alaska by John Green, Man's Search for Meaning by Viktor E. Frankl, and In the Unlikely Event by Judy Blume. She also included a Shiba Inu Dog Memo pad (so cute!) and a card explaining her choices. I can't wait to dive into these books – I've been wanting to read Looking for Alaska forever, and I'm so excited to try Judy Blume's latest novel! I hadn't heard of Man's Search for Meaning, but I'm sure it'll be a great read too.
Literary Ladies Book Challenge
…And finally, I'm joining another book challenge! I'm mostly hoping this will help get me back on the reading track and cracking some book spines open. ;) If you're interested in joining in too, get all the details from Kristen at See You In a Porridge here.
A YA book: Looking for Alaska by John Green
Non-US Author: The Ship of Brides by Jojo Moyes
A book that was recommended by a blogger: Girl on the Train by Paula Hawkins (recommended by basically everyone!)
A book that has been on your TBR list for a year or more: All the Light We Cannot See by Anthony Doerr
A book with a kickass female character: Mockingjay by Suzanne Collins
A book that is or will be a movie (or TV show): Insurgent by Veronica Roth
A book written by a comedian or celebrity: Chelsea Chelsea Bang Bang by Chelsea Handler
A book with a one-word title: #GIRLBOSS by Sophia Amoruso  
A suspenseful book – a mystery, a thriller, a book about revenge: In the Woods by Tana French
A book about Summer, with Summer in the title, or in any way related to Summer: Summer of Joy by Ann H. Gabbhart
My Reading Challenge Updates
Total Books this month: 4
Total Books read this year: 66 / 150
Total Books Read for the Modern Mrs. Darcy Challenge: 6 / 12
Total Books Read for the Semi-Charmed Summer Challenge: 3 / 12
Total Books Read for the Literary Ladies Book Challenge: 0 / 12
Linking up with Modern Mrs. Darcy
What have you been reading lately? I'd love to hear what books you've loved lately!