Affiliate Links: If you click a link below, I may receive small credit. I pay for this subscription.
So, I wasn't planning on purchasing a tote from Golden Tote this month, but I did. I know, for shame. I was planning on being so good this month, but like always, clothes happened. Oops.
Anyways, if you're new to Golden Tote, it's a non-subscription mystery clothing grab bag. You pick 2 items for $149 and receive 4-5 bonus "surprise" items, or pick 1 item for $49 and receive 1-2 bonus "surprise" items. Each tote is curated by a stylist based on a style profile. Don't like everything you receive? While you can't return individual items, you can trade or sell them on the special trading group on Facebook. Don't like anything? Send it all back for a refund.
So, what did I pick and receive in this month's tote? Let's check it out!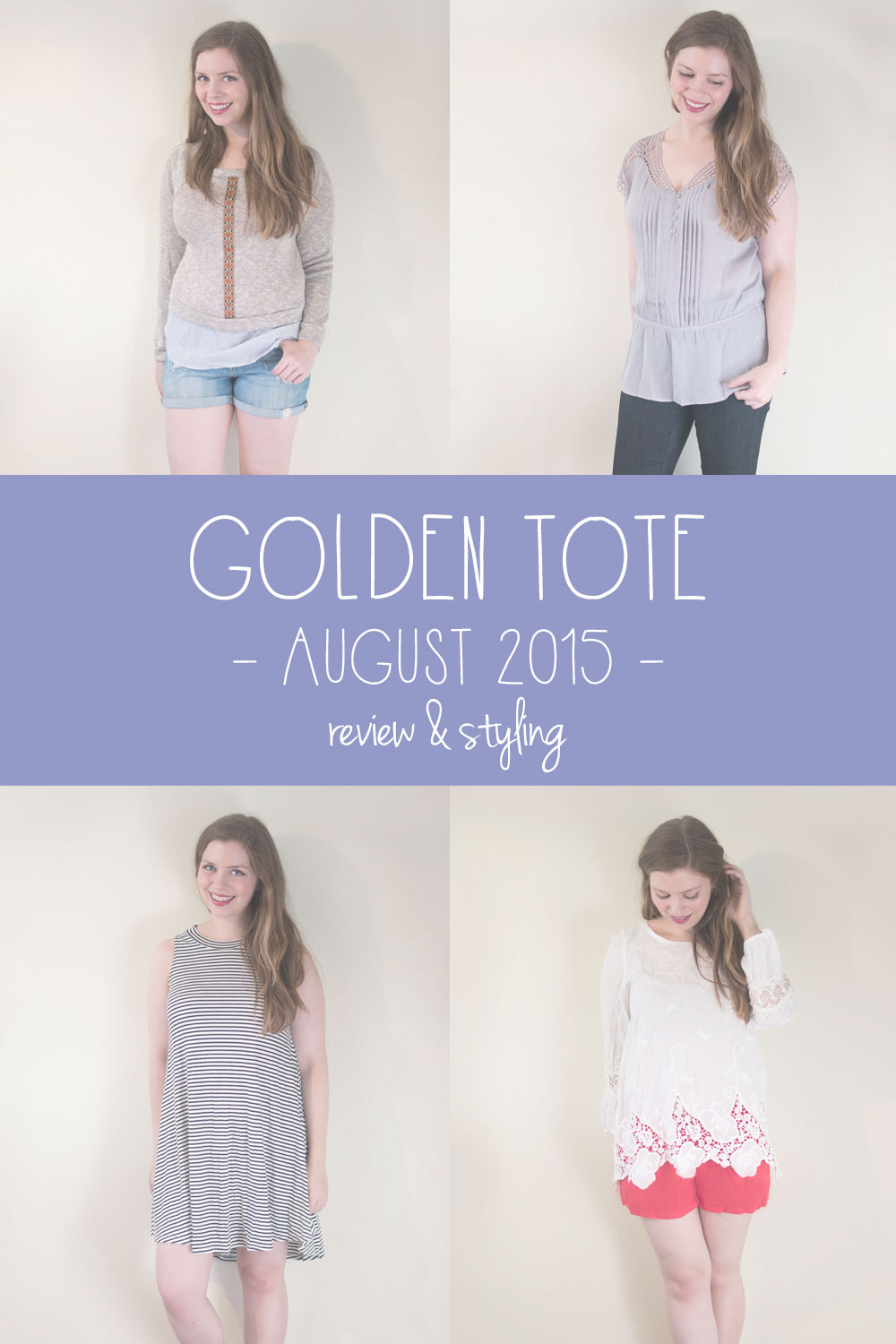 Golden Tote August 2015 Review & Styling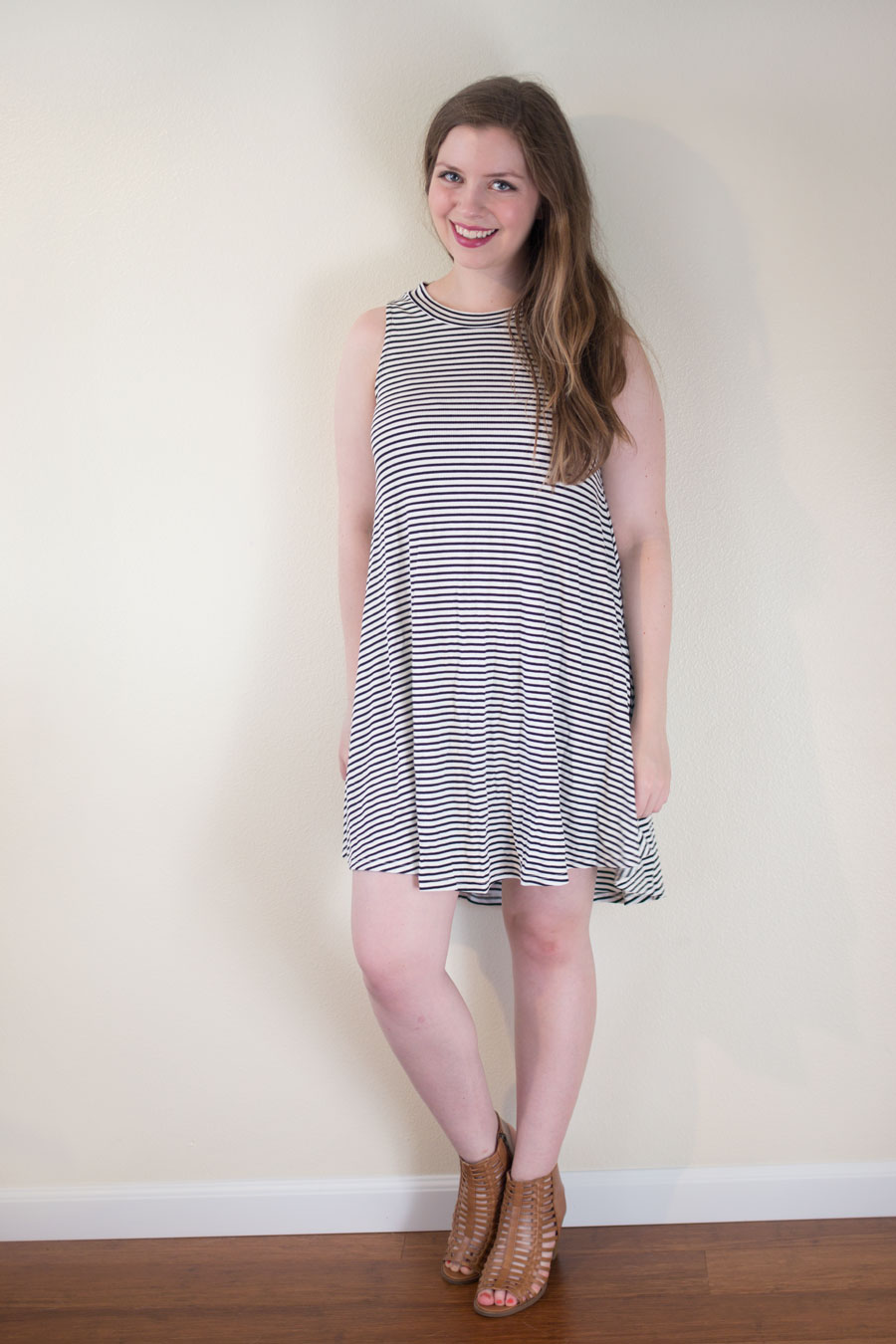 Puella High-Low Trapeze Dress in Black/White Stripe, Size Small (Chosen)
Kind of obsessed with this dress already. I wore it this weekend to the fair when we were on the coast and it was perfection with my military jacket and sandals. I like that this will be easy to wear this fall with sweaters, jackets, and boots.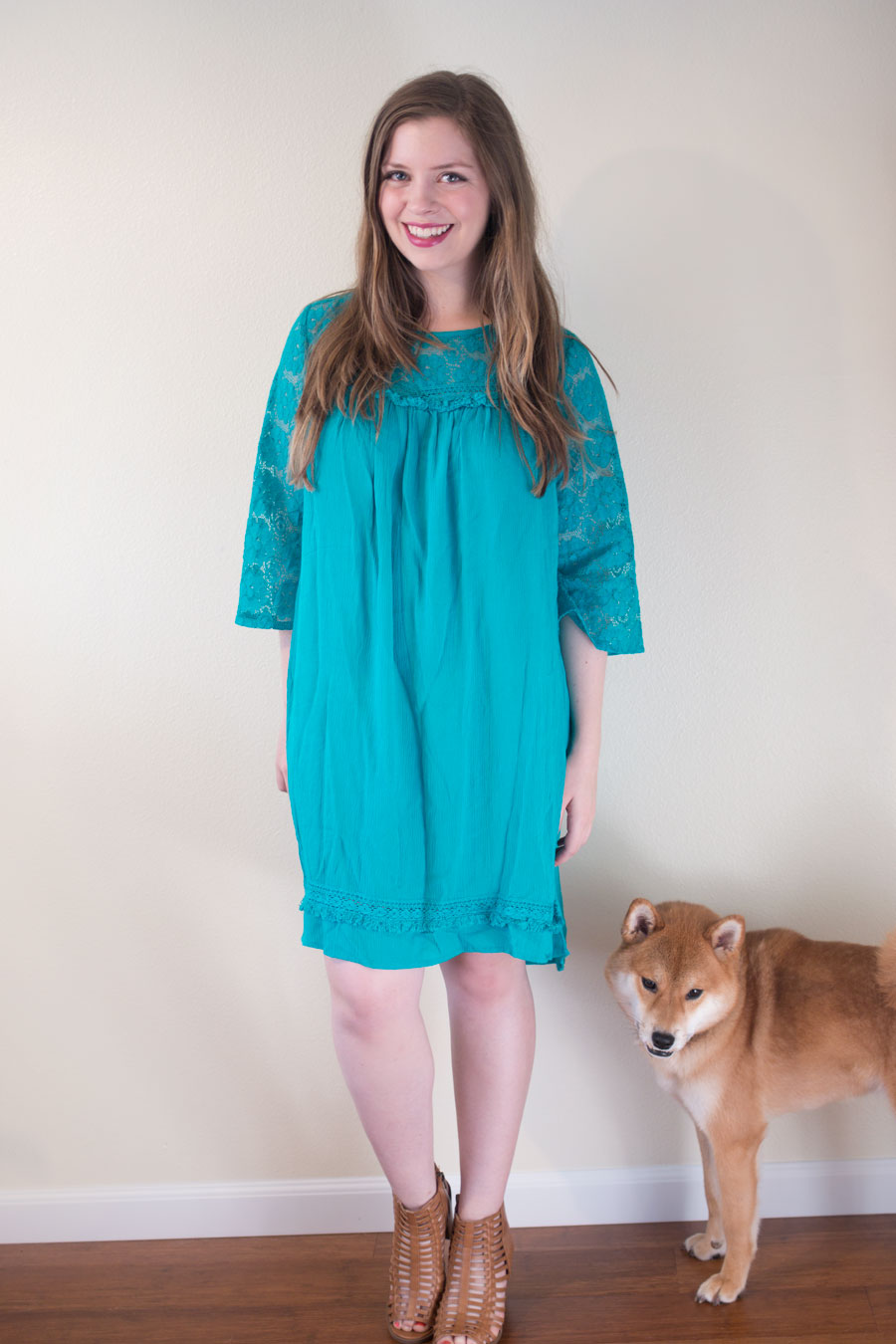 Umgee Daydream Believer Dress in Turquiose, Size Small (Chosen)
We're attending a couple of weddings this fall in warmer climates. The color of this dress screamed Miami to me (where one of the weddings is) so I had to have it. Sorry not sorry. It's a little big for me, but honeslty, I kind of like it that way. I may try to shrink it a bit, as it is made from a cotton blend.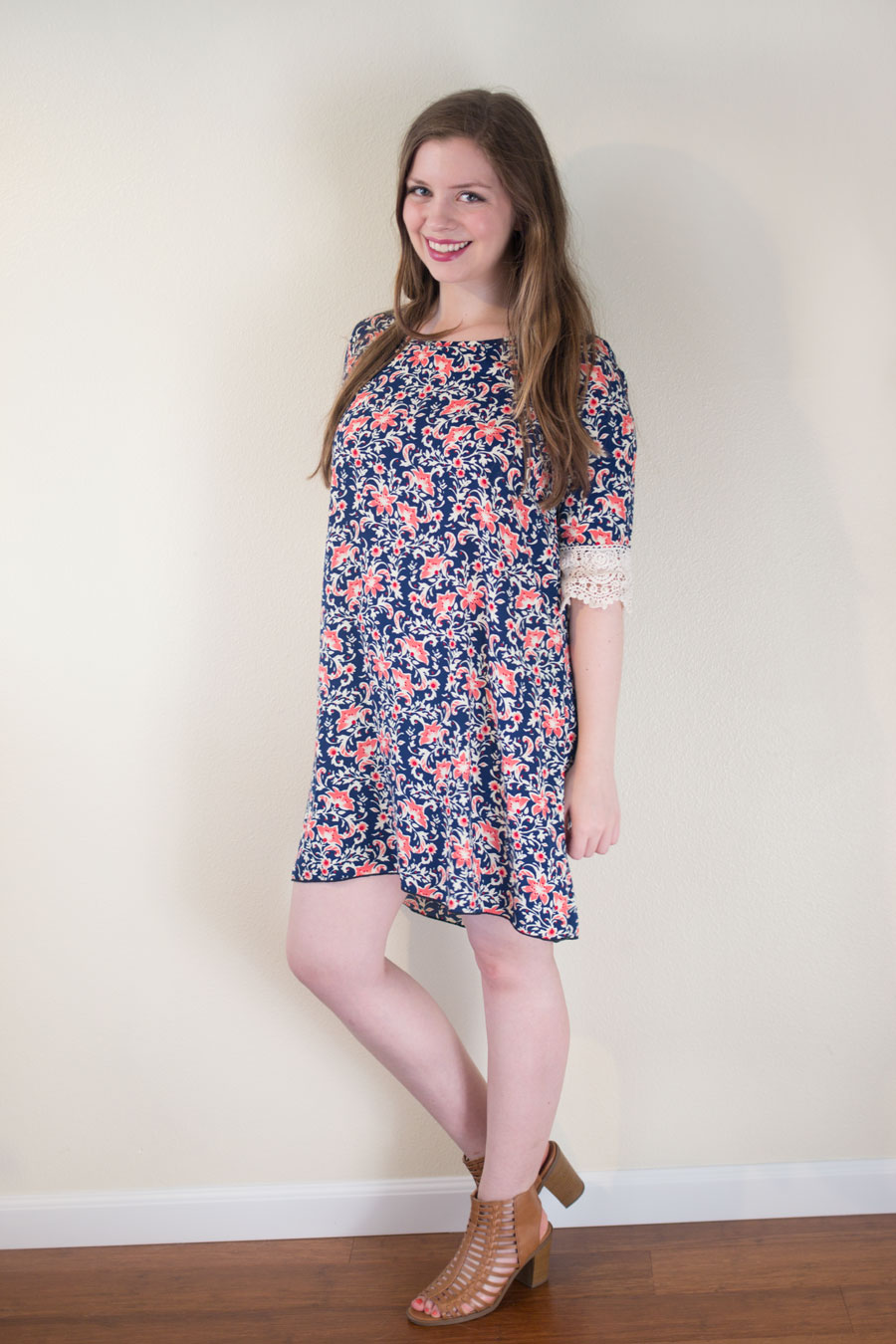 Orange Creek Floral Shift Dress with Crochet Detail in Navy Multi, Size Small (Surprise)
Out of the box I loved this. On, not so much. There's nothing wrong with the dress, but sadly it's too tight in the chest and thus across the upper back and shoulders. Sadly, this will have to be traded.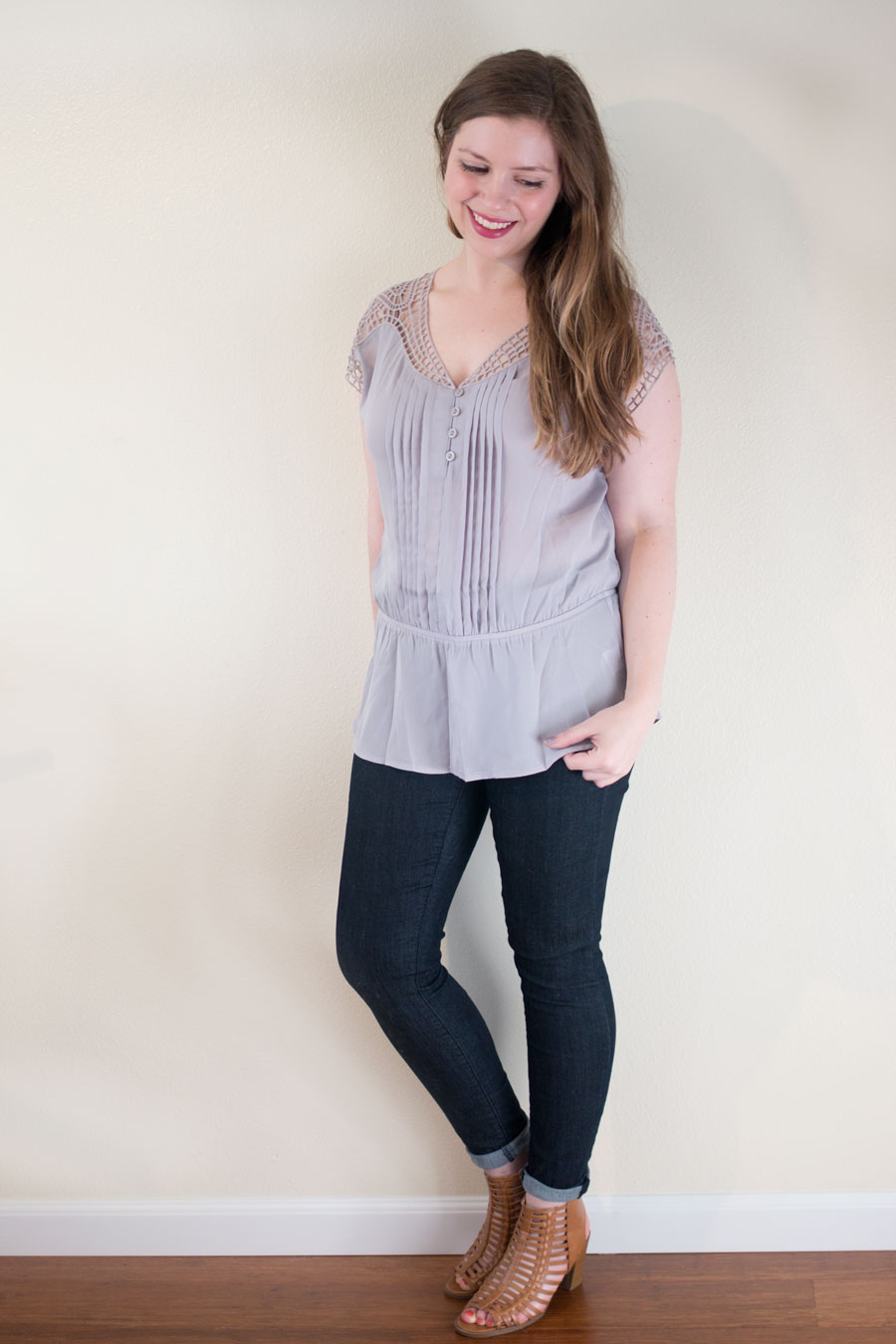 Tea & Rose Cutwork Blouse in Grey, Size Small (Surprise)
I absolutely love the detail on the shoulder and the buttons down the center… however, in my profile I've listed no drop waisted items which this definitely is. Unfortunately, I don't find them flattering for my shape so this will be traded too.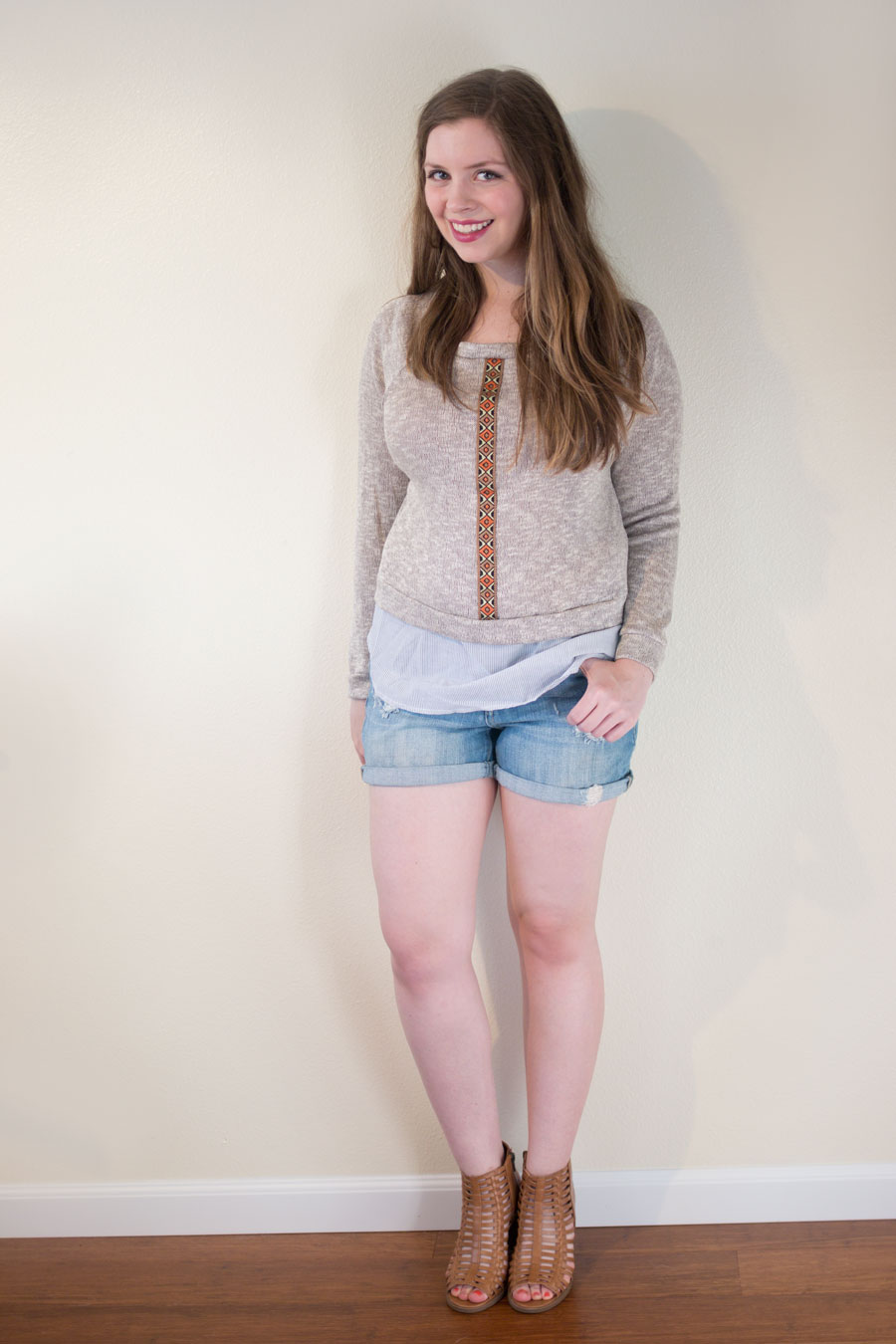 Lime & Chili Aztec Trim Top in Beige, Size Small (Surprise)
Out of the box I really liked this. To me, this screams fall and I definitely am ready to bust out the fall tops. Sadly, when I looked at the pictures of this, I just wasn't in love with it. I feel like the sweater cuts me at an unfortunate point (not quite cropped and not quite long enough) so I think this would work better for someone a little taller than I, so off to trade this one too.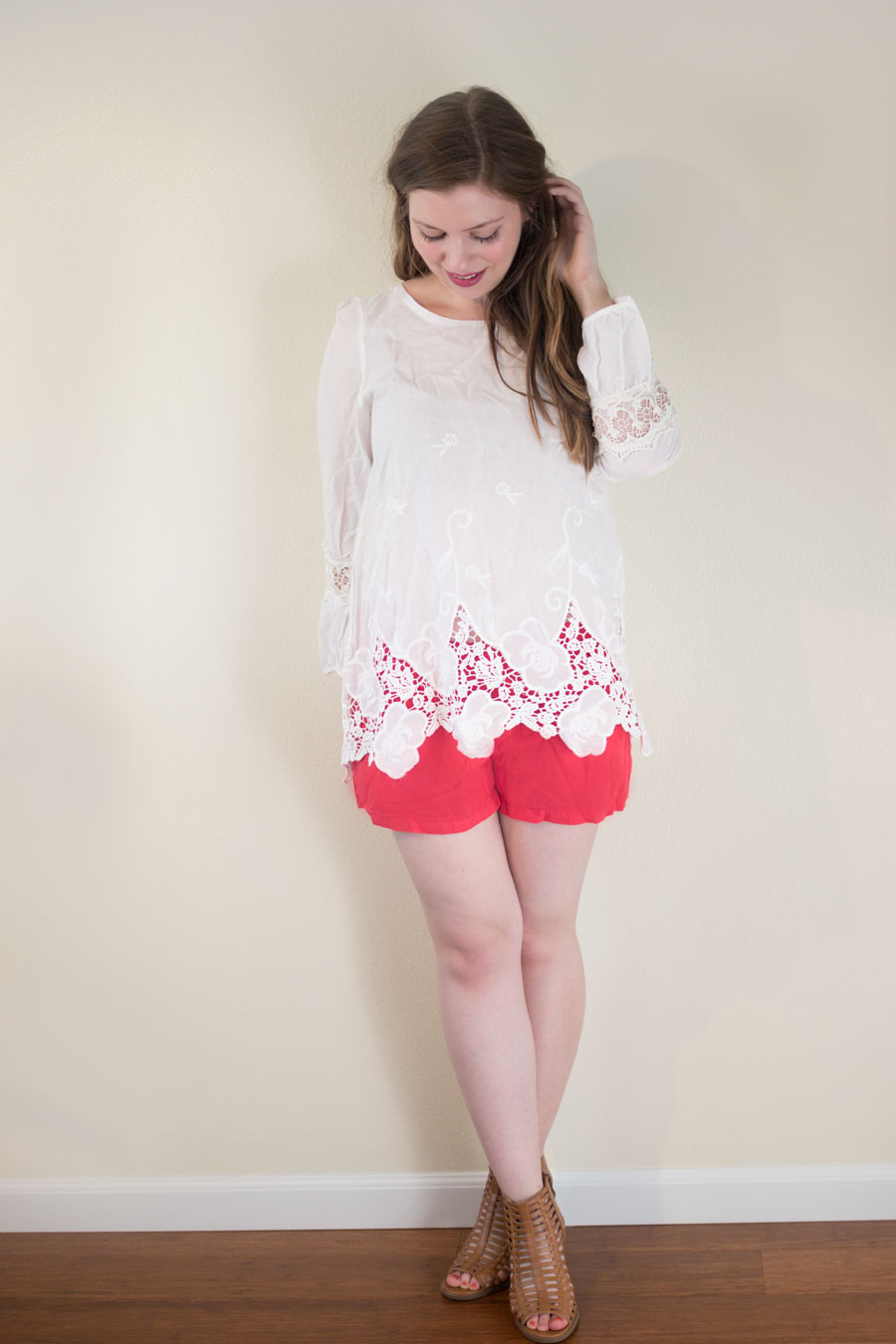 Potter's Pot Cotton Top with Cut Work Detail in White, Size Small (Surprise)
Loveeee this. I was unsure opening the box how I would feel about this since it looked awfully large, but I love this with bright shorts while it's still warm and will go well with jeggings and boots come fall.
Overall, I thought Golden Tote did a good job this month of sending me items that are my style. Unfortunately, the issue was mostly due to sizing, and with following my profile requests. Because I'm a big fan of my two chosen items and the Potter's Pot white top, I will be keeping my tote. Would I try Golden Tote again? Yes. I think the experience is fun and overall is a good value. Six pieces for $149 is a great deal, and I've never had an issue selling or trading for something I liked more.
Have you tried Golden Tote before? What do you think about the items I received?