It's been a little while since I had a makeup post around here, so when my friend Meg from Meg O. on the Go mentioned sharing our favorite neutral makeup, I was totally in. So today, Meg, Becca, and I thought we'd share our 5 or so favorite neutral makeup items. It's perfect timing, as back to school season is upon us and it seems like everyone is looking for that perfect neutral makeup no-makeup look. Plus if I'm completely honest, I've always been a neutrals girl. It's only recently I've added any color to my eye looks. I think I had my fill of color after wearing too much blue eyeshadow in middle school. ;)

For those of you who aren't into the video, that's okay! I shot a couple of photos of my favorites, and will happily share my thoughts about each item and why it made the cut. I'm an equal opportunity blogger… I'll write, photograph, or record for you. ;)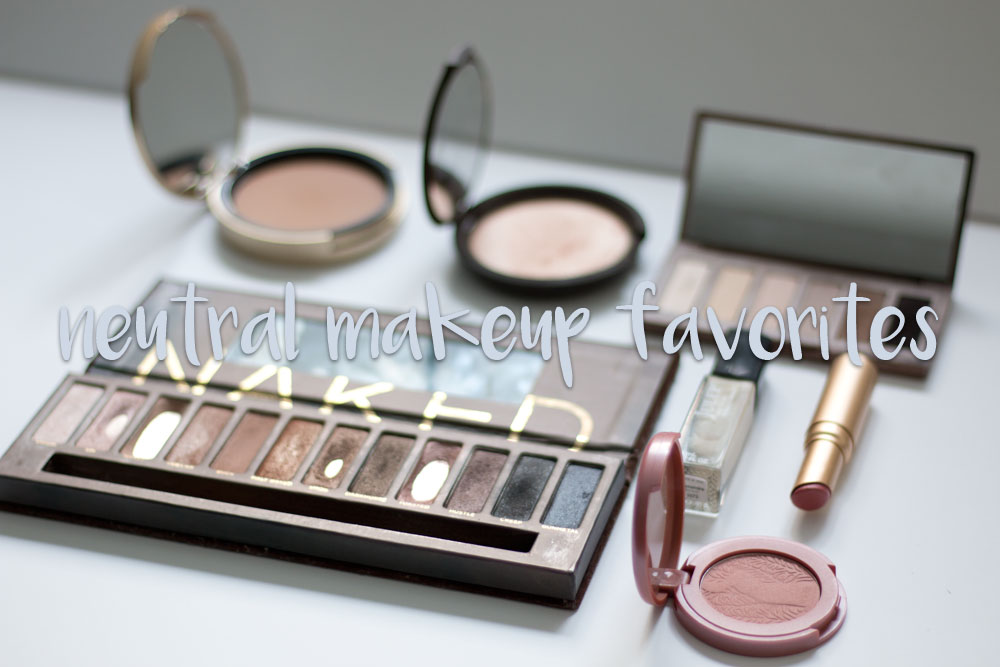 My Favorite Neutral Makeup
Too Faced Soleil Bronzer in Milk Chocolate: Obviously I'm very fair, so when I saw the Milk Chocolate shade added to the lineup I had to have it. At $30, it's a little steep but the color is perfect for us pale princesses. If you're a darker skin tone, they also offer Chocolate and Dark Chocolate shades. I like this because it's completely matte, perfect for year round and doesn't oxidize or go orange-toned.
Urban Decay Naked Palette: Could I have a neutral makeup favorites post without mentioning the original Naked Palette? It got me hooked on Urban Decay shadows, and the first remains my favorite. If you can't tell, it's been well loved. ;)
Runner Up: Urban Decay Naked Basics: All matte and travel-friendly, plus it's almost half the price!
Tarte Amazonian Clay 12 Hour Blush in Prim: This pink-nude blush is so pretty and the perfect neutral, as it goes with nearly any other color. If you're looking for a wash of color more on the brown side of pink, this one's it. This probably wouldn't suit dark skin tones, however, as it is pretty light in color.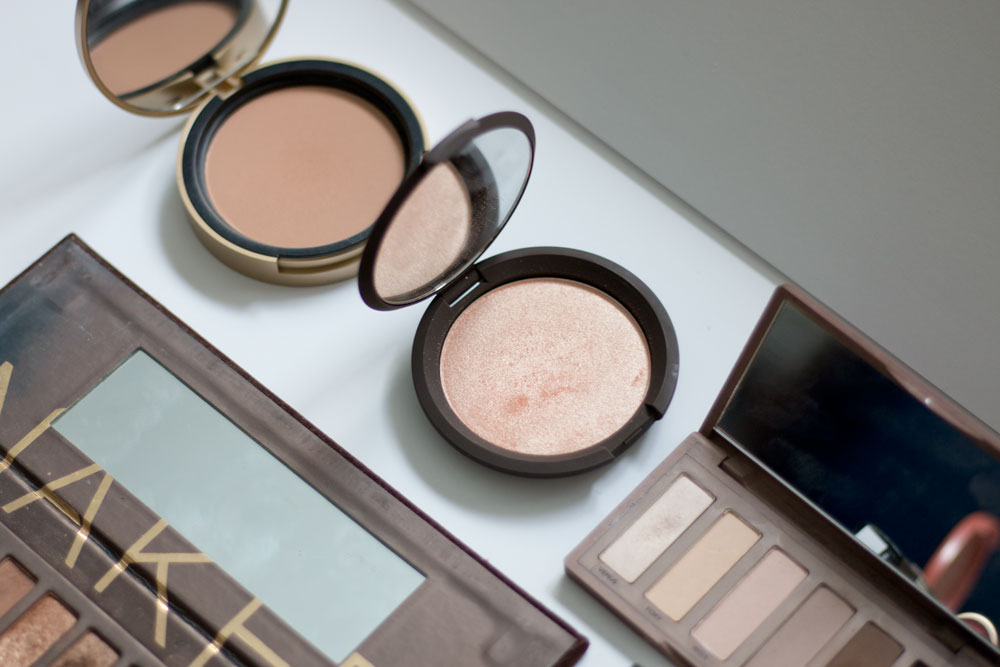 Too Faced La Creme Lipstick in Spice Spice Baby: Cute name and even better color. This is the ultimate your lips but better shade! I particularly love this for fall and winter because it's creamy and hydrating, and just slightly glossy. Plus, I have yet to see this on my teeth. Win!
Bonus: Julep Nail Polish in Alexandra: I wasn't sure if nail polish counted as makeup, so I decided to call this a little "extra favorite". This creamy white is perfect for fall, as it complements burgundy wine tones and cognac so well. I also love this paired with a metallic accent nail!
Becca x Jaclyn Hill Shimmering Skin Perfector Pressed in Champagne Pop: Could I not mention this at least once this summer? Everyone probably already owns it, but that's for a good reason. It's beautiful and suites every skin tone. Even on the fairest of fair, it can work as a blush or blush topper. It's really just the perfect golden glow.
What are your favorite neutral makeup products? I'd love to hear which ones you think I missed or should try, and don't forget to check out Becca and Meg's posts! :)