If I'm honest, one of my hesitations in wearing bold and vampy lip colors, especially of the red variety, is my lack of perfectly white teeth. I love all the wrong things to maintain white teeth: coffee, tea, wine, and chocolate. I'm not about to give those up, so I've tried a variety of whitening options in the past. While I do think some have worked, a lot of time it's either too much extra work or takes too long to see results. What can I say, I want results now!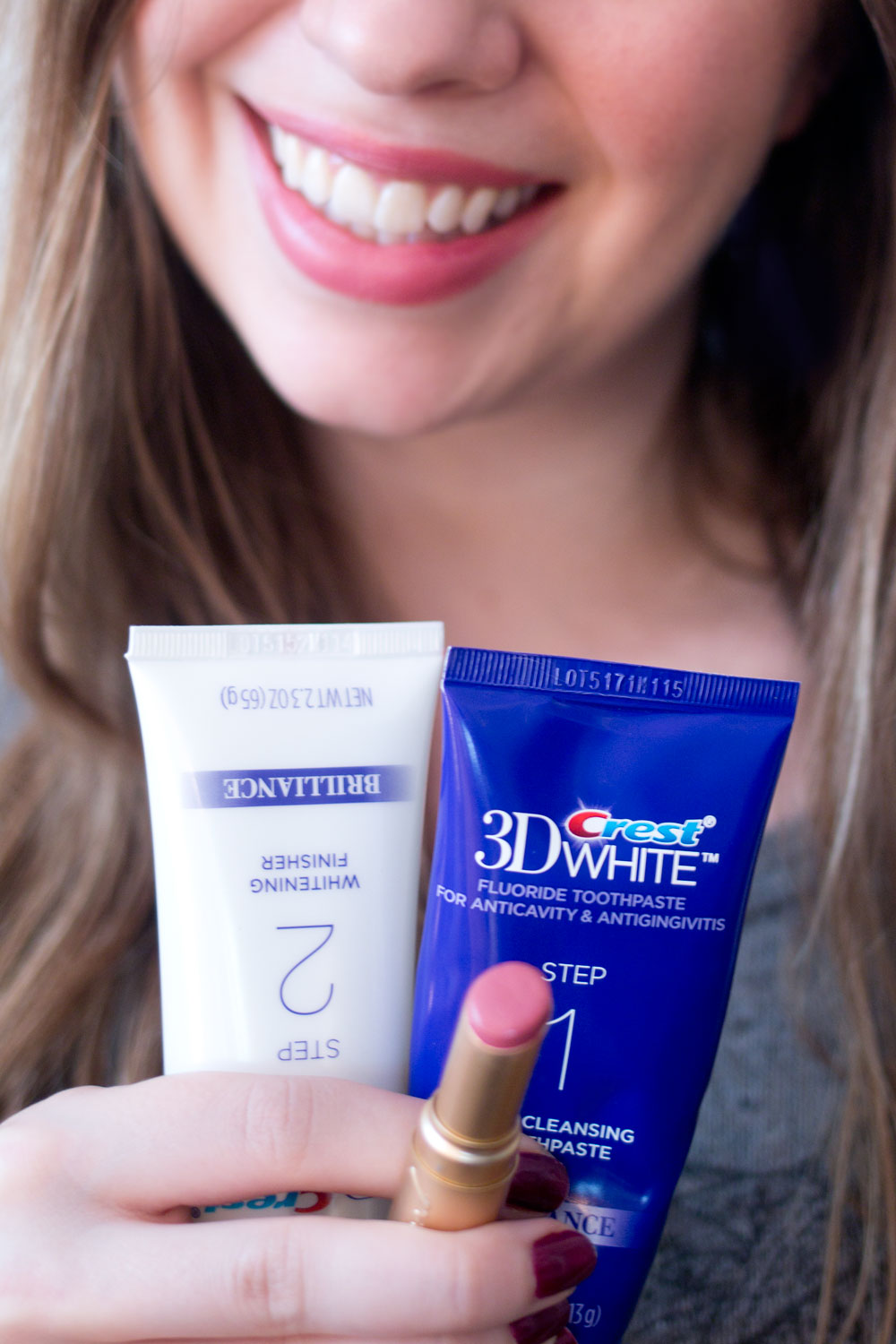 Today I thought I'd share my 12 lip colors I'm excited to rock for fall, and share the new Crest 3D White Brillance Toothpaste System I've added to my beauty routine to get whiter teeth. Don't get me wrong: my teeth aren't about to be glowing in the dark, but in less than a week of use I've noticed a huge improvement, especially with the stains around the gum line that really drive me nuts!
12 Lip Colors to Rock this Fall
Okay, I know 12 colors sounds like a lot… no one really needs as much lipstick or gloss as I own, but the idea is to pick a color from each group that you want to try for fall. I've tried to include a mix of high-end and drugstore. No need to break the bank when you're trying something new, right?
The Reds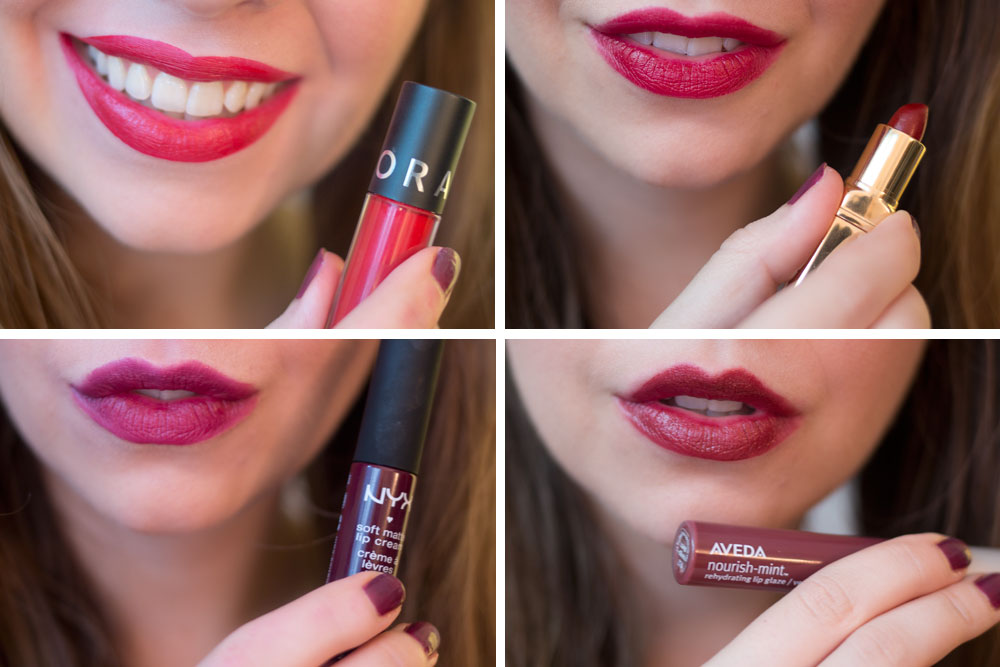 Sephora Luster Mate Long-Wear Lip Color in Scarlet Luster: Soft, creamy, and applies beautifully. This bright red is perfect for a special occasion… or any day, really.
Julep Mini Lipstick Trio in Siren: I have 3 of these cute little guys from Julep. However, this is my favorite. It's a pretty deeper blue-based red that I like any time.
NYX Soft Matte Lip Cream in Copenhagen: I  had a hard time deciding if this was a berry or a red but went with a red as it tends to look a bit more red in real life. This smells delicious, like marshmallows, and is creamy and soft, as the name says!
AVEDA Nourish-Mint Rehydrating Lip Glaze in Mango-Steen: I love this! It's very minty, but it's a cross between a gloss and a liquid lipstick. Because it's hydrating, this is not long-wearing, but it's pretty regardless.
The Berries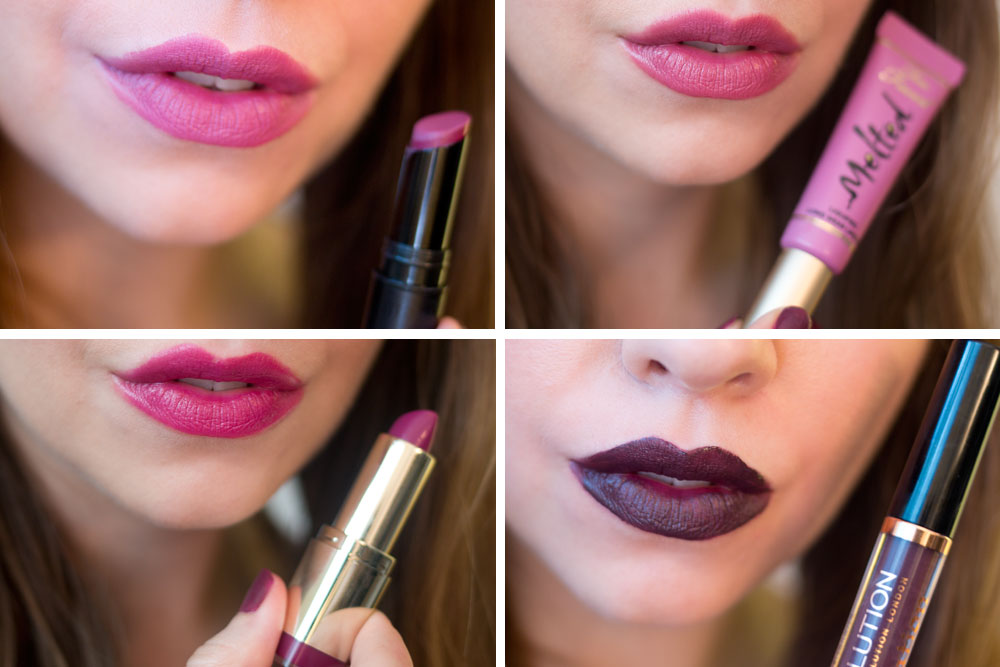 Catrice Ultimate Stay Lipstick in Plum & Base 070: Catrice is a European brand now being carried at Ulta.com. I was excited to try their products, as I've heard great things. This plum lipstick is perfection!
Too Faced Melted in Fig: I originally had purchased the true purple (Violet) and didn't feel it was the right shade. When I swatched this in Ulta last month, I knew this was the shade I had been looking for!
Milani Color Statement Lipstick in Uptown Mauve: Milani makes some amazing lipsticks, and I can't wait to pick up more of these. I love this bright pinky-purple for year round, but especially as a pop of color on dreary days.
Makeup Revolution Salvation Velvet Lacquer in Vamp: Now full disclosure on this, I haven't mastered how to get this to not look somewhat patchy. I absolutely LOVE this color and the reasonable price (which is why I'm sharing it). I do wish the formula went on smoother and didn't leave thinner spots. I'm going to try with a different base and with a lip liner to see if that helps!
The Nudes/Browns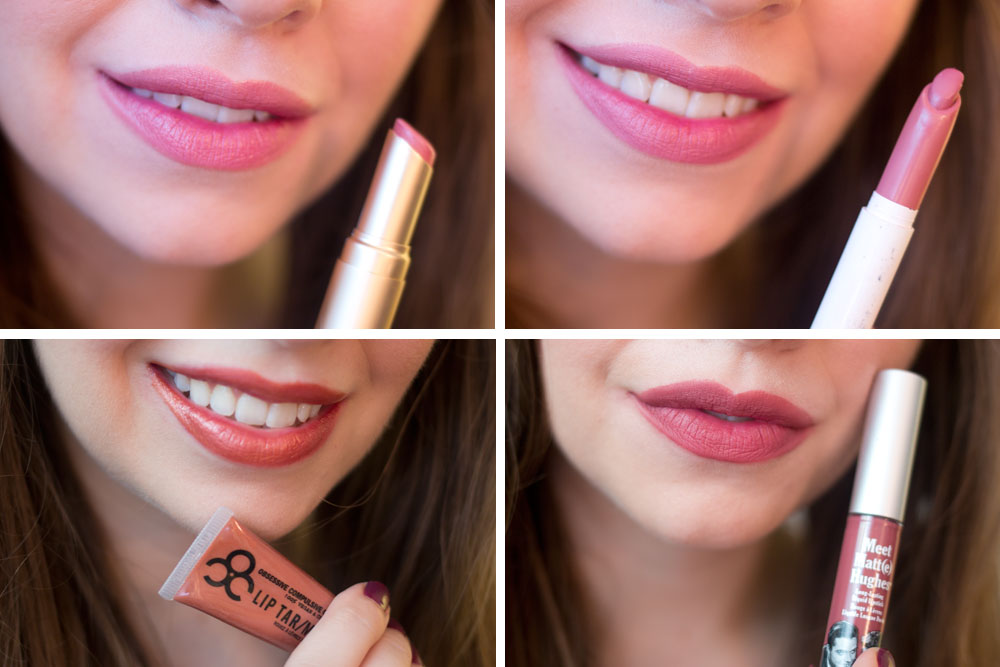 Too Faced La Creme Lipstick in Spice Spice Baby: I feel like I'm beating a dead horse here after my Neutral Makeup Favorites post, but this one is really amazing. If you have dry lips, this my-lips-but-better color will keep them nice and hydrated through winter.
ColourPop Lippie Stix in Lumiere: For the matte fans, this is similar to Spice Spice Baby in color (maybe slightly darker and more cool-toned.) Plus, at $5 this is a steal!
OCC Lip Tar in Metallic Authentic: This is totally different from anything else I own, as it has a beautiful metallic finish. This copper shade is killer, but I only feel confident enough to wear it with white teeth as it really can accentuate yellow tones!
The Balm Meet Matt(e) Hughes in Charming: I love this long-wearing formula. It doesn't budge (even while eating or drinking) and is very comfortable on the lips. This may be my favorite long-wearing lip color formula I've tried.
How to Get Whiter Teeth with the Crest  3D White Brillance Toothpaste System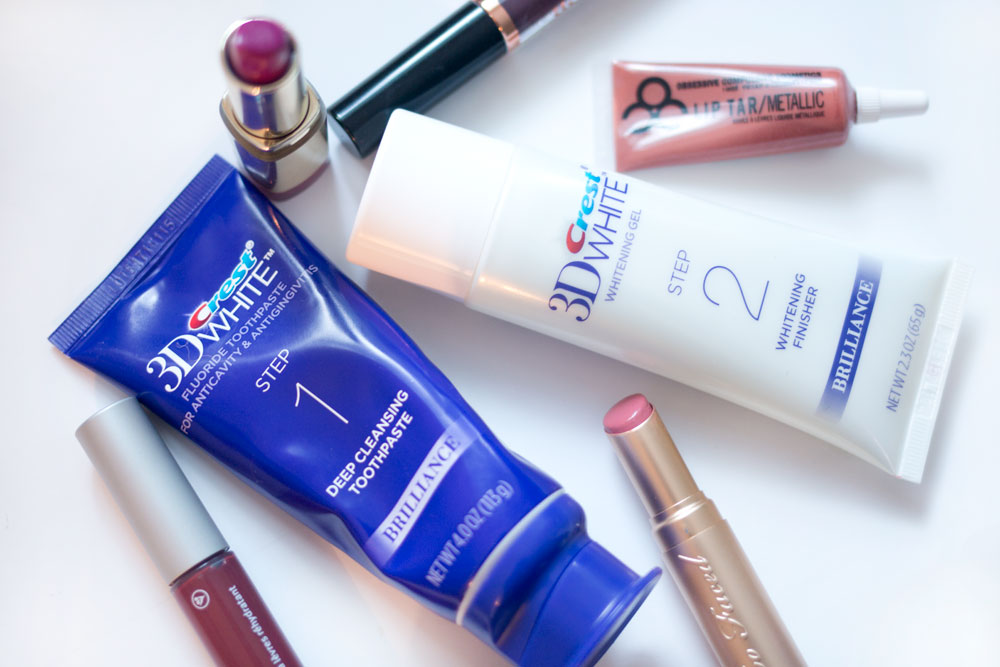 Now that we've got the shades in mind… about how to get those white teeth to rock these colors! I've been using the Crest 3D White Brillance Toothpaste System for just shy of a week. What's nice about the toothpaste system is you don't have to do anything extra. We all brush our teeth for 2 minutes morning and night, and this works the same.
First, you use the deep cleaning blue tube to brush your teeth for 1 minute, then without rinsing, spread the whitening finisher gel on your brush and finish for the last minute. I would say in the first 2 days I had already noticed quite a color change, and my teeth felt very clean, almost as if I had a professional cleaning. I did also notice some gum sensitivity, which has since subsided. Don't be too alarmed if your teeth or gums are a bit sensitive, but if it's bothersome, you could try reducing use to once a day until you get used to it.
Here are my results so far (before on the left, now on the right):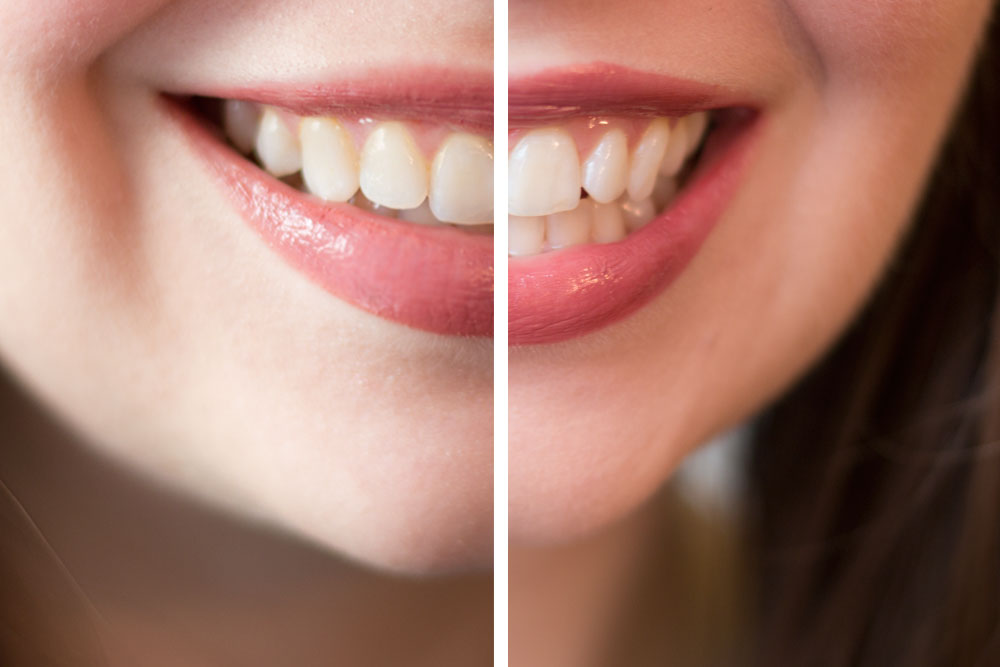 Ultimately what sold me on the Crest 3D White Brillance Toothpaste System other than the results, is the cost to replace it. At $14.99 (and it probably goes on sale for less!), it's much more reasonable than an in-office dental whitening and much easier than a lot of the alternative whitening products out there. Crest says that brushing with this system twice daily will keep your smile up to 99% white as a professional polish, and  I'm looking forward to testing out that claim!
I was selected for this opportunity as a member of Clever Girls and the content and opinions expressed here are all my own.
Have you tried whitening your teeth before? Which lip color(s) are you looking forward to rocking throughout fall?