When summer arrives in Seattle, the city comes alive. Summer festivals, warm sun, beautiful blooms, cute and casual summer outfits, the fresh breeze off of Puget Sound and the hustle and bustle of tourists and locals enjoying the outdoors is hard to beat. I swear the sunny weather melts away the "Seattle Freeze" and reminds us why we love our city so much.
A Seattle activity I can't resist come summertime is the allure of the visiting carnival. Almost every suburb of Seattle has their own celebration, featuring carnival rides, food vendors, local artisans, and musical performances. My friend Megan and I ventured north of the city to enjoy an evening at the fair.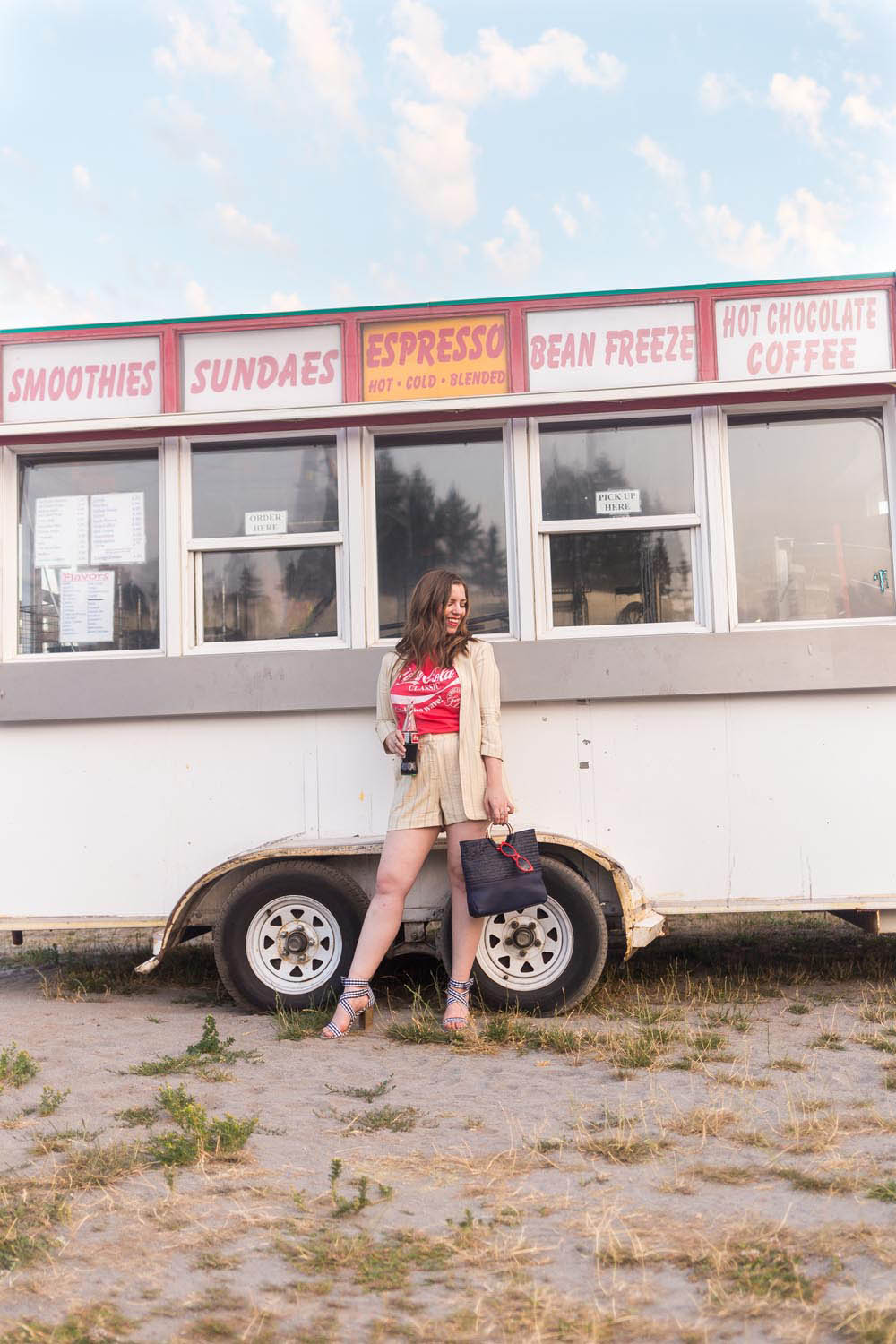 Disclosure: This post is sponsored by Kohl's. All opinions are my own!
Bright flashing lights, colorful rides, and the sweet smells of elephant ears, strawberry shortcake, and cotton candy filled the air as we walked through the carnival. I couldn't resist snapping a few photos of this cute little striped long blazer and coordinating striped shorts from the LC Lauren Conrad line at Kohl's. A Coca-Cola Graphic Tee was the perfect pop of color, and of course, I couldn't forget to grab a bottle of the real thing to sip on!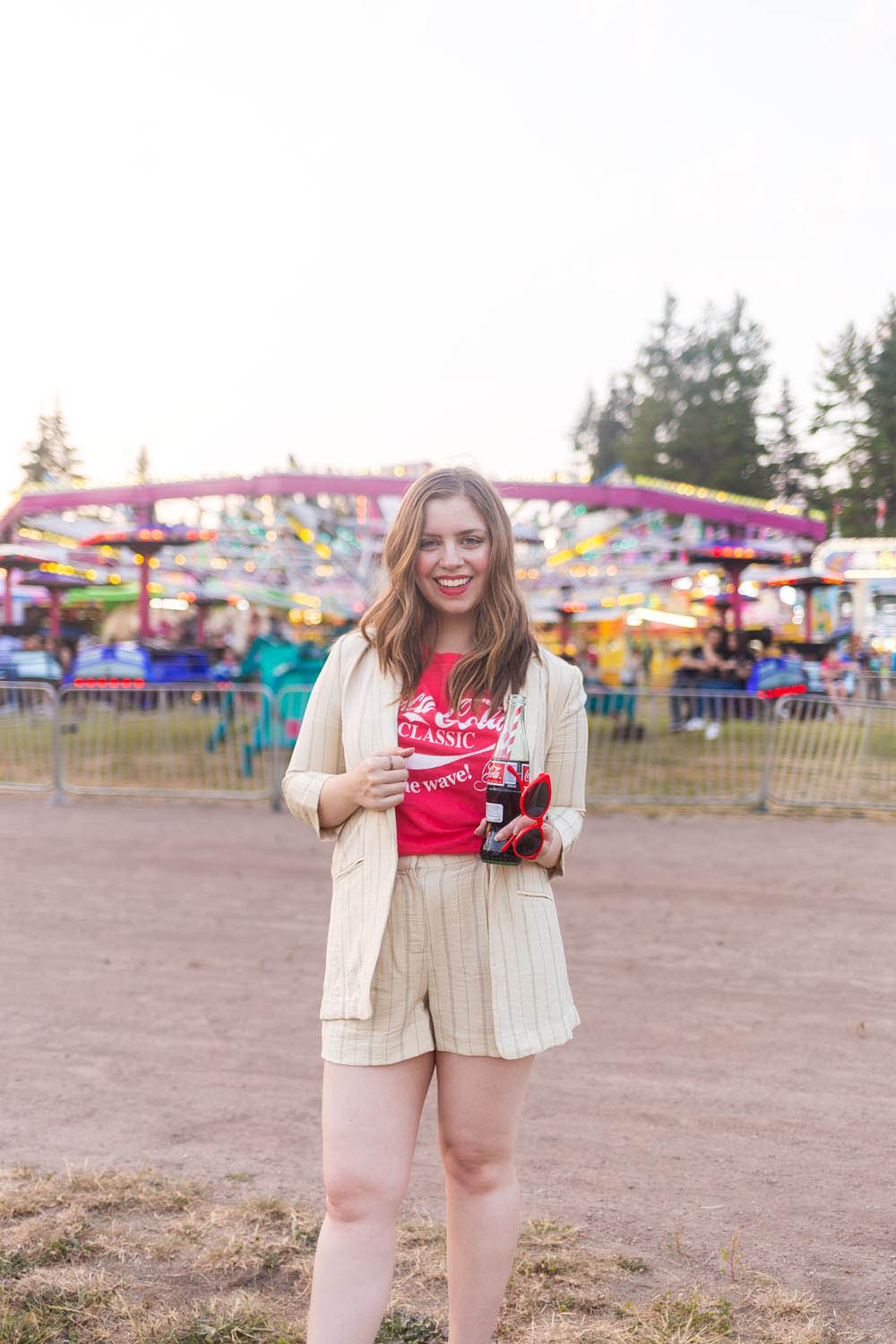 I paired this casual summer outfit with a pair of gingham heels (which you'll see restyled in my second outfit!). They're so versatile, and I love that they give me a height boost without being uncomfortable! A pair of red cat eye sunnies and a woven navy bag completed this outfit for a warm summer evening at the carnival.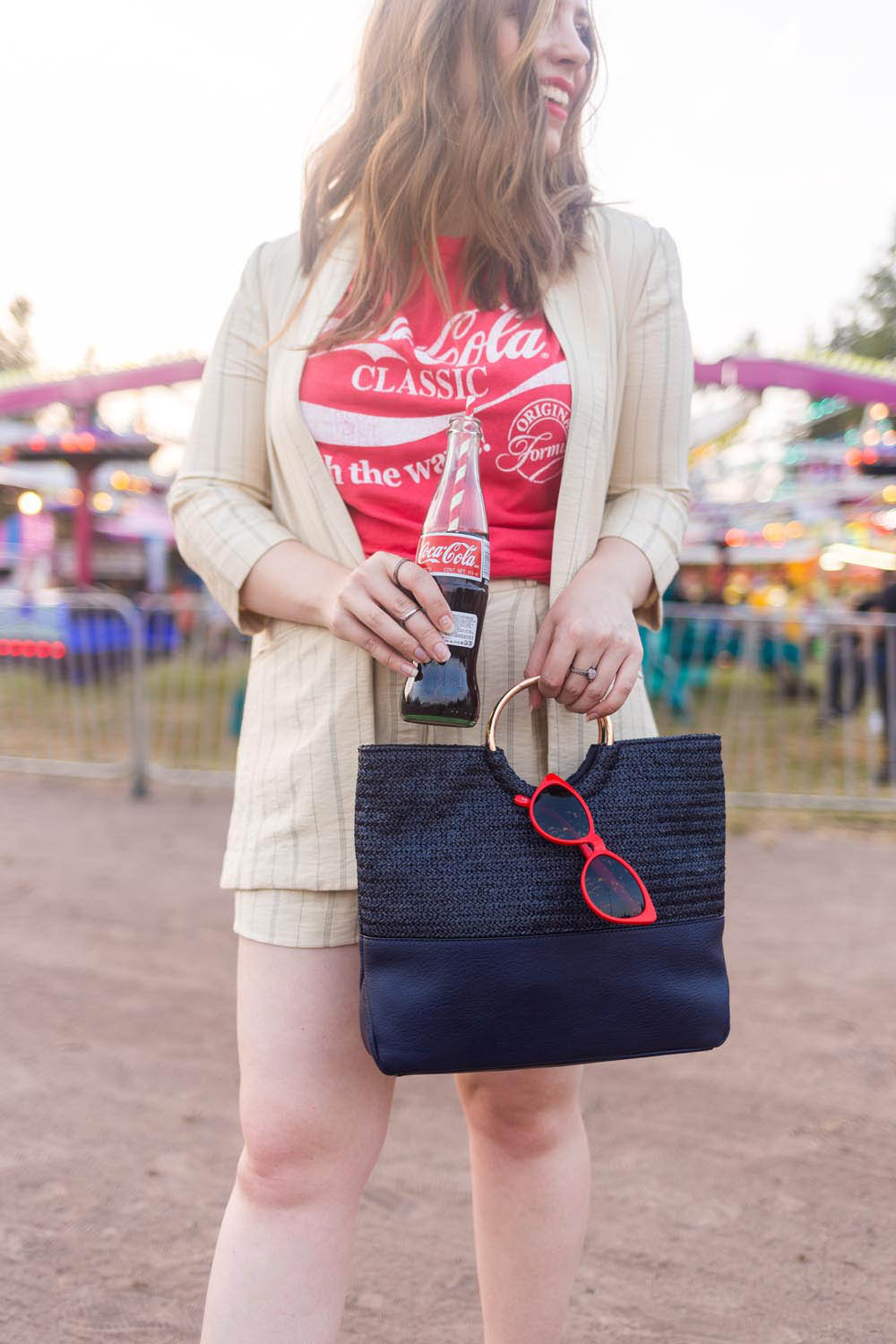 Speaking of warm weather, it's hard to resist playing hooky from work and visiting some of the city's best spots. I did just that recently, spending a day at Pike Place Market instead of going to work. Might as well use those vacation days up on these beautiful sunny days!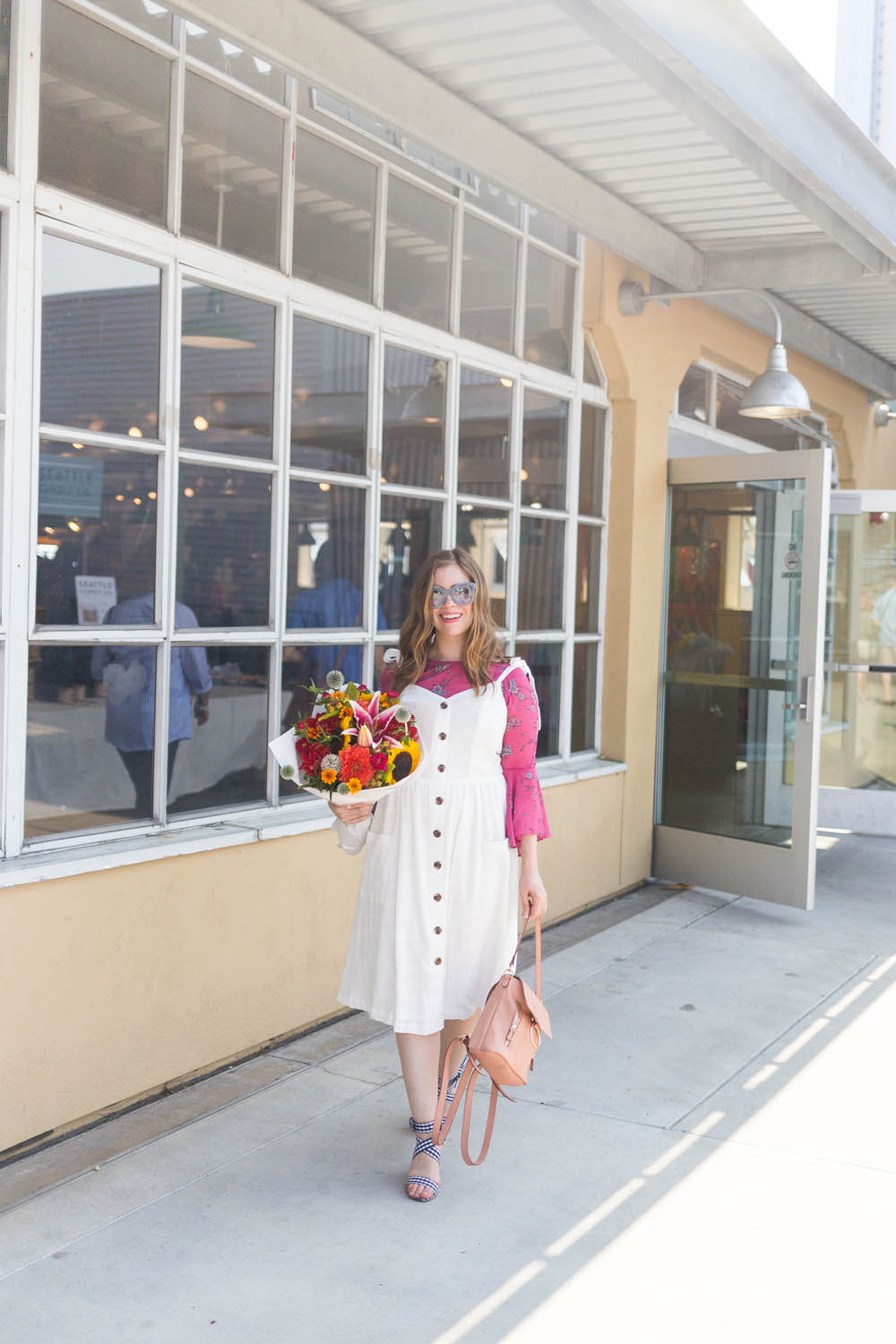 For the occasion, I couldn't resist putting together a fun, casual summer outfit featuring some of the cutest summer pieces from Kohl's. The LC Lauren Conrad line is a long-time favorite of mine and was the first place I looked when I was putting together this look. Conrad's line for summer didn't disappoint – this trendy button front dress was the first piece I picked out, and I knew it would look perfect layered with this pretty floral bell sleeve blouse!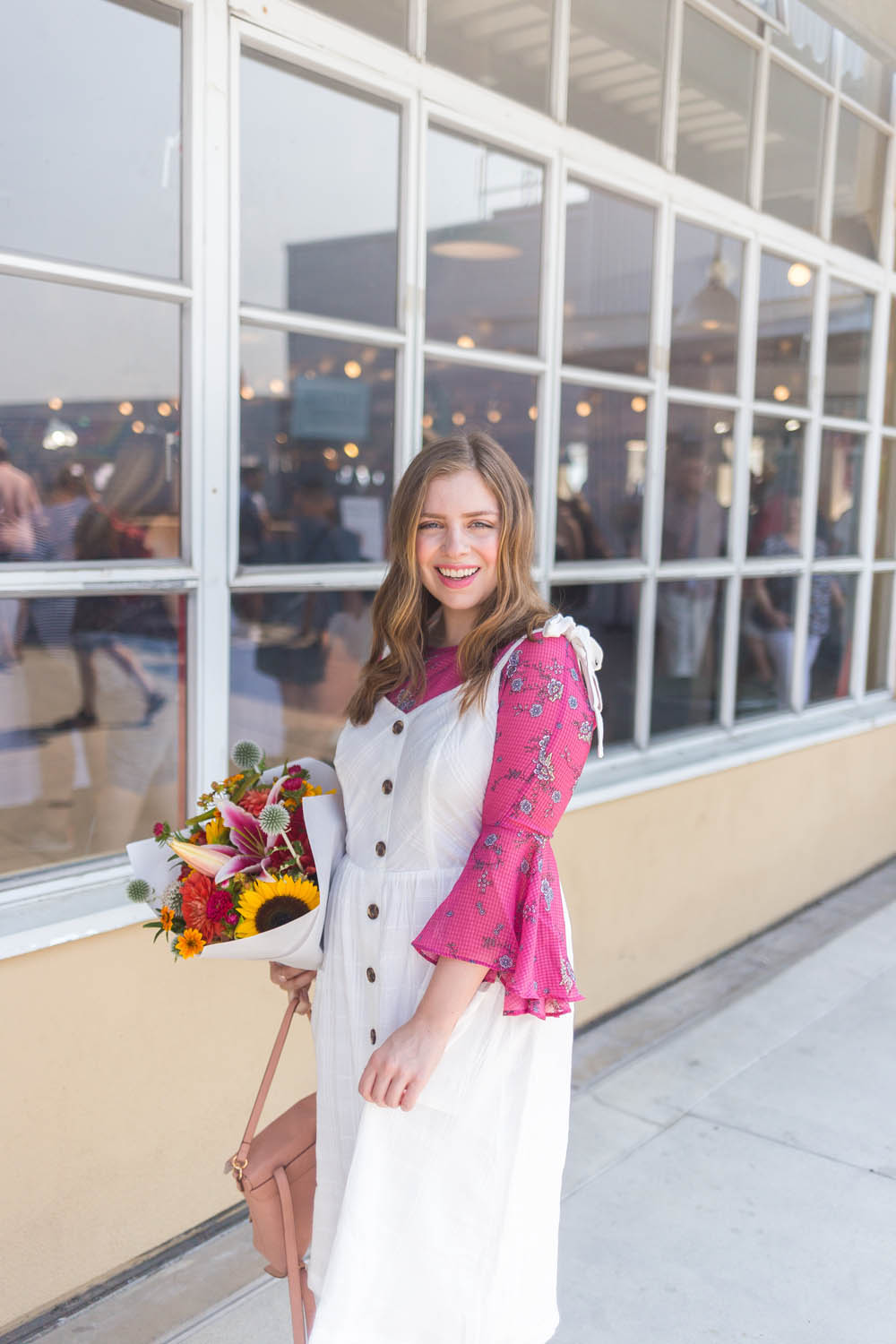 A pair of gingham heels, a pretty pink stone ring, and a convertible backpack that can be carried by the handle or worn as a backpack were the perfect accessories for this outfit for a day at the Market. And for that ubiquitous Seattle sun, I popped on a cute pair of fashion sunglasses. I love the retro vibe!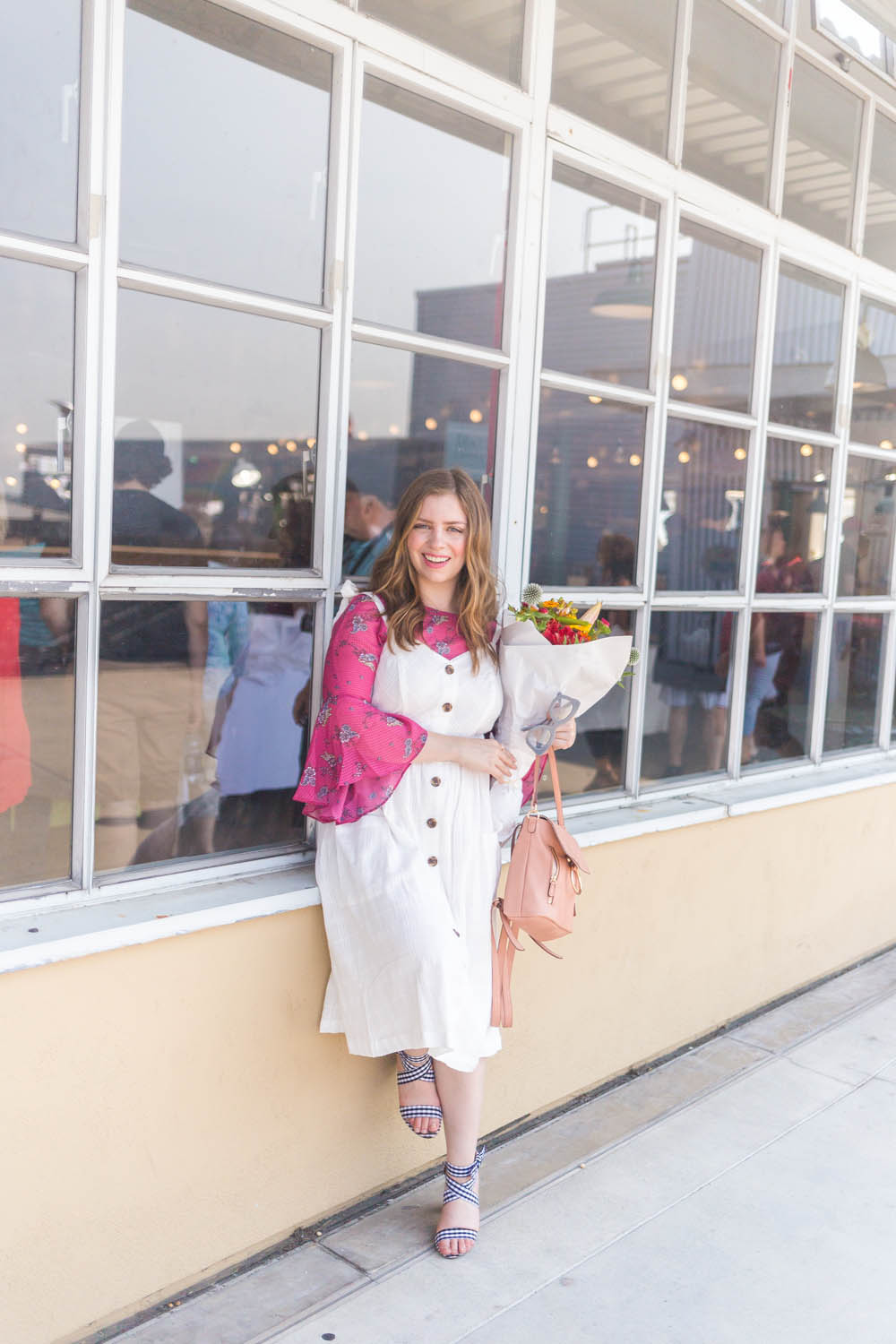 At the Market, I started off my morning with a biscuit sandwich, then picked out a beautiful bouquet from one of the Market vendors. I strolled by some of the local visiting artists at the Market Front and took in the smell of fresh chocolate wafting through the air.  By the time noon hit, the Market was crowded with throngs of people, clamouring for a bouquet of their own, listening to sounds and sights of the buskers and street performers, or waiting in line for one of the special market treats.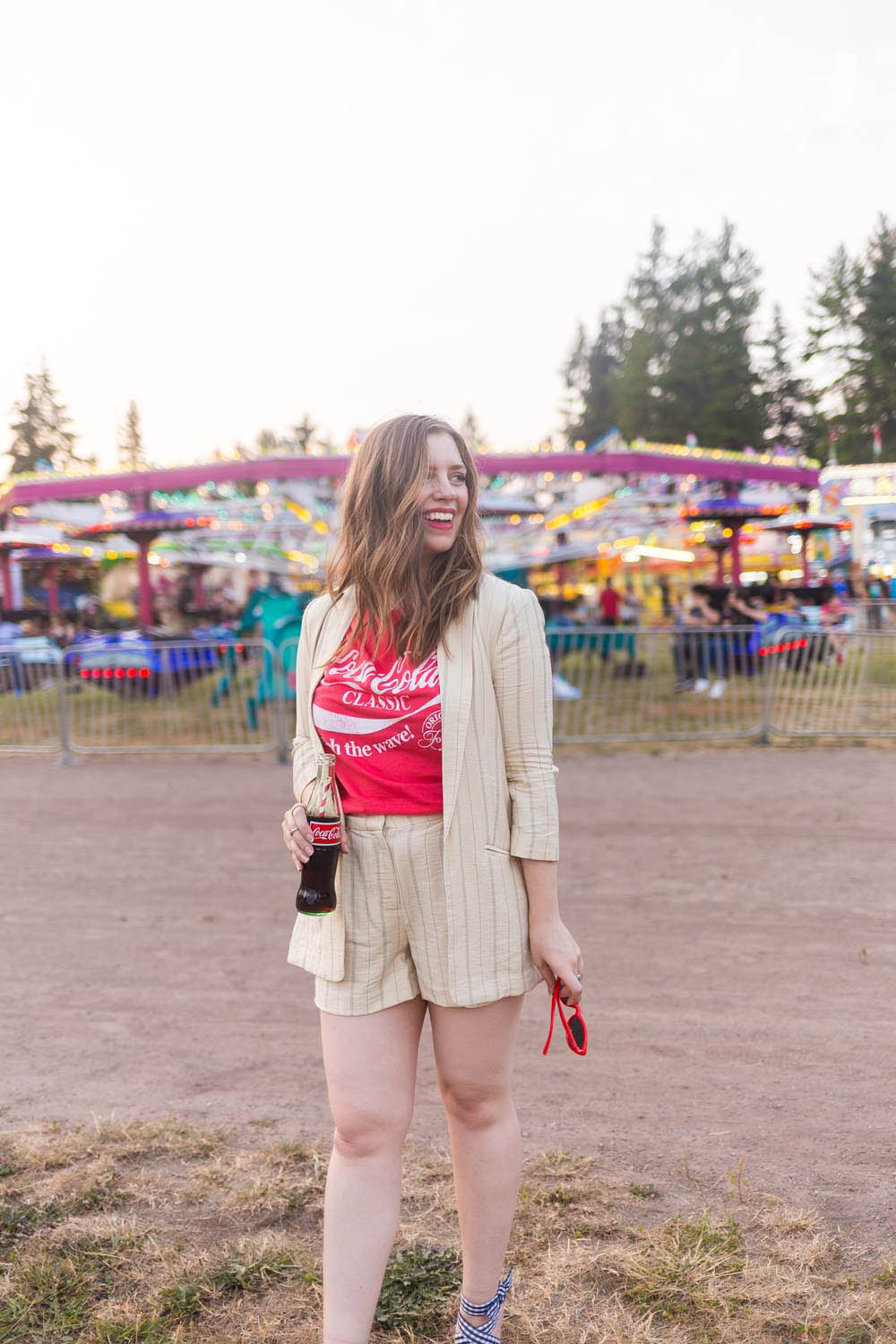 There are countless other fun activities throughout the city this summer, and I look forward to sharing more cute and casual summer outfits with you. I can't wait to restyle each of these pieces from Kohl's, and if you're in the market for a few cute new pieces, may I recommend checking out the LC Lauren Conrad line at Kohl's? Her business casual pieces got me through my first year at my fulltime job, and I can't resist all of the gorgeous floral prints and colors for summer!
What's your favorite summer activity? Do you have a go-to casual summer outfit you wear on warm and sunny days? I'd love to hear all about it in the comments below!