Recently, I've found myself hosting more and more gatherings at our house, which means I'm even more motivated than ever to find new recipes to try out when we have guests over. All of our guests are 21+ and, with the summer heat, it's hard to beat an ice-cold, refreshing summer cocktail!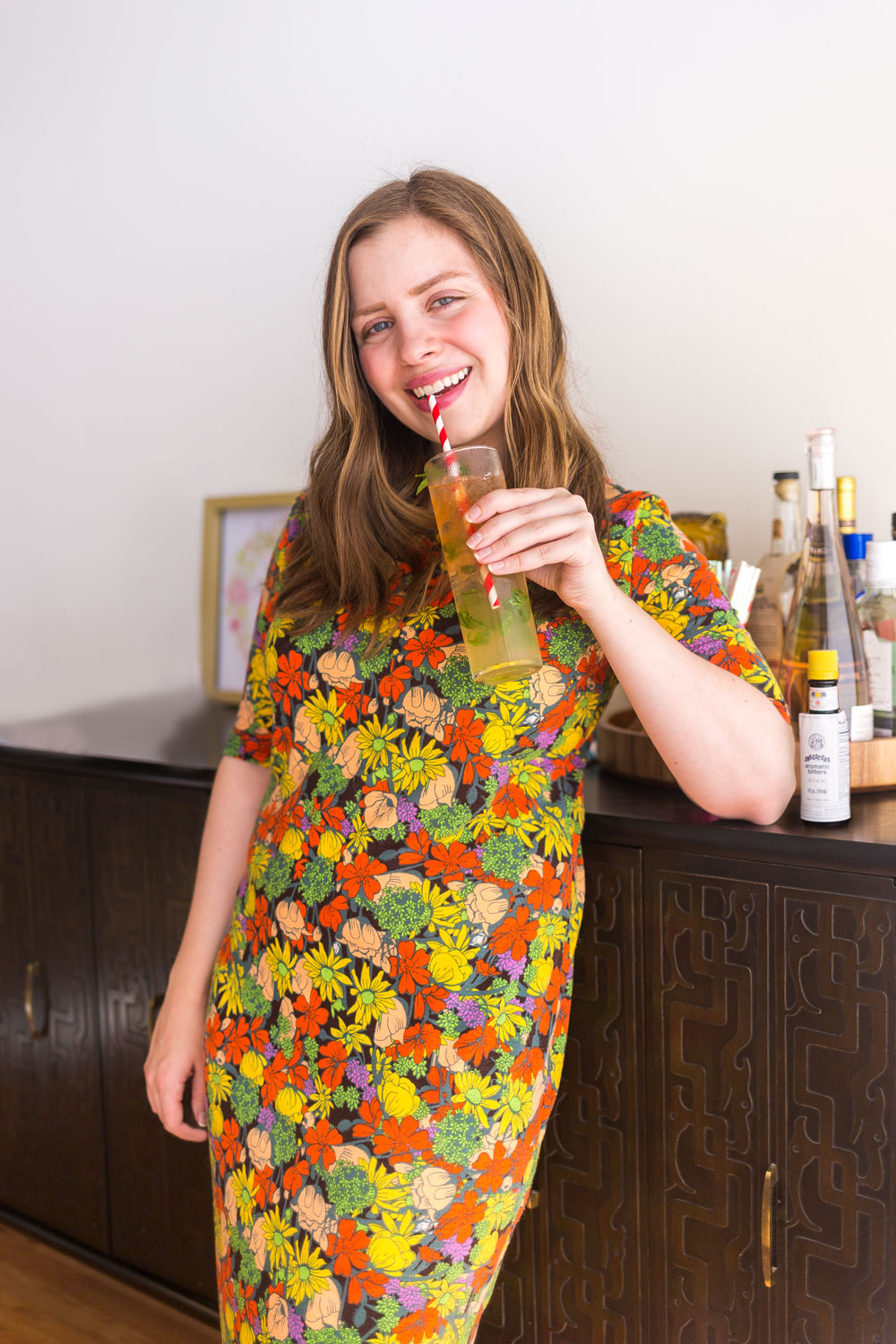 Disclosure: This post is sponsored by ANGOSTURA® bitters. All opinions are my own!
With cocktails, I've found that being adventurous leads to the best flavors. There's always a lot of experimentation that happens, but sometimes when you find a recipe that's just right, you don't need to tweak it a whole lot. I mean, with a good tropical beverage, if it's not broken don't break it! That's my tiki motto.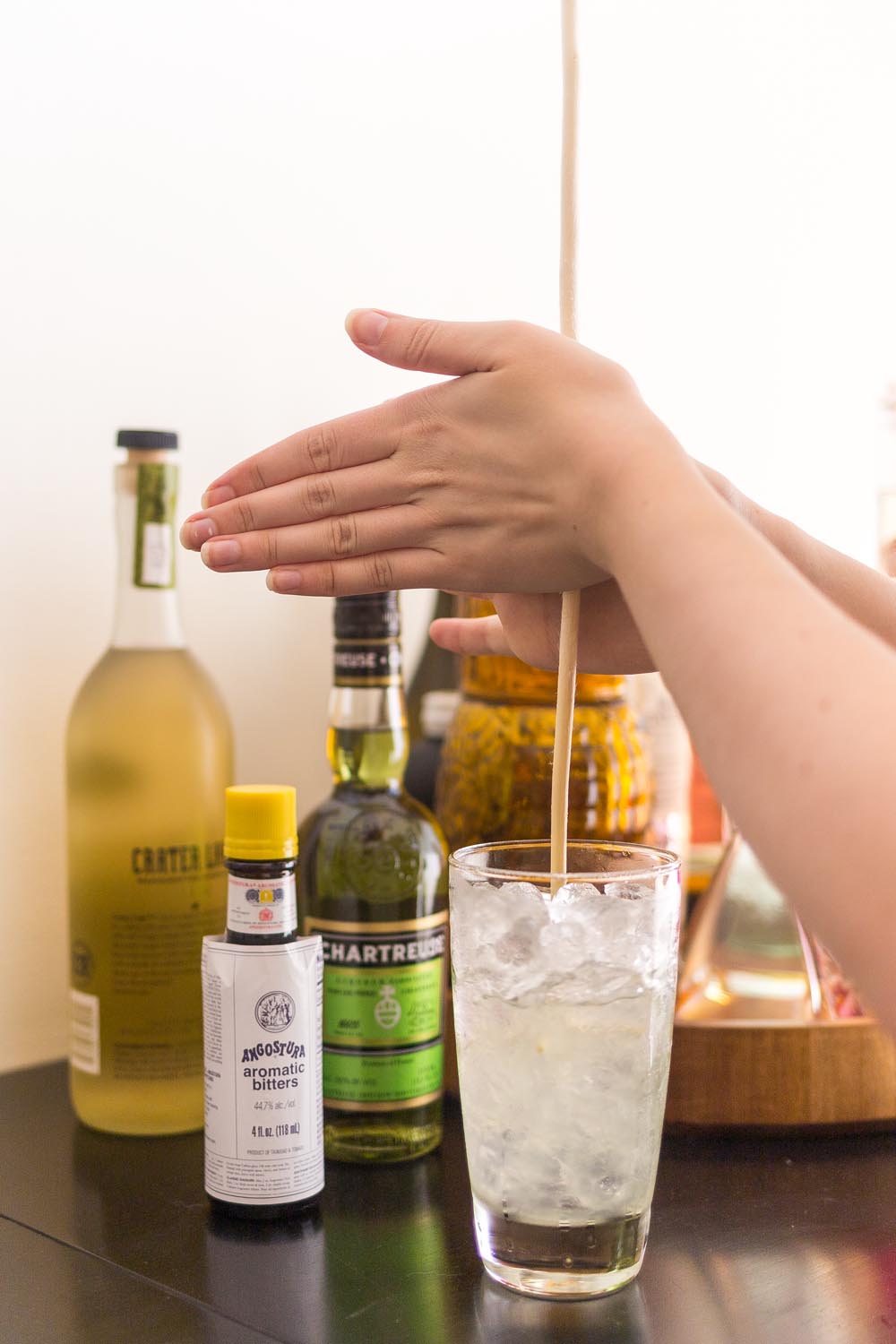 Today, I wanted to share a couple of cocktail recipes I really enjoy, and that all share something in common: the swizzle! If you're unfamiliar, swizzling is the process of stirring a drink with crushed ice with a swizzle stick. It's the perfect way to ensure ice is distributed evenly throughout a drink for the perfect degree of dilution. After all, why not play bartender and swizzle into summer?
Both recipes are easy to make, taste great and are topped with ANGOSTURA aromatic bitters, an essence made with barks, spices, herbs and botanicals used to season and enhance flavors in both cocktails and cuisine. If you are newer to mixology, you might be unfamiliar with the magic and dimension that bitters can bring to a cocktail. Curious about what type of cocktails pair well with bitters? Read on for the recipes and scoop up ANGOSTURA aromatic and orange bitters at your local liquor or grocery store to bring them to life!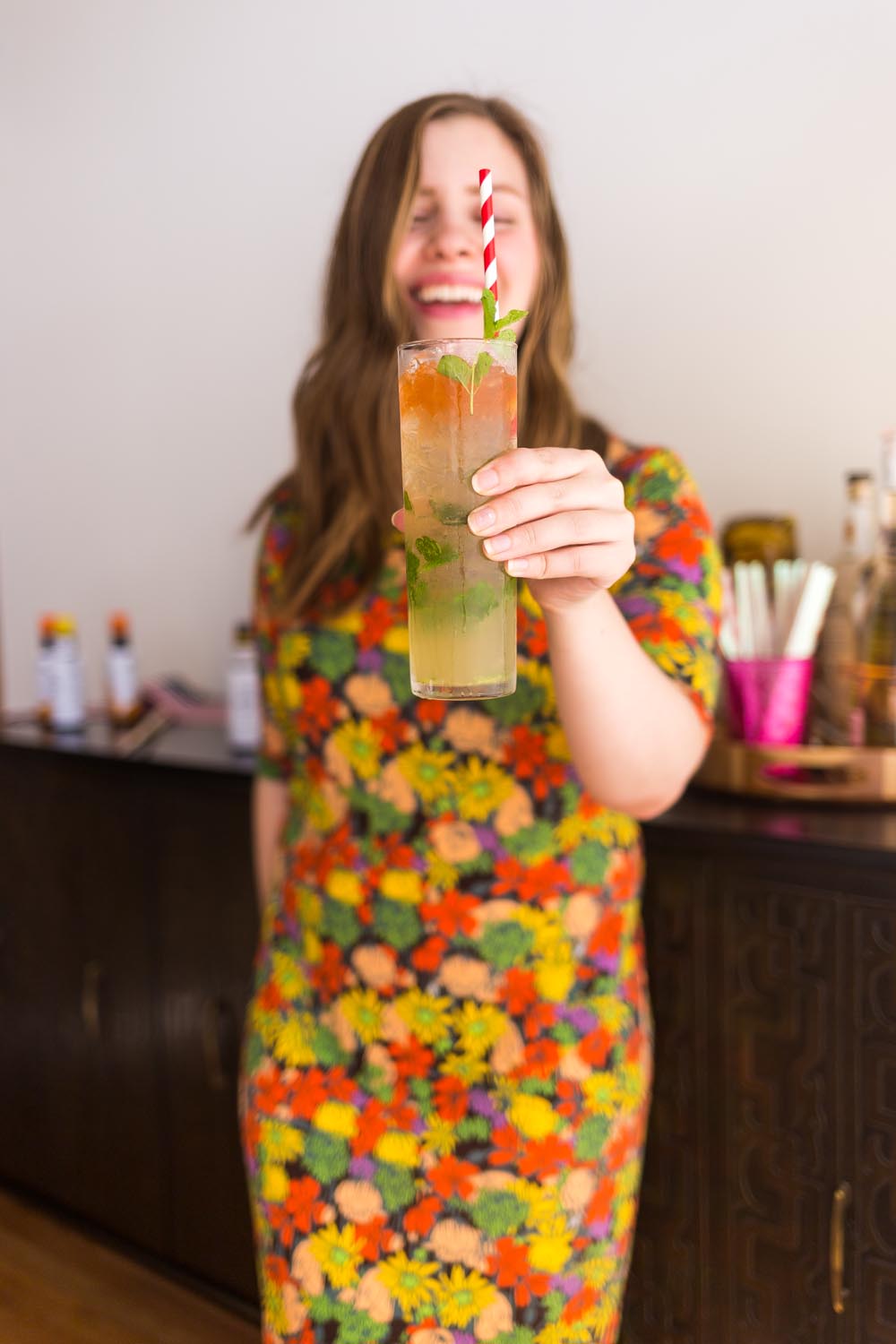 Up first is a sweet and citrusy cocktail created by ANGOSTURA bitters called the Last Dance. Similar to a Mojito but made with gin, this cocktail is my personal favorite for summer soirees. I really enjoy the combination of citrus and fresh mint, and the aromatic bitters truly elevate the juniper notes of the gin.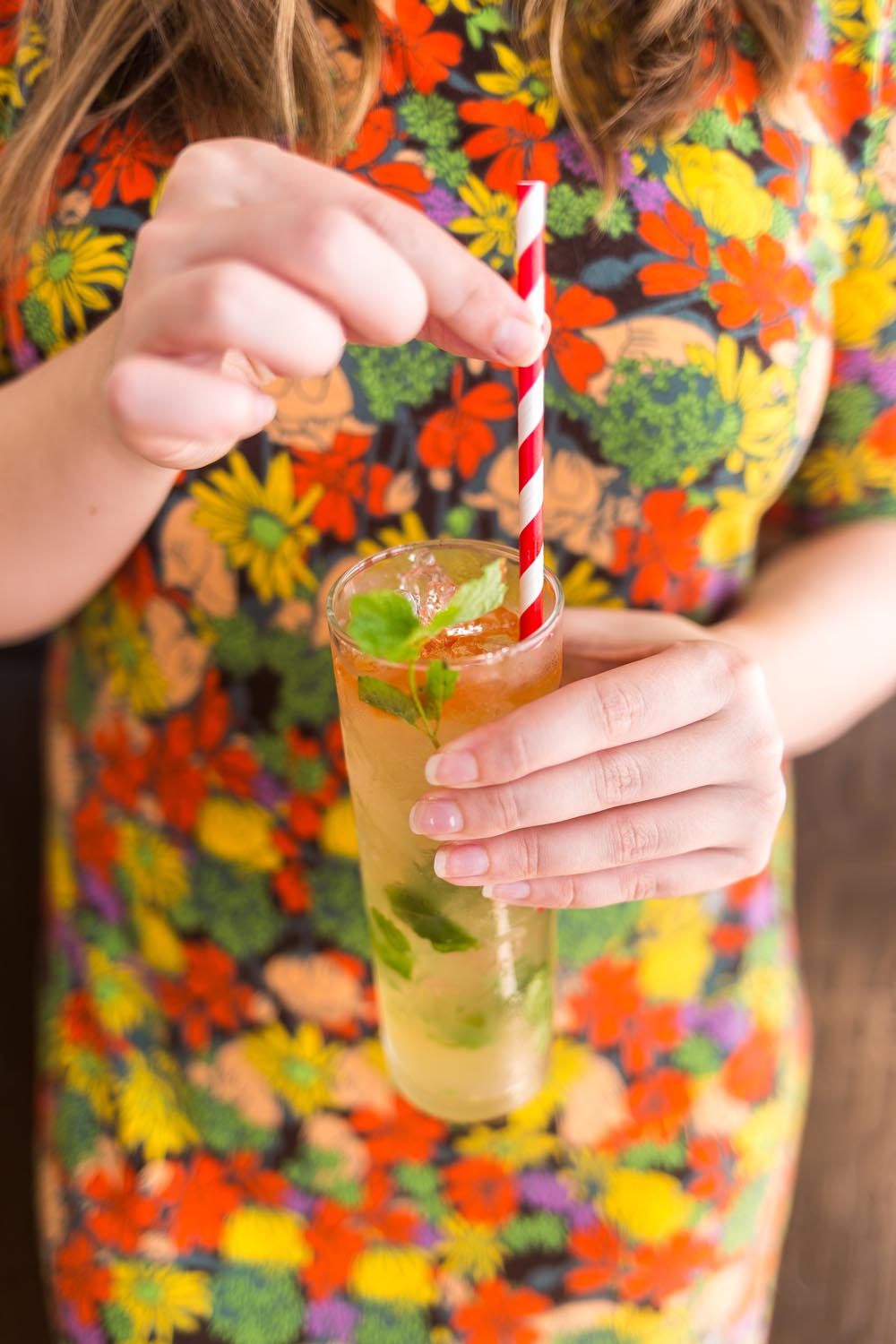 LAST DANCE
6-8 Mint Leaves, plus an extra sprig for garnish
½ oz. Brown Sugar Syrup (instructions below)
1 oz. Fresh Lime Juice
¾ oz. Honey Syrup (1:1 – instructions below)
2 oz. Gin
10 Dashes ANGOSTURA aromatic bitters
Crushed Ice
In a highball glass, add mint leaves and muddle.
In a saucepan on medium heat, combine 1/4 cup brown sugar and 1/3 cup water. Stir until sugar melts, then remove from heat and pour syrup into a container. Rinse and wipe out saucepan, then place back on heat and add 1/4 cup honey and 1/4 cup water, or less water if you'd prefer a sweeter beverage. (I opted for a 1:1 ratio.) Stir gently until honey and water combine into a thin liquid.
Once syrups have cooled, add to highball with lime juice and gin. Add crushed ice and swizzle. Finish by topping with bitters and a mint sprig.
Originally used for medicinal purposes such as stomach upset, it was later realized that bitters can complement other ingredients for an even better-tasting beverage. ANGOSTURA aromatic bitters are still made with the same secret recipe that was developed in 1824! Using a tincture closely guarded to this day, ANGOSTURA aromatic bitters is recognized as the world's first and best-selling cocktail bitters.
Bitters come in a number of varieties, from aromatic to citrus to other herbs and spices, but I find that the aromatic and orange bitters from ANGOSTURA are just about all I need in my home bar. You may recognize bitters from classic cocktails such as the Manhattan, Old Fashioned, Pink Gin and Mai Tai. They can also be used in mocktails!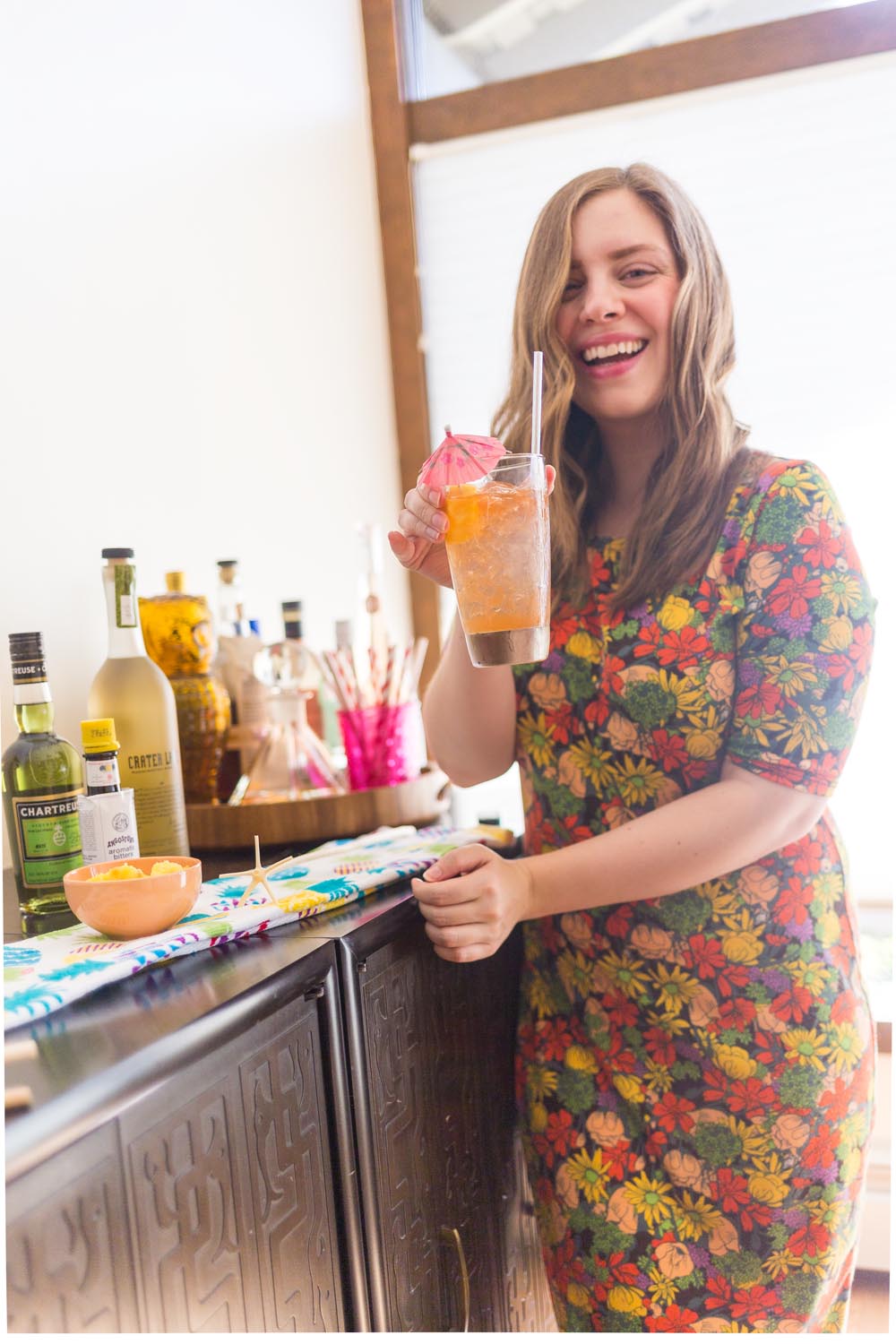 The second cocktail I've been feeling this summer is a little less sweet and a bit more herbal. It's the perfect refreshment because it blends sweet pineapple with the flavors of a variety of dried herbs from the Green Chartreuse, as well as a dash of spice from the ANGOSTURA aromatic bitters. The more earthy flavors of the gin are also evoked in this cocktail. I prefer my drinks a bit sweeter, so I muddled fresh pineapple in the glass as the first step, and added additional pineapple juice. Feel free to tweak and customize to suit your preferences, too!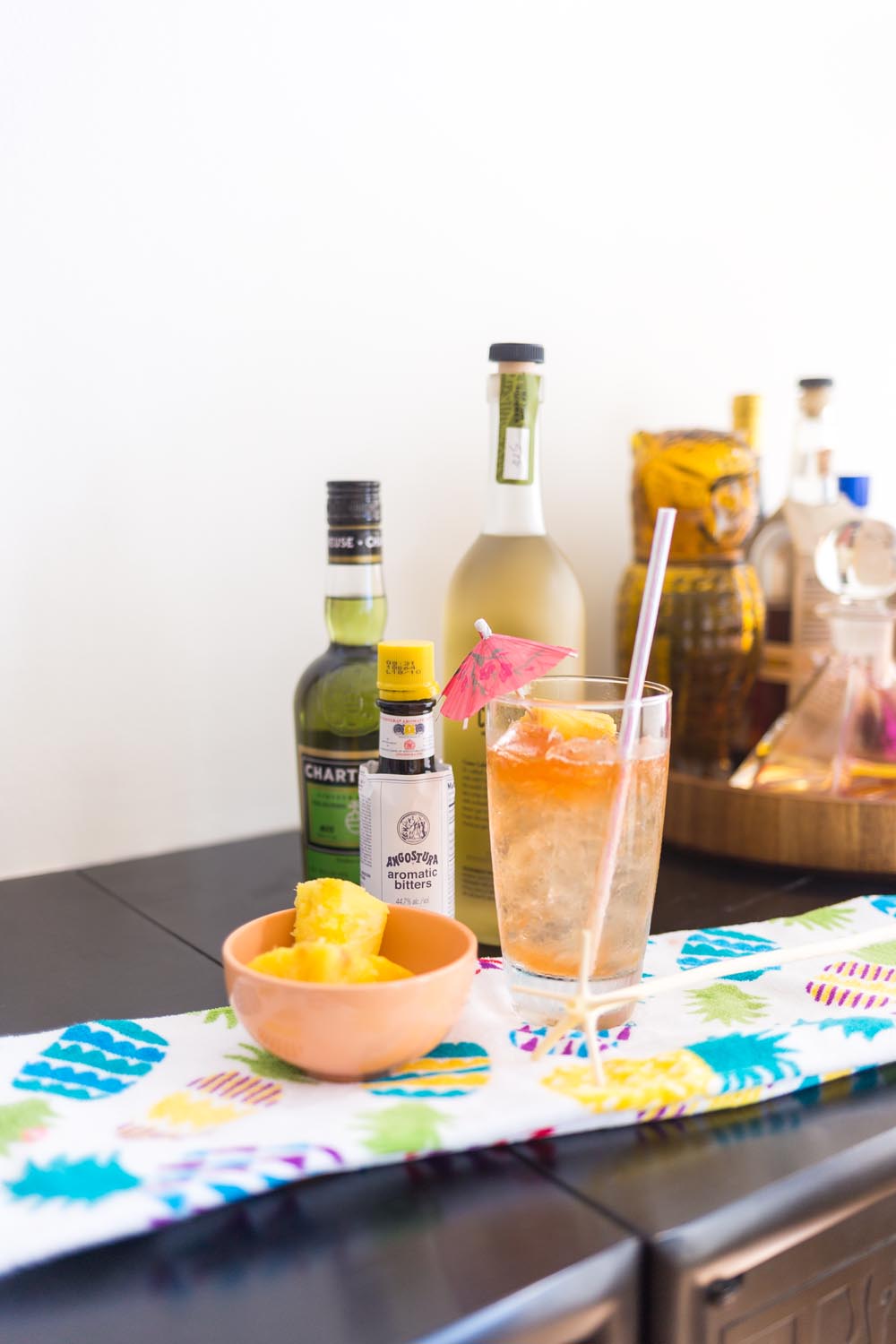 BITTERED PINEAPPLE
2 oz. Fresh Pineapple Juice, or to taste
½ oz. Green Chartreuse
¾ oz. Gin
¼ oz. Fresh Lime Juice
¼ oz. ANGOSTURA aromatic bitters
Crushed Ice
Optional: Fresh Pineapple
In a highball glass, add a fresh slice or two of pineapple to bottom of glass (optional). Muddle. Then, add pineapple juice, Green Chartreuse, gin and fresh lime juice. Fill with crushed ice, then swizzle to incorporate ingredients. Repack with additional crushed ice, if needed, and top with bitters.
Finally, the Queen's Park Swizzle is the most famous of all Trinidadian cocktails. Created in Trinidad and constructed with rum and a heavy serving of ANGOSTURA aromatic bitters, I've heard it is impossible to turn down! I haven't made this one yet this summer, but it is next up on my list and I can't wait to try it!
Queen's Park Swizzle
2 oz. ANGOSTURA Dark Rum
1 oz. Demerara Simple Syrup
1 oz. Fresh Lime Juice
12-14 Mint Leaves, plus an extra sprig for garnish
6-8 Dashes ANGOSTURA aromatic bitters
In a highball glass, muddle mint leaves in lime juice and simple syrup, then fill glass with crushed ice. Pour rum over crushed ice and swizzle until glass is ice cold and frosted. Pack glass with more crushed ice and top with ANGOSTURA aromatic bitters.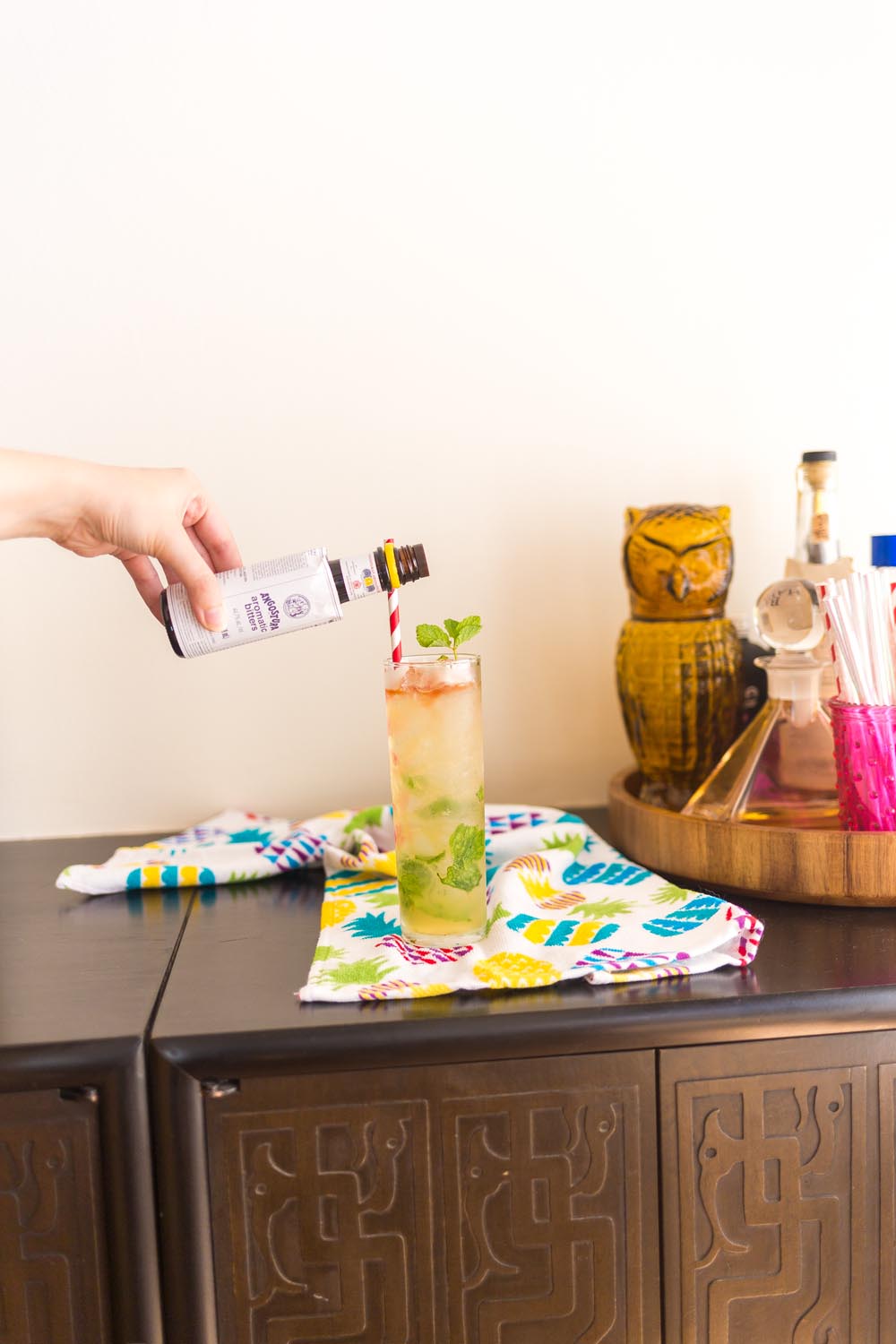 No matter which cocktail or mocktail you choose for your next gathering or summer barbecue, I know you and your guests will be delighted with the flavors, tastes and textures created by the swizzle. Don't forget to purchase ANGOSTURA aromatic bitters at your local grocery store or liquor retailer for the perfect summer cocktail!
Are you ready to show off your swizzle skills? Good news! ANGOSTURA bitters is also hosting a contest for U.S. cocktail and mocktail lovers of all skill levels to showcase their own unique swizzles. Enter on Instagram to win an all-expenses paid Austin City Limits Music Festival experience! To learn more about how to submit your own swizzled creation to the contest, visit www.SwizzleRoyale.com or check out @AngosturaHouse on Instagram. And don't forget to tag me in your entry! I'd love to see what you're sipping and swizzling this summer.

Do you have a go-to cocktail recipe that includes aromatic bitters? What is your favorite summer beverage? I'd love to hear about it in the comments!