Maybe you're an old pro at shopping Sprouts Farmers Market. Or, maybe, just maybe you're like me and you've recently discovered Sprouts supermarket. I know, I know. Where have I been?! The truth is, that Sprouts is actually still pretty new to the Pacific Northwest. In fact, there's only one store open right now north of Seattle, but in just about 3 weeks, everything will be changing. Sprouts will be opening up their second Washington location in Lynnwood on February 6th!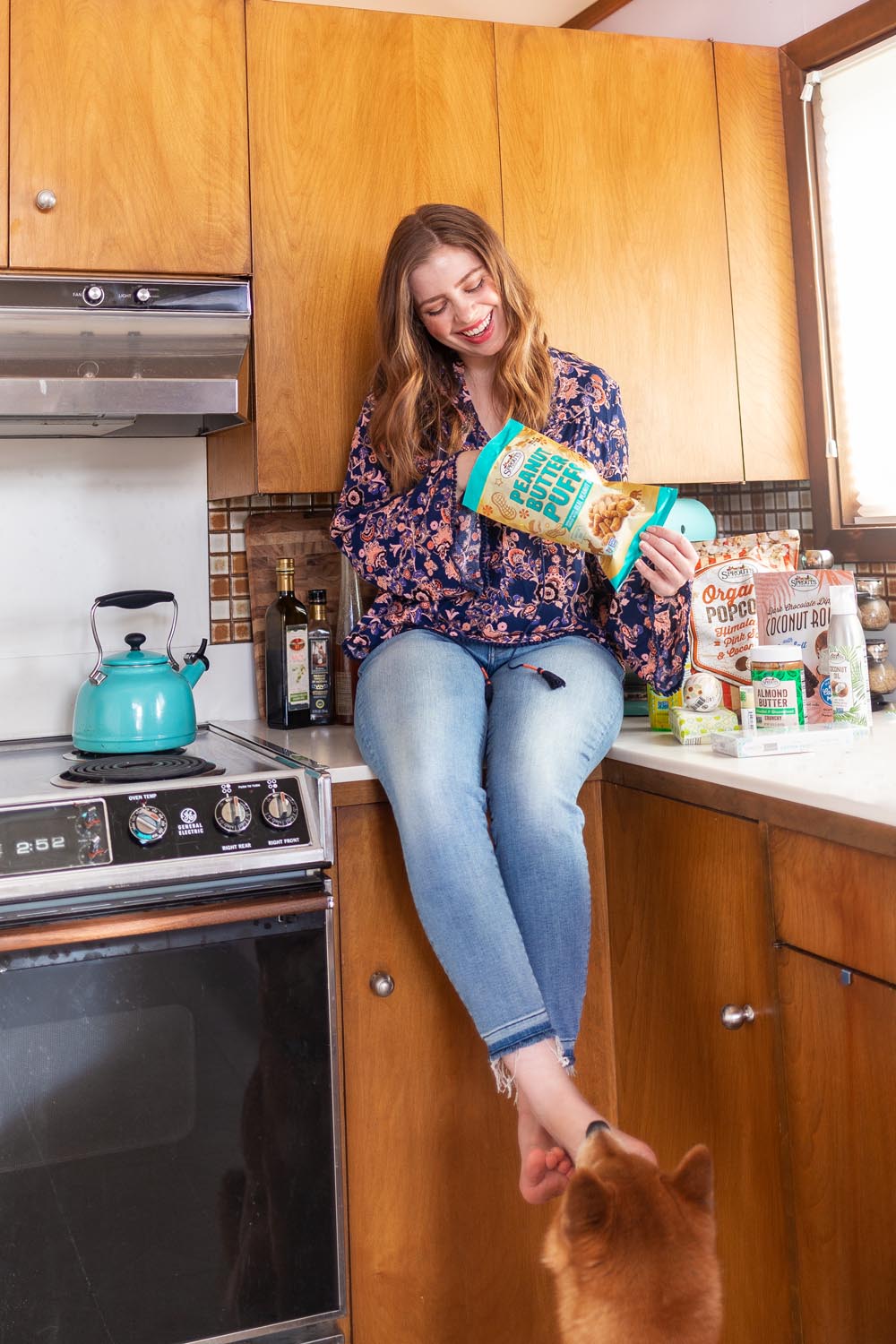 Disclosure: Thanks to Sprouts Farmers Market for sponsoring this post! All opinions are my own.

​​If you walk into Sprouts and get overwhelmed, I feel you. My first shopping trip was a little bit of a shock (in the best way possible!) because there was just SO much to see. The good news is that you've come to the right place because I crowdsourced and asked my readers and followers for their top recommendations on what to buy at Sprouts, and they delivered. Even better, I have some great tips and tricks from Sprouts themselves on how to save BIG next shopping trip.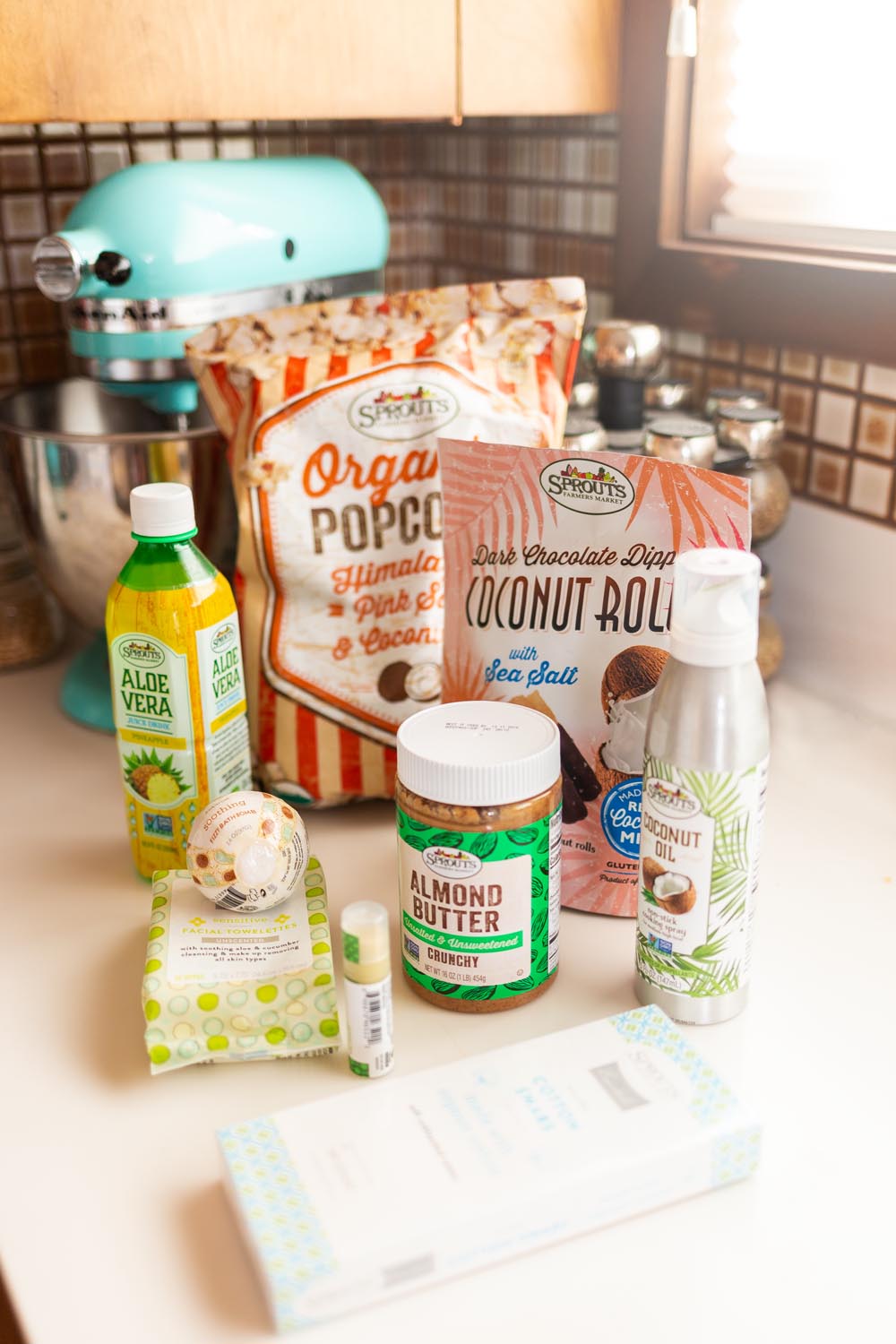 What to Buy at Sprouts
When it comes to shopping at Sprouts, you can always count on great taste and top quality when it comes to their Sprouts Brand products. Did you know they have over 2,000 Sprouts branded items to choose from? I sure didn't, and love that I'll be sure to find something new and exciting to try out each time I shop thanks to the buyers at Sprouts, who are always on the hunt for the latest and greatest. Many of the Sprouts Brand items are natural, organic, as well as gluten-free, vegan, and non-GMO.
Make Your Sprouts Grocery Shopping List
So what should you buy at Sprouts? Here are a few things that myself as well as some of my readers and followers recommend! Best of all, these are all Sprouts Brand products so you can count on getting a great deal!
Bulk bins:
Dried Mangoes
Chili Mangos
Dark Chocolate Fruit and Nut Mix
Spices
Unique ingredients that you might only need small amounts of, such as Dried Lavender
Roasted Okra
Chocolate-covered Honeycomb
Dried Fruits, specifically cherries, cranberries, figs, and dates
Snacks:
Coconut rolls (Seriously addictive! Don't say I didn't warn you.)
Olive Oil Potato Chips
Peanut Butter Puffs (Ok equally as addictive as the coconut rolls. Sorry in advance!)
Dark Chocolate Almonds
Aloe Vera Juice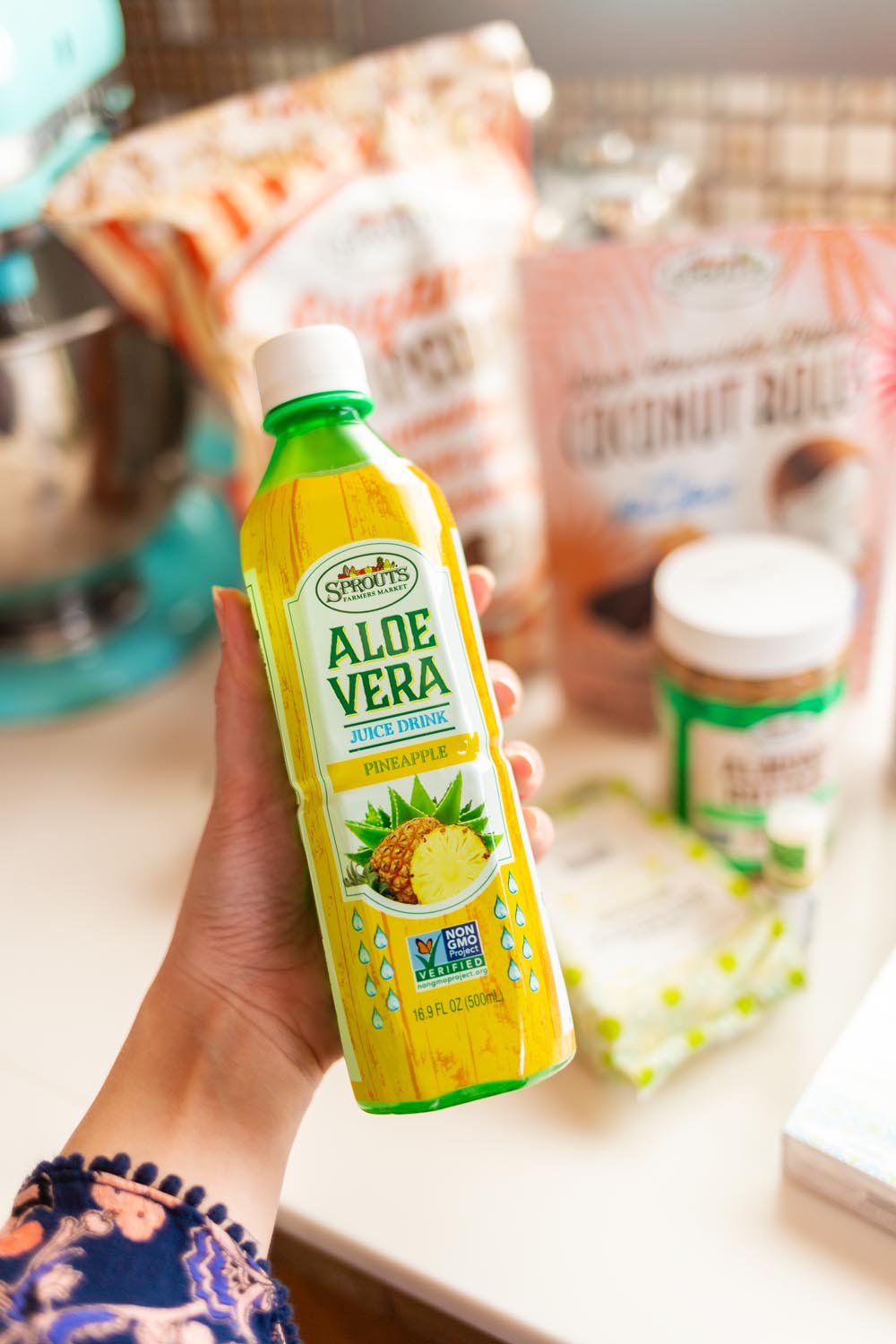 Household Staples:
Bulk cheeses (I especially love the odds & ends – perfect for cheeseboards!)
Nut butter
Corn Tortillas
Ghee
Coconut oil spray
Housemade sausages (Chicken Feta Spinach, Green Chile, and French Apple specifically!)
Bacon
Gourmet Coffee (Buy a cup while you shop for just 99¢!)
Boxed Mac and Cheese (try the Hatch Chile Mac if you like a little spice!)
Health & wellness:
Makeup wipes
Bath bombs
Lip Balm
Lotion
Grab & Go:
Made-to-order Deli Sandwiches
Salad Bar
Heat-and-serve meals like meatloaf
Try something from Sprouts and don't love it? No problem! To make sure you feel good about what you buy and keep trying new things, Sprouts offers a 100% money-back guarantee. If you don't love it, just bring it back!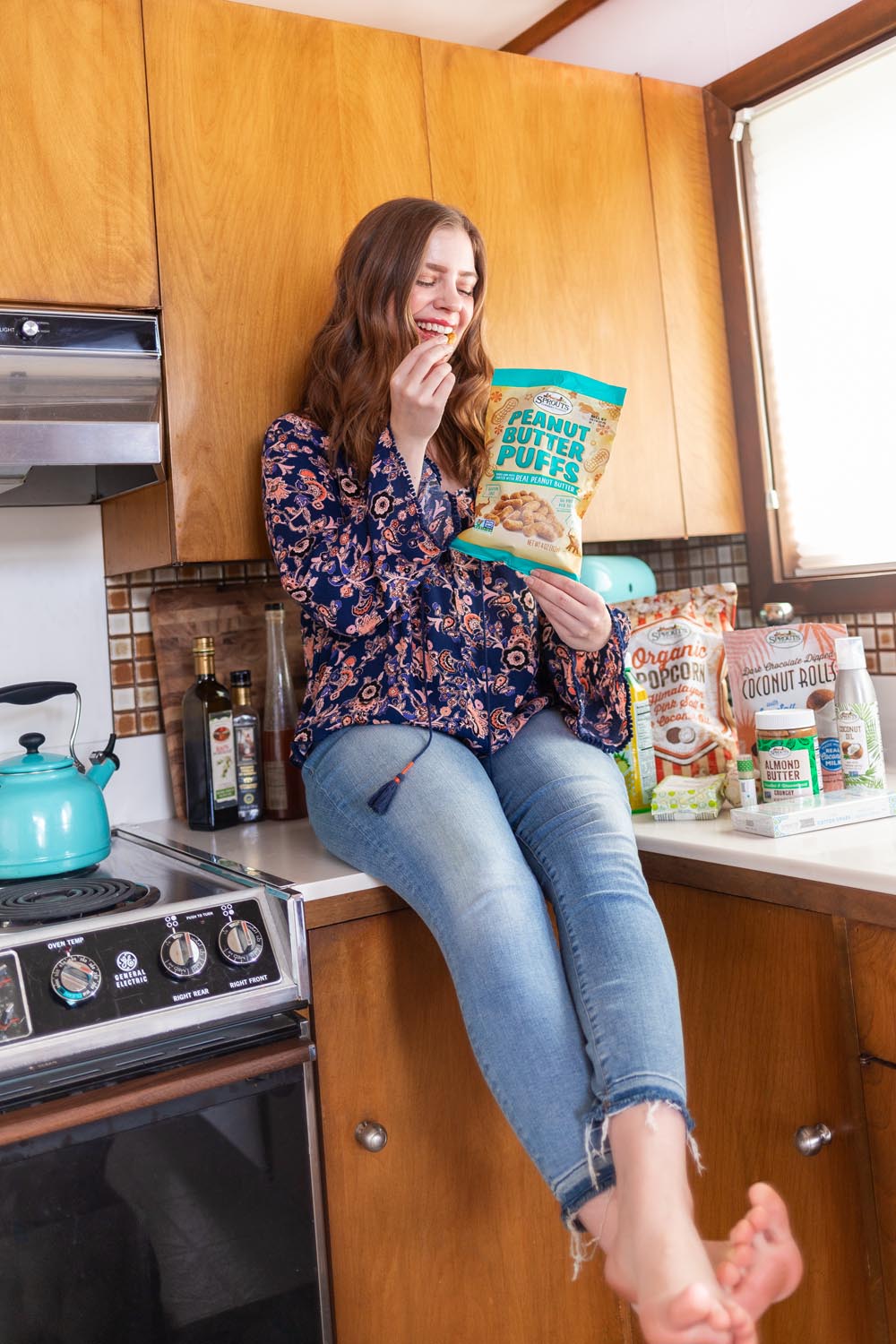 How to Save Big at Sprouts Farmers Market
Okay, so you've got your grocery list completed and you're ready to head to Sprouts. Not so fast! Before you head to the grocery store, I think it's important to plan ahead a bit. Because Sprouts makes healthy living for less easy with a variety of ways to save throughout the store, you want to be prepared before you get carried away with buying all the things. With more than one-third of the store on promotion at any given time, you'll be sure to be saving big! Keep reading for some easy ways to prepare to save before you get to the store.

How to use the Sprouts App to Save Money
First, download the Sprouts App from the App Store. Here you'll find exclusive mobile coupons through the app that make it even easier to plan ahead and save. Create a Sprouts account to clip digital coupons. Then, simply scan your custom barcode in the app during checkout to enjoy instant savings!
Try Before You Buy at Sprouts
As I mentioned in my previous post about Sprouts, they are famous for their farm-fresh produce. Even better? It's priced 20-25% below supermarket prices, on average.
Something else that you will notice is that produce is prominently displayed at the center of the store. Among staples like apples, citrus, and avocados, you'll find more unique items like cotton candy grapes, lychee, star fruit and more. If you're unfamiliar or curious about an item, ask any team member who will help you sample it!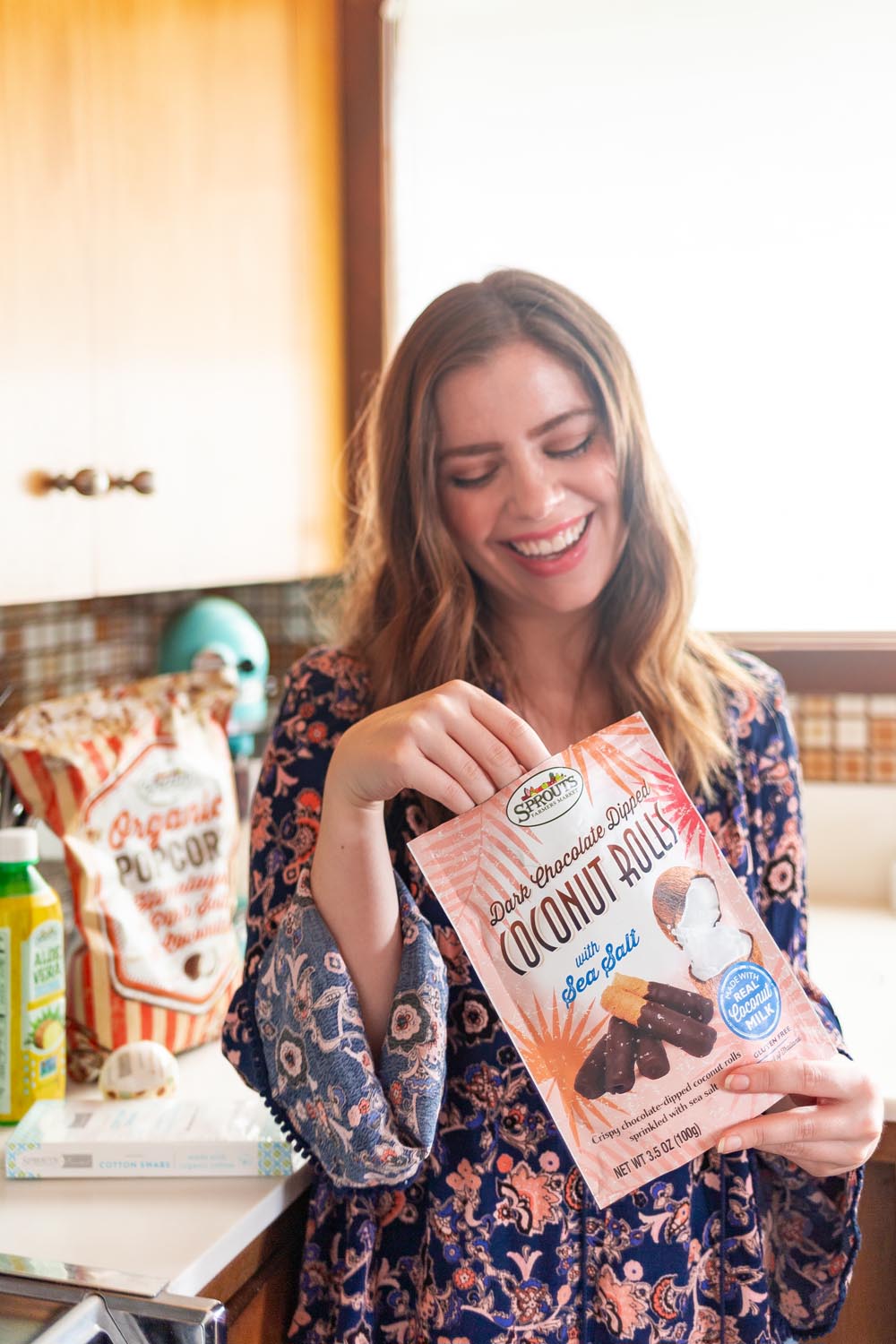 Scoop up Big Savings in the Bulk Department
The bulk bin was the first category in my grocery shopping list suggestions and for good reason! You can save BIG by shopping by the ounce or pound on staples like grains, granolas, spices, nuts, sweets and much, much more. Don't need a whole lot of something? No problem! Buy as little as you need, or as much as you want. Less packaging in the Bulk Department means that more savings get passed on to you!  

PRO TIP: Trying to be more eco-conscious? Bring your own container for bulk foods. Just have a Sprouts team member weigh it before you fill it up!

Sprouts Double Ad Wednesday
What's the best day to visit Sprouts Farmers Market? On Wednesdays, of course! Shoppers love to visit Sprouts on Double Ad Wednesday.  Because the weekly ad prices run from Wednesday to Wednesday, you can save even more in the middle of the week when the ads overlap. Two ads on one day equal double the deals!  
Sprouts Deals of the Month
Other than the weekly ads, be sure to take note of the Sprouts Deals of the Month! You can find the current Deals of the Month on their website, or you can pick up a flyer next time you're shopping in the store! Keep an eye out for special deals and bundle them with digital coupons, mobile savings, and the Sprouts Weekly Ad for a screaming deal!
PRO TIP: Stock up in-store and save! When you spend over $100 on health items like vitamins and supplements, you'll get 10% off!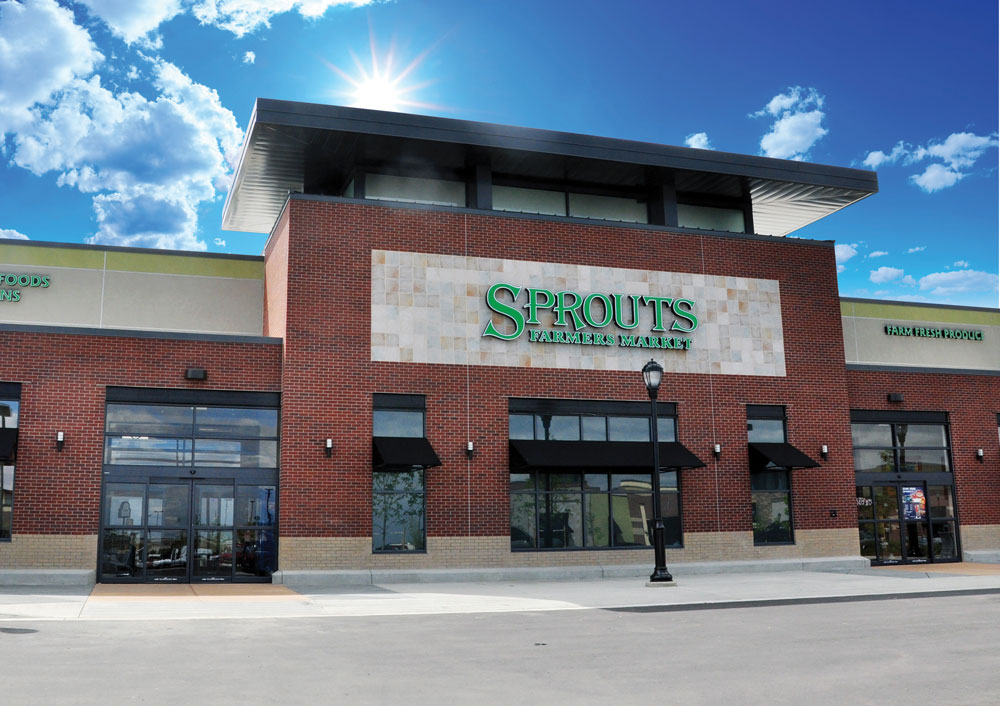 Join Sprouts for Grand Opening Day Deals on February 6th!
If you're local then don't miss the biggest day to save! Grand opening day at Sprouts Lynnwood is on February 6th!
Enjoy special deals such as:
The first 200 shoppers in line will receive 20 percent off their initial total purchase. Doors open at 7 a.m.!

Delicious muffin and coffee samples will be served to everyone in line before the doors open.

Upon checkout, every 15th shopper will receive a coupon book featuring Sprouts savings.

Every customer will receive one free reusable bag with purchase.
Can't make it on opening day? Come back over the weekend for:
The first 200 customers to make a purchase will receive a coupon booklet for five free deli items on Saturday, February 9th.
Upon checkout, every 15th customer will receive a coupon for $5 off a purchase of more than $15 to use on their next visit on Sunday, February 10th.
I don't know about you but all of this talk about groceries and big savings has got me in the mood for a shopping trip to Sprouts! I hope you'll join me in welcoming Sprouts Lynnwood to the area next month on February 6th. In the meantime, make sure you're ready for your shopping adventure by downloading the Sprouts app and getting your grocery list ready. I can't wait!
Are you a Sprouts shopper? Do you have a favorite item you always buy, or a great savings hack for getting a good deal? I'd love to hear about it in the comments!