Disclosure: This shop has been compensated by Collective Bias, Inc. and its advertiser. All opinions are mine alone. #MyRadiantLook #CollectiveBias
With an intense love for chocolate, red wine, and coffee, I'm constantly looking for ways to keep my smile looking brighter and whiter to combat stained teeth. It can be hard to make the time for some whitening regimens, so my go-to way to whiten has always been with a daily whitening toothpaste. Along the way, I've also discovered a few beauty hacks that will make my smile shine without too much effort too!
5 Beauty Hacks for a Radiant White Smile
Using Colgate® Optic White® RADIANT™ Toothpaste combined with a few easy makeup hacks, my smile is looking more radiant than ever! Today, I thought I'd share these hacks with you, so you too can get that radiant white smile you've been wanting without too much expense or any time-consuming treatments!
1. Maintain a radiant white smile
The first way I create a radiant white smile is with Colgate® Optic White® RADIANT™ toothpaste, now available at Kroger stores. Unlike most whitening toothpaste, Colgate® Optic White® RADIANT™ toothpaste safely whitens the inside as well as the outside of your teeth. It's made from hydrogen peroxide, a dentist recommended ingredient and is enamel safe for daily use.

2. Add a pop of highlight
A pop of highlight to the bridge of the nose and the inner corners of the eyes can do wonders! It will make your eyes appear brighter and add a lovely glow to your face without looking too artificial. When your eyes sparkle, so do your teeth. A big, confident smile will complete the look, of course!

3. Accentuate your lips
With all eyes on your smile, you might as well plump up your lips too! And no, I don't mean with anything too serious. A nude lip liner will do! Pick your favorite nude lip liner in a shade that is similar to your lips, and line a bit below your lower lip line and go a bit outside the natural v-shape of your lips to give the illusion that they are even fuller.

4. Go for a blue-based red lip
To cancel out any remaining yellow tones in your teeth, look to the color wheel for help! A blue-based lip color will help cancel out those shades of yellow. I always am a fan of a classic blue-based red lip and recommend looking for a red with almost a purple look to it when you swatch it. If you're unable to swatch it before purchasing, try to find a lipstick that looks a bit like a cherry. Just be sure to avoid corals, and anything that mentions orange, tangerine, or mandarin as those typically will be orange based reds. Definitely avoid anything orange-based if you're wanting to keep your smile looking as white as possible!

5. Bronze up your skin
You know how when you get a bit of a tan and everything else looks a bit brighter? The whites of your eyes stand out, your smile looks super white, and whites look whiter. Fortunately, it's easy to get a faux glow at home with a bronzer! I would recommend a cool toned bronzer (looks nude rather than orange) for making your radiant, white smile really pop! Run a cool-toned bronzer along the contours of your cheeks, around your hairline, and even a bit below your lips and chin for the most contoured look, or keep it simple and just add a bit back by your ears for a slightly bronzed look.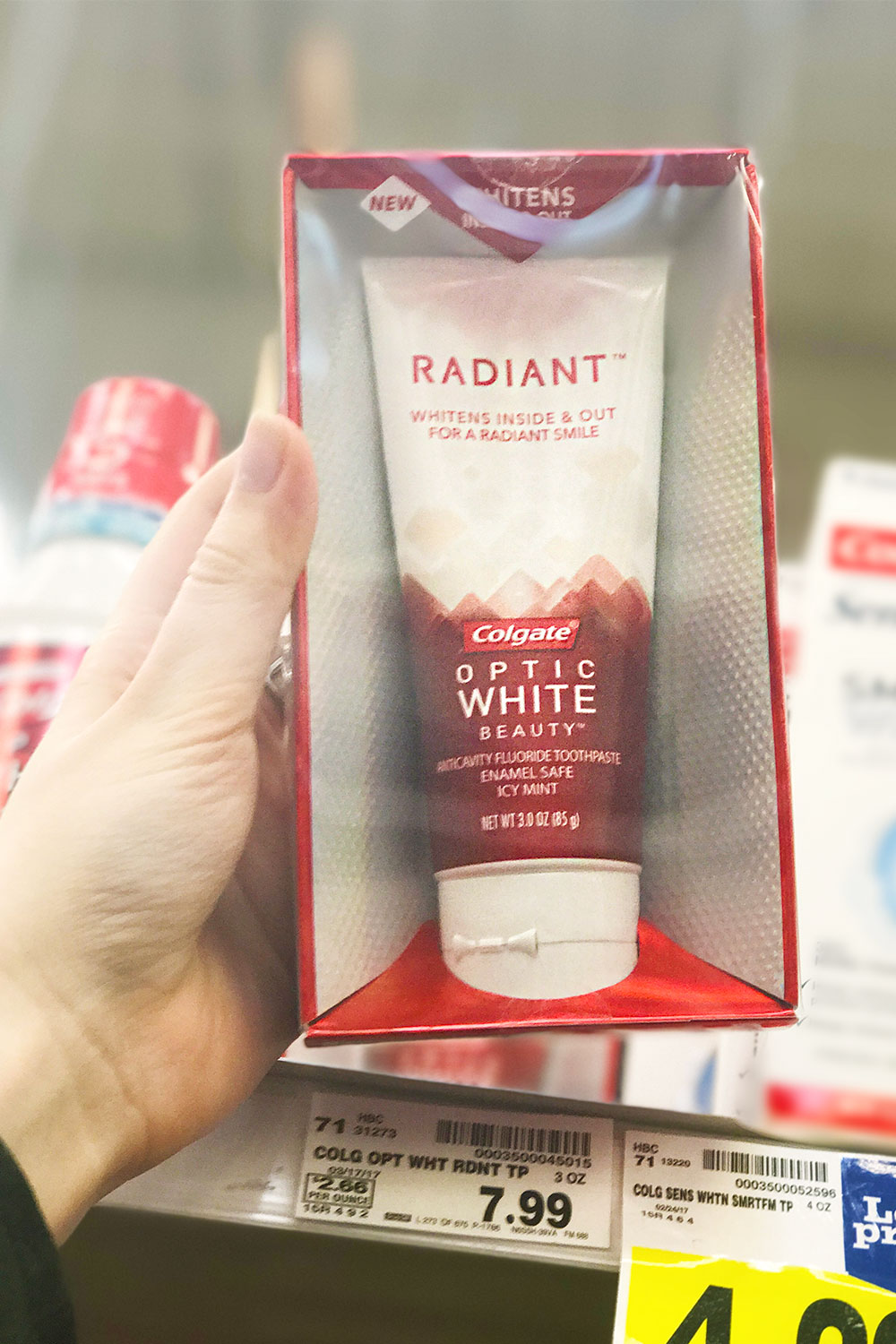 With all of these hacks in your knowledge base, it's easy to get a radiant white smile without expensive treatments or wasting money on other whitening toothpaste. You can find Colgate® Optic White® RADIANT™ Toothpaste at your local Kroger store (mine is Fred Meyer!) in the toothpaste section. It's as easy as swapping out your previous toothpaste and waiting a few days to see a brighter white smile.
How do you keep your smile looking radiant? Do you have any beauty hacks to make your pearly whites really stand out? I'd love to hear them in the comments!