Earlier this month I shared how to style sneakers in a casual way, but of course, you can dress them up too! I love rocking a cute skirt and sneaks, or a flirty spring dress. For this styling, however, I thought I'd pull one of my warm weather favorites out of the closet: the versatile jumpsuit!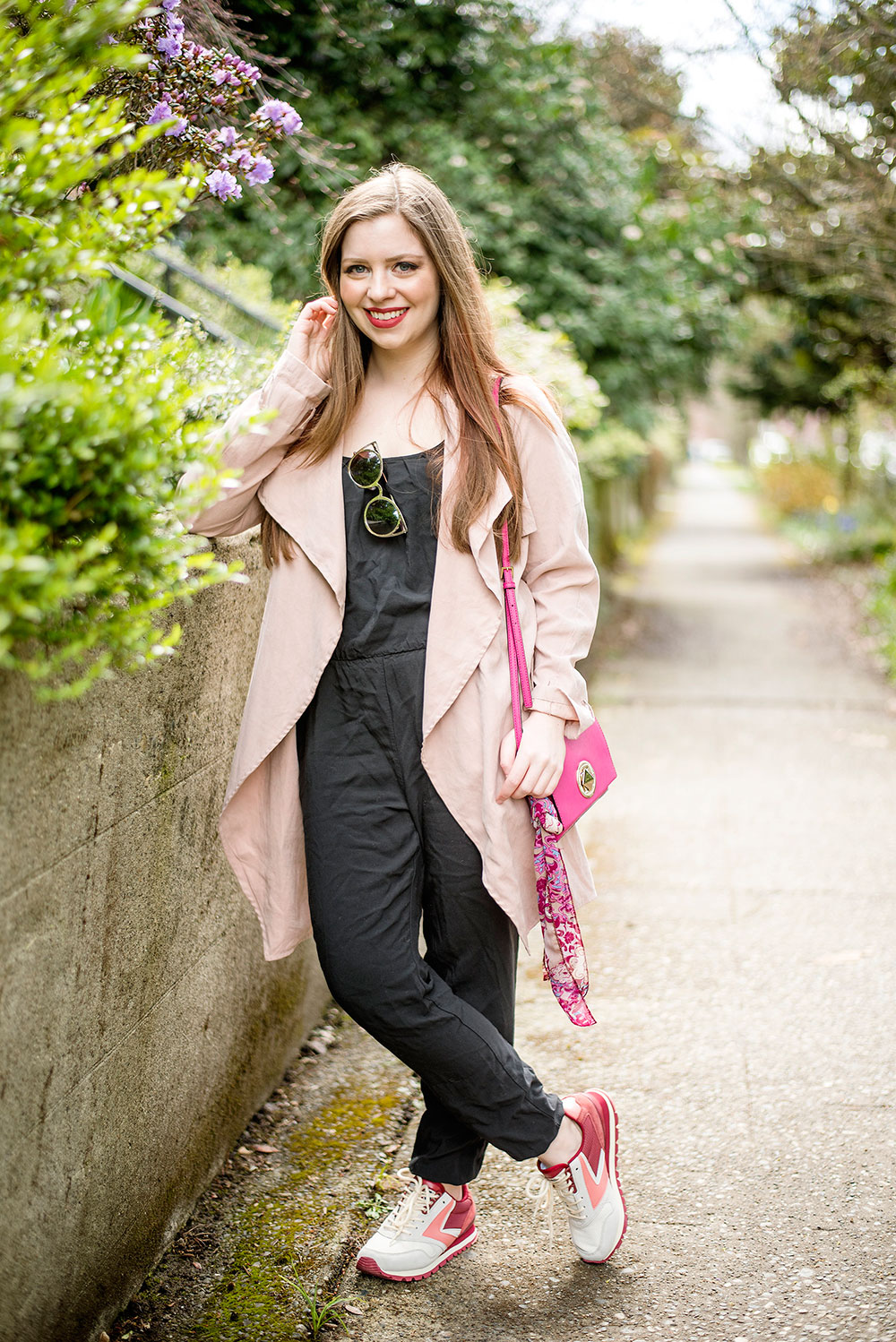 Disclosure: Some of the links in this post are affiliate links which means I may make a small commission if you click them. These sneakers were provided courtesy of (c/o) Brooks. All opinions are my own!
Photos by Karya Schanilec Photography
How to Dress Up Sneakers
I think jumpsuits are the perfect piece to wear dressy or casually. Pick one up in black, and you instantly have a piece that can be worn in so many ways. To me, black is one of the most versatile colors in my closet and goes with almost everything. In fact, I have so many black jumpsuit outfit ideas, I think I'll just have to post some of my favorite ideas soon! For now, here's one way I love styling my little jumpsuit: with sneakers, of course!
These Brooks Heritage cuties are such a fun color combo that I knew pairing them with a black jumpsuit would make them pop. To match the pink in the shoes, I also went with a blush-toned trench from Ellison. I can't be the only one patiently (or not so patiently…) waiting for the spring weather to actually arrive here in Seattle! ;) In the meantime, I've learned that packing a jacket is a must. To finish off the outfit, I wanted to add another fun pop of pink. This time, I opted to go for a bright pink purse from Kate Spade and I tied a vintage neck scarf on it for some added interest. Yes, your bags need accessories too!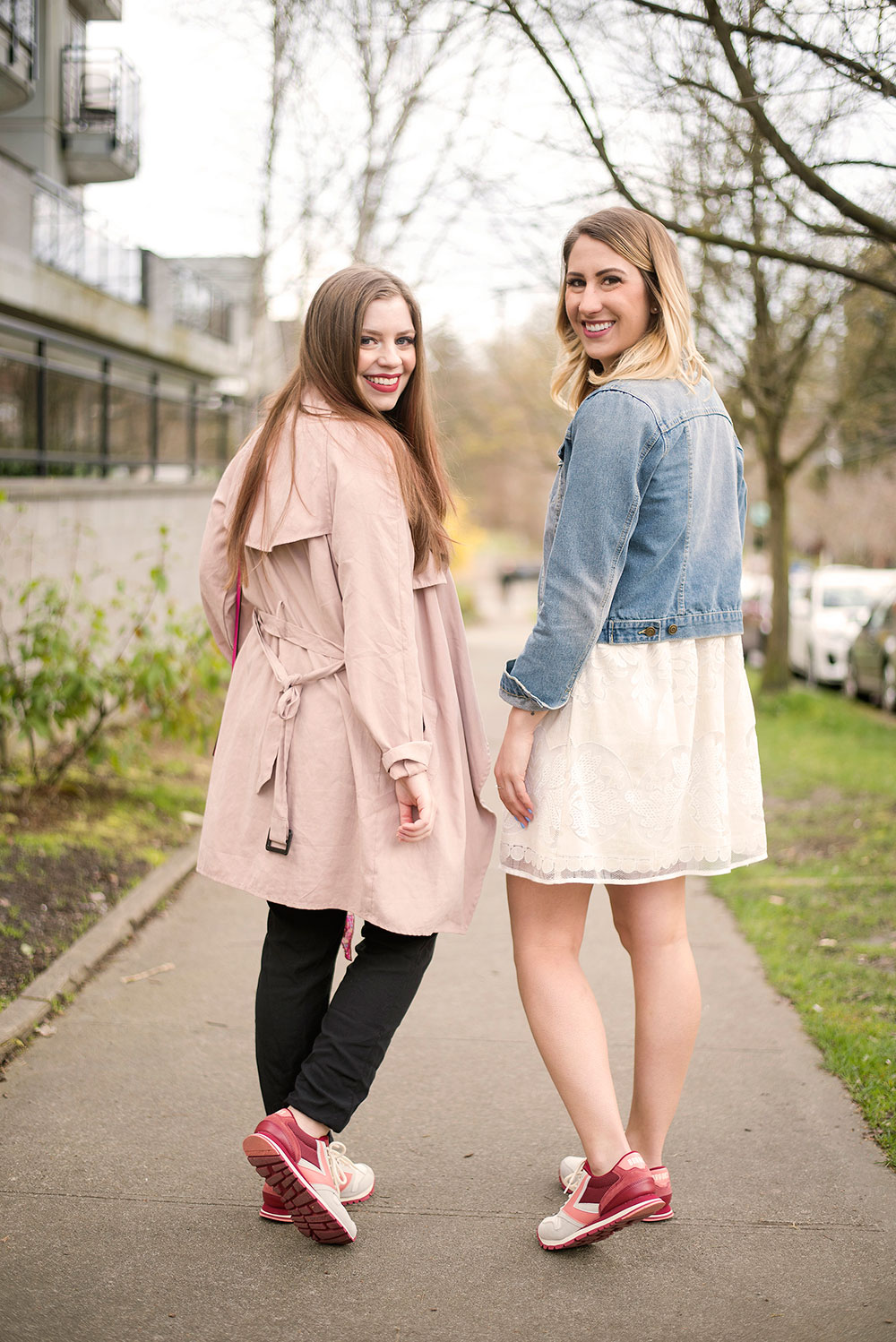 My friend Megan of Diary of This Girl did an amazing job styling her Brooks Heritage Chariot sneakers for spring too! She paired an adorable denim jacket from ASOS with a cute white dress from Old Navy for the perfect spring look! It is a classic outfit that I could see wearing at your business casual office, or out on a fun springtime date with that special someone. The pair of sneakers keep the outfit feeling fun and fresh, add a pop of color ofor interest, and as an added bonus, your feet stay extra comfy! Who says you have to wear heels and wedges all spring long?! You can see the rest of her outfit on her blog post here.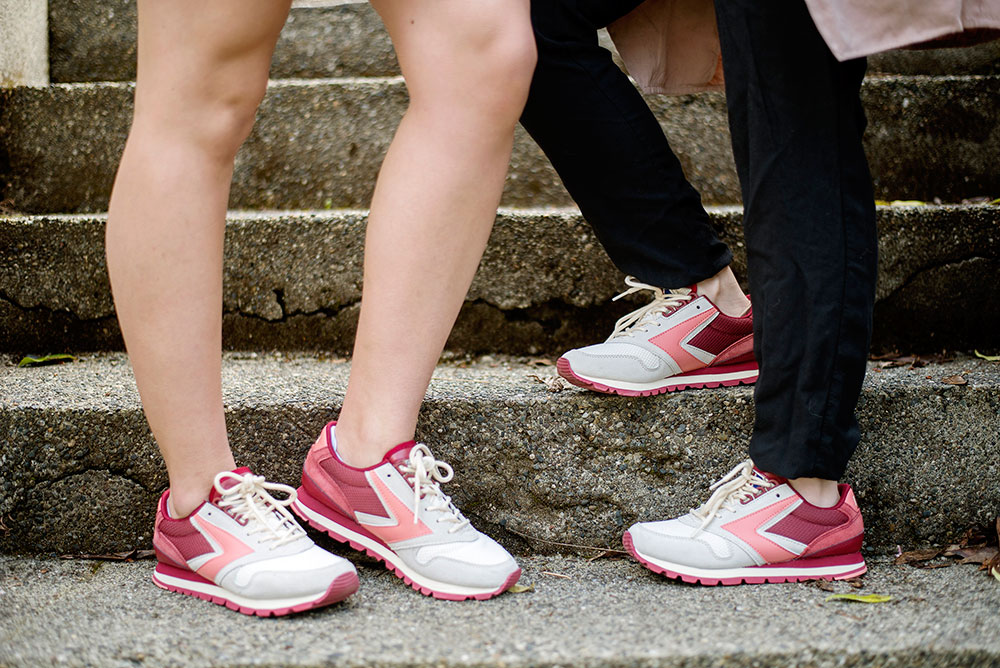 When it comes to dressing up your sneakers the key, for me anyway, is to have fun with your outfit and pick sneakers that reflect your personal style. Sneakers with fun colors, prints, or clean lines are personally my favorites, as I think they best match my existing wardrobe and they are what I gravitate towards most. There's no point in buying a pair of sneakers that you can only think of one or two ways to wear! Pick a pair that speak to you (yes, I really think this is a thing. Though then again, maybe I just like clothes a little too much…). I also like to envision wearing them in at least 3 or 4 different ways just off of the top of my head before purchasing. The worst thing you can do for your wardrobe is purchase something that you don't absolutely love and have no idea of how to wear it.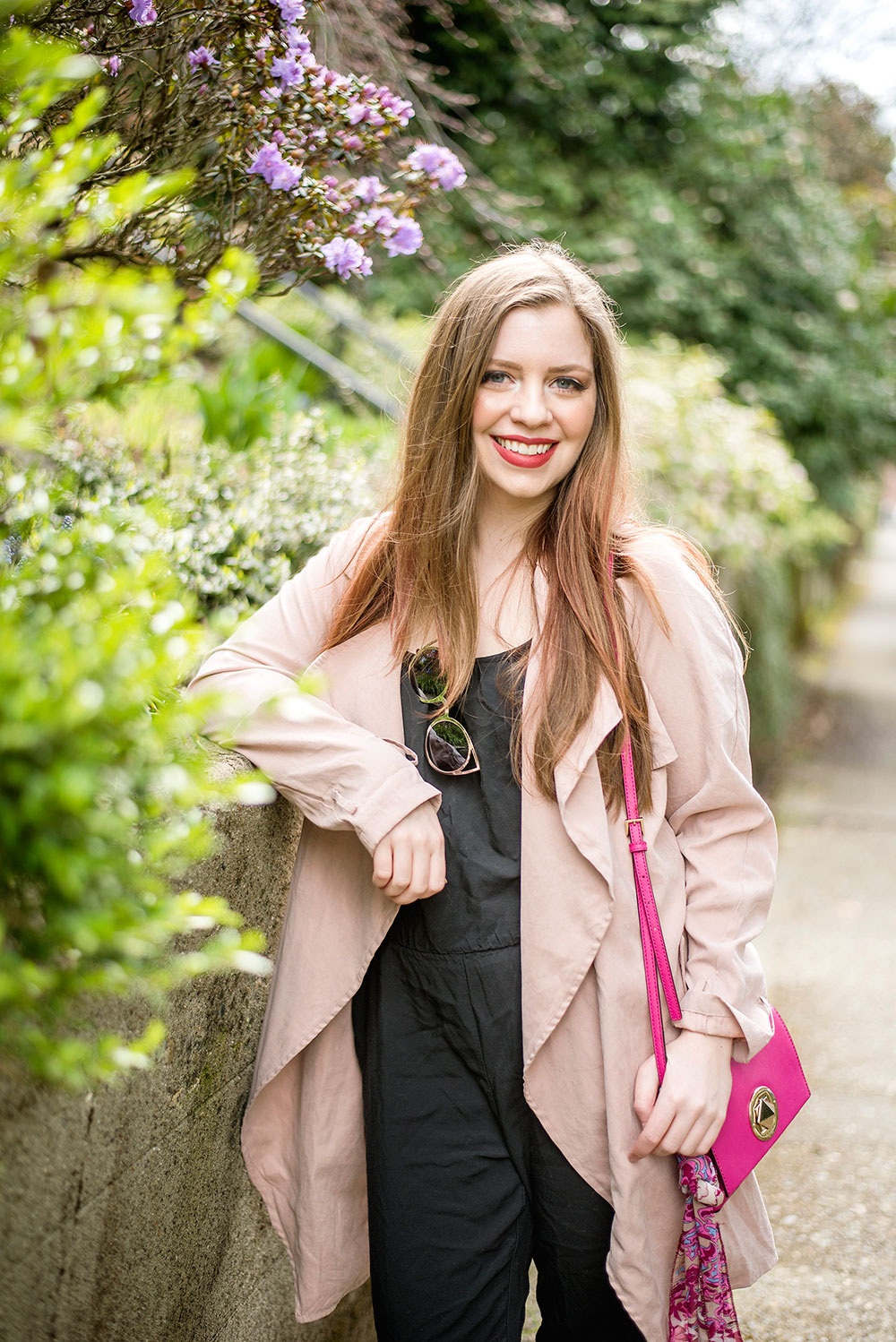 Another way you can tell you don't love something? You don't wear it in the first week of bringing it home. If I'm unsure of whether I like something, I always keep it in the packaging, with the tags on, and with a receipt nearby until I actually wear it. Then, once I've worn it within a few days of purchasing and fall in love all over again, I don't worry about it. If I don't wear it right away, it gets packed back to where it came from. This isn't a foolproof plan, as I still always have something I could clean from my closet, but it definitely has helped me with impulse buys and has reduced my spending.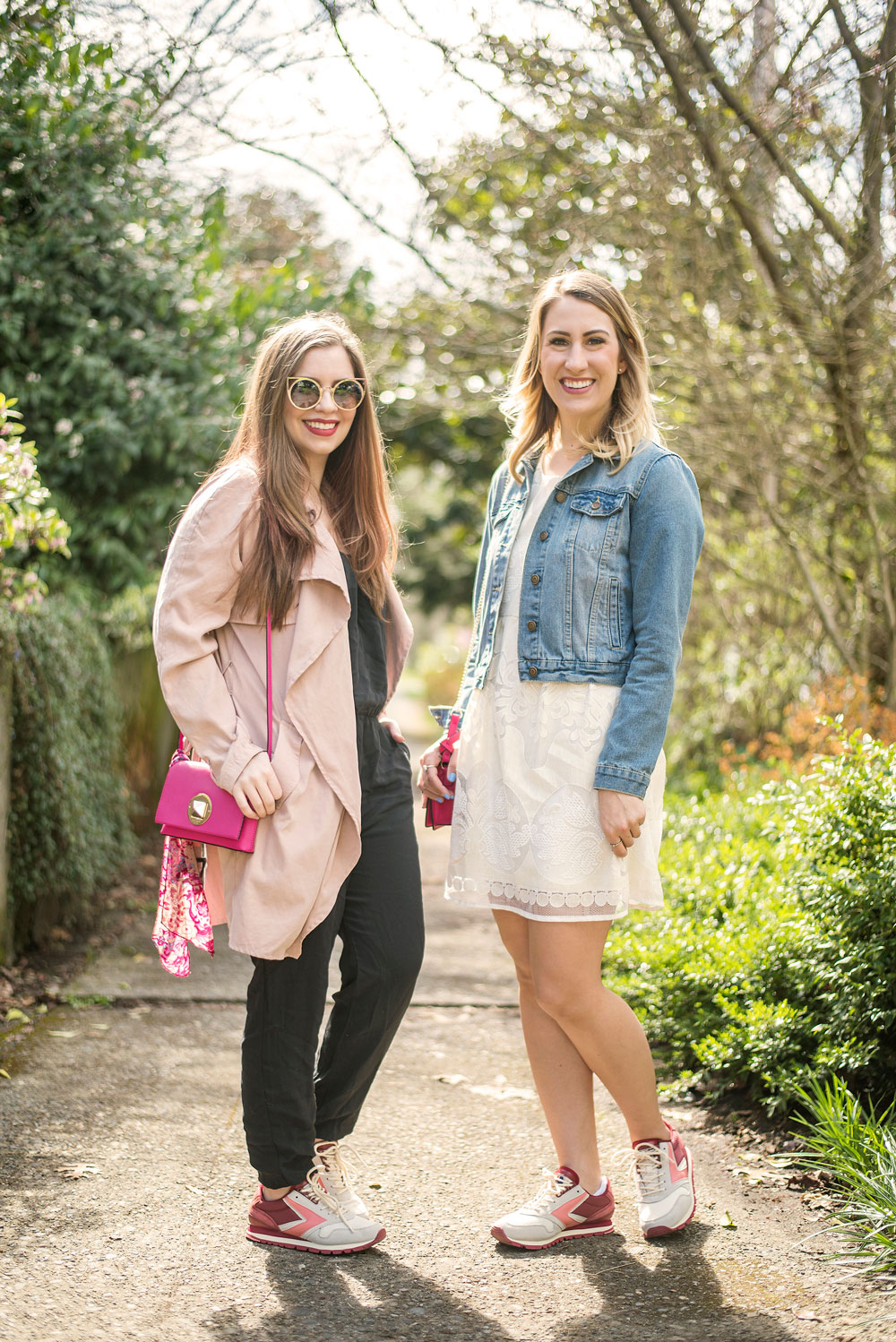 As for outfit ideas? The options are endless! Skirts, dresses, boyfriend jeans, jumpsuits, and rompers are some of my favorites. But then think of all the other items in your closet that you could easily mix into those staple pieces to create a head to toe look. When it comes to picking the right sneaker and coming up with how to wear them, I often find that tweaking a few things (like a jacket and a bag) can make for some interesting outfit options.
How do you like to style your sneakers? Do you have any outfit combinations that are your favorites? I'd love to hear about it in the comments!