Well, it's officially music festival season! Looking outside and seeing raindrops on the sidewalks and windows doesn't make it feel very much like it here in Seattle, but I'll just pretend I'm in the California sun. ;) While I've never been to Coachella, I have definitely embraced some of the festival vibes of our local music scene. From Folklife to Sasquatch and Hempfest, Seattle and Eastern Washington has a music scene and lifestyle all it's own. And fashion is most definitely an integral part of it, which is why you always need to have some good festival outfit ideas up your sleeve!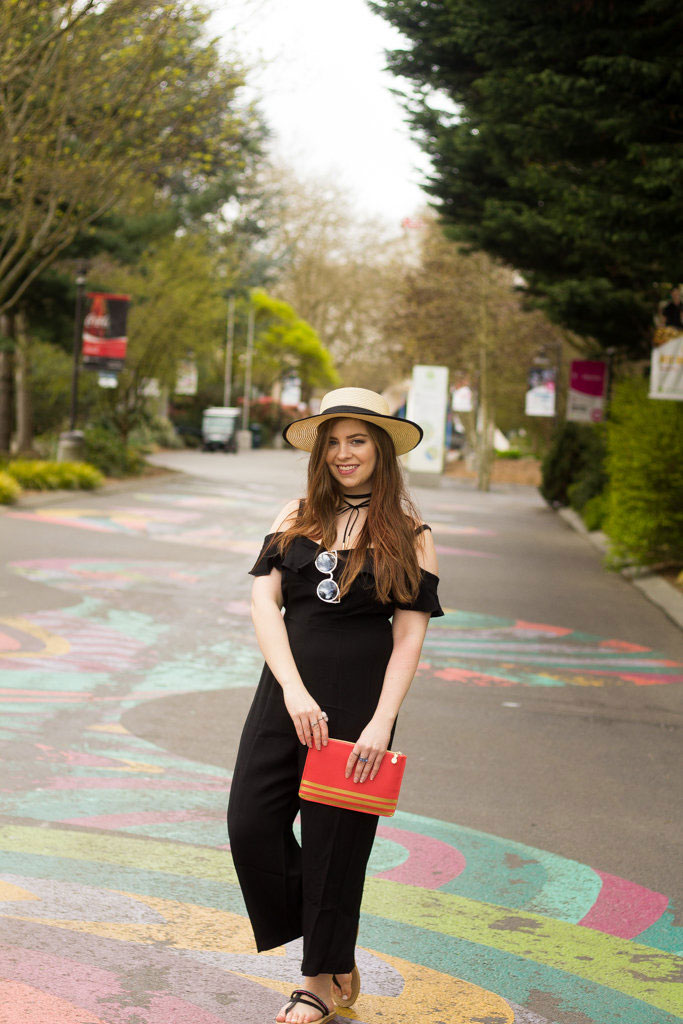 Disclosure: Thanks so much to Fred Meyer for sponsoring this post. All opinions are my own!
3 Festival Outfit Ideas for Every Style
Photos by Bailey Makaimoku Photography
With festival season in mind, I thought it would be fun to create three festival looks perfect for your next outdoor music adventure. Whether you're heading off to a music festival yourself, planning Coachella outfits for next year, or just are interested in creating a look that looks like you should be at a festival, I've got an outfit for you! Best of all, each of the items in these outfits can be found at your local Fred Meyer store, which means that every single item is affordable. Heck yes to being both on trend and affordable!
Romantic + Feminine Festival Outfit
Love ruffles? Me too! When I saw this adorable Emma & Michele jumpsuit at Fred Meyer, I knew this would make for the perfect festival outfit. The ruffled, off-the-shoulder detail is so feminine and on-trend for spring and summer. Plus, as I mentioned in yesterday's post, you really can't go wrong with a jumpsuit in black! It's flattering, easy to dress up or down, and incredibly versatile.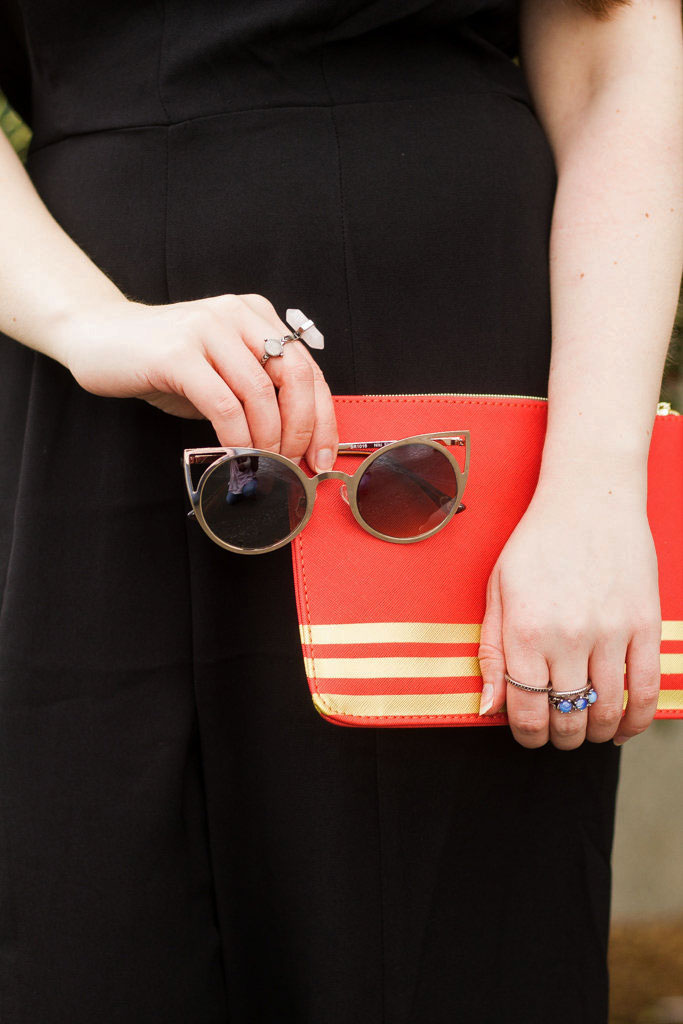 Speaking of versatile, how cute is this clutch?! Actually… it's not a clutch at all! It's a makeup bag that I found in the cosmetics department, but the flashy color and waterproof material make for the perfect festival clutch. Pop your phone and important cards in there for safe keeping, and you're good to go. The $8 price tag isn't too shabby either! ;)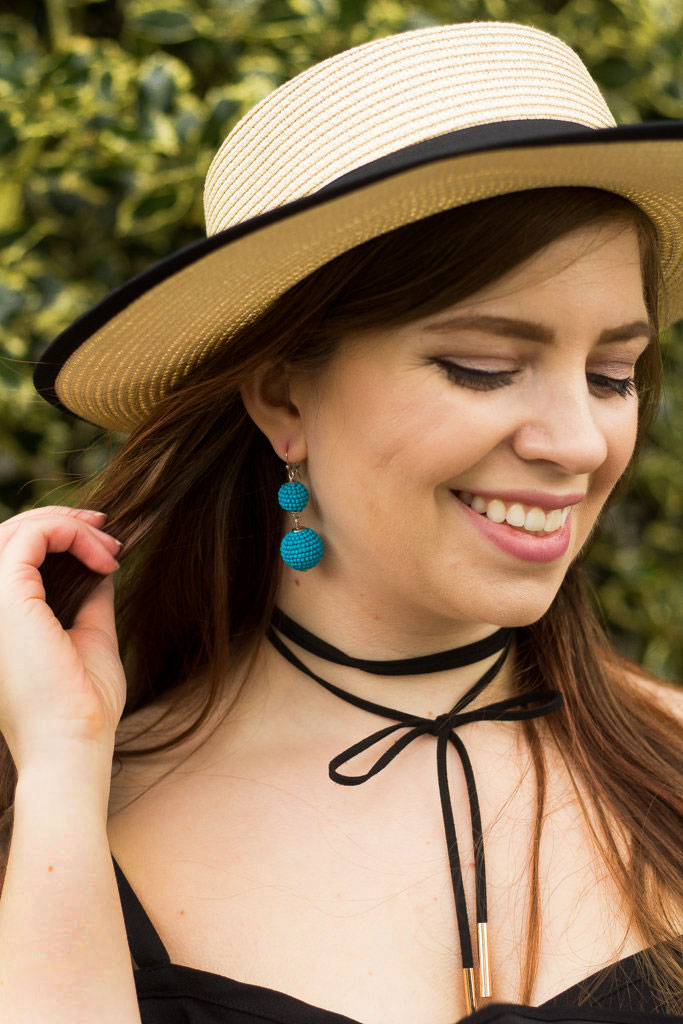 A simple pair of pom-pom sandals and bright colored earrings from GNW, WallFlower wrap choker, and a David & Young straw hat finished off this feminine and romantic festival outfit. Oh, and don't forget your sunglasses! These Foster Grant Cat Eye Sunglasses are most definitely the cat's meow!
Bohemian Festival Outfit
Alright, alright, clearly I have a thing for rompers and jumpsuits. But at first glance, I totally thought this was a dress. Imagine my surprise when I realized that under the wrap front was a pair of shorts instead of a skirt! So cute, and so perfect for your next festival outfit.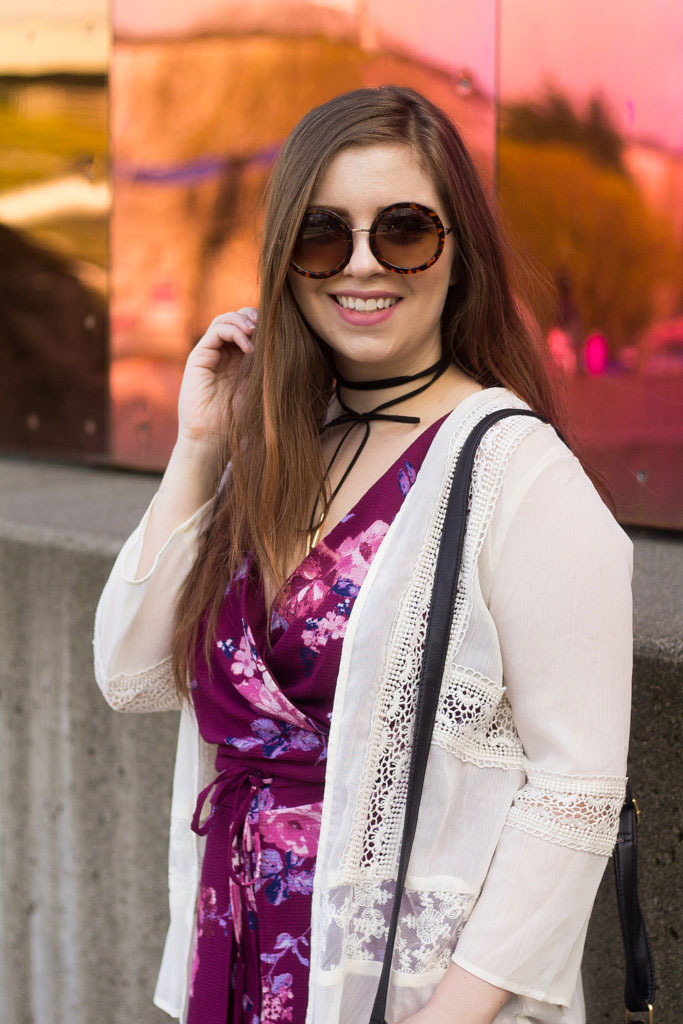 For all the bohemian vibes, this floral print romper from Rad Clothing combined with the lace trim of the chiffon kimono is perfection. The lightness of each piece blows beautifully in the breeze and definitely made me feel like a bohemian goddess of some kind. Or kind of a chilly goddess because it wasn't that warm, but I digress.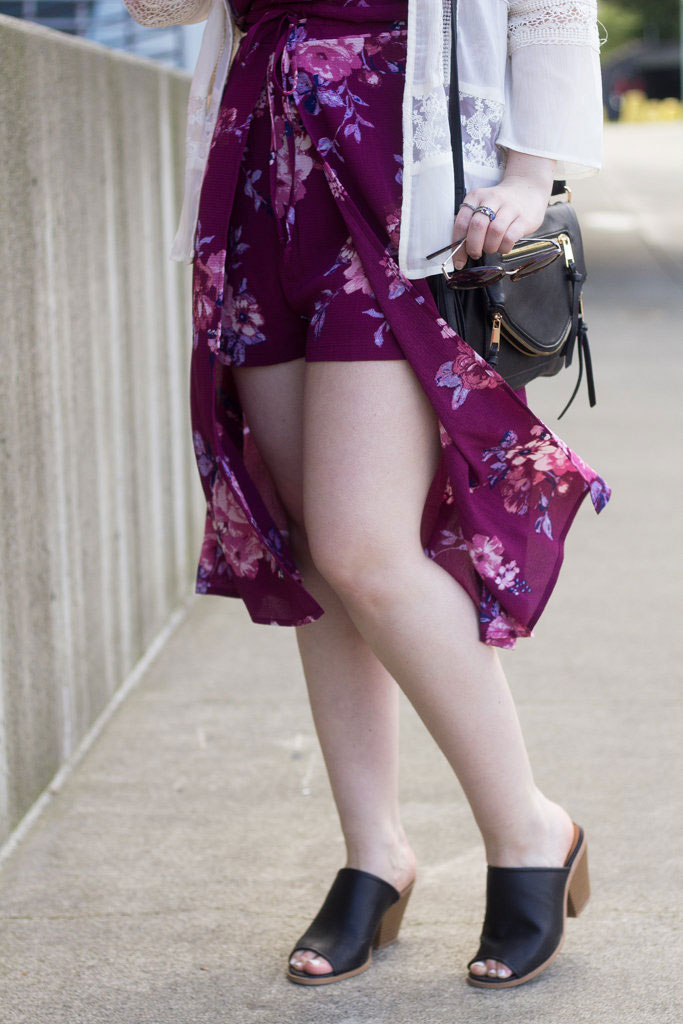 To complete the festival look, these "Jenn" mule sandals from Joré (I'm going to pretend they were made personally for me), a wrap choker from Wallflower, and some round shades from Betsey Johnson completes the look. A small crossbody from Under One Sky Brand (or this cute reversible tote and pouch combo) also stores anything you might need for a day in the sun. Don't forget your sunscreen!
Cute + Casual Festival Outfit
Not a big fan of the bohemian or skin-baring outfits? That's cool; I have the perfect outfit for you! This off the shoulder top from Vanilla Star is an excellent way to get a little sun without baring it all, and if you don't want to show some shoulder, you can wear it with the sleeves up too!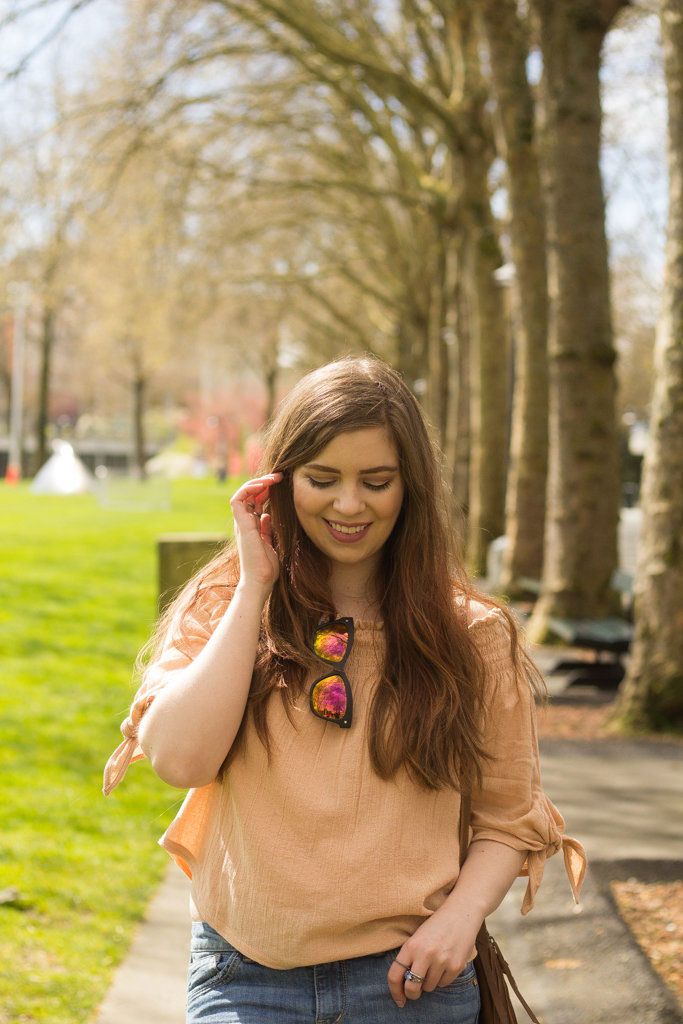 A pair of boyfriend denim with a little distressing and embroidery detail from Democracy Clothing gives off an artistic vibe, and a pair of white Converse sneakers keep this look casual. On top, I'd also throw on a denim jacket from Levi's so that if the winds pick up, you won't get too chilly. Finally, some accessories make this outfit complete; a pair of sunglasses from Betsey Johnson keep your eyes protected, and some rings from Wallflower are fun to layer on in a variety of ways. My Wallflower fringe tote can pack snacks, a few bottles of water, and anything else you might need for a day at the festival.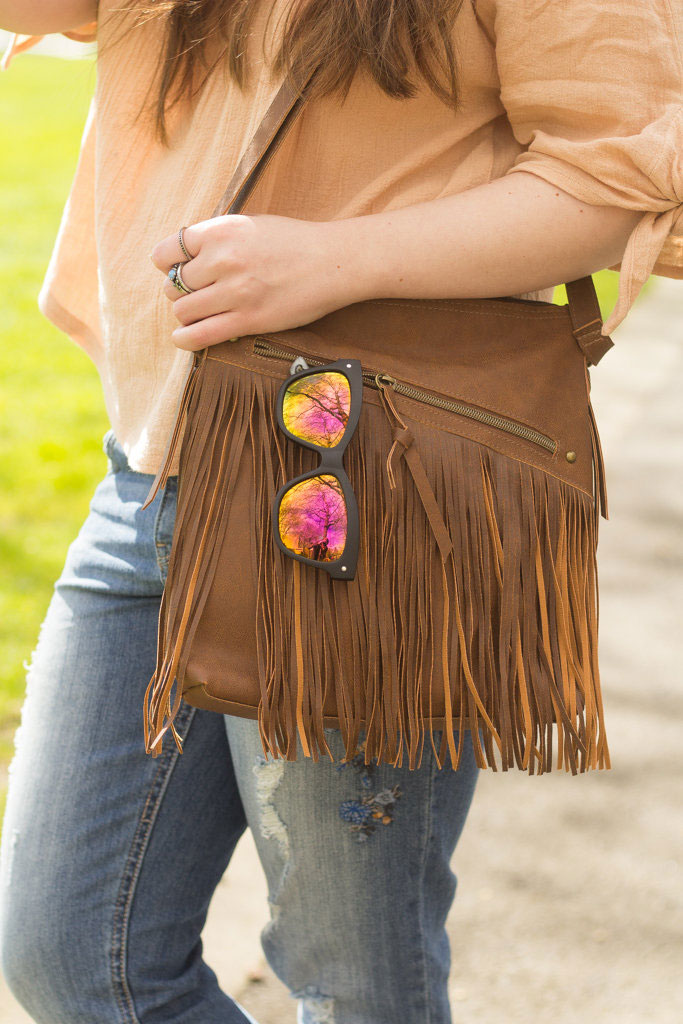 And what about makeup? Well, if you're feeling the glow, you'll loveeee this festival makeup idea! This incorporates a little bit of gold glitter and a lot of highlighter. And some bronzer. Or a lot. Check it out below and let me know if you recreate this easy festival glitter makeup look! I'd love to see how you rock it.
And with that, I'm off to the biggest field I can find to create a Coachella of my own in look #1. Or you know, heading to work a bit more covered up. Whatever. A girl can pretend!
Which festival outfit idea did you like best? Are you heading to any music festivals this spring or summer? I'd love to hear about it in the comments!
This is a sponsored conversation written by me on behalf of Fred Meyer. The opinions and text are all mine.