You know how much I love my dog, so when I found Cat's blog, Oddly Lovely, I was smitten. She's like a cooler version of me because not only does she share posts about controversial topics and her pets, she also creates recipes that look and sound far too good. Today she's got some awesome dog boredom buster suggestions and ways to entertain your dog because really, there's nothing better than a tired dog!
This post may contain affiliate links. If you click and make a purchase I may receive a small comission.
---
My dog Ru is my best friend. It's funny, because I was really never a dog-person before she came along. Then I took a trip to "just visit" an animal shelter, and the moment we looked into each other's eyes, it was all over. Now I am a crazy dog lady. Ru comes with me to the office, and she waits for me outside grocery stores and coffee shops. Together we got our Canine Good Citizen certificate and now we're starting a nose-work class so we can try out container searches like bomb and drug sniffing dogs. She is so happy and smart and eager to please. It really makes me understand the expression "Lord, help me be the person my dog thinks I am."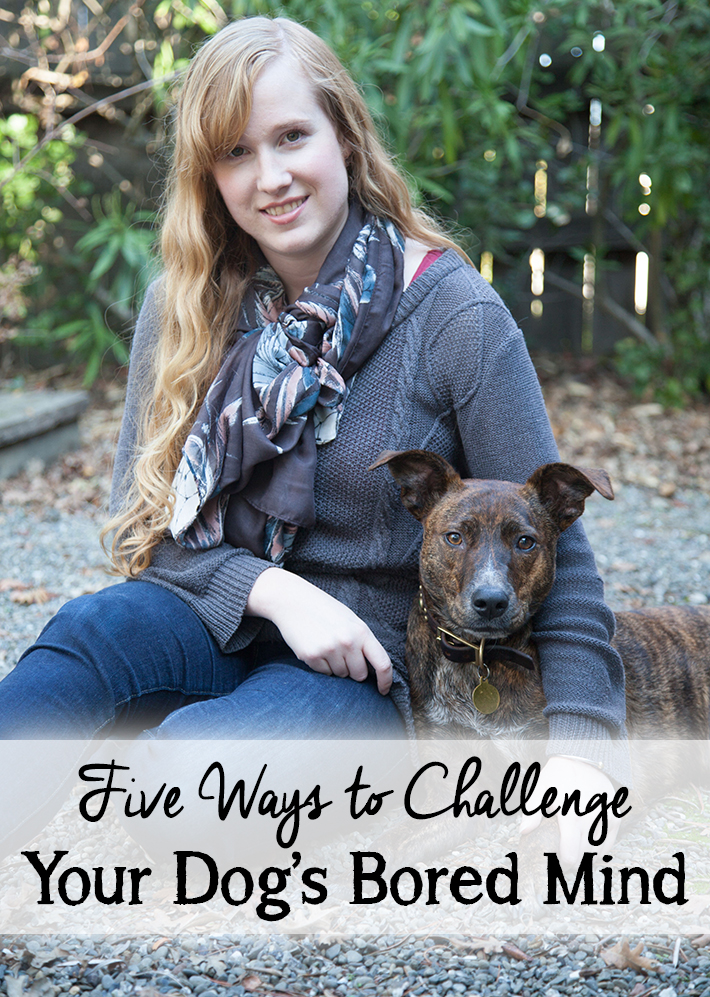 In addition to exercise, the #1 thing most dogs lack is mental stimulation. Sure, they can hang out on the couch all day and stare at the wall for what seems like hours. But their boredom certainly contributes to the destruction of your shoes and the holes in the yard. Dogs are not children – they want to WORK. They love to be challenged and they love discipline. Find little ways you can turn your dog's boring life into little puzzles, and they will thank you for it.
Here are my five favorite ways to mentally challenge my pup:
Turn meals into challenges with food toys
This is my absolute favorite way to keep Ru entertained when I'm busy at the office. Pick up some food toys like these Kong Geniuses, stuff them full of regular kibble (or stinky treats if your dog feels so-so about food), and let them puzzle out how to get the food out. In fact, you can feed your dog entire meals exclusively out of food toys, effectively turning a ten-second activity into an hour long mental challenge. Other than the Kong Genius toys, Ru also loves the Tug-a-Jug and the Bob-A-Lot.
Take a training class or practice a new trick
Dogs love to work, especially when it ends with being praised and rewarded. Dedicate an hour a week to a training class, even if it's something just fun like a tricks class. Your dog will learn how to puzzle through your commands while getting plenty of exclusive attention from you, plus it will promote bonding and remind your dog how to listen to commands in general. Check out your local animal shelter for affordable classes (I can take 6 weeks of classes for less than $100 through the Berkeley Humane Society!).
Teach them games like hide and seek
The other night I came home slightly tipsy, and Ru and I started playing hide and go seek. She'd sit on the couch and I would run and hide somewhere in the house. I'd whistle for her, and then try and jump out and scare her when she found me (trust me, this was hilarious when drunk). After a while, I decided to grab a bag of treats and instead of hiding myself, I began hiding little treats around the house. I would strongly give her the command "go to the couch," then "wait." I'd hide the treat, then say "go find it!" She had the idea in about ten minutes, then started listening where I was walking in the house to deduce where I was hiding the treats, haha.
Rotate out their toys
Ever notice that a brand new toy is exciting, but after a few weeks it's forgotten? Just like kids, dogs often lose interest in objects that they're used to seeing around the house. Even though Ru loved her stuffed tiger when she first got it, now it's mostly laid on the floor dejected. Instead, try putting the toys she's lost interest in away in a closet for a few weeks, and give her new toys or ones she hasn't seen in a while. A week or so later, swap the toys out again, always keeping fresh ones around the house.
Take them to run errands, to the dog park, etc.
One of the best things you can do for your dog is taking them to a lot of places so they can see and be introduced to a lot of new things. When possible, I bring Ru over to friends' houses so she can learn how she's supposed to behave in homes that aren't ours. I bring her into pet-friendly stores like the bank and Paper Source. She loves how much attention she gets, and we have to work hard to remember our manners even around lots of unfamiliar people and new smells. A safe and friendly dog park (which mind you, does not describe all of them) is one of the absolute best places to teach your dog how to be polite around new pups.
How do you make sure your dog isn't getting bored?
---
Be sure to check out Cat (and Ru!) at Oddly Lovely, and on Bloglovin', Twitter, Facebook, Instagram and Pinterest!