You know what's really hard? Taking time for yourself. It gets harder and harder the older I get. The more life throws at me, the first thing to go is taking care of myself. Sure, I get ready every morning, put some makeup and clothes on, but what the self care I'm referring to goes beyond that. I'm talking about having "me" time. Time to relax, zone out, and do the thing that makes you happy and is not for anyone else.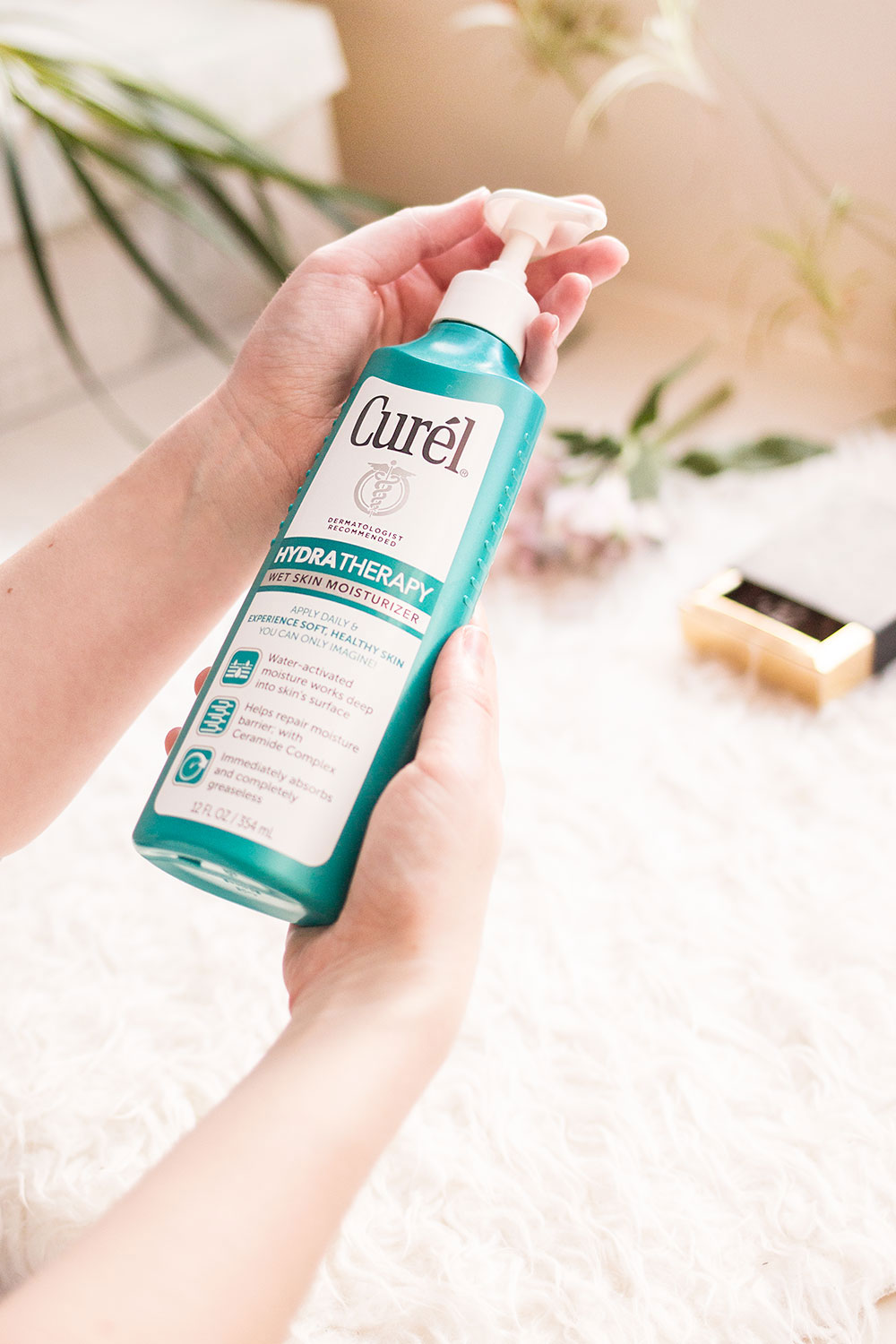 Disclosure: I'm sharing Curél® in my life as part of a sponsored series for Socialstars™ All opinions are my own! #curelskincare #enddryskin
9 Ways to Add Self Care to Your Daily Routine
It's hard for me to be able to take long stretches of time to myself, so while I'd love to schedule a spa day on the regular, it's not only not budget-friendly, but it's also not practical. I've tried to get in better habits of adding self-care to my normal routine, and I thought I'd share some of those tips with you today!
Allow yourself breaks
One thing I can be terrible at is taking a break. Often, to my detriment, I force myself to focus on a task until it is done. What I've discovered about myself is that if I can't figure something out, be it a design challenge at work or finishing off a blog post, I need just to let it go for a bit and come back to it. Scheduling breaks throughout the day can help avoid this issue and can help you prevent burn out.
Take some extra time for yourself in the shower
This sounds a bit weird, but spending more time in the shower makes me feel good. It gives me plenty of time to shave my legs leisurely, to soak in hot water, or to deep condition my hair. Sounds kind of silly, but there's something soothing about it for me. One extra step that I've recently added to my routine is moisturizing in right when I'm finished my shower, but before exiting. Sounds a bit different, but winter weather did a number on my already dry skin and I've found that moisturuizng freshly washed and warmed up skin has made a difference.  Fortunately, I recently discovered Curél® HYDRA THERAPY WET SKIN MOISTURIZER which has kept my skin nice and hydrated. It's easy to use the wet skin moisturizer right after showering when my skin is already wet because it allows it to lock in moisture, my pores are open, and the product can penetrate deep into the skin. 
If you're a dry skin girl like me, Curél® Skincare is a lifesaver. I discovered their Anti-Itch Dry Skin Body Wash last year and couldn't believe how quickly it made a difference in my dry, tight, itchy skin. Now that I've combined it with the Curél® HYDRA THERAPY WET SKIN MOISTURIZER, I find that I can go even more time in between moisturizing and truly end dry skin. With the arrival of spring, I know my dry body skin will improve somewhat, but I'll keep using the Curél® HYDRA THERAPY WET SKIN MOISTURIZER after showering because who doesn't want beautiful, moisturized skin?!
Treat yourself to a piece of chocolate… or several
My favorite indulgence on a daily basis is a good piece of dark chocolate. I often have one during my workday slump in the afternoon, and then a bit after work. I consider it a reprieve from a long day at work and think of it as a way to celebrate the end of a work day. Maybe it's not chocolate for you, but find a small treat that will bring you joy and relief from whatever may be stressing you during your day.
Take time to unplug
Unplugging from the internet is very important. I'm always online at work, find myself obsessively checking Instagram or my email, and if I don't take a break from time to time, I would probably lose my mind. Self care is about doing the things that bring you joy, relaxation, and relief, and if the internet makes you feel anxious or stress, be sure to take some time on a daily basis to turn it off and focus on something different. Maybe read a book or listen to music before bed instead of scrolling through your news feed.
Add exercise to your everyday routine
If you're like me, you don't exercise every day. I've found, however, that going out for a walk or jog brings me a feeling of accomplishment and like I'm doing something amazing for my body. I know it can be hard to have the time to dedicate to a full exercise routine every single day, but instead, try to get a few stretches in, or take your dog out for an extra walk. I've been using a wearable to track my exercise and find that getting the extra steps allows me to sleep better at night, feel better and more energized during the day, and feel proud when I hit my points goal each day!
Engage in your favorite hobby
Have a hobby that puts you in a great mood? Indulge in it every day. For me, writing helps me feel relaxed and so does cleaning and organizing, so I try to do at least a small amount of both each day. While sometimes I feel lost for words, I find that engaging in writing in a different way, like brainstorming or reading about ways to get inspired, can also help.
Express gratitude
Is there anything better than expressing gratitude? When I think about how fortunate I am, I feel instantly comforted. Give thanks on a daily basis for something you have.
Try something new
Whether it's engaging with a barista at your favorite coffee shop, adding more veggies to your lunch, or drinking an extra glass of water, trying to mix up your routine in a positive way can be an excellent way to take care of yourself. Plus, these ideas are great for your body and mind, and hey, you never know, you may make a new friend over the water cooler at work! ;)
Be a little selfish
For self care to be effective, sometimes you need to be a little selfish. Maybe you need a 20-minute nap or a hot bath when you really should be doing something else. Allow yourself to take a little time for yourself and allow the thing you should be doing to slide for now. I'm not saying you should throw caution to the wind and do all the things your heart desires, but allow yourself the freedom to take care of yourself by treating yourself from time to time.
Ultimately, self care is about you. What makes you feel accomplished, happy, relaxed, and comforted. We all have good days and bad days. Self care helps bolster yourself every day so that when life does come for you, you are more prepared and ready for it.
Do you find self care necessary for you? What things do you do to care for yourself? I'd love to hear about it in the comments!